We are back for another messy season of Love After Lockup. It's so wild to see how many people fall for inmates that they've never met. However, season after season, this show delivers. Every time you think it can't get any crazier, this series ups the ante. We're getting all new couples which is always so much fun. They start out so in love, and the it goes downhill.
What is it about being locked up that is such a turn on for these people? It's just such a fascinating concept. Half of the time the people get conned or scammed. It sucks for them, but it's great TV for viewers. It's typically such a train wreck to witness, which makes it all the more appealing. There's no telling what we are in store for this season. Anything can happen. You guys ready for the ride? Buckle up!
Jessica & Maurice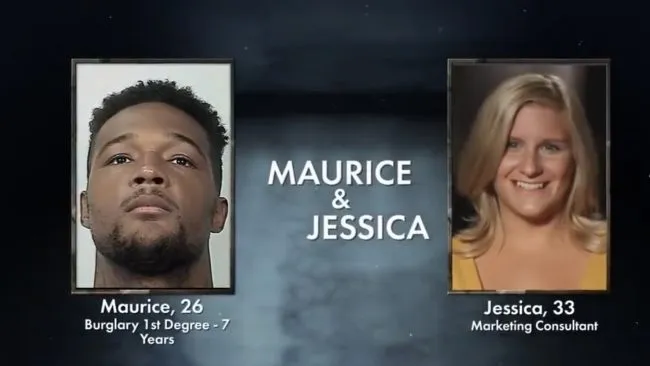 Jessica comes across like your typical All American girl from the suburbs. She's not exactly who you'd expect to fall in love with an inmate, but here we are. They met on Plenty of Fish, and I am so confused. I didn't realize prisoners could use POF. How is someone in prison doing better on POF than me? Pfft.
Jessica and Maurice have been together for nearly five years, and they're finally going to be together. Their backgrounds are so different. SOOO different. Maurice joined a gang in Compton at the age of 12. Her family wants to know why she threw away the NY stockbroker for Maurice. I'm wondering that too.
Her father seems very protective, so Maurice already has a big obstacle. He's not the only issue. Jessica's sister hasn't spoken to her since the relationship began. Talk about tough love. She was probably hoping it was a flash in the pan, and didn't expect it to end in marriage. Surprise!
Jessica & Maurice were married six months after connecting on the site. Talk about moving fast. They've been married for so long without ever actually living together. It's going to be quite the adjustment when he is released. Her mom cried when she learned about the prison wedding. Same mama. Same.
Her father says he'll stand by her, but he will step in if needed. Maurice is in for a rude awakening if he plans on pulling anything against Jessica. Daddy appears ready to whoop some ass to protect his little girl.
Jessica's confident that Maurice isn't using her. She's nervous to bring him home to her family. It's such an unconventional situation that most people can't even fathom. It's hard to wrap your mind around some of the choices people make on this show.
How sad is it to hear how nonexistent Jessica's relationship is with her sister? They were once so close. Now they live in the same town and have zero contact. In fact, they've never even crossed paths in almost five years. It's not even that large of a town!
She parks outside of her sister's house and is terrified to run into her. If you're that scared to see her, don't park outside of her home. Odds are, she's going to pop up eventually. Her sister cut her off because she considered her to be a bad role model for her niece. Her sister appears outside, but Jessica drives off.
John & Kristianna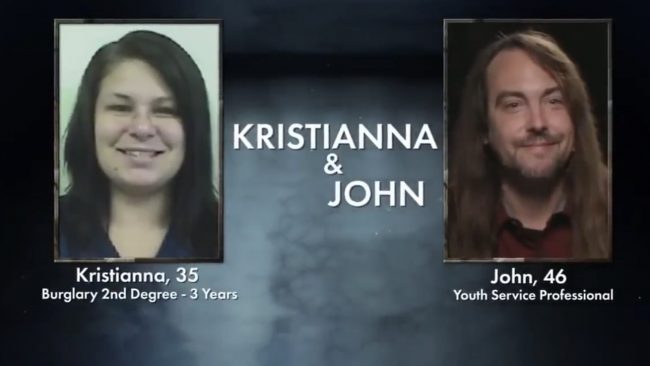 John is a traditional Native American. Nothing about him screams traditional anything, but go on bud. John says Kristianna is just "nice". The relationship is sooooo new though. It's only been three months. Not sure how well this one's going to work out.
John has been married four times and engaged twice. Sounds like his issue is jumping way too fast into relationships. That's likely why none of them have ever lasted.
Instead of learning from his past mistakes, John is moving at warp speed with Kristianna. He enlists his brother to help him turn his truck into a wedding chapel and honeymoon suite. How romantic! Sounds like every woman's dream wedding. Kristianna has no clue any of this is planned.
His brother thinks the plan is crazy. John has no clue if she will say yes or not. He fancies himself a risk taker, so I guess we are doing this.
JOHN HAS EIGHT KIDS. I did not see that coming. Only two of them live at home though. They don't know he's dating an inmate. Not just that. It gets worse. They don't he's dating ANYONE at all. His daughter looks so confused hearing all of this. This get so messy so fast. Holy f**k.
His daughter pulls up Kristianna's record and thinks his making a big mistake. Same honey. We all feel your pain. If only your dad didn't jump into things so quickly. What is he thinking? It also comes out that John has his own criminal past. He spent 12 years in prison himself! This keeps getting crazier.
Scott & Lindsey
When we meet Scott, he is looking to spruce up his house a little bit. His incarcerated fiance is getting out soon, so obviously home decor is a necessity. Wouldn't anything be a step up from a prison cell?
He says he's not looking to be with a train wreck. Do you know where you found this woman? Hot damn these people are always so delusional. I mean, best of luck, but don't be naive.
Scott's never met Lindsey in person, but he believes it's true love. Naturally, NOBODY in his family knows about this relationship. It always goes like this, and it never ends well. They're all going to crucify this woman when they meet her. I'm sure of it!
Lindsey says Scott is different than most guys because he didn't want sex right away. That's a refreshing change of pace for this show. However, the amount of money he's sent her is staggering. He's given this woman nearly $20,000. I don't even like giving $5 to people I'm around every day. What is Scott thinking?
Scott believes Lindsey will follow the rules and stay out of trouble upon her release. I hope so too. He seems like such a sweet and genuine man, but sooooo gullible. There is a massive age gap between the two also. I'd bet anything that Lindsey is playing him. Does he even realize he is her sugar daddy?
Regardless of the weird things about their relationship, Lindsey claims to be in love with Scott. She sees a family in their future as well. DO NOT HAVE CHILDREN WITH THIS WOMAN. I AM GETTING SKETCHY VIBES ALREADY FROM HER.
Lindsey gives a coronavirus update from prison, and it sounds like it's hitting them hard. Everyone is miserable. The smallest things are setting off the inmates. Plus, prison seems like an easy place for it to spread. That has to be so scary to experience.
Shavel & Quaylon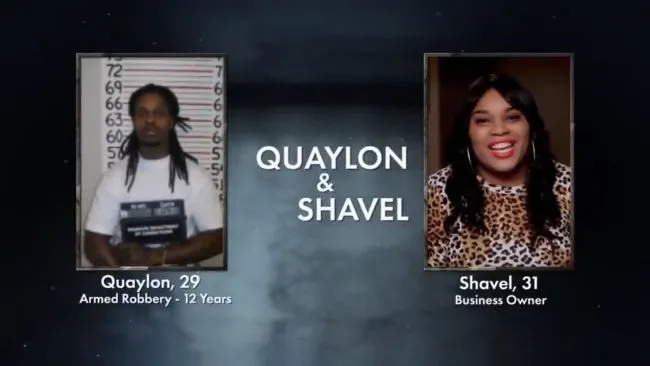 Shavel is a single mother, and she wants to change things for her family moving forward. She feels like Quaylon is her soulmate. People on this program throw around that word so loosely. It seems to almost never work out either. Ugh.
Quaylon has been in prison since he was in high school. WOWZA. It shows how one critical mistake and bad decision can totally derail your life. It's really sad to watch.
Shavel's mom makes a great point by saying he's been in prison for 12 years. He has no relationship experience or experience as a father. He's stepping into a completely foreign role. This could be an emotionally scarring situation if it goes wrong.
Her family wants her to think this through and not make an rash decisions. Shavel's family is right to be paranoid. They've been conned in the past. A scam music producer stole $15,000 from them when she was younger. That kind of situation can leave you with trust issues for life.
Shavel reveals they have phone sex all the time. She'd never done it before, but he walked her through it. Quaylon is looking forward to the real thing though. He has a whole romantic setting in mind for their first time. He's signing release papers, so things are about to get realer for the couple.
Quaylon's mother wants him to come home to Texas. Shavel doesn't live in Texas. He has a really difficult choice to make. He has to follow his heart, but I suspect the mom is going to get her way. It usually works out that way.
Shawn & Destinie
Like most of the couples, Shawn has never met his prison lover. Shawn is hopeful that they'll get married one day. He seems like a really genuine man, so I hope he doesn't get hurt.
He's only ever seen pictures of her. She won't meet him because she's "gained a little weight". This man could be getting catfished on an epic level right now. His friends think he's too trusting.
Destinie calls Shawn at work to tell him he needs to visit a bail bondsman. She's getting out soon. However, Shawn is going to have to pay up for that to happen. Yup. He's a sucker. He's already shelled out $35,000 on her. WHY SO MUCH MONEY?
Shawn is keeping a secret from Destinie. He hasn't been totally honest. WHY DO THEY ALWAYS LIE? SO MUCH DECEIT. Just tell the truth man. It will set you free.
Shawn heads to the bail bondsman to try and get more info on her release date. All signs are pointing toward Destinie using Shawn. It sounds like the bail bondsman wants to talk Shawn out of doing this. She's a flight risk! She has a history of doing that. Her release date is the next day, so Shawn is down to do it.
His father was in prison before and warned Shawn what could be happening. He has all of the warnings about her. There's so many red flags. This dude needs to RUN.
Check out the Reality Tea Merchandise Store to buy clothes, accessories, mugs, and more!
TELL US – WHAT DO YOU THINK OF THE NEW LOVE AFTER LOCKUP COUPLES? DO YOU THINK ANY OF THEM WILL LAST? ARE YOU EXCITED FOR THIS SEASON OF LOVE AFTER LOCKUP?
[Photo Credit: WE tv]