Wow, there was an awful lot of disrespect happening on this week's Below Deck Down Under, wasn't there? And not just on board M/Y Thalassa, either. It was all the way around, really. From Chef Ryan McKeown to Magda Ziomek to random strangers with their faces blurred out. In fact, I didn't even realize until the halfway mark that the episode had so much going on, it was supersized! It started on a positive note, though with charter number four officially in the rear view and 48 hours until the next pickup. Oh good, that's just enough time for tensions to boil over and things to get dramatic…
Actually, I take that back. It started positive for everyone but Magda, who's feeling constantly criticized by Aesha Scott. But there's not time to worry about that now, because work's done for the day and it's time to go out! While they wait for everyone getting ready, Ryan and Benny Crawley bond over the loss of their parents. Remember, the chef's dad died from a heart attack and both of the deckhand's parents passed away within a year of each other just before he joined the boat. It's a friendship I didn't see coming, but they're bonded nonetheless over tragedy and trauma.
The whole crew heads out to a local nightclub for an evening of fun. And all eyes are on Culver Bradbury and Brittini Burton, who the rest of the crew are starting to clock as something of a power couple in the making. Though drama erupts when a few club-goers start harassing the girls, shouting lewd comments and telling them to take off their tops. Somewhat to my surprise, Chef Ryan does the stand-up thing and comes brashly to their defense. Though he still manages to make the altercation personal. The drunk guys start calling him a loser. He throws a bottle at one of their faces and promptly gets escorted out of the club by security. Suddenly, it felt like I was watching The Real World rather than one of the Below Deck franchises.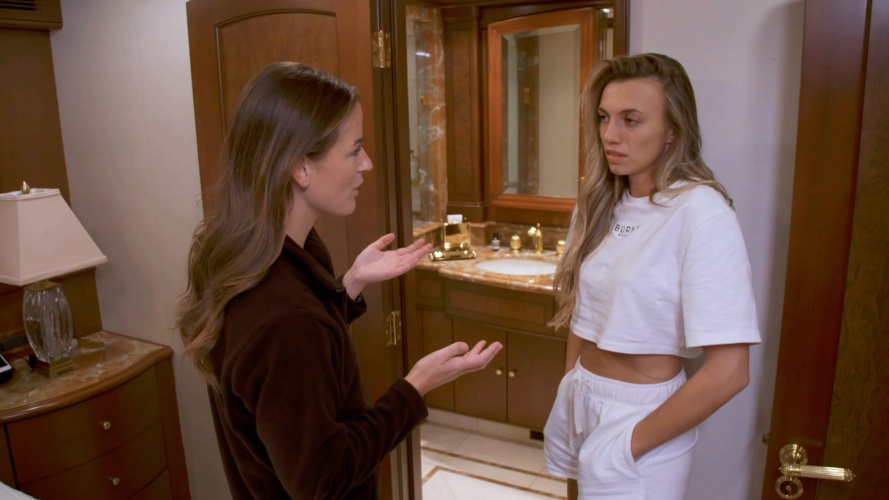 The next morning, it's still a turnover day. And Chef Ryan is baffled by all the girls' reactions when they don't thank him for defending their collective honor the night before. However, Captain Jason Chambers has more pressing matters to attend to. Like the next preference sheet meeting. Especially because the primary for charter number five is a friend of the captain's. The guest in question even used to work for him as an engineer back in the day. Plus, he's throwing his friend's bachelor party. S0 Jason's out to impress. And part of that means curbing Ryan's negativity in the galley and turning up the "wow factor" on the food.
Meanwhile, Magda causes a major issue in the interior. Having spent the night before FaceTiming her boyfriend until almost four in the morning, she starts the day running on empty. And by the afternoon, she decides to take a nap. Despite none of the cabins, beds, or bathrooms being done. And to make matters worse, she sleeps for five hours. When Aesha and Tumi Mhlongo call it a day at 8 o'clock, they find her still asleep, in her cabin, with the entire day's work left undone. Though I'd hardly call it a blow-up, the chief stew loses her patience and it's the first time we've really seen her try to lay down the law. Aesha ends the night feeling betrayed and Magda might officially be on her bad side now.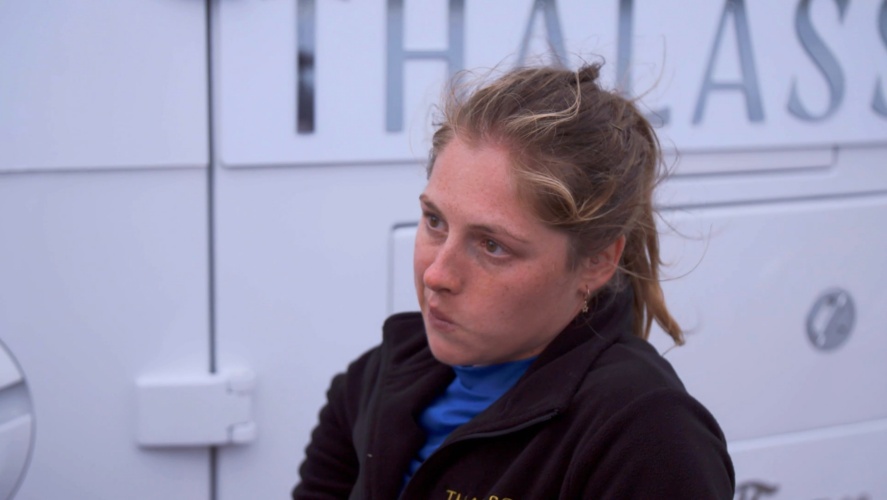 Charter pick-up is the next day. And even though Magda gets up early to finish all her work, Aesha decides to punish her by keeping her on service for the charter. It's the exact opposite of where the third stew would prefer to be: in the laundry, texting back and forth with her boyfriend all day long. After Jamie Sayed and Culver pick up the all-male party in the tender, Captain Jason anchors in Blue Pearl Bay for an afternoon of water sports.
However, Magda makes yet another mistake when she throws a guest's dry-clean-only cashmere sweater in the laundry. Oops. But is it her fault Aesha hung the stained garment in the laundry room without telling her not to wash it? And Magda's not the only one messing up. Brittini is all aflutter being surrounded by the pack of good-looking guys. She even fixates on one who happens to look like the Kiwi version of Ryan Reynolds. But she's so busy flirting that she misses a radio call to take care of the jet skis. And gets reprimanded by Jamie when he has to come all the way upstairs to do her job.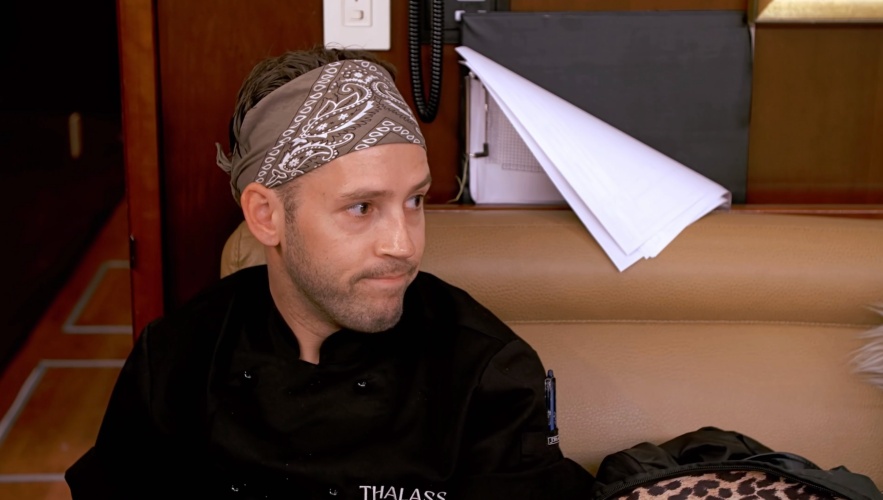 Being an old pal, Captain Jason joins the primary and his friends for their first dinner. It's meant to be an Italian feast. And Chef Ryan's created antipasti to be shared family style among the table. But Aesha insists on serving each guest individually. Which not only takes forever, but it throws off the balance of the meal that Ryan intended. And when he tries to explain himself to the chief stew, his perspective falls on deaf ears. Plus, Magda gets admonished for putting a bowl of olives on the table without tongs. Basically she's caught in the middle between what Ryan wants and what Aesha expects. There's no winning.
The rest of the meal doesn't go all that well, either. The guests are less than impressed with the pesto and spaghetti Ryan serves as the main course. It's too salty. And with Captain Jason sitting right there, he's embarrassed. So much so that he reaches out to his former chef again to see if she'd be available as a replacement. But bad news for him: she's taken another job. So ow there's no backup. And with the rules about quarantining still in place for new hires, there's really no easy way to replace Chef Ryan.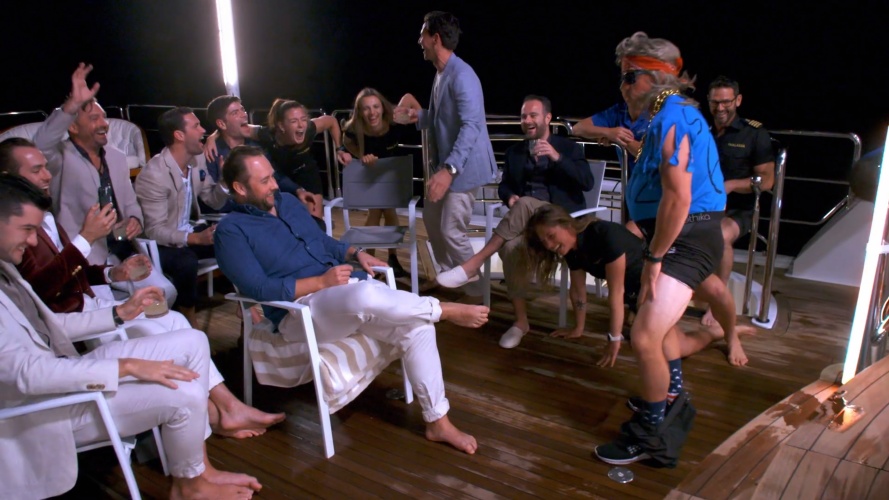 The morning of day two, Jamie gets up to discover that Benny seriously dropped the ball on his responsibilities during the night shift. Never mind that the junior deckhand was up until after one in the morning helping the guests do some night fishing off the swim platform. (They caught a couple squid. Much to Ryan's chagrin, by the way.) During the day, Captain Jason takes the groom-to-be and his friends on a spear fishing expedition in Mackerel Bay. Where they manage to bring home another fish to add to the two squid chilling in the walk-in. However, Ryan refuses to do anything with the catch because it's not gutted and scaled. His bad attitude leads to a confrontation with Captain Jason. But the captain's attempt at giving constructive criticism goes absolutely nowhere. Because Ryan doesn't want to hear it and isn't shy about saying so.
That night, Aesha organizes a proper bachelor party for the buck about to walk down the aisle. Complete with two blow-up sex dolls. And another appearance by Culver's alter ego Keith Stone, who's switched careers from plumber to exotic dancer. One thing's for certain, the self-appointed chief entertainment officer knows how to put on a show. And that he does, doing backflips, stripteases and various unspeakable things with one of the dolls.
For dinner, Ryan actually tries to up his game, serving an array of scampi prawns and bisque, tuna tartare and trumpet mushrooms with dashi. But even with all the more impressive food, the guests want to know if he's cooked the squid they caught. Like they specifically requested. And they send Captain Jason down to the galley to find out. T0 no one's surprise, the squid are still sitting in the refrigerator. And Ryan has no plans to use them on his menu for the evening. That answer really doesn't work for Captain Jason. But the cocky chef isn't budging, and the episode ends in a tense standoff between the two as they raise the decibel level in the galley.
TELL US — SHOULD THE GIRLS HAVE THANKED RYAN FOR STANDING UP FOR THEM AT THE CLUB? ARE YOU TEAM AESHA OR TEAM MAGDA? CAN YOU BELIEVE CHEF RYAN'S ATTITUDE TOWARD CAPTAIN JASON? WOULD YOU LET CULVER PLAN YOUR BACHELORETTE PARTY? 
[Photo Credit: Peacock]