Sometimes for a season to be considered "great," it needs to stick the landing. Survivor 42 absolutely nailed its landing, giving viewers an exciting, unpredictable finish to what had already qualified as a stellar season. 42 seasons and 22 years later, it's nearly blasphemous for someone to say that a particular season is the "best season" or that a particular cast was "the best cast" ever. But blasphemy be damned: Survivor 42 is one of the best seasons the show has ever produced, featuring, if not THE best then one of the best, top-to-bottom casts that the show has ever featured (interested in where this season ranks on my "Most Memorable Season" list or where this season's winner falls on my "All-Time Survivor Winners" list? Check back to this site in the next 24 hours for my updated ranking articles!).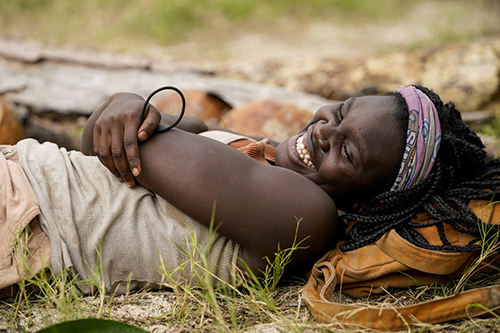 Congratulations are in order for one of the most satisfying, crowd-pleasing winners of all time: Maryanne Oketch. Maryanne, the seminary student from Ajax, Ontario, who at the time she won the game was just 23 years old (she comes in as the fifth-youngest overall and third-youngest females to ever win, behind Jenna Morasca and Sophie Clarke, whom were both 21/22 at the time of their wins). She is the second-straight Canadian female to win the game (following Season 41 winner, Erika Casupanan) and just the second black woman to ever win. You'd have to go back 20 years, to Season 4's winner, Vecepia Towery, to find the first black woman winner. Maryanne won the final vote tally 7-1-0, with Mike getting the only opposing vote (I'm guessing from Rocksroy although this wasn't revealed on the show). Maryanne also only had two votes against her the entire game, both coming during the first Tribal Council following the merge.
Her path to the end wasn't easy, and in fact, she's perhaps one of the must unlikely winners in recent memory. At the beginning of the Finale episode, we knew she stood in a favorable position on her tribe: With just five remaining in the game, we knew that both Mike and Maryanne possessed Immunity Idols and would make it to Final Four and therefore the fire-making challenge at bare minimum. As I had predicted in last week's Recap, the first vote-out of the Finale came down to Jonathan vs. Lindsay, but to all of our surprise, neither of these challenge beasts won the Immunity Challenge. Instead, Mike won his first challenge of the season, and with his personal Idol no longer needed (and could not be used beyond this point in the game), he decided to use his Idol on Maryanne even though Maryanne was quite safe already. The baller, she didn't even have to use her own Idol at all, even though the show faked us out in believing that she might play it for Lindsay.
Ultimately NOT playing it for Lindsay was the smart move. Lindsay went home first, and then the unthinkable happened. Stuck on the bottom of the tribe for much of the season and mostly forgotten as a legitimate threat, it was the ultimate underdog Romeo who ended up winning the Final Immunity Challenge, that "Simmotion" challenge that is way harder than it ever looks on television (especially to food and sleep depraved men and women who have been pushed to the edge for the past 26 days). Once an afterthought, Romeo won his way to the Final Three. Had Jonathan done what he was expected to do and beat Mike at the fire-making challenge, Maryanne might have had an even easier win up against Romeo and Jonathan instead of Romeo and Mike.
It ended up being a non-issue. Maryanne secured the win by giving one of the best Final Tribal performances of all-time, winning over her jury…all of whom admitted to Jeff Probst afterwards that none of their minds were made up heading into it.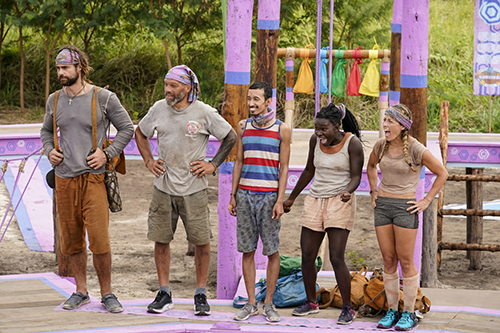 This is a great time to return and give proper credit to what has truly been one of the best casts of Survivor ever. Not just from a diversity stand-point (it is so refreshing to see diverse casts on Survivor following the mandate from CBS last year!). Not just from a "character" or entertainment standpoint. But this group of players loved and respected the game like few others we've seen. How about this jury showing up as one of the least bitter, most engaged and open-minded juries in Survivor history? The love and camaraderie shown throughout the season as players withstood impressive blindsides, the likes of which some lesser players still complain about on social media years after appearing on the show. Not this crew. They were here to play, here to win, and they are a shining example of how to do it the right way. When the audience sees that the jury is not bitter, not biased, it makes for a better show. This cast delivered in spades, and I'm not kidding when I say that for the first time since the very first season of the show, I wouldn't mind seeing the ENTIRETY of the cast come back to play the game again.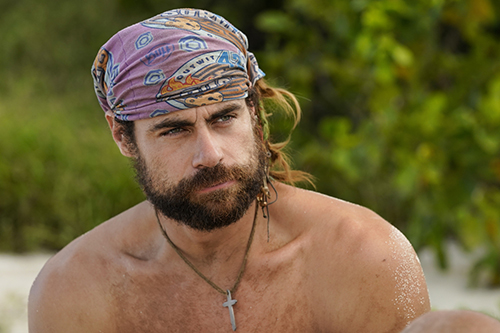 For the season to be so evenly matched from the beginning, it was only fitting that the jury gave each of the Final Three proper consideration and thought. For the players, the goal while playing is often to just make that Final Tribal Council, to have a chance to explain their games. In past seasons, the jury often has had their minds already made up, with little wiggle room. Maryanne just killed it, giving the jury what they wanted from her. The main question about Maryanne in the eyes of the jury was that they weren't sure what her game was, or how seriously she took the game. Not only was Maryanne precise and articulate in her responses to the jury, but she sealed the deal when she revealed to them that she actually had a hidden Idol in her possession, one that she never told another single player about and one that she ultimately didn't have to use. This was physical proof that there was more to Maryanne's game than the jury was aware.
Contrast Maryanne's Final Tribal performance with Mike's, and Mike was not able to give the jury what they were looking for. They wanted Mike to own up to his game, to stop talking about his integrity and honor and admit that he lied and backstabbed when he needed to. Mike wasn't aware of what the jury wanted from him until it was too late. It was hard to watch Mike seal his own fate after everything he had done all season long, but what an absolute treasure of a contestant. I personally am a huge Mike fan, and am thankful for all that he did and all he brought to this season. I do agree with Mike that he played the sort of game that he probably set out to play, and it was an amazing run. But just making it to the end doesn't guarantee anyone anything. You've got to fight, and while Mike did that, he simply got outplayed by Maryanne at the Final Tribal.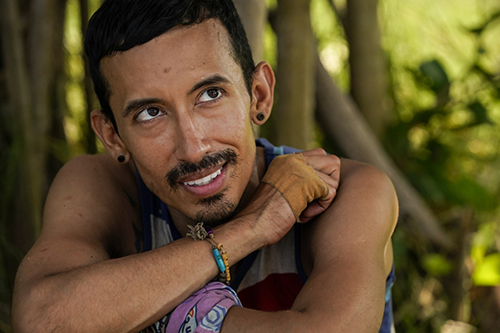 Also kudos to Romeo, who had a stellar Final Tribal as well, given that he was all but written-off. He fessed up to his game, and shared in his frustrations with how his game ultimately turned out, where he was forced into "self-preservation" mode and played from the bottom for much of the game. I think he earned a lot of respect from the jury – and from home audiences – but even so, it was not enough respect to actually want people to crown him the winner. I think most definitely realized that Romeo was a fighter, and that he was under-estimated a bit, but it didn't move the needle far enough for them to think he deserved the win more than Maryanne.
While I'm encapsulating the games of the Final Three, let me also say a few things about Lindsay and Jonathan. What a pleasure it was to watch them compete this season. It's hard to remember that Lindsay was given an invisible edit for much of the early portion of the game, and only began to emerge as a real personality and threat in the last stretch of episodes. It was great to get to know her, and I feel like she ranks up there as one of the better all-around female competitors, considering the social, physical and strategic aspects of her game. And I know Jonathan had an ugly, controversial Tribal Council, but as a player I was utterly impressed with his performance on the show as a whole. He's in a class of his own when it comes to being a physical competitor on the show, and it is rare that his "character type" – the big, hulky challenge beast – makes it as far as Jonathan did. As big of a threat as he was in challenges, he only ended up winning two individual challenges, and then lost the fire-making challenge to boot. I don't think he had much chance of winning even if he had beaten Mike there, but it is quite the accomplishment that he lasted as long in the game as he did, given his intimidating size and physical presence.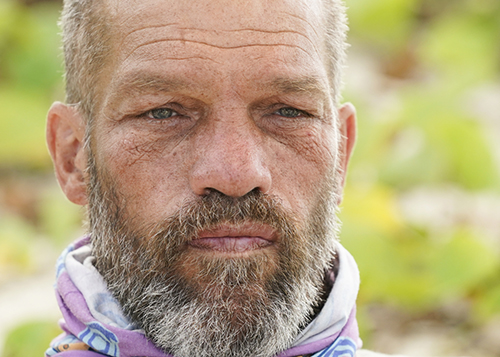 As Jeff Probst reminded us more than once throughout the season, this cast had not seen Survivor 41 yet, as they shoot the seasons back-to-back. What a thrill it was to watch the jury's excitement when Probst revealed the winning votes right then and there. In the pizza and champagne-filled "after show" that immediately followed, the cast continued pouring on the charm. Mike proved to be a gracious, thankful runner-up, as did Romeo. The juiciest tidbit we learned was that Lindsay was actually slated to be a contestant on Season 41, but withdrew at the last minute after testing positive for COVID-19.
The three-hour Finale wrapped up by giving us a sneak-peek look at "Survivor 43," coming to CBS in the Fall. It used to be a major point of excitement, when in the early years of the show, we would find out the next location that the show would take place, while also discovering the theme ("Blood vs. Water," what does that mean? Or "Heroes vs. Villains," OMG!). But in this new era of Survivor, where we will just get a new incrementally increasing number each season, the preview instead focused on next season's cast. The "cast reveal" on Survivor used to be a heavily guarded secret that would only be revealed a few weeks before the season's air date, but now – in the new era – the cast IS the show.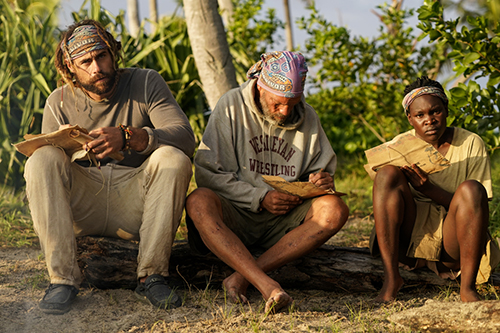 And if the casting is even half as strong as it was for 42, I'm here for it. This show continues to amaze me in how it can adapt, change and continue to engage people each and every season. Maybe the pandemic and the ensuing "break" we all had energized both cast and crew. Perhaps the contestants appreciate the game more than ever, knowing what we all just went through. But you could also see a renewed energy in the production of this season, from the inspired editing choices that broke from the traditional Survivor mold, to the overall focus on character and story above twists and themes.
Those thinking Survivor was on its way out, think again. I have a feeling that this "new era" will last a long, long time, given how good Survivor has proven it can be, now 22 years after that first boat dropped off that first batch of contestants on the shores of Borneo all that time ago.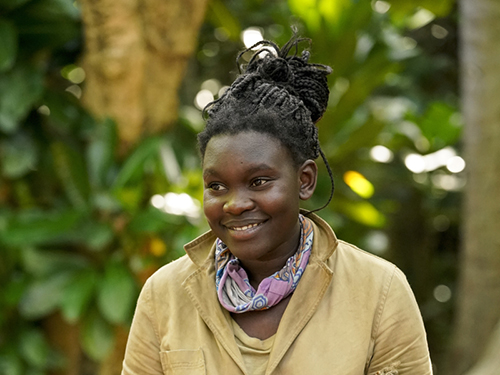 A big thank you to all of you whom follow, comment, like and share this Survivor column. Another big, big shout-out to Erik Reichenbach, for contributing to these pages such fantastic artwork this and every season of Survivor. Erik is a talented guy, and if you didn't know you can help support him and take home some of his amazing artwork on his site, Dabudoodles.com. I suggest you check it out. So thanks, Erik! For all of you, Erik's final piece of the season is below: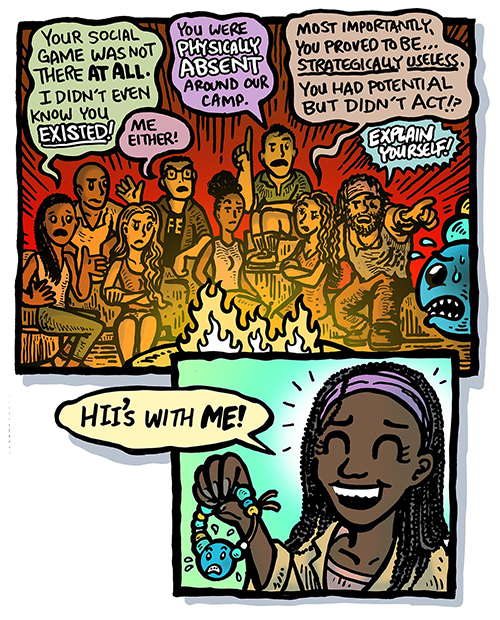 I hope everyone enjoyed this season as much as I did…we'll be back in the Fall!
Stay tuned in the coming days for my updated "Most Memorable Seasons" and "All-Time Winners" lists. Where do you think Maryanne and Survivor 42 should rank? Sound off below! And have a great, safe Summer!
TELL US – WHAT DID YOU THINK OF THE FINALE? WHERE DOES THIS SEASON RANK FOR YOU? AND WHERE SHOULD MARYANNE RANK ON THE ALL-TIME WINNERS LIST?
[Photo Credit: CBS/Monty Brinton/Robert Voets/Timothy Kuratek/Jeffrey Neira/Michele Crowe/David M. Russell]