All of the 90 Day Fiance couples have finally tied the knot. I don't know if it was just unadulterated delusion or some of these people actually have a shot. Regardless of what we as the viewers may think, the cast seems to believe love matters most. I'm not sure if that is necessarily true, but I do wish them the best in the future. But I won't be shocked if in the near future someone cracks and reveal some of the things that happened behind the scenes. Or that they are no longer together. As much as I don't wish anything bad on anyone, it seems like it's inevitable
Emily and Kobe reveal their secret pregnancy. Patrick is desperate for Thaís' dad to bless their marriage. Miona's wedding day vision isn't coming together the way she envisioned.  The wedding officiant asks Shaeeda and Bilal if they're sure they want to marry. Let's get straight to the recap.
Emily, 29 (Salina, Kansas) and Kobe, 34 (Cameroon)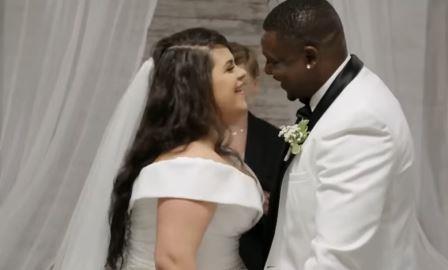 Unfortunately, it's Emily's and Kobe's wedding day.  In an attempt to smooth things over after revealing her doubts the day prior, Emily calls Kobe to apologize. He is relieved that she has finally acknowledged the sacrifices he has made to be with his family. It was at the point where Kobe wasn't sure they should they should get married anymore. I have been wondering that since I have seen the way she talks to him as if he is her child rather than her partner.
While Emily's mom is helping her get dressed, she gets emotional.  Meanwhile, Kobe shares a similar moment with Emily's father as he wishes them well in the future. Although I have had my doubts about this family, I am happy his father-in-law embraced him because his family isn't there to do so. Kobe begins to feel extremely guilty about keeping the pregnancy a secret from Emily's family. Later at a family dinner after the wedding, Kobe reveals that they are with child. Emily's parents are visibly disappointed. The family feels like they should have waited until they moved out and was in a better position before having another baby.
Jibri, 28 (Rapid City, South Dakota) and Miona, 23 (Serbia)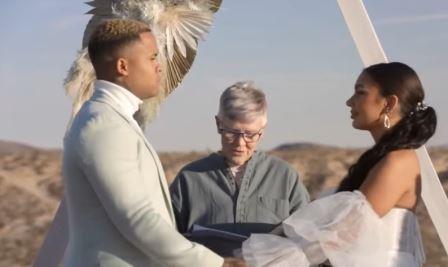 It's Jibri and Miona's wedding day and things are already not going to plan. For some reason, they entrust one of his friends to bring a wedding arch that is important to his fiancé three hours to the ceremony. Jibri has not bothered to check in with him or even write his vows. Despite things not going well, Miona looks beautiful in her wedding gown. Just in the nick of time, Jibri's friend, Igor finally arrives with the wedding arch. The ceremony is sweet and intimate. Jibri even plays a country song he wrote just for Miona. Despite all of their challenges, I truly believe they both love one another.
Patrick, 31 (Austin, Texas) and Thais, 25 (Brazil)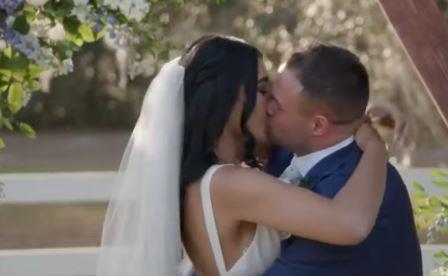 Patrick is still trying to convince Thais' father that he is worthy of his daughter's hand in marriage. After some begging and promises, her father finally accepts that she is going to get married. However, he doesn't give his blessing. They both realize they didn't handle this delicate situation in the best way. But Thais appreciates that Patrick was patient and understanding of her father's feelings in the matter. She still has doubts about the wedding; it just no longer just has to do with her father. Nonetheless, they decide to move forward with the wedding. Hopefully, they will be able to work out their issues and grow into their marriage. John may want to start looking for another place to live sooner than later.
Bilal, 42 (Kansas City, Missouri) and Shaeeda, 37 (Trinidad and Tobago)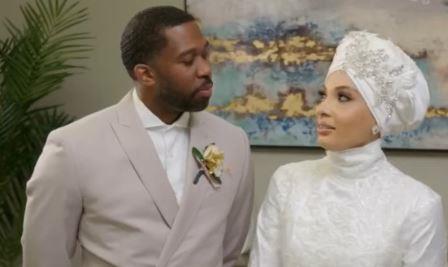 It was a long road, but Bilal and Shaeeda are ready to finally walk down the aisle.  She is still worried that he isn't as enthusiastic as her, to have a child together. Honestly, it seems like he just truly accepted the idea of getting married, so he may have to ease into idea of adding another child into the mix. During the ceremony, they are asked three times if they truly want to get married. If they still have doubts, they have both decided to put them aside. In a post interview, Bilal's children have some really nice things to say about their new stepmother. I am definitely interested in seeing how this progresses. They both have strong personalities and hope they both learn to compromise.
TELL US: ARE YOU SURPRISED ALL THE COUPLES GOT MARRIED? WHO DO YOU BELIEVE IS MOST LIKELY TO STAY MARRIED? WHO IS LEAST LIKELY TO STAY MARRIED?
Photo Credit: TLC