Love Island is back! A new group of UK singles have headed to the Spanish villa, hoping to find their forever person. Of course, no premiere episode would be complete without a twist or two. As everybody got coupled up, a Bombshell new arrival landed. Here's everything that went down on the first day.
Mixed arrivals
After the hilarious and cheesy introductions for each Islander, it was time to see them actually enter the villa. Ruchee and Jess were first in. Jess wants to be a "young MILF who takes her kids to school in a Range Rover." Aim high babes. Ruchee, meanwhile, doesn't want anybody who wears white skinny jeans. She promises she will "walk all over you if you don't match her energy."
Then, what's this? A boy? For the first time in the show's history, the boys and girls are arriving all mixed up. Mitchel is a gas engineer with a killer smile, and he's confused. Probably not difficult to confuse him, let's be honest. But he seems sweet enough. He says he's the "nice guy," and that means he always finishes last.
André, aka Dré is next to arrive. He goes for eyes first, then lips, then "big bum bum." Yep, he said "bum bum." This one never grew up, and it shows. He admits he has a wandering eye, which he expects will get him into trouble down the line. Good news for viewers!
The fifth and final arrival – for now – is Ella. She seems nervous, and forgot that she recently turned 23. She wants to be treated "like a queen." She also says she finds it difficult to hide her emotions, and can be "feisty" if necessary. Dré immediately tells her that she is his type.
Host Maya Jama arrives to deliver public vote results
The Islanders are told upon Maya Jama's arrival, that the public have decided who is coupling up with who. Jess says she likes a "pretty boy with Turkey teeth." Basically, a guy who has had fake teeth put in, in Turkey. It's cheaper over there for that sort of thing, apparently. She's excited but nervous about having no control. "Life is made for making risks." Not quite as catchy as she probably thought it would be, but a catchphrase nonetheless.
Enter George. He has a big mouth, and it's already gotten him into trouble. He says his mother calls him a "Casanova," which he thought was a type of car. Either that, or he's just trying too hard to be funny. Maya reveals that the Brits have paired him up with Jess. She doesn't look too happy about the decision, but calls him a "handsome boy."
Molly then walks through the villa doors. She's from a musical theater background, and wants a "cheeky chap, cheeky smile, cheeky personality, cheeky bum." If he's muscly, that's good too. But she wants him to be all about family. Mitchel immediately catches her eye, and luckily for her, the public think they'd be great together.
Catherine is next up. She's a Dublin girl who gives people "the eyes" to flirt. She hasn't ever been in a relationship, and likes "well groomed" men with a "good smile," who are "funny," and "tall." She promises producers she's going to be competitive. When she's coupled up with André, she seems happy.
French export Mehdi is next. He is very adamant about his life partner being a brunette. He hopes that he's paired with someone who brings "a bit of fire," and says he'll teach the other guys in the villa "how to be a real gentleman." He's coupled up with Ruchee, but it's not exactly fireworks from the off.
Finally, Tyrique walks in. He has a lightning bolt tattoo on his left ear. It represents his hearing, as he was born completely deaf in his right ear. The footballer is a self-admitted player "on and off the pitch," for who "flirting is a hobby." He's coupled with Ella, who immediately tells him they've met before. He plays the fool, and says he doesn't remember. It's super awkward.
Positive vibes for Molly and Mitchel
"Stay in your lane and don't come into mine," Mitchel jokes with the other boys. He's super pleased to be matched with Molly. She has "unreal energy," which is a good thing. Their bond throughout the first night strengthens every time they're together. Molly is happy he's as "cheeky" as she hoped. She also doesn't mind him being "very good looking." They talk about their favorite tea. She wants her the same color as Mitchel. They later discuss matching swimming costumes for the next day. Too early to pick these two as frontrunners?
Catherine and André are also getting along like a house on fire. "I'm happy it's not awkward between us," she tells him. "I feel like I've known you for ages." Dré says that there are "lots of green flags right now." Everything's moving in the right direction!
For the other couples, it's a bit of a struggle. Ruchee doesn't really seem to give Mehdi a chance. Same with Jess, who is already over George and his terrible banter. Tyrique, meanwhile, finally overcomes his memory loss when Ella tells him she was blonde when they first met. Phew.
Beer pong with a twist – no alcohol!
The first game of the new season sees a lot of tonsil tennis take place. Mitchel has to snog the three Islanders he fancies the most. He chooses his partner Molly, as well as Jess, and Ella. Despite fancying him when she first walked in, Ella says her kiss with Mitchel was "so dead." That'll be mortifying when he watches it back.
Jess has to snog the Islander she thinks is "boyfriend material." Molly's face is a picture when she decides to go in for a second kiss with Mitchel. She gets her own back later on, when she has to challenge her "biggest competition" to a push-up competition. Molly wipes the floor with Jess, who can only do a single push-up. She later gets to nibble on Mitchel's ear. So awkward, but Mitchel seems to like it. "She can do what she wants," he says.
Just as the night seems to be winding down, Maya arrives once more for a shocking announcement.
Meet the first Bombshell of the season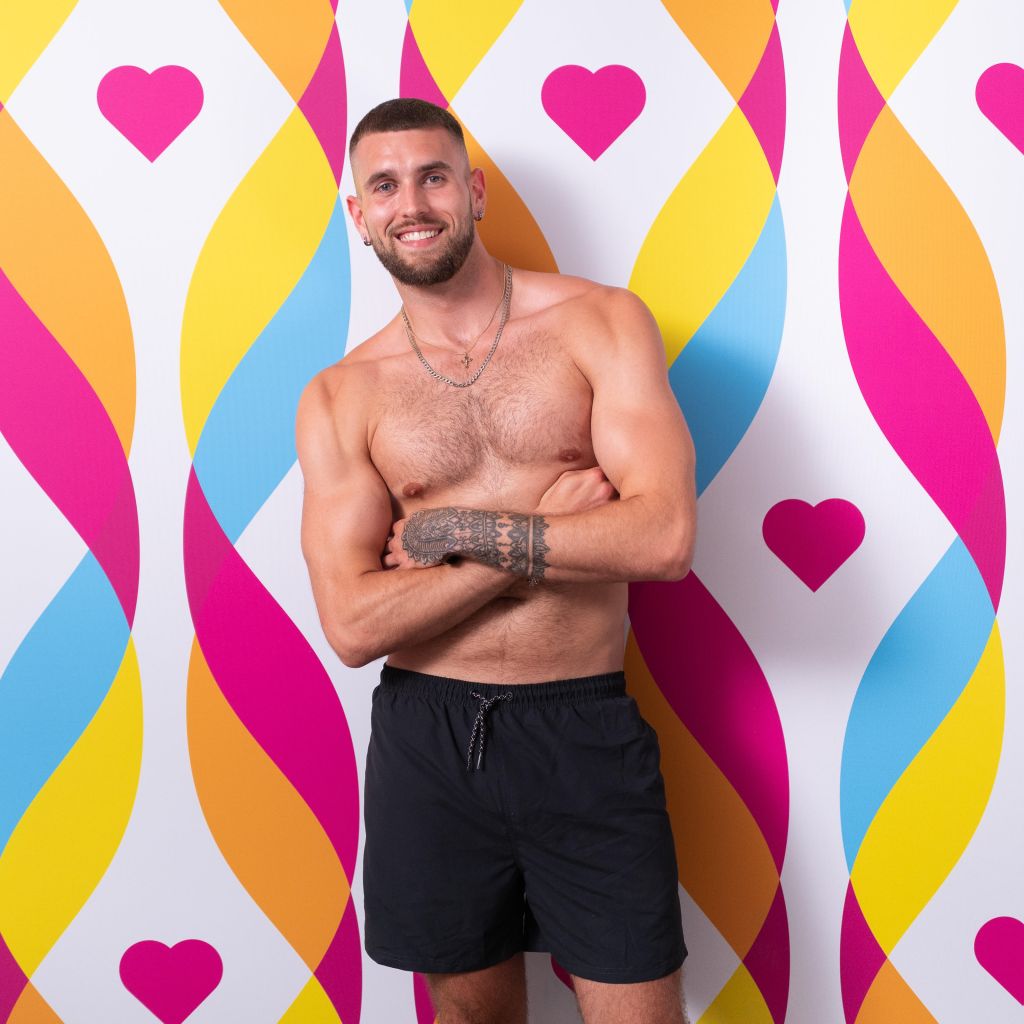 Maya has a dare for the girls. Step forward if you don't think you're coupled up with the right person. Predictably, both Jess and Ruchee make a move. Jess doesn't feel a "connection" with George. "He's everything someone else could want, but just for me it's not there," she explains. It's actually a very nice way of dumping someone on the first night. Ruchee is a bit more blunt about Mehdi. "I'm not attracted," she says.
Fortunately for the girls, there's someone waiting in the wings. Zachariah is a personal trainer, who sounds like he's auditioning for the role of an extra in a British version of 50 Cent's series Power. "I reckon a couple of heads are gonna turn," he says. Confident in his confessionals, but seemed to crumble a bit when he walked into the villa.
Still, he's got all the power now. In just 24 hours, he will get to decide who to couple up with. He doesn't have to just pick out of Jess and Ruchee, either. He can couple up with any girl he likes, leaving one boy vulnerable. Pass me the popcorn.
Love Island continues on ITV2 and ITVX.
TELL US – DID YOU ENJOY THE FIRST EPISODE OF THE NEW SEASON OF LOVE ISLAND? DO YOU HAVE ANY EARLY FAVORITES? DID THE BRITISH PUBLIC GET THE COUPLES RIGHT?