Vicki Gunvalson has moved on from her breakup with ex-fiancé Steve Lodge. She's been with businessman Michael Smith for over a year now. I think it's probably safe to say that Vicki's infamous Love Tank is pegged at full.
The Real Housewives of Orange County alum took an end-of-summer vacation with Michael and another couple to her happy place, Puerto Vallarta, Mexico.
On September 4, Vicki shared a series of snapshots from her trip on her Instagram Stories. I wonder if they visited Andale's while they were there. We all know how Vicki loves to "whoop it up" and dance on the bar after a few shots of tequilla.
Pics from PV
The couple posed at the Casa Kimberly, a luxury hotel created when the former homes of Elizabeth Taylor and Richard Burton were combined. Vicki and her beau cheesily recreated a statue of a man and woman embracing in the hotel's courtyard. I'm getting "I'm the king of the world" vibes.
They also shared a photo of themselves posing together on a balcony with the red-tiled rooftops of Mexico in the background.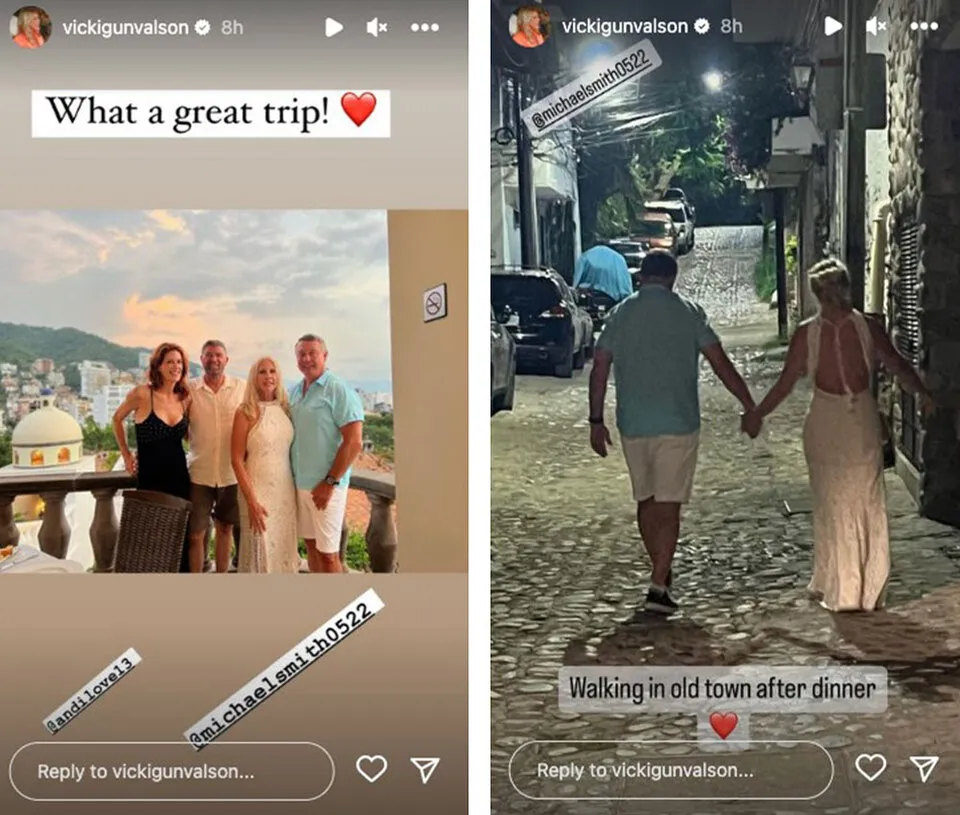 Vicki later shared a snapshot of the group posing on a balcony with a sunset view behind them, captioned, "What a great trip!" She also posted a pic of her and Michael walking down a cobblestone street holding hands. The second photo was captioned, "Walking in Old Town after dinner."
A relationship update
A couple of months before taking the trip to Mexico, Vicki shared that she and Michael are now living in the same state. "He just moved back from Texas … [and has] a place here," she announced in June.
Apparently, Vicki exerted a little pressure instigating the move. "I might've had to ask him," she admitted. Of course, she did.
Even though they aren't living together, Vicki is sure that will happen "eventually," as long as their relationship continues to grow. She says she's "taking it slow" for the time being.
Good for her. She has a track record of choosing shady guys. For her sake, I hope this one's a keeper. How long do you think it'll be before she talks him into letting her buy her own engagement ring? Time will tell.
TELL US – DO YOU THINK VICKI HAS A GOOD GUY THIS TIME? HOW LONG DO YOU THINK BEFORE SHE ANNOUNCES THEIR ENGAGEMENT?