Gina Kirschenheiter has been having a great time on Season 17 of The Real Housewives of Orange County. The five-year veteran of the show has come a long way. She's weathered a divorce, a DUI, and a subsequent temporary loss of her California Driver's License. These days, she's more sure of herself, expressing her opinions and enjoying life with a clear head (she's been sober for nearly two years now).
The only sometimes tricky area has been in her "genuine" friendship with Heather Dubrow. There have been a couple of times when Heather felt Gina wasn't spending enough time with her, but they've discussed their feelings and are still close.
After five years, the New York native has finally found her footing in the group and has a brand new podcast, Orange Country. Gina's pouring out the tea for OK!
Heather will be there "anytime day or night"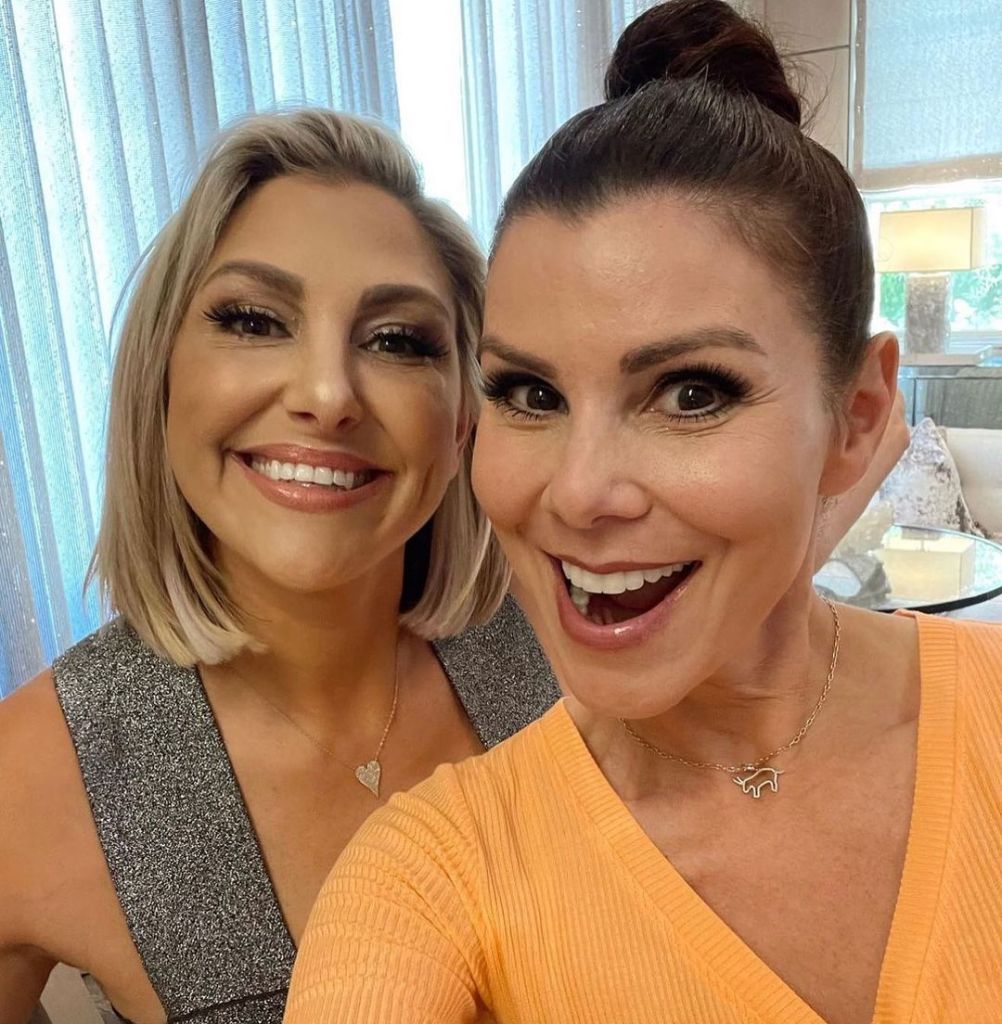 "Heather genuinely cares about me," Gina says. "No matter what the gossip or the tabloids say, I know my friendship with her. I have a lot of respect for her."
"If you really know her," she says about the actress, "you know that. At the end of the day, I could call Heather any time of day or night, and if I was in a bad spot, Heather would be there. To me, that's the measure of a good friend."
It wasn't easy breaking into the group when Gina and BFF Emily Simpson joined the RHOC cast in Season 13. At first they were met with resistance from the OGs. Vicki Gunvalson's aversion to making new friends is legendary.
"I remember the first all-cast event that I attended," she recalls of her early days as a newbie. "It was a dinner, and Vicki was there. I very quickly pissed off Vicki, and I didn't even know I did!"
Gina's found her voice
But these days, the mom of three is no longer afraid to speak up for herself. Her confidence has grown, and she doesn't hesitate to face off with any of the other women when the situation calls for it.
"I'm just going to say what I feel and voice my opinion," Gina says, "as if I was at any other table with a group of women. [At first], I didn't understand the hierarchy and the dynamics. [But] I've always … tried to have a voice … I think the longer you're on it, the more respect you get within the group, which allows you to have even more of a voice."
These days, you can hear Gina's voice on her new podcast with her co-host, Grammy award-winning Country songwriter Shane McAnally. She's hoping to have some open and honest conversations about life – and probably a few Real Housewives.
TELL US – DO YOU AGREE THAT GINA'S GROWN A LOT SINCE SHE JOINED THE SHOW? WILL YOU BE LISTENING TO HER NEW PODCAST?