Another week, another preventable disaster caused by Larsa Pippen. The ladies are back in Real Housewives of Miami Season 6, Episode 3. Last week, fans were left on a cliffhanger as Larsa joined Guerdy Abraira for lunch and Guerdy struggled with whether to tell Larsa about the breast cancer diagnosis. Guerdy cried as she recommended Larsa offer "a safer space."
Larsa Pippen cannot keep a secret (duh)
As Guerdy wept, Larsa demanded to know what the tears were for. Guerdy leaned in and finally said what all viewers knew: "I have breast cancer." Larsa was (finally) left speechless, but only for a moment. When she did respond, she bafflingly said, "How am I supposed to know that?" Guerdy looked understandably frustrated.
Larsa then began asking how Guerdy knew she had breast cancer. "Are you seriously asking me how I know I have breast cancer?" Guerdy rightfully responded. After breaking it down, Larsa apologized, but in the most stand-offish way possible. Guerdy again asked for a safe space and told Larsa she told her "in confidence."
To no one's surprise (especially the editors'), six hours later, Larsa was already spilling the beans. At Marcus Jordan's welcome home party, she told her friends as well as the rest of the Housewives cast. When Larsa's friends told her to be a friend to Guerdy, she seemed to struggle to understand the concept.
Drama at Marcus' welcome home party
Lisa Hochstein and Jody Glidden arrived at Larsa's party in matching denim, comparing themselves to Britney Spears and Justin Timberlake (unfortunate timing with the memoir). Marysol Patton and Steve McNamara arrived in matching black, followed by Kiki Barth. The women questioned the need for a welcome-home party after just five days of traveling.
When Larsa revealed Guerdy's cancer diagnosis, Lisa, Kiki, and Marysol were understandably distraught. Alexia showed up with Todd Nepola, and she was equally distressed by the news of Guerdy. The ladies were surprised to see Todd at the party, especially since he skipped out on Alexia's party. Once Marcus walked in, he expressed his surprise to see Todd as well.
Todd explained that he didn't want to join the party because "people" on the guest list would have allegedly bad-mouthed his family and stepson. Though, Kiki believed Adriana de Moura was being used as a scapegoat. But Todd was ready to move on (a little too quickly). Marcus needed a drink.
Lisa's stuck on Lenny at Jody's expense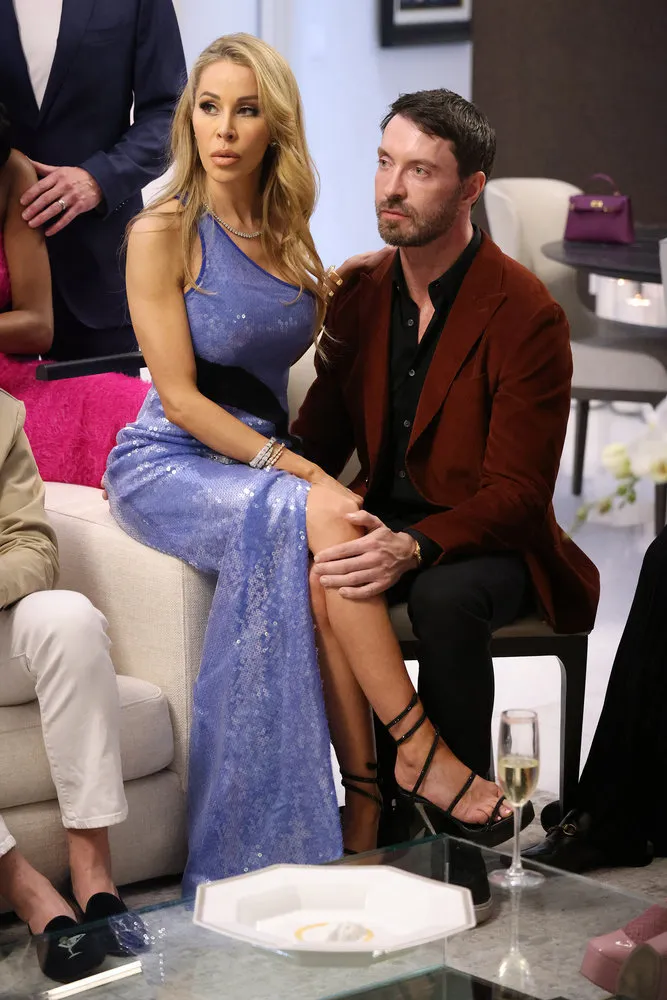 The group briefly discussed Larsa's charity basketball game for the next day and celebrated Marcus' homecoming over drinks. Lisa announced her attempts to become financially independent. Larsa told the camera about her experience of being "trapped" with Scottie Pippen. The men then stepped outside.
With Jody outside, Lisa started going off on Lenny Hochstein. "He doesn't give a damn about me," she began. The longer she went, the more her friends tried to get her to calm down. "He has tortured me my entire life," Lisa said. As Jody went to use the bathroom, the other girls tried to warn Lisa, but she didn't care.
Jody walked right past the conversation just as Lisa said, "Even though I have Jody in my life, I cry almost every night." Mayrsol called Jody "a damn saint" for listening to the Lenny stories so often. Lisa would not drop the topic.
Rare wholesomeness on Real Housewives of Miami
Separately, Nicole Martin and Anthony Lopez went shopping for a replacement boat (there was nothing wrong with the current boat, they just wanted a bigger one). The two also discussed their intentions to have a second child.
Julia Lemigova, meanwhile, went to her secret opera lessons. Julia revealed she'd been learning opera in secret because her wife, Martina Navratilova, loved opera more than anything in the world, and she wanted to surprise her wife. While Julia's technical skill perhaps wasn't quite there yet, the sentiment was beyond sweet.
Elsewhere, Guerdy and her husband, Russell Abraira, were taking a walk and having a candid conversation (after discussing Guerdy's "scared of bird phobia"). Russell told the kids about the diagnosis. Liam asked if it was contagious, and Guerdy smiled. Guerdy made sure Russell wasn't too taxed with her "sh*t," but he said, "Your sh*t is my sh*t," and the two had a moment.
The drama's only just begun
At Lisa's house, Lisa spoke with Jody on the phone about Lenny, acknowledging that Jody was acting as her therapist. As her kids shouted for her, Lisa just stayed on the phone for a while. Lisa further acknowledged that she was being pulled away from motherhood, blaming Lenny, who allegedly once said, "One day, the kids will see who you really are, then they won't even choose you."
Nicole met up with her mom to discuss the new house and other life developments. "We're trying," she said in response to baby number two. She further explained that marriage was not a rush for her or Anthony, and she wasn't worried about how her life would be if Anthony broke up with her.
Julia and Martina met up for lunch where Julia was met with a rude awakening. Due to her opera practices, she forgot the end of Martina's treatment three days prior. "I genuinely feel horrible," Julia said, but she couldn't explain herself since she wanted the opera to be a surprise. Understandably, Julia became emotional due to the remorse.
Guerdy soon joined the pair to get some insight into the cancer treatment process. She admitted her fears regarding chemo and radiation, especially with the void of black breast cancer survivors out there. With many of Guerdy's fears assuaged, the episode ended with Larsa and Marcus discussing the upcoming charity event, which a teaser showed to be a nightmare between Adriana and Marysol.
Real Housewives of Miami continues Wednesdays at 9 p.m. ET on Bravo.
TELL US – WHAT DID YOU THINK OF LARSA SPILLING GUERDY'S SECRET? WHAT MIGHT WE BE IN FOR WITH THE BASKETBALL GAME?