After rough waters between First Mate Bryan Kattenburg and misguided gnome of a Deckhand Danny Zureikat, we are being treated to some beach sun and fun with the horny charter guests of the moment on Below Deck Mediterranean. Fellow Deckhand Bobby Giancola and Danny have been invited to join the all-male guests to party on the beach and compete to see who can kiss a bar-dancing girl first. You would think I'm making this up, but I can assure you, I'm not. Bobby makes a sad/valiant attempt but is shot down. Danny scores by jumping on the bar and joining her and is rewarded with an awkward kiss on the cheek, which is all this poor girl could muster.

Back on the Ionian Princess, Chief Stewardess Hannah Ferrier isn't feeling well but won't let her pride or a migraine take her away from her duties! Deckhand Jen Riservato tries in vain to please an unimpressed Bryan with her window cleaning abilities. Hannah is busy calling Danny but to no avail because Danny is knee deep in women, hopping around them like a coked up elf. He finally calls back to Hannah to let them know they are coming back with the guests for dinner, plus 8 random women.
CLICK CONTINUE READING FOR MORE!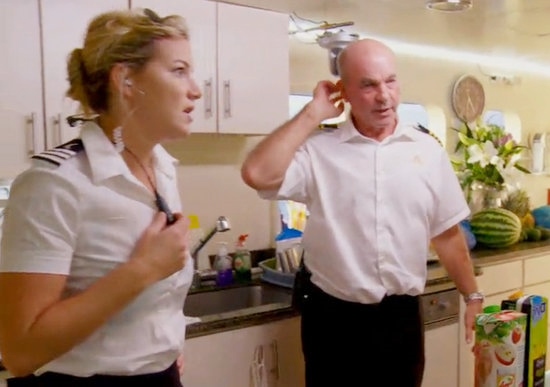 While the crew hustles to get dinner ready, Danny basks in the glow of his pimps charter guests, who love the fact that he has delivered them a bevy of women who are willing to eat free food and drink on a yacht. Because that would be so hard to find. Money can get you a yacht, but it can't get you game.
Chef Ben Richardson is slinging a meat plate together while Julia d'Albert Pusey and Tiffany Copeland are saddled with the task of bartending. Bobby pounds Red Bull after Red Bull and tries to hide his annoyance with the whole thing. Danny flits around, offering to help and making sure everything is running smoothly, which is all a diversion for not really doing anything at all.
Dinner is about to start and the head guest drunkenly demands milkshakes and ramen noodles, then makes fun of Bobby for not being as cool as Danny. Danny's head swelling because he's so thrilled be head clown on board. He's definitely more cruise ship activities director than high class yacht crew – all I can do is picture him on a Carnival cruise, poolside with a whistle and super soaker. As dinner continues and the harem of women brought back quickly lose interest in talking about milkshakes, the head guest calls Danny back to entertain everyone and continues yelling "Daniel-son" five hundred times.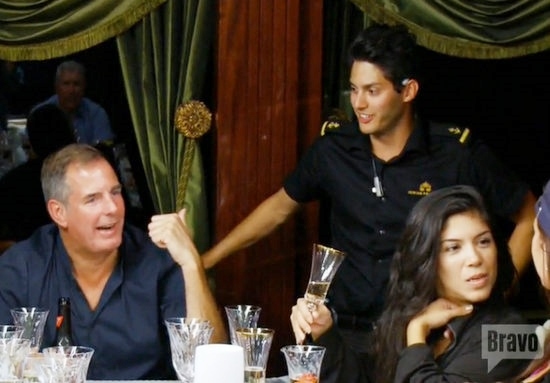 I don't know where these charter guests are from and why they seem so excited over milkshakes and a tiny deckhand named Danny, but it's kind of embarrassing to watch. Danny appears with a bandana and pretends to be the karate kid, completely missing the fact that the women are looking for lifejackets to throw themselves overboard. The charter guests miss it too and one makes an inappropriate hand gesture to indicate that he thinks he's going to get laid but couldn't be more wrong – the women see this and immediately request a lifeboat out of there. They would probably rather be stuck on Gilligan's Island than be subjected to any more of this.
In the galley, Hannah immediately starts nagging Ben about how Danny needs to stay out of her way. Ben seems to think he can do whatever he wants because it's his kitchen and they part in a stalemate. The tension is mounting, even though they made amends after Ben tattled about her to Captain Mark Howard.
Danny is busy swabbing the deck and bragging about how a bunch of over the hill losers think he's the Charter King. Milkshake Man and his friends take the jet skis out and Danny can't seem to separate himself from the fact that he is working on the yacht and the guests are here paying for it.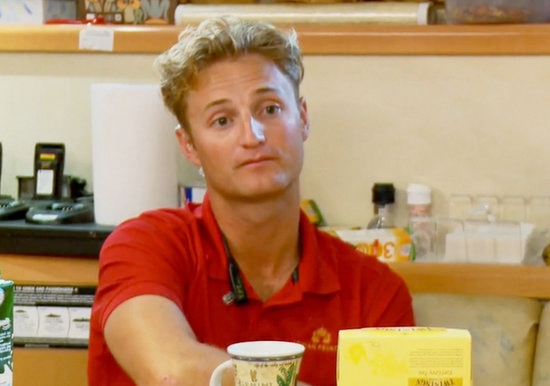 As they head into port, the waters are choppy and the wind is high so the crew needs to make a game plan to make sure they can dock smoothly. It wasn't easy but they manage to the point that the guests didn't even notice – they were too busy making sure they can be friends with Danny on Facebook and looking at his iPhone pics of the Tilted Kilt girls.
The crew lines up to say goodbye and Milkshake Man decides he's going to be an even bigger d-ck than I thought possible by setting aside a special "MVP" tip, just for Daniel-son. Captain Mark immediately confiscates it and Danny deflates a tiny bit but not enough to not expect some praise for the extra gratuity he clowned so hard for.
Turns out, the tip, even with Danny's extra, sucked and I'm not surprised. Those guests belong at Hedonism, not a yacht on the Mediterranean. Captain Mark gives the crew the night off and Bryan tries once again, to talk to Danny about standards in yachting and five star service. Danny could not care less; he's still riding high from the praise of his charter guests/new best friends. Back in their room, Hannah and Julia girl-talk about Bobby and Hannah wonders aloud if she should have a cheeseburger (Bobby) or fish and chips (Ben), as if she has an actual choice.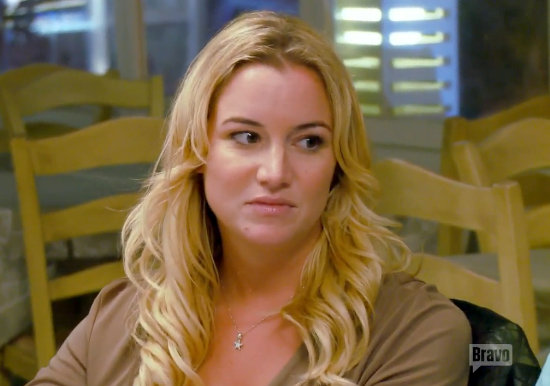 The crew heads out to dinner and it doesn't take long for Hannah to start flirting openly with Bobby. It doesn't seem to have the effect on Ben that Hannah thinks it does. As Jen and Danny bond over how real they are at one end of the table, Hannah and Ben start sparring again at the other.
Ben thinks Hannah threw him under the bus and she brings up the fact that he went to Captain Mark and tried to get her fired. Even though this is a perfectly private conversation at the end of the table, Danny takes it upon himself to get involved and tell Hannah she needs makeup because she has an ugly personality. Hannah pushes him away but storms back to confront her smurfy opponent. Danny doesn't have anything to say (until she walks away, that is) and Hannah stalks off. The table goes back to laughing and having a good time as Julia runs after Hannah. Looks like someone could use a milkshake and some cheering up.
Photo Credit: Bravo
Author: Karen