You know who we haven't heard from lately? My main man and the all around fantastic Benzino. The Love & Hip Hop Atlanta star is no stranger to baby mama drama, friendship feuds, and run-ins with the law. 
Everyone's favorite L&HHATL star and his on-again-off-again girlfriend Althea Hart were featured on Marriage Boot Camp Reality Stars, but Zino has managed to avoid any negative press after his latest arrest in February of last year–it's not confidential, he's got potential (shout out the The Killers). You remember that pesky incident? Benzino was pulled over for not wearing his seat belt and the officers discovered he was driving on a suspended license…with a heck of a lot of weed in his car. This was on the heels of accidentally trying to get through airport security with a loaded gun. I mean, people forget, right? 
CLICK THE CONTINUE READING BUTTON FOR MORE!  
Well, I am excited to report that Benzino is completely off probation…well at least for that whole TSA/firearm debacle. The reality star is proud to announce that he has served his debt to society, and he's a better person for it. 
On Instagram, he shared the affidavit filed by his probation officer releasing him from probation after he completed the terms set forth by the judge. Zino writes, I am officially off probation (for the airport incident) I completed a gun safety class, paid 2000 in fines and completed 700 hours of community service which I am very proud because I got a chance to speak and hopefully impact young men and women all across Atlanta."
Benzino continues, "I made a terrible mistake and I owned up to it and made myself a better man in the process! if you make a mistake, you admit it, own up to it, correct it and fix it!!!"
I, for one, am not surprised that Benzino made lemonade out of lemons. That's just the kind of neckless guy he is. 
TELL US – ARE YOU SURPRISED ZINO COMPLETED THE TERMS OF HIS PROBATION SO QUICKLY? DO YOU THINK IT CHANGED HIM?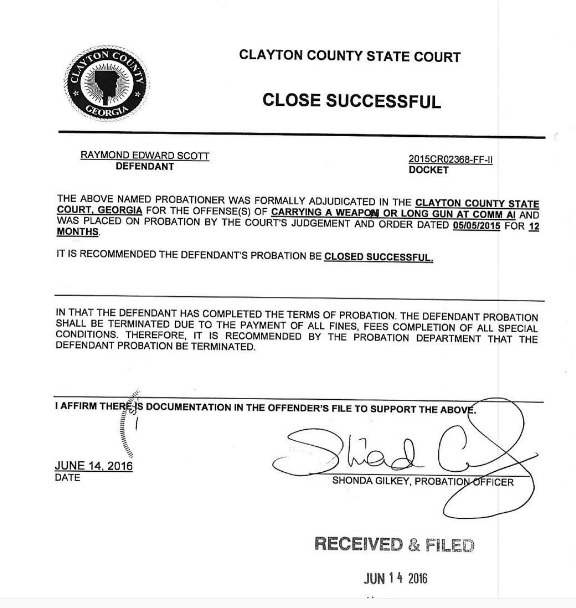 Save