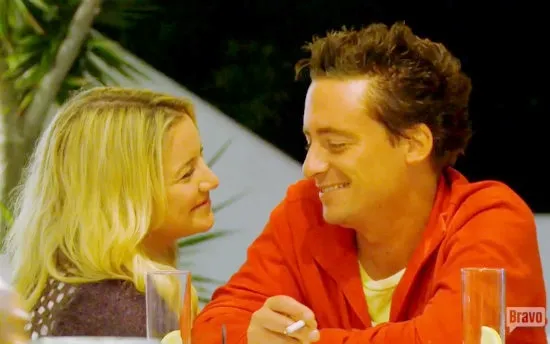 It's been quite the charter season for the cast of Below Deck Mediterranean but alas, it had to end somewhere. While I was just as happy as the crew to see Danny Zureikat finally get sent home for his unprofessionalism, I will miss playing the Danny Drinking Game, which is to take one shot of ouzo every time Danny is rubbing elbows with the guests instead of doing work. The good news is, I'm totally sober for this recap so let's get to it.
CLICK CONTINUE READING FOR MORE!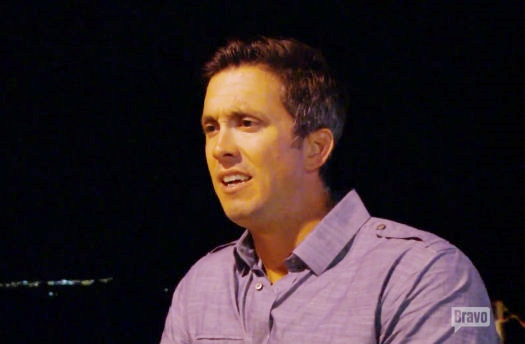 We pick up with from last week with the gang is out celebrating Danny's overdue departure and letting their hair down after a particularly grueling charter last week. Unfortunately, there must be something in the Mediterranean air because the mood of this outing is anything but celebratory. A drunk Bobby Giancola is screaming at his unwilling crush, Julia d'Albert Pusey and pretty much everyone else. Whoa, Bobby, time to ease up on the protein powder.
One person who isn't going to take any crap from a Redbull fueled bro like Bobby: Jen Riservato. She's had enough and squares up right in his face but the Bravo crew has to break it up and Bobby storms off to the dock. The only bigger douche right now is Bryan Kattenburg, who follows Bobby to complain that the girls are just mad because they are "peanut butter and jelly" (so, they are delicious?) and ask if Bobby got tongue and titty action from the girl he was trying to get on the yacht, which is how this whole mess started.
Julia and Hannah Ferrier are already seething back on the Ionian Princess and Julia goes to bed in tears. Sigh, well that didn't end well. 
The next morning, everyone is up and functioning (oh, to be 25 again!) but Bobby is having flash backs of what a complete ass he was to everyone. Bryan, ever the professional, acts like nothing happened and asks Jen how her night was. Bobby feels remorse and immediately apologizes for charging an unfazed Jen, which she accepts. Bobby knows he needs to apologize to Hannah and Julia and starts with a reluctant Hannah. She forgives him with a hug and says she won't go to Captain Mark Howard, citing "yachting code", which means you protect your fellow crew members as long as they aren't Danny.
Bobby finally gets Julia to listen to him and he apologizes profusely. She isn't so much mad that he took a go at her but she thinks it's over the line to talk negatively about her boyfriend. Clearly, Julia realizes how much stress her yachting career puts on her relationship and Bobby's little tirade hit a nerve. Bobby continues to apologize but Julia isn't ready to forgive just yet.
It's time to get this next charter underway and our primary guest is a ginger beer brewing mogul and his best sales people. Lots of awkward middle aged guy jokes ensue and Hannah knows she can handle this group. It will be a breath of fresh air after the last set of guests!
One thing she can't handle is Bryan's ego, which is in full force as they attempt to set up for a picnic on the beach. Well, the crew tries to set up but Bryan just gives orders. Because it's too windy, lunch on the beach is scrapped and they have to head back to the boat with all the supplies they just packed up for a picnic. Chef Ben Richardson has a short window to make lunch happen but manages to pull it off and these guests remain happy customers.
The sun sets on another day at sea and the Ionian Princess docks in Naxos so the guests can immediately enjoy the island the next day. The guys leave the charter with plenty of compliments and the biggest tip of the season, leaving everyone happy. Well, sort of. Hannah and the other women know they need to confront Bryan for his misogynistic ways. That's right, ladies, ban together and finally take a stand when it will be totally pointless because you won't be working with Bryan anymore. They should have done this weeks ago but whatever, Tiffany Copeland is just thrilled she dodged the bullet of hooking up with Bryan earlier in the season.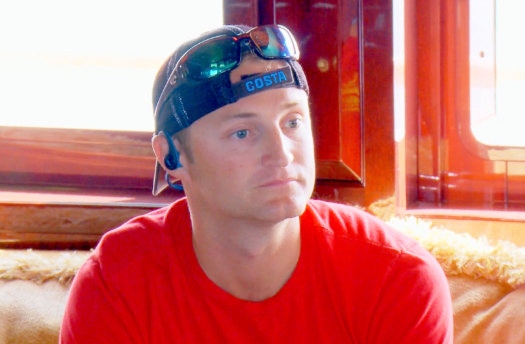 Bryan is hereby called to the Fraternal Order of the Disgruntled Female Crewmembers and Tiffany starts by saying they just want to give him some constructive criticism on how to better get along with women. Come on, Tiffany, you can do better than that! It doesn't matter because Bryan isn't about to absorb any constructive criticism while the women politely try and point out why he's such an a-hole. Jen is done pussyfooting around and calls him out on the fact that he doesn't want to listen or learn anything. Bryan leaves, giving zero apologies and probably hating women even more than he previously did. If that's even possible.
As a reward for a hard season's work, the crew has a bonfire party on the beach and Captain Mark has a bunch of nice things to say about everyone. After a shot with the crew, he heads back to the boat early so the crew can get all sh** faced without him. The ladies burn their uniforms and Hannah follows Ben back to the beach bar to throw herself on him. Ben is getting all serious, saying that he wished he could have gotten closer to her but there is a line and he didn't want to cross it. Hannah ignores that statement and sing-songs that she loves him, while trying to force a kiss. She gets his cheek, then his lips, but he might as well have been kissing his little sister. That was painful.
Bobby and Julia are left alone at the bonfire and Bobby reveals his feelings to Julia again, despite the fact that she has rebuffed him multiple times. He says that after only six weeks of knowing her (and no romantic reciprocation on her part at all), he has fallen in love with her. Julia is uncomfortable but I have a feeling this isn't the first time she has been given this speech; she really is adorable. While Bobby's feelings aren't returned, it was an admirable move to at least put them out there and I give him credit for showing his vulnerability while ultimately trying one last time to get laid.
The crew heads back to the boat to drink some more and pretend to go to bed, while everyone figures out who they are going to hook up with. Despite Hannah's best attempts, Ben is about to hook up with Tiffany and Bryan searches high and low for him so he can deliver him that condom he was asking for. Noises are coming from the dining room, Hannah goes to investigate and it looks like Ben and Tiffany are doing more than just having a midnight snack.
The next morning, Tiffany giggles to Jen that she had sex with Ben and here are the basics: they used a condom and it was good. Ben, still brushing his teeth, talks to Hannah and she calmly reveals she knows he hooked up with Tiffany last night since she's up late, seeing and hearing all. Once he leaves, she confides in Julia about what she saw. In her talking head, she can't resist throwing shade at Tiffany, saying she is gorgeous but low maintenance and she knows guys like Ben, who get bored quickly. Given that this was the last night of charter season and everyone is going their separate ways, I think it's safe to say Tiffany wasn't expecting much anyway but ok, Hannah, say whatever you need to make yourself feel better on this one.
It's time for the final departure and everyone is saying goodbye and leaving the boat. Bobby and Julia part ways with a hug and Julia's hope that Bobby finds the right girl. Bobby leaves, without the girl but plenty of experience in yachting.
Jen decides that instead of being fake and hugging Bryan goodbye, she's going to tell him exactly what she thinks of him. Which is, at least she doesn't need alcohol to escape reality of being a giant tool (ok, I added the last part). Jen wants to end on the truth and tells Bryan to sit on a dick. LOL. I didn't realize how much I liked Jen until now. Only Ben and Hannah are left and they part with a really warm embrace and the promise of staying in touch. Hopefully, this isn't the last we have seen of this bunch.
TELL US – WHAT DO YOU WANT TO SEE IN SEASON 2? WHAT'D YOU THINK OF THE WAY THINGS ENDED?

Photo Credit: Bravo
Author: Karen
Save
Save