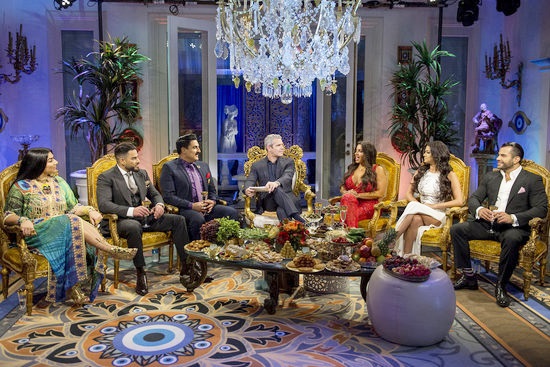 It's that time again, where the Shahs of Sunset gather around a large spread of food and rip each other to shreds. If I were to sum up part one of this reunion, in a few words, it would be: evil eyes, extramarital affairs, and hair extensions. So. Many. Extensions. Asa Soltan Rahmati isn't wearing them but she made up for her lack of fake hair in about sixty pounds of tacky jewelry.
Some of the covered topics on tonight's reunion include: Reza Farahan's ambush wedding to Adam Neely, the breakup of Mike Shouhed and Jessica Parido, and the hot new romance between Mercedes "MJ" Javid and everyone's favorite neighborhood lug, Tommy Feight. We are also subjected to treated to an appearance by Vida, who just could not miss an opportunity to criticize these easy targets.
CLICK CONTINUE READING FOR MORE!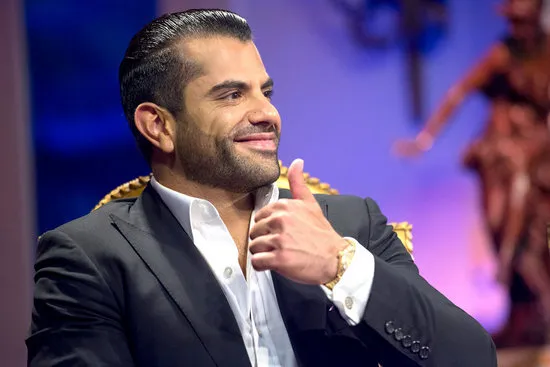 We ease in with some education on why there is always such a large spread of food at a Persian get together and the group explains that it's a show of wealth to have plenty of food to choose from.
Speaking of actual wealth, let's talk about Shervin Roohparvar, the richest but least exciting of the crew. He tells us that the beautifully bored Aussie Annalise is still in the picture. By in the picture, he means she lives in another continent and visits when she happens to be in L.A.
Here's a fun fact I was dying to know: Shervin grew up in Alabama after his family immigrated to the United States. Andy Cohen (and everyone else) wants to know how an Iranian-born, Alabama-raised kid becomes a Silicon Valley mogul. Shervin diplomatically explains that he had family in California, but doesn't explain the rest and I'm disappointed. That is pretty much the only interesting thing about Shervin and he won't even share the details.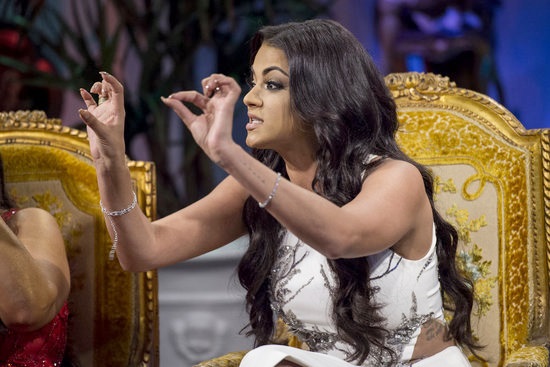 As Andy tries to transition into talking about Shervin and Golnesa "GG" Gharachedaghi's friendship, GG makes the fatal mistake of proclaiming that loyalty is number one in her book (right behind boozing and smoking). Reza angrily interrupts to talk about how disloyal GG is. The specifics of whether or not GG actually has a sex tape of him turns into a screaming match but Andy squashes it so no one blows the whole reunion in the first five minutes.
Let's talk about Reza's surprise wedding to Adam (I would prefer not to but I guess it's not MY reunion to run). Reza is thrilled that he can be Persian, gay, and get married on TV. He says the world is changing and cites the fact that we have an African American President and are *about to* have a female president. I hope Reza understands that he is not in the same category of history but he plows on to say how he loves inspiring other Persian gay men who watch the show. Does anyone else remember the Sasha debacle from two seasons ago and how Reza treated him? Reza is hardly a shining example of championing gay rights and acceptance.
More talk about Reza's dumb wedding (tune out) and Mike admits it made him sad for his own marriage (really tune out). The heat now falls on MJ and her involvement in his wedding plans but she explains that she has the type of friendship with Reza where she is entitled to tell everyone about Reza's surprise plans. Mike accuses MJ of sabotage because she was jealous that Reza didn't pick her to be the officiant. Reza doesn't seem fazed that MJ went behind his back to coax Adam into being more assertive in their relationship and I'm bored with this whole exchange. So your friends didn't support your (later discovered to be invalid) wedding ceremony that you were springing on your partner, big deal?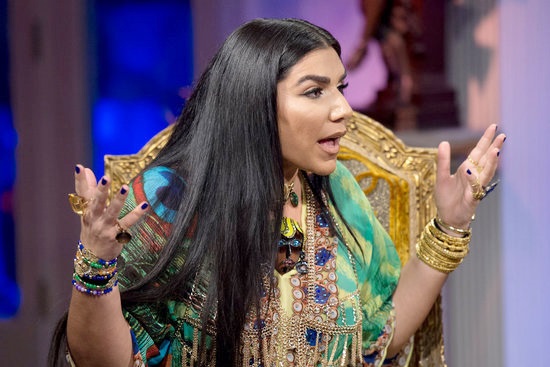 Reza does seem calm about it but it's Asa who seems to have beef. She jumps in when MJ laughs a little too loudly at the idea of MJ being jealous of her friendship with Reza and they get into an argument about who eats too fast at the buffet, which is apparently, the true measure of friendship. There seems to be a lot of bad blood between Asa and MJ and Asa believes it's all about MJ being jealous of others. I'm having a hard time focusing on anything Asa says with that outfit she is sporting. It is blinding, for real. Bottom line of all this: MJ will never be friends with Asa again and wants us to know it.
Time to revisit the cast trips this season that took us from camping to Palm Springs to Belize. A viewer asks if GG learned anything from the intervention they held while camping. GG has a pursed lip response so let's just take that as a no. Surprise, right? GG says she was in a horrible place and not in the position to accept any help.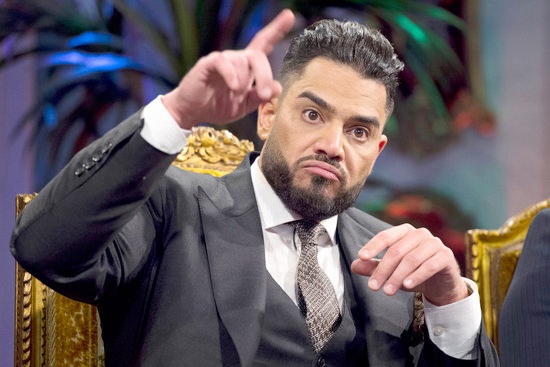 I guess we have to talk about Mike's marriage now. Can I just say up front I'm tired of hearing Mike act like he's a victim in all this? You dogged your wife out, you got caught, and you're heartbroken she didn't come back after you sent flowers and had your friend invite her on the cast trip. Even Mike's words about being sorry for cheating are incredibly insincere and he's even gone back to saying that the cheating incident that broke up his marriage happened before he got engaged. So not buying it.
After being fed that BS, we are treated to a montage of the happy moments between Mike and Jessica. Thank god it was short but unfortunately, now we have to sit through Mike's pity party for himself. I would like to think that this would be the time where Mike does some explaining, but Andy goes really easy on him and switches to reports that Jessica immediately got a new boyfriend. MJ has some serious judgment (which is really that jealousy again) for Jessica and says Jessica married Mike because she thought he was a gravy train. SNORT – more like a chuck wagon!
Reza and MJ, despite being terrible friends to Mike and continuously meddling in his marriage with ill intent, all of a sudden are back to faulting Jessica for not realizing Mike was the "perfect package". But Mike is sort-of dating again so if you have zero standards and want to be the designated Queen of a failing shoe empire, get in line, ladies.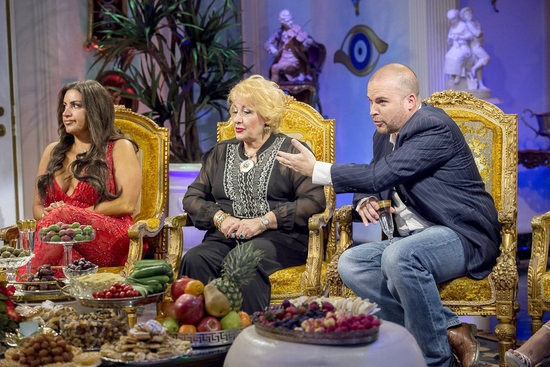 Over to a slightly more promising relationship (but not by much), we are joined by Tommy and Vida. You all know I couldn't stand Tommy when he first came on to the scene but slowly, that big calzone won my heart with his Andrew Dice Clay rants and seemingly big heart. I love how he handles Vida by not putting up with her crap but not getting upset or angry either.
Speaking of, Vida Dearest hasn't changed her mind about Tommy and thinks he doesn't have a sense of morality. She cites the "filthy" pictures of MJ and Tommy in the pool in Belize that Asa calls art. Vida implores Asa to take pictures of her own big ass (her words!) and leave MJ out of it.
As for the wedding, MJ says they set a date for June of nevergoingtohappen 2017 and Vida glowers even harder. That won't work on Tommy, who remains upbeat, continues calling MJ a beautiful angel and when she starts to get emotional talking about kids, he gallantly offers her his handkerchief. Chivalry is not dead, it's just hidden under layers of a Bronx accent and unkempt facial hair.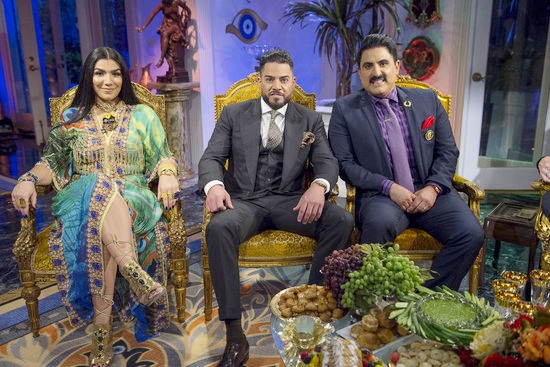 Now that we got that out of the way, it's time for everyone to get wrecked by Vida Dearest and her rapid fire critiques. Thanks to a clip from Watch What Happens Live, Vida says GG should stop being a victim, Mike is a confused dreamer, Asa should stop using the show for her personal benefit, Reza should stop using the word bitch and acting superior, and Shervin gets off unscathed by being "OK", which is how I would rate part one of this reunion show. Just OK. Hopefully, tomorrow night, Andy will put on his big boy pants and get some real answers to our questions.
EDITED TO ADD: Don't forget tonight is part 2 of the reunion! Join us here to hash it over!
TELL US – THOUGHTS ON PART ONE OF THE REUNION? IS MIKE A VICTIM? IS MJ A BITTER AND JEALOUS PERSON? WILL MJ AND TOMMY ACTUALLY GET MARRIED?

Photo Credit: Nicole Weingart/Bravo
Author: Karen
Save