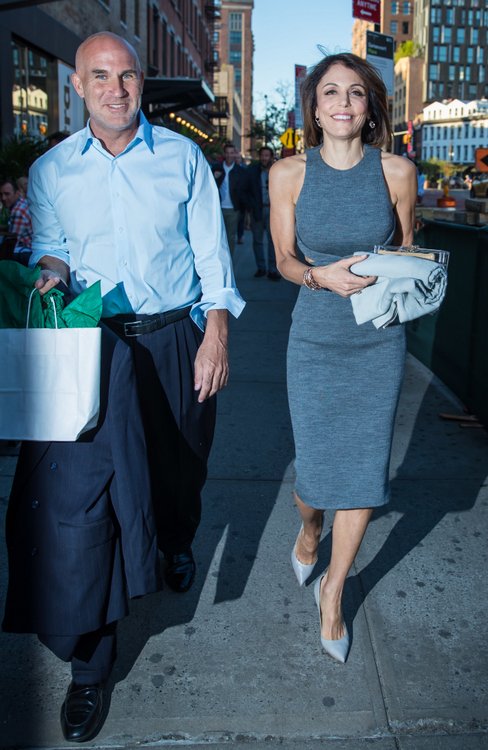 Bethenny Frankel's four-year divorce may be behind her, but controversy still follows her everywhere. In the wake of the Real Housewives of New York Reunion allegations that Bethenny was dating her current boyfriend Dennis Shields prior to his split with his wife, Bethenny has taken a step back from the housewives. But she is not taking a step back from romance, despite what others may think of her relationship!
Bethenny gushes about Shields, "He's exceptionally brilliant and funny, and a very major family person." Bethenny has known Shields as "a friend" for 27 years, and shares that her daughter Bryn met him when she was a baby. She says Bryn thinks "he's very silly and fun and nice." 
CLICK THE CONTINUE READING BUTTON FOR MORE!
In an interview with US Weekly, Bethenny explains that she's dated a total of two people since her split with ex-husband Jason Hoppy. Since that time – and maybe because of it – she says that integrity and kindness are the primary character traits she now looks for in a partner. "It's so simple, really. Integrity and kindness now are so much more important than I ever even realized, because I didn't realize how many people don't have it. I think I've been pretty sheltered in my emotional estimation of people. I think I've gotten pretty surprised."
Bethenny and Hoppy's four-year divorce from hell is something she still isn't able to share details about, for legal reasons. Suffice to say: The divorce looked about as bad as it gets in terms of contentious parties, financial war, and parenting strife. 
She shares that the most painful part of the divorce revolved around protecting her daughter, Bryn. "Anything that's unnecessarily negative for my daughter is really challenging for me," admits Bethenny. "You kind of just have to look inside and find your strength, and this has been no different. It's just been way more personal. It's hard. It's definitely hard." 
As for now, Bethenny claims "I'm happy, but I'm most happy that I don't have to depend on anyone else."
And while she's not publicly decrying marriage anymore, Bethenny says she's got no plans to walk down the aisle anytime soon. "I really don't know. I don't feel ready for that right now. There's no rush for anything."
RELATED: Despite Terrible Things Bethenny Said About Her, Luann De Lesseps Hopes To Reconcile Their Friendship  
In a possible reference to costar Luann de Lesseps, who literally could not stop uttering the words I'M GETTING MARRIED! for one second this season, Bethenny asserts, "I'm not looking to have helicopters flying over my house in some big white poofy dress, showing everybody how 'great' my life is or anything like that."
Indeed, Bethenny has even been hinting that she may not want to share any of her life on future seasons of RHONY, claiming she's not sure if she's coming back!
Post-reunion, Bethenny was feeling pretty bitter about her integrity being questioned. In August, she shared with ET that "You have 50 percent of the cast that has a whole taboo, police line, 'do not cross' section of their life that is not discussed on camera and never has been. For legal issues and liability issues, Bravo does not need to bring it up and it's a difficult line to ride, and that may be why I don't come back."
"I finally just got to the place where everything is settled," concludes Bethenny. "Why start to throw it up in the air again?" 
TELL US: DO YOU THINK BETHENNY'S RELATIONSHIP WITH DENNIS SHIELDS IS SOLID? WILL SHE BE BACK ON RHONY NEXT SEASON? 
Photo Credit: WENN.com
Save
Save
Save
Save