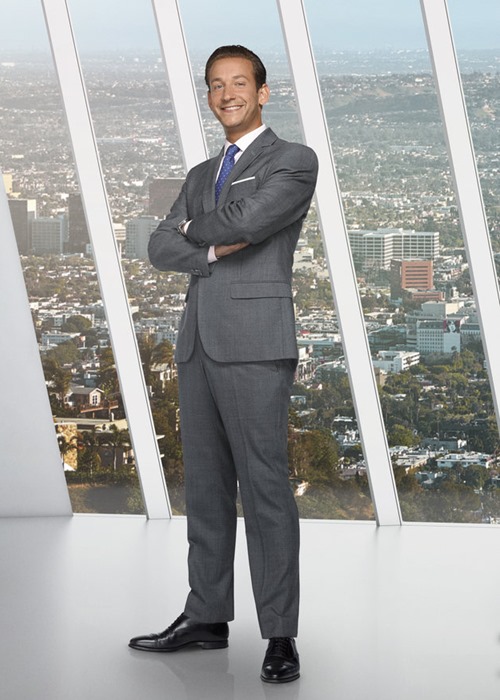 Cheerio, y'all! Without a doubt, the most amazing part of this job is getting to interview the fancy folks I get to watch each week on television. Every time, I'm happily surprised by how down to earth these people are – but this time, I wasn't shocked at all. I knew the British gentlemen from Million Dollar Listing Los Angeles would exude nothing but grace and class – what a privilege to get to chat with James Harris and David Parnes!
With the premiere of MDLLA looming this evening at 9 PM/ET on Bravo, it was a huge treat to get to speak to two of the most gracious reality stars on the planet. In an effort to give you dear readers twice the accent and double the gentility, I've split their separate interviews into two posts. Tonight, please enjoy a peek into the charismatic personality that is James Harris. He's absolutely every bit as precious as he appears on the show…maybe more so!
CLICK THE CONTINUE READING BUTTON FOR MORE! 
After I got over the lilting accent and his concern over the path of Hurricane Matthew after hearing I'd evacuated Charleston (stay safe friends on the coast!), James opened up about filming the latest season.
He jokes, "I feel like we've been filming twelve and a half years. No, we've been filming for the past eleven or twelve months, and we've got an amazing season ahead. It's action packed. The story lines are incredible. The properties are off the hook. Dave and I have a really amazing property coming up [on the premiere] worth $45 million. We've got some incredibly lavish open houses and parties that help us sell properties throughout the season. I just think it's been great because we've been able to be creative to find our buyers and it's been a lot of fun to shoot this season."
When questioned about the return of Madison Hildebrand, James is as affable as ever, remarking, "Madison's a cool guy. We've always had a great relationship with Madison and then we co-listed a property with Madison. The tables turned, but we still think he's a great guy. In this business, we all have to work together, and we all have to be amicable with one another. You know, we took a listing out in Malibu that we had to co-list with him, and it was an interesting experience. I'll leave it at that. Fun, interesting, and crazy. I believe [our co-listing with Madison] will definitely come up later in the season. It feels like I spent three quarters of my life in Malibu. No, it's been good and fun, and it was quite a nice experience to get to go to Malibu and show properties overlooking the ocean. When you're from London, you definitely don't say no to that!"
Obviously, I wanted to get James' take on the Joshes, and he remained extremely diplomatic, especially where Altman is concerned.
He shares, "It's funny. I think Josh Altman had so much going on with the wedding and other things going on in his life, I really haven't had that much interaction with Altman. [Josh] Flagg is, I can say, one of my dearest friends. He's a complete nutcase and I love him dearly. We definitely interact a lot, but we haven't done a deal this season, but we're definitely there for each other. He's been a great friend to me. There's a lot going on in his life, and I think that's going to be an interesting story line. So, no, not much interaction with the Joshes."
It's no surprise that the Bond Street Partners manage to stay above the fray of show induced drama. James attributes it to a very strong work ethic.
He explains, "I think, for us, there is always that saying, 'Keep your side of the street clean and everything will be okay.' You know, we try to keep our heads down, be creative, work hard, and stay true to ourselves while having fun at the same time. There is drama, it does happen. Unfortunately it can't be avoided. I'm a dad of two so I like to try to keep my cool, and keep my calm. But hey, we sometimes lose our tempers. The stakes are high, commissions are high, so with that comes drama, and losing it from time to time. I hate it, but it happens."
You can't mention James without asking about his beautiful family. When I inquired as to whether we'd be seeing more of his home life, James replies, "Definitely, yes! My two crazy angels will be shown this season, my wife. We're now a family of four, and my wife's brother is moving in with us. We'll be moving into a new house. There's a lot of really cool stories with it. My two kids are definitely in it, and they are definitely the best things that have ever happened to me, that's for sure."
And what of their Manhattan counterparts?
James reveals, "Ryan [Serhant] has been in L.A. a lot lately, and he's a really good guy. We've not done any business with Ryan, but between Fredrik Eklund, myself, and David, we do share a mutual client. Fredrick very much handles most of his business on the East Coast, and we handle all of his business on the West Coast. We've met with Fredrik on multiple occasions. I think he's absolutely incredible, a fun guy. He's entertaining and he's a good laugh to be around, but we haven't done any business with him yet. Hopefully that will come very soon in the near future."
Expounding on the highlights of his career, James recalls, "We got to sell the iconic Hustler building on Sunset Boulevard. I think that was definitely a crazy one where we sold it for $18.5 million and we got to deal with Larry Flynt and his intricacies, should we say. We did just recently sell an unbelievable house in Holmby Hills for $30 million. It was actually featured on our very first season for $48 million and we ended up selling it to a very good client of ours. That was a 16,000 square foot, mad, modern contemporary house with a wine cellar, ten bedrooms and fifteen bathrooms. One of the craziest deals we did has to be on Melrose Place which is quite an iconic street. We ended up selling three buildings on that street for $30 million as well and ended up repping both the buyer and the seller. Because of that we got to work with Mary Kate and Ashley Olsen and Oscar de la Renta and Chloe. It was kind of out of our realm, but those are probably the craziest deals in terms of prices."
As expected, James has a sincere soft spot for his fans.
He tells me, "I always want the fans to know the truth. I try to stay true to myself while on camera which is obviously the best way to do it. I think I'd want the fans to know is that we're incredibly grateful to them for watching us and following us. We're very appreciative, and we hope that one day, if any of them wants to get into real estate, they know they can always e-mail us. We're always willing to help. I think what I'd like them to know the most is to be true to yourself and work hard, everything can be achieved and more if you keep your focus."
In the hopes of getting some dirt on David, I begged James to tell me one crazy and inappropriate story that David may not share himself. James stammers, "Oh boy! There are about 480,000 of those!" yet he declines to give any further dirt. Did David do the same? You'll have to tune in for tomorrow's installment. In the meantime, I hope you're tuning in to tonight's season premiere of Million Dollar Listing Los Angeles! A huge thank you to James for taking the time to speak with me – he is such a chipper chap! 🙂
TELL US – ARE YOU EXCITED ABOUT THE NEW SEASON OF MDLLA? HOW PRECIOUS IS JAMES? 
[Photo Credit: Tommy Garcia/Bravo]