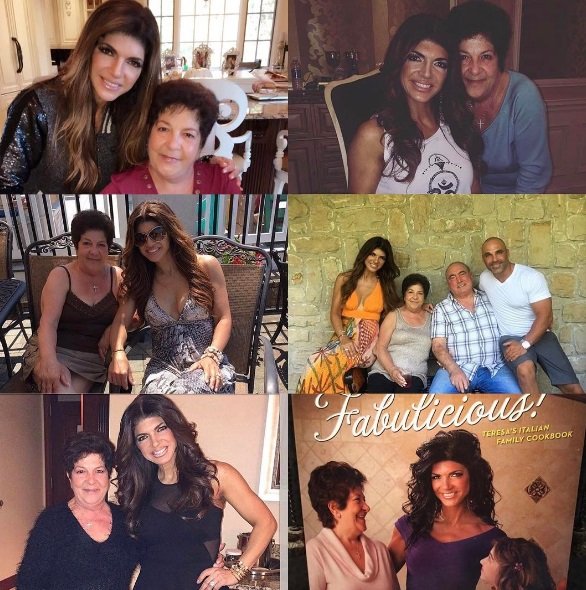 It is with a heavy heart that I write that Teresa Giudice's mother has passed away. Y'all know I love this job, as it's fun to snark on the world of reality television stars, but, as with this post, we are often reminded that they aren't just present for our entertainment and amusement. Regardless of their attitudes, their flaws, their ridiculous quirks, or their over-the-top personalities, reality stars are actually real people who experience highs, lows, loves, and losses just like the rest of us.
The Real Housewives of New Jersey star encapsulates so much of what we love to hate, hate to watch, and are mesmerized by thanks to her opulent lifestyle, unabashed and unapologetic relationships with family and friends, countless legal woes, and prison terms. However, at her core, Teresa is just a woman who lost someone so incredibly near and dear to her, and I feel horribly that she has to go through it. Coming on the heels of so much other drama in her life, it must be shattering to her.
CLICK THE CONTINUE READING BUTTON FOR MORE! 
Us Weekly is reporting that Teresa Giudice and Joe Gorga's mother, Antonia Gorga, died on Saturday, March 4. A source tells the site, "Antonia Gorga passed away at the age of 66. Teresa has been in the hospital with her and is inconsolable now. Teresa is also in communication with Joe [Giudice] and will be visiting as soon as she can," adding, "This is a very hard time for Teresa. She was very close with her mother."
After remaining quiet on social media, both Teresa and her sister-in-law/co-star Melissa Gorga have been expressing their grief over the loss of Antonia. Posting on Instagram a family picture from her youngest daughter's christening several years ago, Teresa wrote, "Always there for us & forever in our hearts," followed by another Giudice/Gorga family portrait captioned, "I miss my mommy so much."
Melissa also posted a photo of her with her husband, mother-in-law, and children, sharing, "May she Rest In Peace. She was a beautiful woman who loves her children & grandchildren so immensely. I watched Joe & Teresa sit by her side for the last three months, the heart in this family is strong & she will live in our hearts forever."
Teresa created the above-posted photo collage and expressed her gratitude to her fans and followers on social media for reaching out to her over the news. She responded, "Thank you for the love and support during this extremely difficult time. My mother was a very cherished part of our family and she'll be deeply missed. Each and every one of your messages of love & support are so appreciated. Give her eternal rest O Lord and may your light shine on her forever."
She shared more tributes late last night, "Oh mommy, my heart is completely broken, you taught me so much about life, love and motherhood. This is a pain I've never felt before and goes so deep. I hope you know how deeply you were loved and how very badly you'll be missed." And, "She will forever be missed and cherished in my heart! Because of her I will find the strength to continue life's journey. My mother, my confidant, my best friend , my everything .. until we meet again. I love you mommy."
As divisive as Teresa is in the world of Bravolebrities, no one ever wants to see her hurting from such a tragic event. As someone who lost my mom nearly two decades ago, I know it never gets easier, it just changes the way you live your life…I talk to my mom everyday, but the milestones in my life are hollow because of her physical absence. My prayers are with Teresa and the entire Gorga/Giudice clan during this heartbreaking time.
TELL US – WERE YOU SHOCKED TO HEAR OF ANTONIA'S PASSING? 
[Photo Credit: Instagram]
Save
Save
Save
Save
Save