The battle of the exes is far from over for Brandi Glanville, Eddie Cibrian and LeAnn Rimes. The triangle of terror is at it again with accusations flying on both sides of the situation. In today's edition, Eddie Cibrian blasts Brandi Glanville for unhealthy behavior and attempts to show "proof" that LeAnn isn't stalking her.
Last week Brandi Glanville spouted off her predictions for the demise of Eddie and LeAnn's marriage within a few years and also accused LeAnn of stalking her and harassing her during an outing at Nobu in Malibu. Eddie is firing back with some proof, but eagle-eyed fans are pointing out some discrepancies in his receipts.
Brandi recounted the tale (with proof) of LeAnn watching her boyfriend's Snapchat and Twitter and then proceeding to show up at the restaurant where she was hanging with DJ Friese – with Brandi's boys in tow, to celebrate step mother's day. But this weekend Eddie replied to Brandi on Twitter, attempting to prove that LeAnn had actually requested those reservations days before.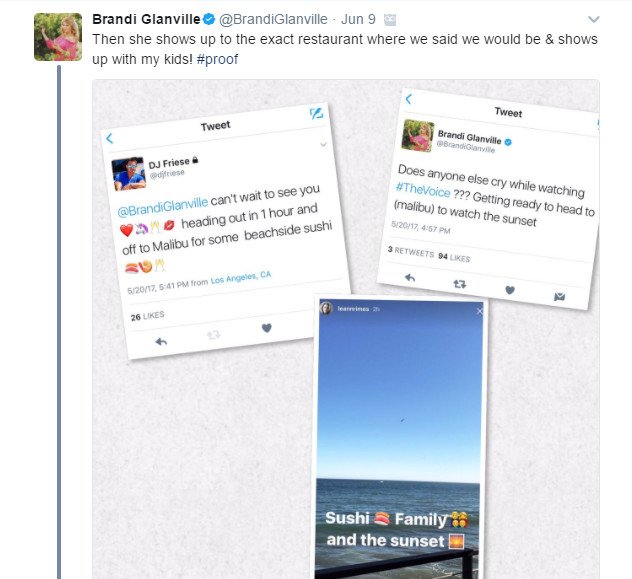 Eddie replied with this text exchange between LeAnn and her assistant, claiming that it shows proof positive that she actually requested those Nobu reservations days ahead of time.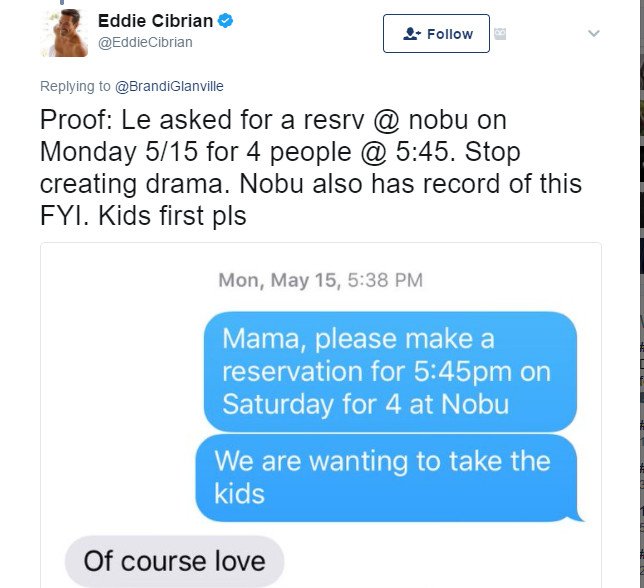 However, plenty of followers quickly noted how easy it is to photoshop text messages or toy around with dates: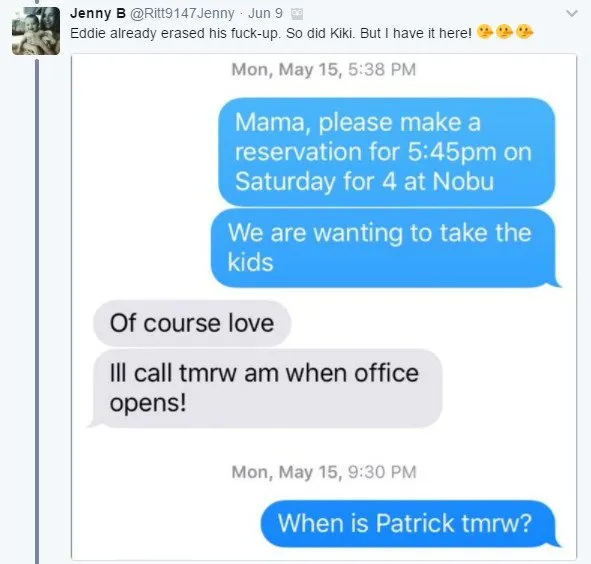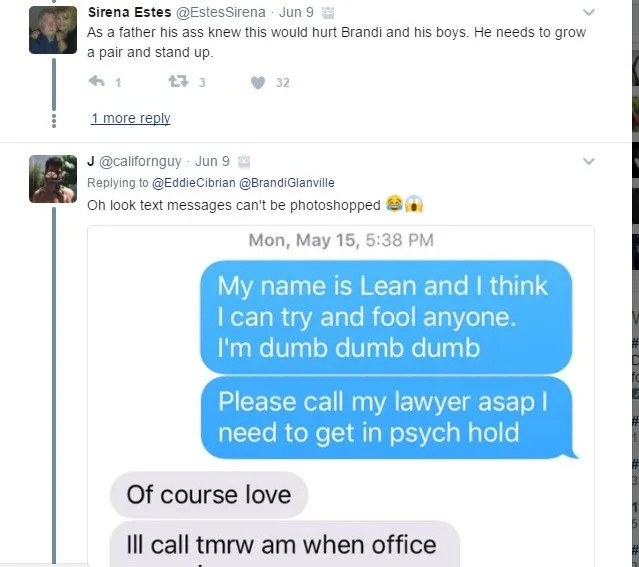 Eddie shared with Us Weekly that he's upset with Brandi's accusations. "For Brandi to openly predict and hope for the end of our marriage in 3 years is sad. Sick. This is not healthy behavior. I'm very concerned."
TELL US – WHOSE PROOF TO DO YOU BELIEVE? WHY ARE LEANN AND HER ASSISTANT WATCHING BRANDI'S BF'S SNAPCHATS?
Photo Credit: aul Archuleta/FilmMagic/Getty