After an entertaining and tumultuous season sailing around Croatia, the cast of Below Deck Mediterranean is on dry land and ready to face the emotional pirates of their past voyage. Heading up this charter is a take no prisoners when it comes to love, Andy Cohen, who wants nothing more than to get to the bottom of Chef Adam Glick's heart. Over and over, we have to relive Adam's take on Malia White, the one that got away, although she's really less of "the one that got away" and more of "the one who played two guys like a pro and ended up with the other, who she may or may not be dating still (but we all know she is)". You're not fooling anyone, Malia! Just because you come to the reunion dressed like you're on the Real Housewives of the Croatian Seas, doesn't mean you get to play the same coy games they do.
Before Andy dives in, he starts with a few ice breakers like, who is still working together? Wesley Wiz Walton and Christine "Bugsy" Drake, who is finally the Chief Stew of something besides her own fantasy world. Who would be Hannah Ferrier's perfect interior crew? Julia and Tiffany from last season and Lauren Cohen from this season, despite the fact that she talked crap on Hannah the whole time. How did Captain Sandy Yawn feel about Adam mistaking her for the Chief Stew? It doesn't bother her, she is used to it and she thinks it's fun to surprise sexist chefs who are too proud to follow a preference sheet people.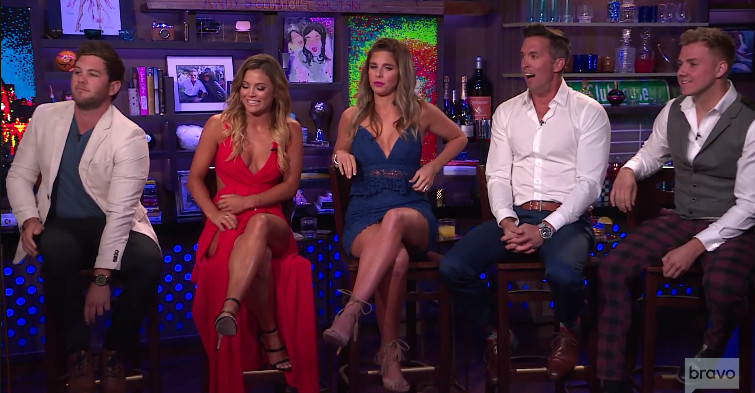 Enough of these ice breakers, everyone is warmed up and ready to go and the perfect place to start would be revisiting the epic fight between Slobbery Bobbery Giancola and Hannah. In case you forgot, when the season started, Bobby accused Hannah of trying to c*ck block him from romancing Malia, who he didn't know already had her cute, attractive little female deckhand hands pretty full at the time. Bobby blew up on Hannah, even kicking her bathroom door open while she was mid-pee, then he tried to drag his past-hookup-gone-wrong Lauren into the mix, which was a big mistake considering things didn't exactly end well. So instead of seeing Hannah and Bobby talk about what happened, the conversation quickly turns into a he said/she said between Bobby and Lauren about the true nature of what happened between them.
It all started when Bobby decided to whore himself out on social media, putting out a groupie casting call of sorts on Instagram for "fans" to DM him so he could pick some lucky gals to come to Watch What Happens Live and watch him make an ass out of himself on live TV. Lauren was along for the ride but quickly realized she wasn't any more special than one of his Instagram groupies and tried to leave, but Bobby reassured her that he did like her and she should stay. Lauren, being the people-pleaser that she is, agreed but remained annoyed but it didn't sit well with her. Apparently, it wasn't too bad since she later agreed to come to a watch party that Bobby invited her to in Miami but when Bobby ignored her the whole time, she left with Chef Ben Robinson, upsetting Bobby. But Bobby and his fragile male ego want to clarify: he does NOT care about Lauren or the fact that she left with Chef Ben, he just wants everyone to know the truth! The truth is, he's not a jerk and Lauren is the one who made him look bad without reason. Then he yells at her about how she never shuts up. When Andy asks if Lauren just joined Bobby on WWHL to be on the show, she snaps back that she didn't even know a producer would be there who just so happened to find her as interesting as Bobby did. This producer must have also had the same pea brain as Bobby in that case.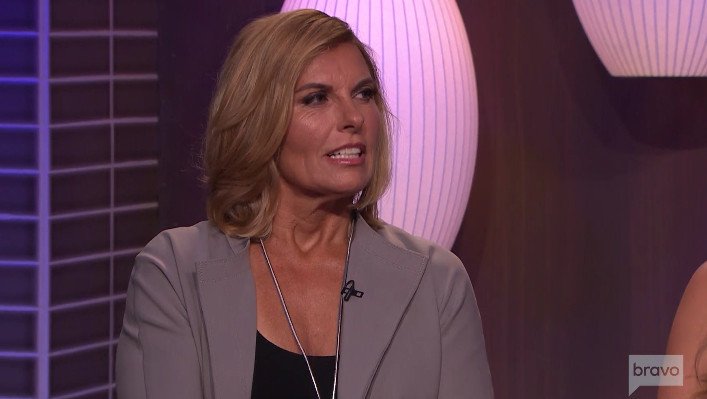 Onto Onion Gate 2016. Adam has some explaining to do but instead, tells Andy that he was just trying to make a tasty broth and that's impossible to do without onions. Captain Sandy calls BS and is still reeling from the footage of seeing him lie to her. She admits she would have fired him had she known what was really going on, plus she had no idea that he had this whole other dark side of treating Hannah, Bugsy and Lauren like crap. Adam defends his behavior by saying he was heartbroken over Malia and everyone seems content to actually let that little doozy slide. Everyone except Wiz, who says that's no excuse, mate.
Speaking of no excuses, Andy wants to know if Hannah thinks it was acceptable to make out with a charter guest. No, she does not, but she was hypnotized by the shirtless Jason and well, when a hot guest presents himself, sometimes you just have to take a chance at looking unprofessional. This all stirs up a pot full of onions between Hannah and Bugsy, since Bugsy is the one who blew Hannah's cover on the matter. Bugsy insists that she didn't go to Captain Sandy about the issue because she wasn't doing anything malicious or vindictive. Yeah, why tell the Captain when you can go around for hours on end telling the rest of the crew and gossiping about how horrible Hannah is? Hannah knew she shouldn't have trusted Bugs the moment she saw "Actor" listed on her resume. Bugsy snaps back that she's sorry she had a passion she was chasing that clearly didn't work out!
Will someone please ask Bobby why he thought it was okay to hook up with a charter guest after ripping Hannah for it??? Andy finally does and Bobby half-heartedly attempts to defend his position, saying he never cared that Hannah hooked up with a guest but….nothing? He doesn't really have anything to say to the contrary of what he was upset about, leaving us all hanging with his hypocrisy. Oh and in case you were wondering, he has seen Paola again.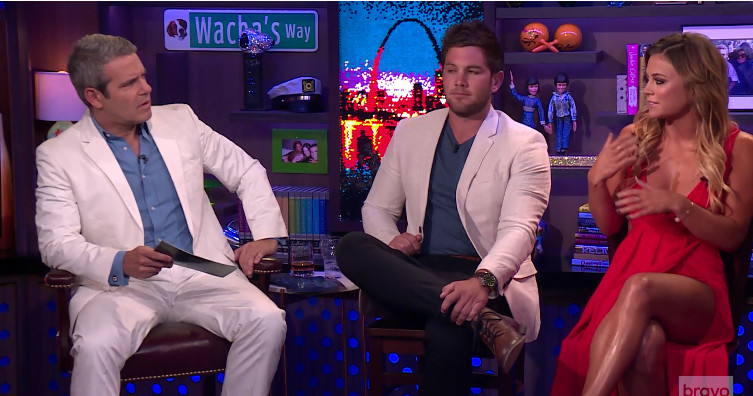 Ugh, the moment I have been dreading is finally here: Malia and Wiz and Wiz and Malia and Adam and Malia and Malia and Wiz and Adam on repeat. How many times do we have to relive their few weeks old relationship that left Adam so heartbroken that he is left to spite charter guests with onion soup and call his fellow crew members sluts? And how many times do we have to hear that poor little Malia just didn't know what to do with her feelings for two men who can't resist a cute, attractive female deckhand who also works really hard? The answer is A LOT, we have to hear it a lot. So if you don't have the stomach for it, skip ahead and you won't go blind from all the eye rolling moments that are about to occur.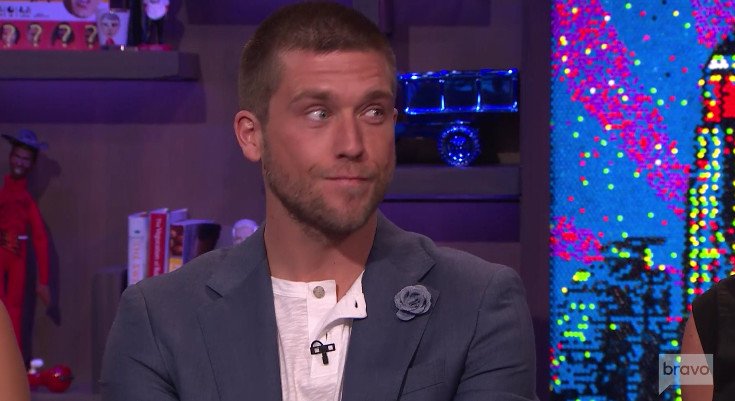 Now let me remind everyone that all of this came about because Adam and Malia kissed before coming on the boat. Malia clarifies that they didn't even have sex. They just kissed and Adam fell in love and fell in love hard because his Dad told him that you can fall in love with someone from day one and that's the love story of his parents. Also, Adam finally felt like he had a chance of a real connection after spending the last 10 years as a lonely ramblin' man on the road in his van. So, basically, all this boils down to Adam thinking he was in love day one and Malia saying, "awww, that's sweet", which just shows how differently they viewed their relationship this whole time. These two weren't just on a different page, they weren't even reading from the same book.
They both regret lying about their relationship to the crew and Andy wants to know how Wiz feels after seeing Malia lie to him as the season played out on TV. Huh, lied? Wiz has no idea what Andy is talking about and says Malia didn't lie to him. Malia shakes her head in confirmation – no, she might not have been honest, but she never lied. Can someone please explain to Malia (and Wiz) that those are one in the same? Anyone? Nope, Andy lets it slide and goes back to dig deeper into Adam's broken heart. If only Adam would have just told Wiz that he was in love with Malia, Wiz would have never gone after her! Now you tell him.
All of the fans agree: Malia led both of them on and when Andy tells her that was the overwhelming feedback, Malia says that's fair and explains that being on a yacht is an extreme experience and emotions are heightened. So she had feelings for both guys but just didn't know what to do on a ship sailing into a vortex of overblown emotions! But all's well that ends well and Malia and Wiz play coy about the status of their relationship but Andy keeps pressing and pressing and finally gets out of them that they are going to South Africa together and have both met each other's families. Then the rest of the crew jumps in to say what a great couple they are and even Adam says they look good together.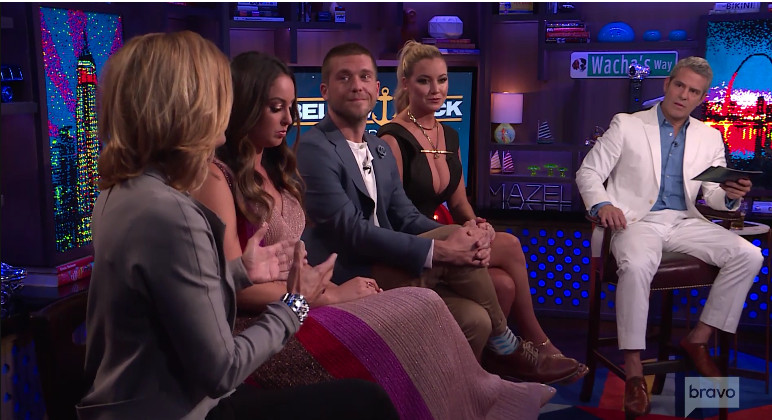 So good that it was worth the backlash of Wiz picking Malia as his lead Deck Hand, despite how upset Bobby was. Sandy backs up Wiz's decision 100% but Max Hagley isn't so sure and felt like he couldn't really respect Malia as the lead knowing that she was making out with Wiz every night.
Hannah and Bugsy have some unfinished business and we are treated to a montage of their rivalry. Andy wants to know who the better Chief Stew would be and Lauren jumps in to say they are both different and good in their own way and one isn't better than the other blah, blah, blah, PICK A SIDE, Lauren! Well, she can't because as she reminds us again, she's a people pleaser! That's why being two faced was her only other task on the boat aside from doing laundry. A viewer points out how critical Bugsy seemed of Hannah in every episode and how small and petty that made her seem but Bugsy swears she was just being informative about how she would have done things. She never disrespected Hannah to her face so therefore, she wasn't being critical. Nice try, Bugs, but Sandy isn't buying it. Surprisingly, Hannah does and says that Bugs gets a pass for working in a high stress and pressure situation, which causes people to vent and that's all she was doing.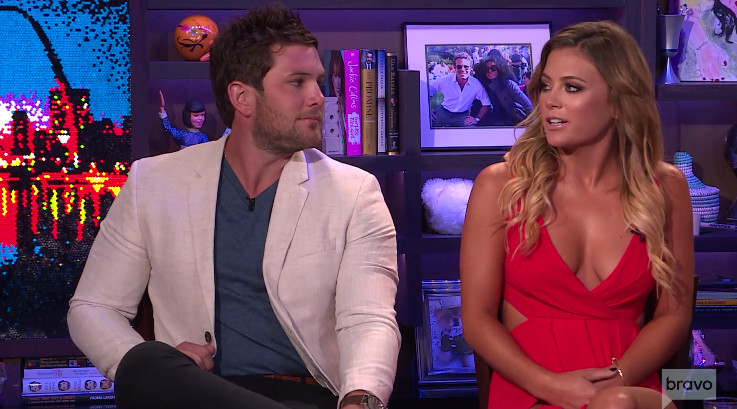 I thought we were safe from any more Adam and Malia talk but Andy just can't stop himself from "picking the scab" of Adam's heartache. Adam's heart doesn't have a scab, it's like scorched earth at this point but Adam refuses to be anything but positive, despite the fact that his eyes are misty and the little fabric flower on his blazer is wilting. Andy swears Adam is more hurt than he lets on but Adam says there is nothing he can do about the situation and it's time to grow up. He is not still in love with her, the time has passed and it sounds like his days of onion spiting are over.
It's time to wrap up and Andy asks who has regrets. They all do, except for Bobby, who says he learned a lot. Sandy tells everyone not to lie to their captains because team work makes the dream work. That's right, Fans! There is no "I" in team but there is an "I" in onion.
See you next season!
TELL US – DID YOU LOVE THIS LATEST SEASON? ARE YOU LOOKING FORWARD TO THE ORIGINAL BELOW DECK NEXT MONTH?
Photo Credit: Bravo TV