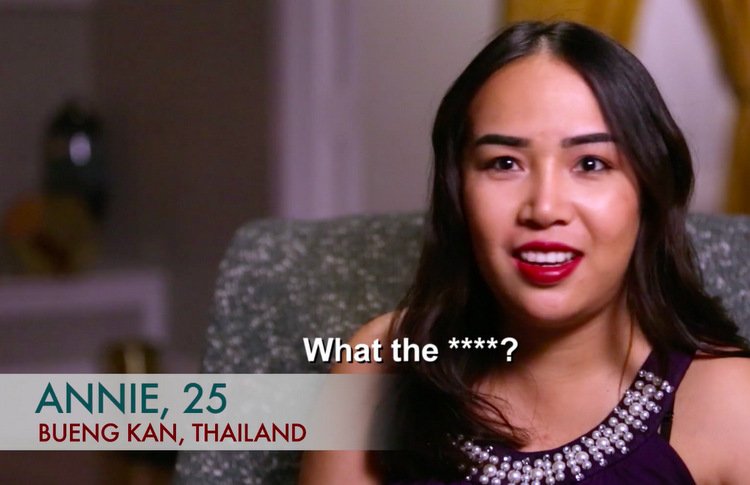 What is there to say about last night's 90 Day Fiancé Happily Ever After, except thank you TLC, Sharp Entertainment, universe, and The Family Chantel. Two snaps in a circle to all you ALL. This episode was everything I didn't know I needed in my life – and more.
When we first caught up with our couples at the beginning of the season, who knew we'd end up in fistfights over chicken wings and downgrades from firehouses? Or secret kids and canceled weddings? Okay, maybe we did see it coming. But still! It's sort of amazing how much lower these people can go even when they're already so obviously at rock bottom.
It's a truth universally acknowledged that a woman in possession of dubious reality TV fame and a questionable dye-job must be in want of a storyline. *Sigh* In Paola's case, that storyline has been The Feisty Colombian versus The Controlling Oklahoman for three (four?) years now.
But last night, Paola struggled with authentic life matters, including the loss of her beloved grandmother, and her questions about fertility. Even though she knew her grandmother was dying, it was still a shock to receive the news that she'd passed. Once again, Paola wishes she were closer to her family so they could comfort one another.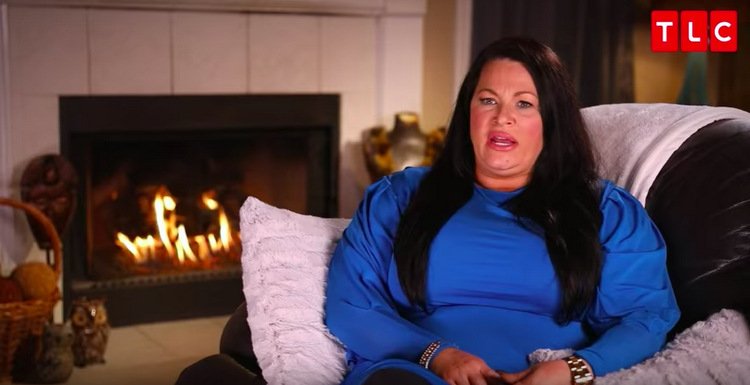 Molly meets brother Jess out for lunch, and it's time to put all of the cards on the table. Jess reminds us how much he initially liked Luis (despite Luis's smarmy behavior and childish ways?) and how disappointed he is that Luis hasn't "reached out" since escaping to New Jersey. Hmm. Brother Jess: It's time for a wake-up call, dude. THAT MAN IS NOT YOUR HOMIE.
Molly tells Jess that Luis isn't who she thought he was. She recently found out, for instance, what Luis was doing on his phone so much…and it was certainly not scrolling through pictures of Molly on her girls trip in the DR. Nope. He was – OF COURSE – communicating with multiple side chicks, most of whom are probably scrambling for some sad scrap of quasi-fame through Luis's Instagram account.
Molly would like to warn these women not to invite these sloppy leftovers into their lives. Molly should also warn them to remove 1) owls, 2) Buddhas, and 3) devil worshipping candles from their homes.
Jess is sad. And oh god, when Uncle Jess cries, we all cry! Can we make him the next Bachelor? Like, the TLC version? #DreamBig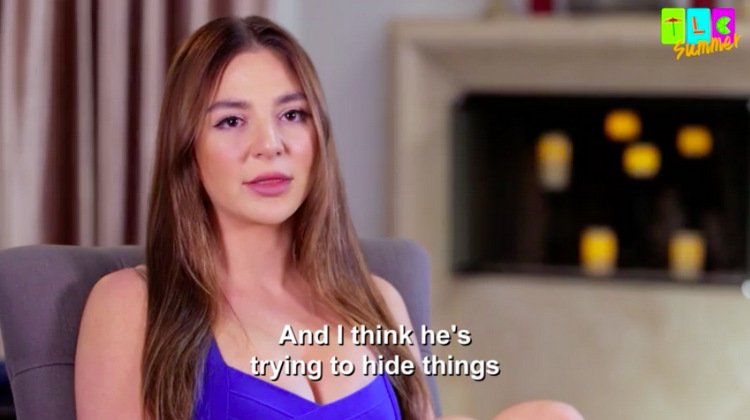 Anfisa still doesn't believe Jorge is telling the truth about his ex-girlfriend's child not being his. And why would she believe him? This is the joker who promised her the world, then handed her a used Chanel bag. Anfisa wants Jorge to do a DNA test and, delusional liar that he is, he agrees (but chances of that ever happening are slim to none).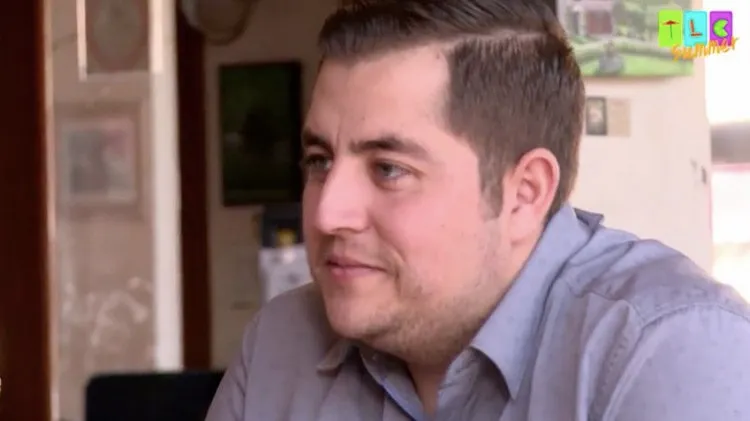 At lunch, Jorge claims it was 11 months after he slept with his ex that she claimed she was pregnant. But Anfisa, Russian spy that she is, knows that Jorge's cannabis-addled memory is never trustworthy. Even when he boldly calls his ex up to "arrange a meeting," Anfisa side eyes the situation. She'll believe this kid isn't his when she sees its eyebrows. Also – golddigger that she openly is – Anfisa is not happy about the potential child support that Jorge might owe his baby mama. He needs to be saving up for her new RED BAG WITH HER MAKEUP!
"I feel like it is his child. He knows it, she knows it," says Anfisa. "I'm the only one in the dark."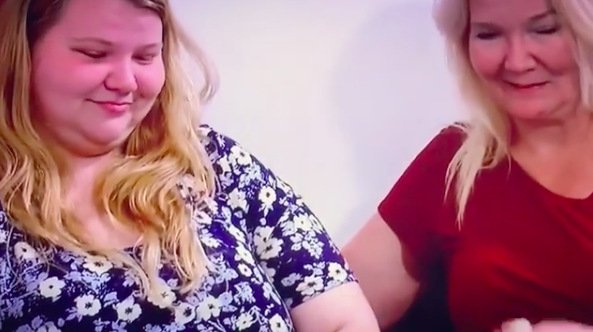 After lunch and adult questions with Robbalee, Nicole and Azan take her back to Azan's home. The car ride is long – and only made longer by Nicole molesting Azan's shoulder and snapping kissyface selfies the entire way home. OH MY GAWD GIRL. Calm your t*ts!
After the harrowing ride, Robbalee arrives safely at Azan's family home, where she is greeted warmly by his mom and sister. Tea and snacks are served, which Robbalee chooses to focus on entirely. She doesn't know WTF else to say.
"I'm enjoying the snacks," she awkwardly croaks before finally speaking up about her concerns. Azan translates (loosely) that his mother doesn't want Robbalee to worry about Nicole. They will take care of her! They will feed and water her daily henceforth! Nicole just inanely smiles, thrilled that everyone is bending to her will, and that the mothers in law don't speak the same language.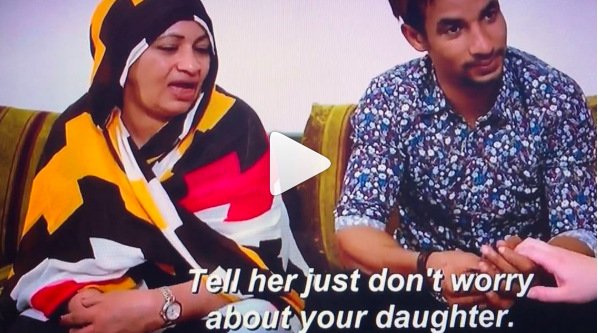 But Nicole, who barely speaks ONE language, was apparently trusted to gather all of the necessary paperwork for her Moroccan marriage license. Bwahahahahaha! Oh, I needed that laugh. Okay, so – at the licensing office, Nicole finds out that she didn't bring an original copy of her police record, which is needed for the judge to sign off. Azan's relief is palpable, but he plays the bummed out groom with aplomb.
"Oh my god," says Azan, seeing his green card virtually disappear before his eyes. Looks like these two lovebirds won't be able to get married in ten days after all! Good thing he has, like, six other women around the globe on the hook to fund his gym membership fees.
But wait – Nicole's father and other family members are coming over for the wedding in just a few days. Could they not bring the original document? WHAT IS GOING ON? Okay, Nicole says it would take a few weeks to get the document verified. But hmmm…are we really going to trust on matters of legal paperwork? Or even a McDonalds Drive Thru order? No. No, we are not.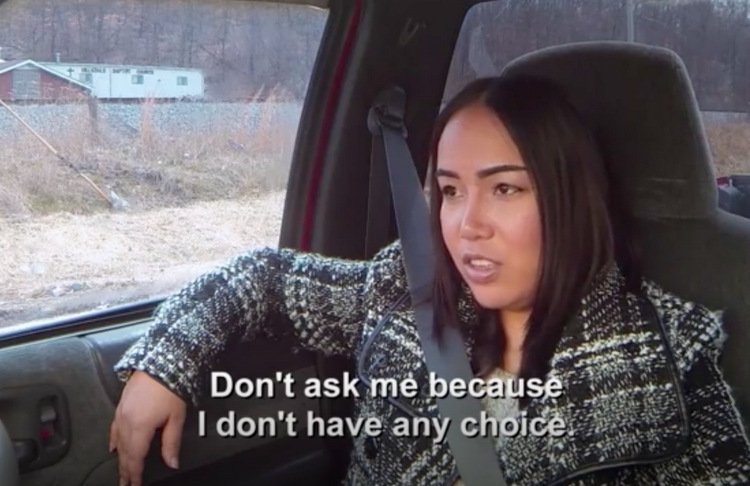 When you get downgraded from a firehouse to a warehouse, you know the American Dream is really working its magic in your life. But somehow Annie refuses to believe that her "life happiness" will be fulfilled by the steps David is taking…which is to say, none at all. Except if we count "borrow money from friend until almost homeless, then whine to family members" as a super solid plan.
Here's the deal: Chris (remember him? David's human ATM? husband of Nikki, the Only Normal One?) has sold the firehouse and needs Annie and David to move out STAT. He tells David on the phone that he's got only a few days to find a new place and, since Chris still can't quit him, he offers David a new place to stay: THE WAREHOUSE APARTMENT. No, it's not the title of this summer's newest horror flick. But it is just as f**king scary.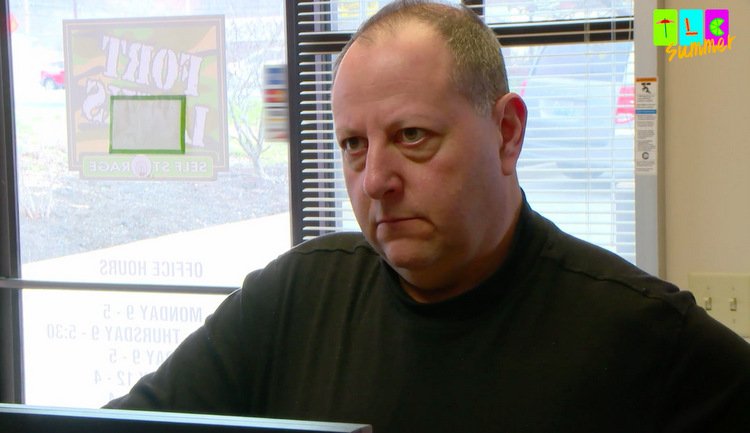 David tells Annie the news over dinner, and her face could not be more stank if she shoved two full cloves of garlic up her nostrils. She can't believe she's deigned to live in a firehouse, only to be tossed out for even worse conditions. The dreams of two water buffalo back home grazing lazily next to her family hut must be looking pretty sweet right about now.
Field trip! David takes Annie to visit the warehouse, which is run by a very chipper young lad who will be 100% more successful in life than David BECAUSE HE WORKS. David turns his nose up at the idea of doing any kind of labor in this storage facility because he is sooooooooooo "overqualified."
I didn't get a master's degree to work in a warehouse! scoffs David, the heavyweight champion of PATHETIC LOSERS. But he did apparently get a master's degree to live in an abandoned space above a warehouse that has no stove, no hot water, and windows that don't open. (Maybe someone from that firehouse will be making a visit to this space soon – isn't that a hazard? Ooh – full circle moment.)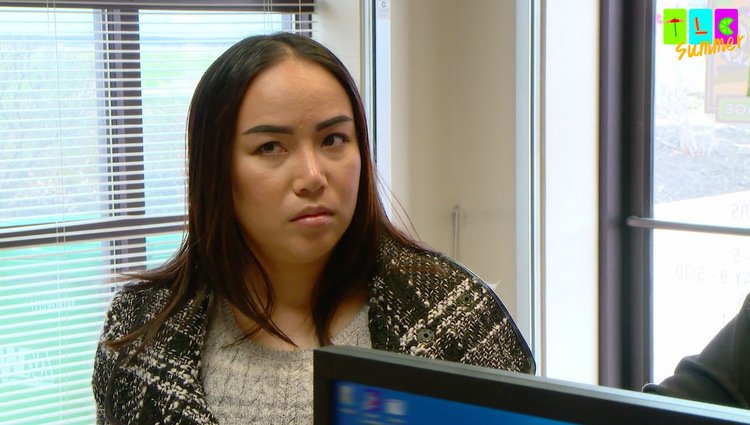 "I cannot take a shower in two minute!" yells Annie when she hears about the hot water shortage. But it's really when she sees the "apartment" – which looks like the abandoned set of The Office, but more depressing – that she loses her sh*t. Annie draws her line: She will not allow David to drag her here, the third location (i.e., where the murder victim definitely bites it). She can't even cook! She'll have to eat chips and guacamole all day and start wearing David's enormous pants! THE HORROR.
Bottom line: If David makes her move to this hovel, Annie threatens she'll move back to Thailand – with or WITHOUT him. "This is a lot of stress on me," whines David.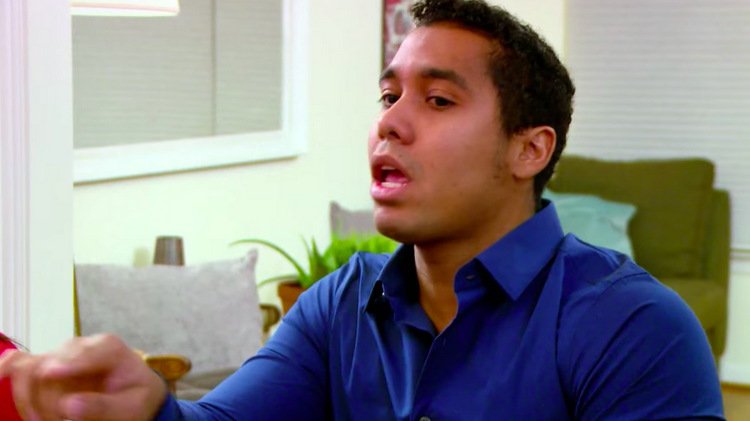 Holy sh*t you guys! It's Pedro and River UNCHAINED! The fight we've been seeing teased all season finally broke out, and it was frankly even worse than I predicted. Let's lay the groundwork…
The scene: Dinner at The Family Chantel's home. The food: Chicken wings, in a nod to the sweet feet served up last time. The players: Family Chantel versus Pedro and Sister Pedro (Nicole). The motive: HUMAN HARVESTING.
Dinner is served and, at first, everyone politely trades niceties. Then, Mother Chantel asks Nicole how things are going at the apartment. When Nicole says, "Bueno!" Mother Chantel immediately jumps on her. In so many words, she wonders why Nicole has been being a total b*tch to her daughter? For instance, why did Nicole clap and say "THANK GOD!" when Chantel left the apartment one day? Hmmmmm?
Pedro is immediately pissed that Chantel ran to mommy and daddy with complaints about his sister, but Chantel thinks she needs backup. Nicole denies ever shading Chantel in such a manner, and Pedro plays dumb too. As Chantel and Nicole argue, Pedro suggests they switch seats. Mother Chantel is all, OH HELL NO! Everyone is staying put.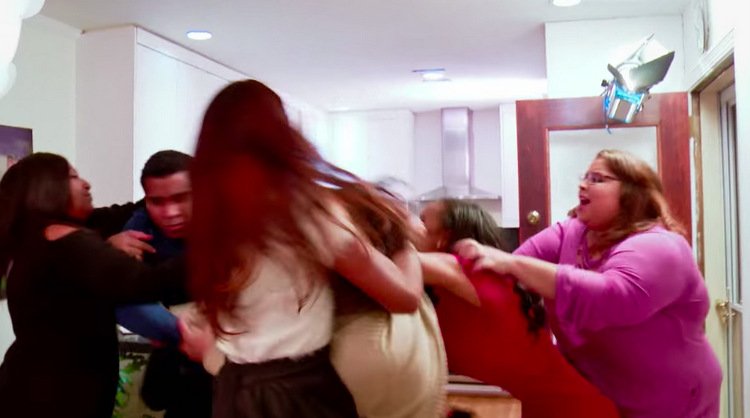 And this is when all hell breaks loose. You may have to rewind 45 times to see it, but here's the basic gist: Pedro tries to "shush" Mother Chantel, which causes River to immediately step up. "Who do you think you're talking to?" he screams. Then – and this is bleeped out well, so take another look – River calls Pedro the "N" word. WOW. Pedro stands up, ready to fight. River stands too, bizarrely punching the light fixture to start the scrap.
*Special mention must go to Father Chantel, who keeps shoveling food into his face while all of these preliminaries are going down. Tip o' the hat to you for nobly finishing your dinner, Sir!
In a blur, Pedro whips around the table and lunges as River. The entire family gets in on the brawl, along with producers. Punches are thrown, Nicole spider-monkey-jumps on River's back, and even Winter gets into the group wrestle. At one point, it even looks like River PUNCHES NICOLE IN THE FACE (!!!!), after which she's thrown to the ground. HOLY MOTHER OF CHICKEN FEET! It's a clusterf**k of epic proportions and, frankly, needs an ESPN playback to break it all down accurately.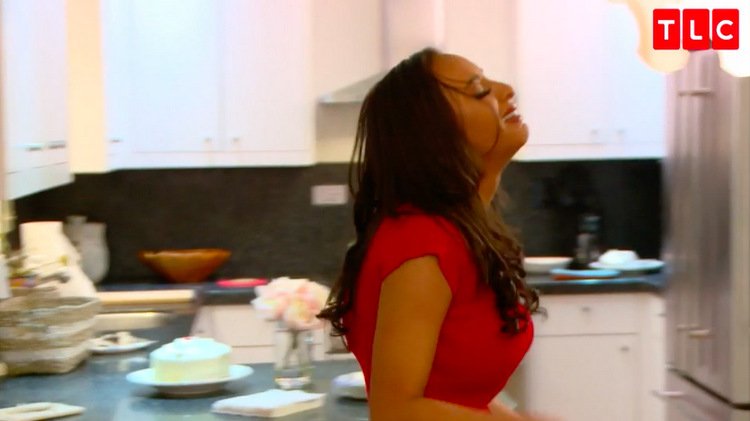 In the end, Mother Chantel is left holding a huge chunk of Nicole's weave. Nicole is on the ground. Pedro breaks glasses on the table before stomping out, finally followed by the now-snatched-bald Nicole. Father Chantel is screaming at Pedro, "WHY DID YOU DO THAT? WHY!?!?!?" as producers try to wrangle everyone to their respective corners.
Finally, Chantel is left bawling in the corner. There's no coming back from this…is there? I am SHOOKETH.
Writer's Note: Check out my podcast Pink Shade With Erin Martin for more Reality TV talk (Housewives, 90 Day Fiance, Exclusive Interviews & more!). Available on Acast, Stitcher, and iTunes! Visit pinkshadewitherinmartin.com for all links.
TELL US: WHAT. THE. HELL?
Photo Credit: TLC