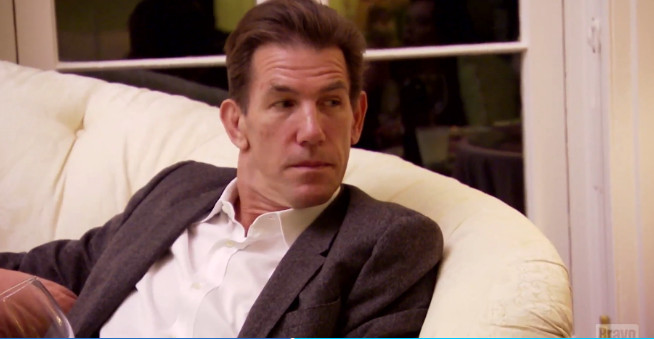 In the wake of Thomas Ravenel's arrest this week, questions have arisen regarding the charges, the investigation surrounding the allegations made by the Southern Charm's former nanny, Dawn.
In an exclusive interview on the Pink Shade With Erin Martin podcast, "Nanny Dawn" responds to the news of Thomas's arrest. She explains what the current charges are, what it was like reading her victim impact statement at court this week, and her vow to continue advocacy for survivors of sexual assault despite backlash she's received.
Thomas Ravenel was arrested on September 25 at 10am by the Charleston County Police Department and charged with assault and battery in the second degree. After news broke of Ravenel's arrest, Bravo officially released a statement that the Southern Charm star would not be returning to the show next season.
Dawn, who filed charges against Ravenel last Spring for the alleged sexual assault on her that occurred on January 15, 2015, in his Charleston home told the Pink Shade podcast that she found out about the arrest only hours after it happened. "I had no time to process it, but am grateful to [the police department] for their work," she says.  
With little preparation, Dawn was still able to attend the court hearing to read her victim impact statement aloud in front of Ravenel and the judge. She says, "As scary as it was, I've been waiting for years for my voice to be heard."
Dawn continues to state that her concern is for the families affected by this alleged crime, especially Kensie and Saint, the children Ravenel shares custody of with his ex-girlfriend and (former) Southern Charm co-star, Kathryn Dennis.
"There are no winners here," Dawn admits, sharing how her estrangement from Kathryn and the children she nannied affected all of them in the aftermath of the assault. Dawn's own family has been subject to criticism, threats, and painful public details being released about the alleged assault since then as well. Dawn shares, "I wanted him to hear what he has done to me, but I'm not the only victim here."
The current charges against Ravenel are lesser than the original filing, which has confused some of the public. Dawn explains that, given the (assumed) trial to come, charges may eventually increase as more evidence and witnesses are procured. As of now, police are able to charge Ravenel with "assault and battery in the second degree" due to the evidence and statements they have gathered thus far.
Dawn plans to appear before the court again if the case does indeed go to trial, and she assures the public that she won't back down in telling her story, which has remained consistent since the beginning. "I'll continue to stand up, not stand by" in order to support other survivors of sexual assault in their journeys.
To listen to Dawn's full interview in iTunes, click on the Pink Shade With Erin Martin podcast here, or visit anywhere you listen to podcasts (Acast, Stitcher, Google Play).
Editor's note: We're sorry that the photo is of Thomas, but we didn't have photographer permission to use our photo of Nanny Dawn yet. Will update it as soon as/if we do!
TELL US: DO YOU BELIEVE DAWN?
Photo Credit: Bravo TV