On this week's episode of Teen Mom OG, Ryan Edwards and his wife, Mackenzie Edwards welcome their first child together. I definitely want to see if rehab will make a difference for their future. Or will Ryan continue being the same spoiled deadbeat?
Hopefully, Mackenzie feels like everything she endured with Ryan was worth it one day. If not, I can only imagine all the dirt she has on him that will come out if their relationship fails. With all of the new babies and breakups, it's hard to keep up with who's coming and going this season.
Ryan is still in rehab but Mackenzie's baby is due pretty soon. Jen Edwards and Larry Edwards call and ask if Bentley can come for the weekend. They want him to stay a few days longer to be there for the birth of his new brother. Maci wants to ensure that Bentley has a good relationship with this sibling and that there is no difference in how he sees the baby in comparison to his other siblings.
On the day of the birth, Ryan Skypes in to witness the arrival of his new son. I love that when Bentley arrives home, Maci made Bentley feel very comfortable to talk about his new brother and everything that happened with the other side of the family. Although a blended family has its challenges, I am happy Bentley has a wealth of people who truly love him and want the best for him. Maci and Ryan's family have had their share of issues, but I definitely see the growth in their co-parenting/grandparenting relationship.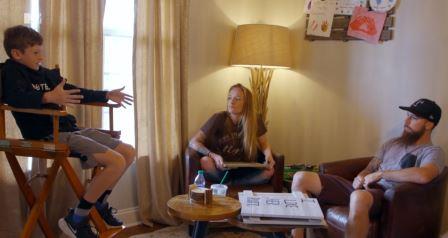 There are at least a few weeks until construction on the new home will be done. Tyler Baltierra can officially move out. Catelynn and Tyler attend a sonogram appointment. They share that their baby's name will be Tezlee. Oddly, they look like the picture of a happy family, despite their bombshell separation announcement last week. I feel like Tyler is a ticking time bomb and is counting the days until he can escape.
Butch Baltierra arrives in town to visit Tyler. He asks if Catelynn's pregnancy was planned. Tyler immediately gets defensive.  He lets his dad know that the baby is not going to change anything that needs to happen as far as counseling and the steps they need to take to fix their marriage. Tyler is trying to figure out how he can be supportive to his wife without being destructive towards himself.
I think he has A LOT to ponder because this question is something he needs to answer to everyone around him. This includes his dad, wife, and sister and in-laws, who are all clearly dysfunctional. Butch questions if some of their issues result of his lack of experience with other relationships. Tyler is 27 and has only been in a relationship with two women.
Tyler's sister finally apologizes for destroying him and Catelynn's house. Now that she has been doing better in rehab, they decide to invite her and the family for dinner. Butch asks Catelynn about how Tyler is really doing. Butch apologizes for the toll his drug issues have taken on his son and hopes him going to rehab has provided some relief to the both of them. He encourages her to talk openly about anything he has done that still is hurtful and what he can do to make things right. Catelynn brings up Butch throwing in her face when she first gave up Carly for adoption during an argument. He seems to genuinely care and want to take his sobriety serious this time. Hopefully, he can become the dad Tyler needs because his son is hurting and could use a person to lean on.
While in the car on the way to football practice, Bristol has a conversation with Trip about whether he wants her ex-husband, Dakota Meyer to be a part of his life. You can clearly see the child is conflicted and in the middle. He wavers and says he doesn't know. Given what we have witnessed this season, it's obvious Bristol has adult conversations in front of her kids that probably sway their opinions of her exes. Personally, I don't think it is fair to the kids. No matter what is going on between the adults, the children should not feel like they are in the middle. Bristol should have skipped this uncomfortable conversation with Tripp asking him to make an adult decision. Instead, she should have called Dakota and worked out a way for him to have a role in her oldest son's life.
Dakota hangs out with a friend and discusses co-parenting since the divorce from Bristol. He admits Tripp was his first son and that he wants to reach out to him. He is just unsure about what his mom has told him. It's unfortunate, but given the way Bristol doesn't hesitate to speak badly about Dakota and Levi Johnston at any given moment, I don't blame him for treading lightly.
Bristol goes to Sky Zone with her friend and the kids. Of course, she doesn't miss the chance to blast Dakota. She tells her friend that Tripp wants nothing to do with Dakota, which from what I saw is not true. Tripp admitted he missed Dakota coaching his football team and he honestly seemed confused as what to say to his mom. I think it's wrong the way she is using her kids as a tool to be so negative about her ex-husband. Hopefully, viewer comments and watching the season will help her see how her behavior may be affecting her relationships, not only her kids but with their dads as well.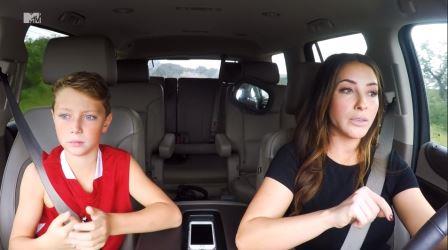 Cheyenne is back in town for her sister's baby shower. Her sister announces she plans to ask both Cheyenne and Cory Wharton to be godparents. Honestly, I find this a little weird… Does no one in her family see how Cory strings Cheyenne along? In return,  it seems like they treat him like a king. They ignore the fact they are not together and seem to participate in the delusion. Conspiracy Theory Alert: Is this a part of Cheyenne's strategy to get Cory in a relationship? Did she force her family to do her bidding and wear Cory down??? Things that make you go hmmmm….
Cheyenne admits to her friend what even Stevie Wonder can see… she is madly in love with Cory. She loves how Cory is now a part of her family. Yet, while she was in Michigan his family talked to Cory about impregnating his in ex in front of her.  Does Cheyenne have anything else going on in her life besides chasing after him? Insert an eye roll visual as I sigh in frustration.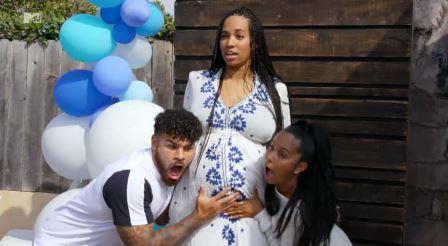 Amber and her boyfriend Andrew Glennon do what they do every episode. They try to take over the world… from their couch. Amber discusses how Leah is growing up and dealing with everything from hair on her legs to feeling self-conscious about her weight. She acknowledges that Kristina Shirley plays a big role in her life so they have to work together.
Amber goes over to Leah's house and brings gifts to commemorate her transition from girl to young woman. Amber and Kristina jointly show little Leah how to shave her legs in her bathing suit. I thought this scene was so cute. It was really nice to see Amber putting Leah's needs first and including her stepmom as well. I am sure this is a day her daughter will remember.
Gary Shirley looked like he couldn't get out of the bathroom quick enough… his little girl is growing up. Amber confides in Gary and Kristina that she knows the damage she has done in the past. She admits she is hurt when Leah says she is busy. Kristina eases Amber's mind when she tells her that she does that to them as well. Hopefully, Amber stays on a good track and continues to focus on being healthy and being her best self for her children.
Is it just me or is delusion a hell of a drug? I have heard ignorance is bliss my whole life, but I am just not really coming to understand what that means by watching this show. It seems like the whole cast is under a spell with the exception of Maci. The reality they are living and the one we are witnessing don't seem to align. Here's to hoping that a wake-up call happens sometime in the near future.
TELL US – DO YOU THINK CORY AND CHEYENNE WILL EVER BE IN A RELATIONSHIP? DO YOU THINK TYLER AND CATELYNN SHOULD DO A TRIAL SEPARATION WHILE SHE IS PREGNANT? 
[Photo Credit: MTV]