Last night on Married to Medicine LA, Shanique Drummond made sure she stood out, but not for the right reasons. She was barely featured on the introduction episode last week, with the ATL ladies. But if you didn't know her name before, you will definitely know her name now! The drama was turned up full blast when she made a shady move at her husband's birthday party. She makes no apologies as one friend questions her true intentions towards her.
 Dr. Britten Cole's children and husband are back in LA. It seems their long-distance relationship has become completely normal for them ever since her military days. Her husband seems like a like a dedicated husband and father. How long will he be able to shoulder most of the parenting on his own? The two seem like a happy couple, but something tells me, we are going to see a shift at some point.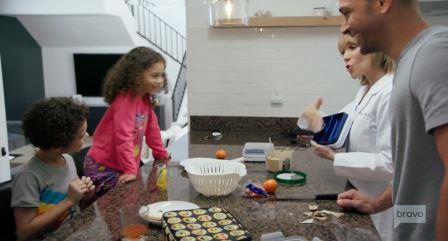 Asha Kamali-Blankinship goes to visit Dr. Noelle Reid's office for Botox. They have actually known one another since high school. They discuss Asha's concerns about having a child later in life.  Noelle encourages her to have a baby if she truly wants one, despite her age. She reveals her mother was thirty- nine when she had her, and she is perfectly fine. I think Asha and her husband are both attractive and their baby would be extremely cute.
Dr. Imani Walker goes for lunch with her son and husband. We discovered her husband isn't her son's father, but essentially raised him since he was two years old. Imani's husband used to be a part of a band that she loved growing up. Many years later, they met and fell in love.  She brings up the idea of reconnecting with her dad and her husband does not seem to be open to it. There is something about this woman that I find very interesting.  I have no doubt she will bring a good storyline this season.
Shanique isn't the typical doctor's wife. She actually manages over 400 residential homes while still taking care of her husband and children. I was shocked to find out she supported her husband financially and emotionally throughout medical school. No one can accuse her of being a gold digger, just out for the come up. For now, I am actually impressed. Given the way she described herself to Heavenly Kimes at Asha's party, she definitely undersold herself. She reminds me of Toya Bush-Harris, with a job. On the surface, a lot of people probably assume these women married their husbands for their money. But once you get to know them, it's obvious they truly love their husbands.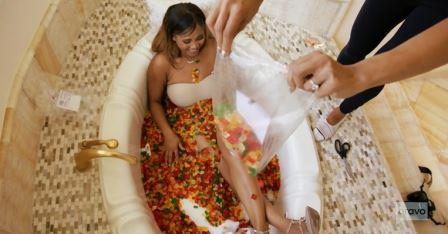 Shanique is throwing a "Jamaican" themed party for her husband's 38th birthday. In preparation, she plans a weird sexy photo shoot, complete with a tub of gummy bears. I don't know why her friend Jazmin Johnson was encouraging this hot mess picture. But I guess as long as her husband likes it, that is all that matters.
While winding down for bed, Asha brings up the baby conversation to her husband. She still has concerns about having a baby, but wants to try. He still seems hesitant. One of his concerns is finances. I thought that was weird, given their age and careers.  I wouldn't have thought that would have been his first concern. It just seemed like he may not be ready or willing.
It's the day of Shanique's husband's birthday party. Asha is bringing a surprise guest, Heavenly. I don't know if that is a surprise or a recipe for disaster. While on the way to the party, Hellishly is being her usual messy self.  She is already throwing shade in the car before she even arrives with Imani and Asha.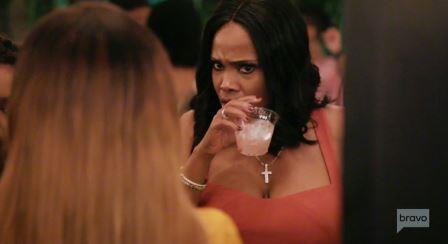 For some reason, Shanique reveals her large photograph to the entire party, rather than to her husband.  I don't think anyone wanted to see her semi-naked in a tub of candy.  Drama ensues when the girls realize Shanique invited Asha's husband's ex-girlfriend. To add insult to injury, she was his last girlfriend before they got married. Asha joins the conversation and is shocked to hear her friend invited this woman to the party.
Shanique claims it was her husband that invited her because they are friends and it's HIS party. Apparently, they did their residency together and have been good friends ever since.  Shanique could have given Asha a heads up, before the party. Otherwise, it just kind of seems like a setup, in my opinion. SMH….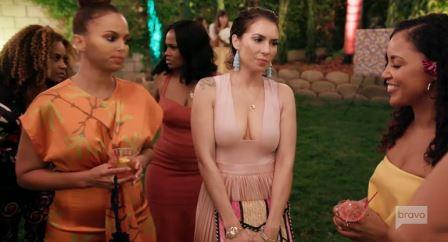 Jazmin is clearly annoyed that Asha is mad about the presence of her man's ex. She feels like she has the ring, so why would she feel insecure? Shanique goes off after being questioned. Imani pulls Shanique and Asha aside to cool things down. As if things aren't dramatic enough, the ladies invite the ex into the conversation to interrogate her.
Of course, Hellishly is right in the middle to stir the pot. She tries to encourage Asha to stand in a circle of her peers and have a conversation with this woman. Thankfully, she was smart enough to dodge that bullet. I hardly think Heavenly would talk to one of Daddy's exes in front of all of her friends at a party.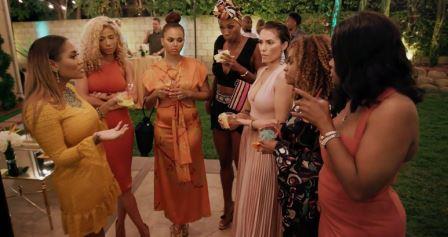 I could not help but notice that all episode, everyone threw shade at Shanique's husband's height. I'm not going to lie, the man is SHORT. Even Imani and her husband, who look like they could be his parents, were making fun of him. I can only imagine what will happen after Shanique realizes everyone has been clowning her man.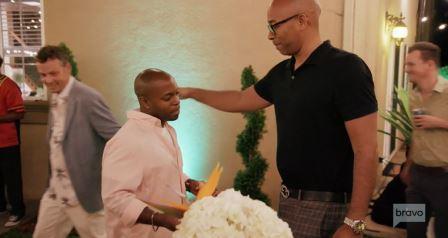 TELL US – DO YOU THINK ASHA WILL HAVE A BABY IN THE NEAR FUTURE? DO YOU THINK SHANIQUE SHOULD NOT HAVE INVITED ASHA'S HUSBANDS'S EX TO THE PARTY? WHAT DID YOU THINK ABOUT THE GUMMY BEAR PHOTO? DO YOU THINK ASHA IS WRONG TO BLAME SHANIQUE FOR THE DRAMA AT THE PARTY? ARE YOU INTO MARRIED TO MEDICINE: LA SO FAR?
[Photo Credit: Bravo]