Last night on a special episode of  Married to Medicine, the girls arrive for a gathering at Contessa Metcalfe's home. Everyone is in attendance with the exception of Mariah Huq and Toya Bush-Harris. I guess Toya still hasn't gotten over Contessa lying on her.  During the party, Contessa reveals her new breasts in a revealing swimsuit. I must admit, she looks great and is in better spirits. She proposes a girl's trip to Los Angeles. We all know this is just a reason to introduce the fans to some of the members of the new Married to Medicine Los Angeles cast. Yasssss… new girls, new city and new drama.  I am here for it! I can't wait to see how some of these women compare to the cast we have all come to know and love.
The ladies are picked up from the airport by Contessa's friend, Dr. Britten Cole. Of course, Heavenly Kimes finds a reason to complain. She can't believe a doctor has a Jeep, with no doors. Well, I can't believe a dentist, says "yo mama". Britten reveals she watched her family struggle growing up. This propelled her to want one job that would pay her well.  Currently, her husband and kids are in Florida until she secures her job and living situation.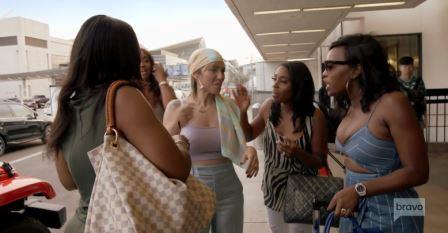 The ladies enjoy gossip and cocktails by the pool.  Britten's friend, Asha Kamali Blankinship arrives. She is an actress and married to a physician. I can tell that the other ladies are definitely sizing up the newbies. Move over Quad Webb-Lunceford, you may have some real competition! Before Asha leaves she invites everyone to her "Wakanda Forever" themed anniversary party.
The next morning, the ladies enjoy breakfast and Quad comes downstairs in a too tight swimsuit. Britten fills in the women on some of the other ladies they will meet at the party. One in particular, is Dr. Imani Walker, who is a medical director. She is described as striking and intimidating to some. In true LA fashion, Asha has her assistant drops off African attire for everyone to wear at the party. Everyone likes their outfits except for Hellishly.  I think she was more concerned if it may fit, which Simone Whitmore points out.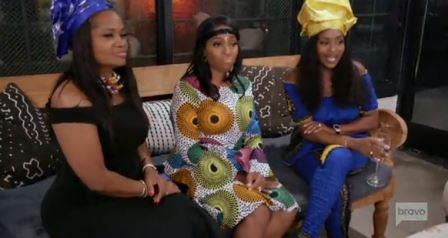 The ladies arrive to the party and begin to mingle. Heavenly meets Jazmin Johnson, who she immediately questions about what she does. She seems very bothered that her response was a doctor's wife. Asha and Simone discuss her chances of getting pregnant at the age of thirty-nine. I don't know why Simone insists on badgering women about having children all the time. It's really in poor taste when you don't have a right to judge another's life. I don't see anyone badgering her about her vodka consumption and incessant screaming.
Heavenly, Quad, and Simone discuss the ladies they have met at the party. Quad feels like the LA ladies seem like they have a great bond. She gets emotional asking them to just love her and says she will do the same. She may have to become less closed off if she wants that to happen. I don't think that will be happening any time soon. I guess we will see if something changes in the future.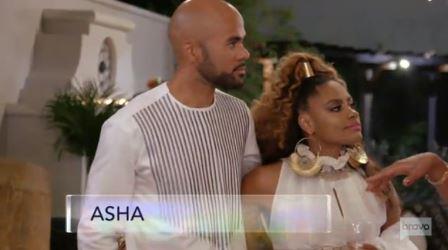 Asha makes a toast to her marriage and husband for accepting her despite all her flaws. I must say that the party was beautiful.  I enjoyed the sneak peek into the lives of Married to Medicine Los Angeles.  This is going to be an interesting season, full of drama and friendship. I can't wait until next Sunday when we meet all of the ladies on the season premiere!
TELL US – ARE YOU GOING TO WATCH MARRIED TO MEDICINE LOS ANGELES? WHAT DID YOU THINK OF ASHA, IMANI AND BRITTEN? WHAT ARE YOU LOOKING FORWARD TO THE MOST FROM THE LA CAST?
[Photo Credit: Bravo]