Last night's episode of 90 Day Fiance The Other Way was disturbing, to say the least. We all knew some secrets would be revealed, but I had no idea that it would be to this extent. I hope this episode serves as a lesson for anyone who ignores red flags. The drama was taken to another level. Whew, chile I need a drink after watching this mess.
Tiffany Franco worries about giving birth in South Africa. Jenny Slatten finds out shocking news about Sumit. Laura is torn between her son, Liam and Aladin. Paul Staehle's mother arrives in Brazil. Grab a snack and let's break down every crazy moment. Ready, set, recap!
Paul, 35 (Louisville, Kentucky) & Karine, 22 (Brazil)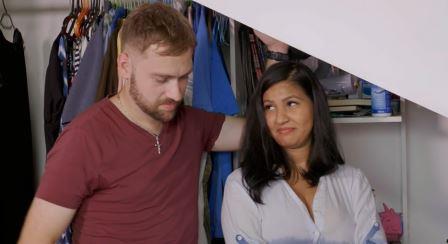 Karine Staehle  and Paul are settling in with their new baby. Ever since Karine has given birth, she has seen a softer side of Paul. Paul is excited his mother is finally going to meet his wife and baby for the first time.
Karine is nervous. She has no idea what Paul has told his mother about her. Despite being taken aback by the living circumstances, Paul's mother is extremely complimentary of Karine.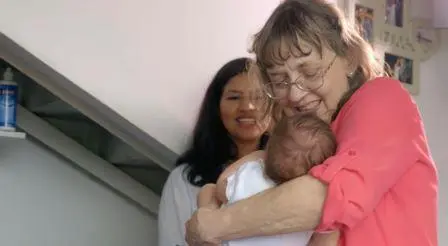 I guess Karine was expecting Paul's mother to be as crazy as her husband. I would be worried as well if I had to be under one roof with two people from that family.
 Laura, 51 (Eustis, Florida) & Aladin, 29 (Qatar)
It's the first day of Laura's wedding and her Liam is too tired to attend the festivities. Laura appeals to him to make an appearance to not offend her in-laws. She wonders if Liam's issues with Aladin are the reason he doesn't want to attend.
After some prodding, Liam reveals he sees Aladin as no different from any of the other toxic men his mom has dated in the past. Wow! If anyone thought Liam was shy, he definitely proved them wrong. Geez, this kid didn't spare his mother's feelings, in the least.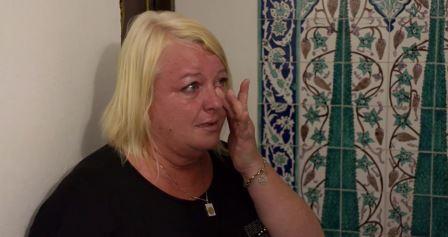 Laura goes into the hallway to cry about Liam's harsh words. Sorry, Laura, but your son has obviously seen this play before. He knows the script by heart. Is she really surprised that he doubts Aladin's intentions?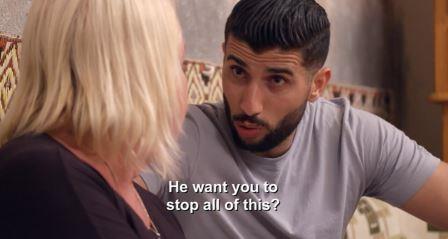 Laura is devastated her son won't attend the first night of her wedding. She was looking forward to having someone she could speak English with and a person that was there for her. Aladin goes to check on Laura. He finds out, Liam will not attend. Aladin is offended that Liam is acting like a brat, trying to ruin their day.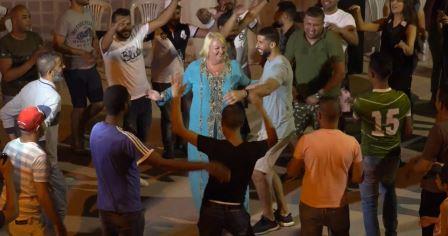 He encourages Laura to enjoy the party and forget about her worries. Laura feels like she is in a tug of war with her son and husband. Nonetheless, she puts a smile on her face and tries to enjoy the festivities.
Corey, 31 (Mill A, Washington) & Evelin, 26 (Ecuador)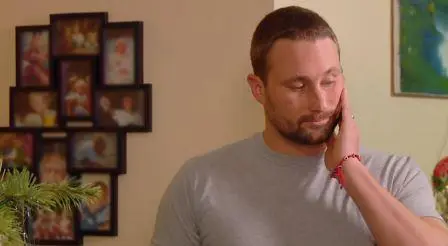 Corey is back home to support his family after his father's death. He feels torn between choosing to stay and help his family or going back to Ecuador to be with Evelin. His mother tells him to follow his heart.
They wonder if Evelyn is even ready for marriage. Corey's mom tells him he can always come back home. His mother is so precious. It's clear she is having a hard time, but she doesn't want to place a burden on her son. Unfortunately, we all know Corey is going to choose Evelin.
Tiffany, 27 (Frederick, Maryland) & Ronald, 29 (South Africa)
Tiffany is still in South Africa and whining about Ronald Smith's addictive personality. Sorry, Tiff, we don't feel sorry for you. You went into that marriage with your eyes wide open. They decide to tour a public hospital to see if it would be a viable option for Tiffany to give birth. If they decide to go to a private hospital, they would have to pay a large sum of money.
On the tour, the nurse seems like even she is trying to discourage them from coming there. The public hospitals have challenges such as cleanliness, privacy, overcrowding, and the father can't view the birth. Tiffany realizes that she wouldn't be comfortable having her baby in a public hospital.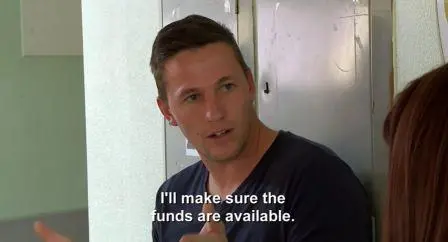 She worries Ronald will not be able to come up with the money they need in such a short time. Hopefully, Ronald's mother has learned from the past and locked down her valuables. Desperate times, may call for desperate measures.
Jenny, 60 (Palm Springs, California) & Sumit, 30 (India)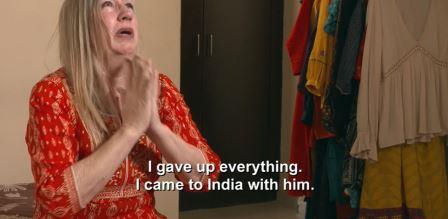 Jenny interviews with 90 Day Fiance The Other Way production after a devastating event. She details how Summit's father-in-law came to the apartment with Summit in tow. Jenny was shocked to find out the depths of Summit's deception. He has been married for the last 2 years!
Summit's father-in-law invited other family members to come to the house to shame them. Jenny was terrified and ran to her bedroom to hide. She returned to the living room when she heard a crash. Summit's wife and entire family were surrounding him with threats.
When Summit admitted that he loved Jenny, his father-in-law filed an official complaint with the police. Jenny hasn't seen him since the incident and is an emotional wreck. I feel so bad for Jenny. Thank God this happened while they were still filming. I shudder to think what would have happened if Jenny was completely alone in India with no one to call.
After being alone for a few days, Jenny decides to video call her daughter. She admits right away that Summit is married and has been lying to her. She also details how 15 family members invaded their apartment and forced Summit to leave. Jenny's daughter is livid that Summit would put her mother in danger.
Her daughter implores her to come home and end her relationship with Summit. Jenny is very lucky she wasn't seriously hurt. Summit could have been killed when his family realized he dishonored them by having a mistress. RUN like the wind, Jenny…
TELL US – DO YOU THINK COREY SHOULD STAY IN THE US WITH HIS FAMILY? IS LIAM WRONG FOR NOT GIVING ALADIN A CHANCE? WHAT DO YOU THINK ABOUT SUMMIT LYING ABOUT BEING MARRIED? SHOULD TIFFANY GO BACK TO THE US TO HAVE HER BABY?
[Photo Credit: TLC]