It's time to grab the popcorn and your favorite drink (you're gonna need it). Temptation Island is back for a second season and the first episode did not disappoint! The tension was felt immediately as the four ill-fated couples made their way to the island. It was sunny and gorgeous, but quickly turned dark and stormy.
For those who need a quick recap – the show is about four couples at a crossroads in their relationships. They arrive on Temptation Island and are then separated so they can be tempted by single men and women who are looking to gain followers on social media fall in love. Will they cheat or won't they? At the very end the couples decide if they want to leave together or apart. Last season ended with devastating breakups and one engagement. So, will this new crew beat the odds of an inevitable break up? Let's find out!
The journey is now ready to begin for the four unlucky or lucky couples, depending on how you see it. The main theme across the board for everyone is trust. So it makes total sense that they are on a show where you basically give your partner a free pass to cheat.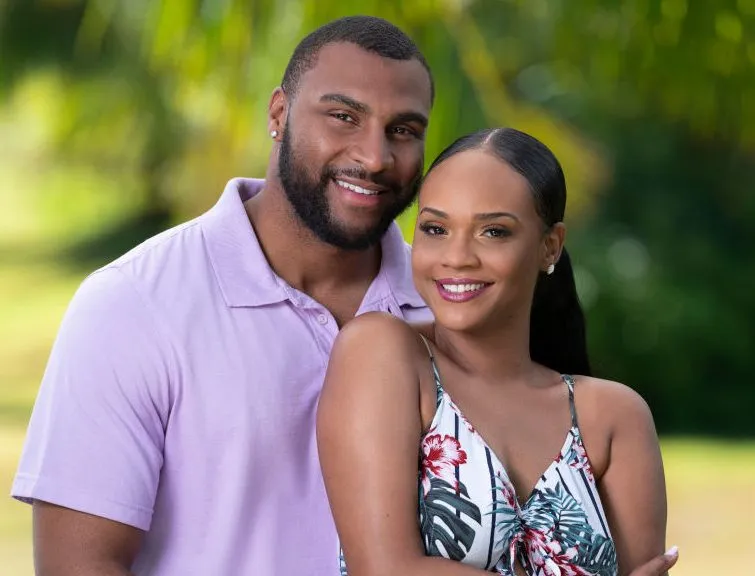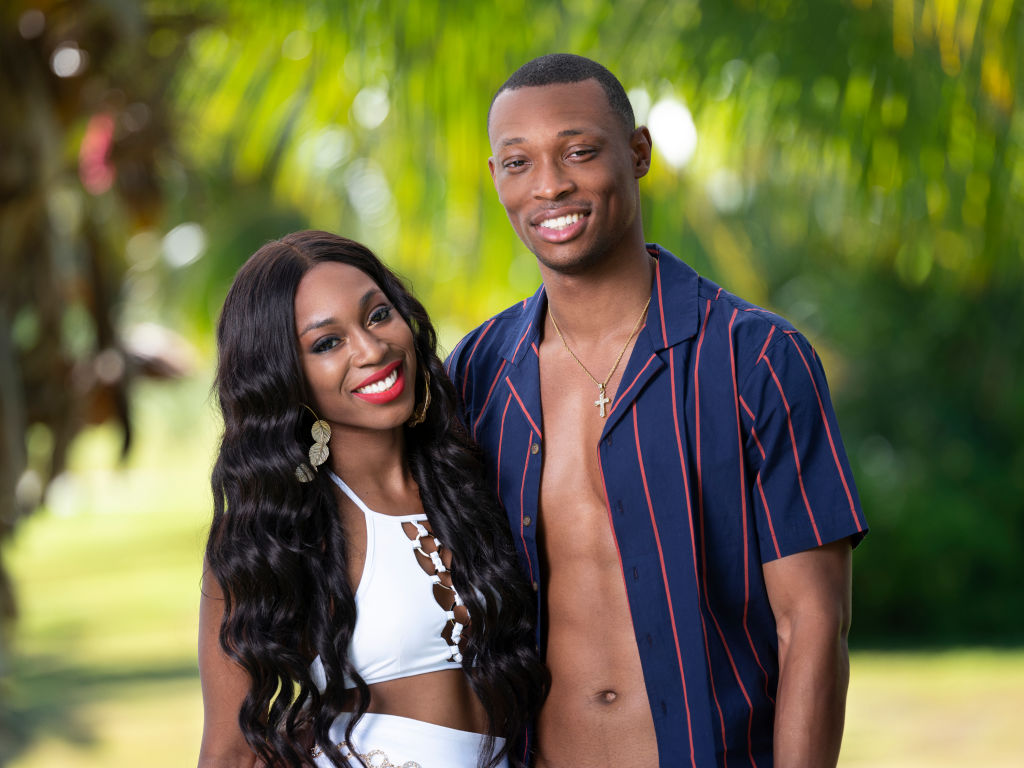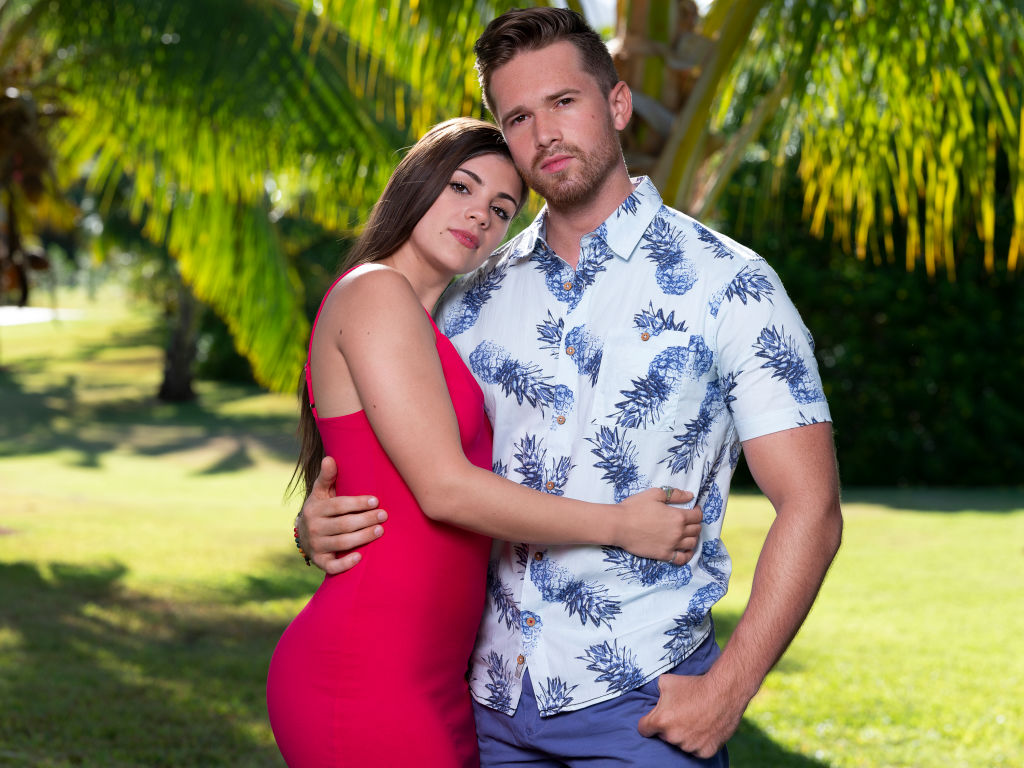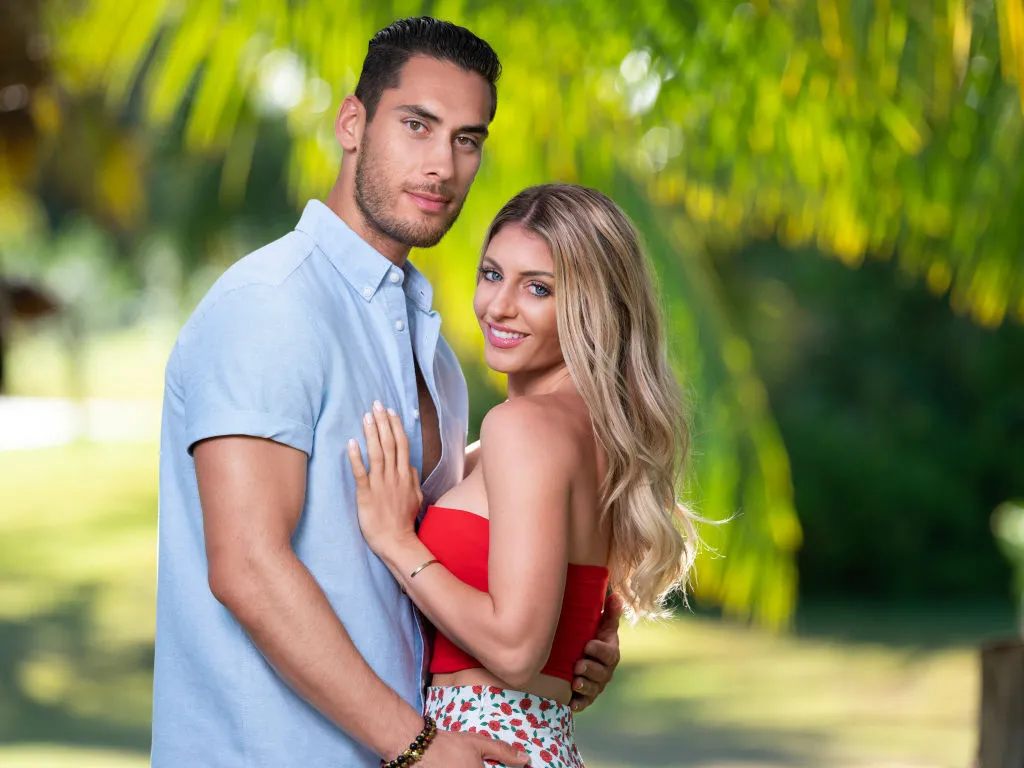 David Benavidez tells a tearful Kate Griffith, "You know I don't want to leave this place without you. That's not my plan, that's not my goal." Promises, promises. David and Kate were long distance the first two years of their relationship. Now the pressure is on because Kate is 34 and ready to have babies, while David is 28 and probably not ready to lose his six pack for a dad bod. Kate also worries that because she cheated on her ex-husband, karma will come back to haunt her in the form of David cheating on her. David wants to prove to Kate that she can trust him when she's not around. We shall see about that. 
And then the voice of reason, host Mark L. Walberg, shows up and takes everyone to the house where the girls will be staying. Once there, he prompts them to open up as to how they are feeling. Basically, all the women admit they have trust issues. Mark then reminds them why they are all here, to date other people in order to figure out if their partner is "the one." And by the way, there just happen to be a bunch of hot single people waiting in the wings who might be better suited for them. The grass is always greener my friends.
The introduction to the singles was hilarious. The music was tense as the singles slowly stepped out from the shadows like in a zombies in a horror film. The couples sat there frozen, unsure what coming at them. Kate was crying. Esonica kept repeating "Fuck." Gavin astutely said, "It's like a dream that started off good, and then it slowly turned into a nightmare."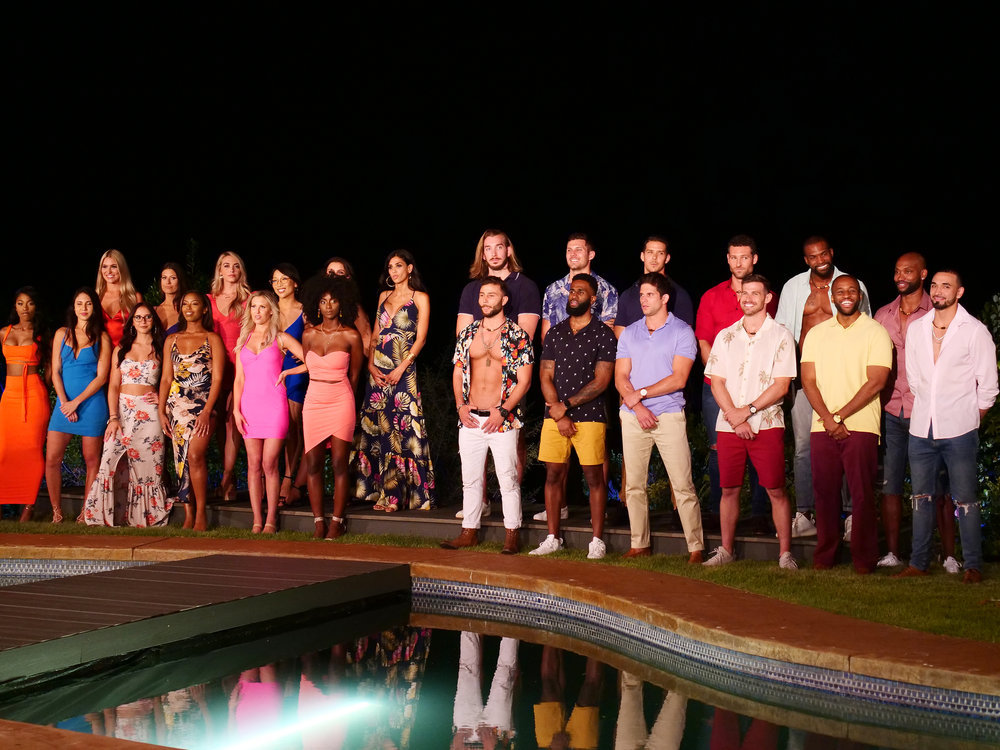 Ben Knobloch is a sniper from the army that has the ladies in his sight. Immediately after, Gavin mimicked him. And he pretty much did that for every guy. Didn't know Gavin had a bit of mean girl in him. All the men's jaws dropped when Toneata Morgan, a model, showed up. After her spiel, one of the ladies said, "You touch my boyfriend and I will kill you." Meow.
Deac Conti is a comedian, or at least he probably does amateur night at the local Yuck Shack in Naples, Florida. He said, "So here's a joke. What got between you and your girl? Just this Deac!" He then pointed to his dick and stuck his tongue out. I can't believe this guy is still single. He got mostly groans, but Esonica whispered to Gavin, "That was actually funny." And speaking of Gavin, Medinah Ali came in hot and had her sights on him when she said she was looking for her "prince." 
As the singles exited, Casey said to no one in particular, "What a weird bunch of dudes, amirite?" Takes one to know one, Casey! Mark then informed the couples that it was time to say goodbye to each other for the evening. Rick wished he could console Ashely G., but admitted, "she knew what she got herself into by signing up for this."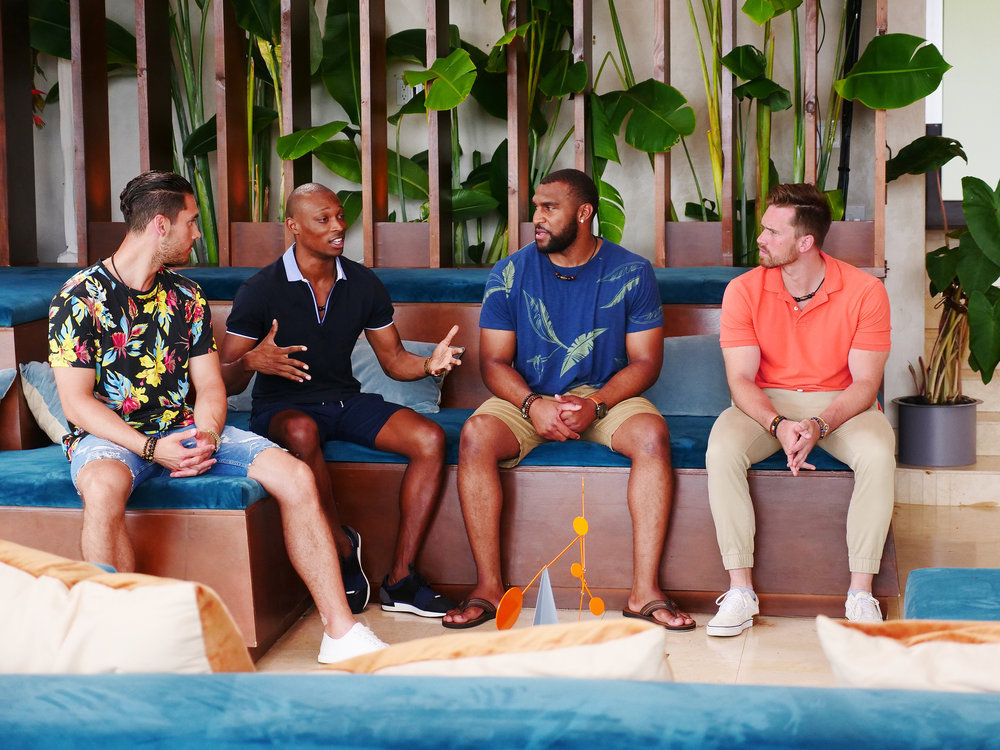 After the women left, David shared that it felt "weird." Gavin asked if anyone was "scared of what your gonna do, slash, what your girl is gonna do." Casey actually said he's "zero percent" worried about what Ashley H. might do. Rick doesn't believe him, but adds that "it's time to play ball." Looks like things will be moving fast this season!
At the girls villa, Ashley H. said the girls came on pretty strong and joked that they probably would take their men. Esonica went off about Medinah going after Gavin. She said, "Who she lookin at? She don't want these problems!" Preach.
The next morning, Mark showed up at the guys villa with the single ladies. The women have an agenda, time to get drunk! It's five o'clock somewhere. Medinah surprisingly decided to go after Rick, and not Gavin. She summed up the show perfectly when she said to him, "We're tempting y'all." 
Gavin and Toneata made a connection, and he told her he's going to keep an eye on her. Payton and Casey also connect. Kari Nesheim found herself connecting with David because they both live in New Jersey, even though she's been trying to get away from Jersey boys.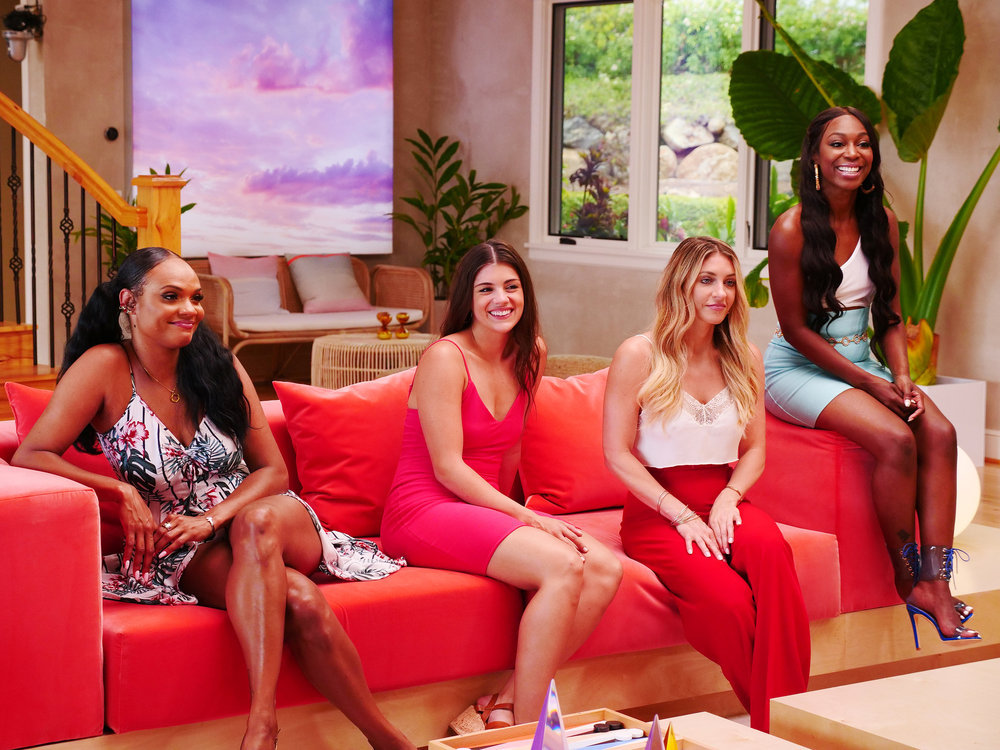 At the ladies villa, the single men arrive and the drinks are also flowing. Ashley G. admitted she's nervous because she's naturally shy. However, KB Brown is all up on her. He said he doesn't have time to play around, "girlfriends want to be wives, right?" Ashley immediately lit up like a Christmas tree.
Chris Novak introduced himself to Ashley H., and they chatted about how she's from Maine and there is nothing to do there. Not true! There's nice beaches, blueberry picking…OK, I guess she's right.
Kareem Thomas chatted up Esonica. According to him, his friends are scared to bring him around their girls because they fall for him for "whatever reason." Sure, Jan. Esonica shared with Kareem that she met Gavin while he was talking to a bunch of girls, so she's not happy that he's doing that right now. Sniper Ben showed an interest in Ashley H., but she didn't seem to care too much. 
Jose Rodriguez also went after Ashley G. She admitted she felt, "uncomfortable feeling that comfortable around him." Meanwhile, poor Kate felt nothing but guilt talking to all the guys, and sniffled that it hurts her that she knows that David is doing the same thing with the women. 
Then it's time for the all the singles to depart and for the couples to meet up for dinner. David hoped that Kate had good time and opened up to the other singles like he did. Considering Kate has pretty much cried in every scene, I don't think David's going to get the reaction he's looking for. 
At dinner, Mark asked the group questions about their day. David said he wanted to show Kate that he's not a different person when she's not around. Ashley G. shared that she liked that KB wanted to get married and have kids soon. Rick wasn't too thrilled, and accused Ashley of "cheesin" when she talked about KB. Gavin said he missed Esonica more than he thought he would. Ouch. 
Ashley H. said she was hoping this social experiment would help her trust issues with Casey because he could prove himself to her. Casey said he didn't think he should have to do that. Then the waterworks went into full effect as Ashley worried Casey would end up leaving her. 
Mark then gave the dreaded speech about falling in love, and how it might happen for one of them with the singles. If the ladies weren't in tears before, they were now! He then ramped up the drama even more and gave them just ten minutes to officially say good bye to each other.
He said, "For some of you at this table, it's only good bye for now. For some of you, this is good bye forever. Take those ten minutes as though you may never get to speak to them again in this life." No pressure there, Mark! 
Of course, no one is happy and it's all sorts of uncomfortable. Ashley G. thinks Rick is going to make a fool out of them and Rick is dumbfounded as to why. She tells him that if he does anything to make her uncomfortable, she's going to enjoy this experience to the fullest. Gavin wants his final moments with Esonica to be peaceful, but she is pissed about the situation. 
Ashley H. decided to spend her ten minutes grilling Casey on who he found attractive. She didn't find any of the guys attractive, how dare he find the girls attractive! Casey reminded her he's not her exes and she needs to learn to trust. Sound advice, but wrong venue.
Kate tells David she is scared because so many of the girls are his type. She then rambled that half of the guys weren't even interested in her because they were so intimidated by David's awesomeness. Girl, please. No one wants to be around a Debbie Downer, plain and simple.
David then tried to make her feel better by saying that half of the girls were intimidated by her as well. Kate then got upset because only HALF of the girls were intimidated by her. David sighed and said that he didn't get a chance to talk to ALL the girls. Stop digging that hole David, you aren't going to win here.
The fights then turn into last minute hugs as the guys depart for their villa, never to be seen again, except for on an iPad over the next month. The women are left in tears. Ashley G. shared, "I don't think anyone is ever ready for this." That may be true, but I am definitely ready to watch the rest of this season! There is going to be some major fireworks for sure. 
TELL US – WHO DO YOU THINK WILL STAY TOGETHER AT THE END OF TEMPTATION ISLAND SEASON 2? WILL RICK PROPOSE TO ASHLEY G. ON THE TEMPTATION ISLAND SEASON FINALE? DO YOU THINK ASHLEY H. WILL GET OVER HER TRUST ISSUES WITH CASEY?
[Photo Credit: Mario Perez/USA Network]