Last night's episode of Married to Medicine was a lot lighter than previous episodes that were more drama-heavy. We witnessed one cast member face her  health demons. This episode contained more support from the ladies than I have seen in quite some time.
Quad Webb-Lunceford allows Heavenly Kimes to set her up on a blind date. Jackie Walters renovates a new office. Contessa Metcalfe throws a carnival-themed birthday for her kids.  Buffie Purselle comes to Simone Whitmore for support when she discovers a lump in her breast. Let's get straight into the recap! 
Scott Metcalfe and Contessa are still struggling with issues in their marriage. She feels like he has become disinterested in her. Contessa decides to throw a party for her children after missing all three of their birthdays while she was in graduate school. She must feel extremely guilty because the carnival themed party was $15,000.
Heavenly decides to play matchmaker with Quad and two of her male friends from the medical community. She takes Quad to a restaurant to meet her two blind dates.  The first option, Henry, has baby mama drama with the mother of his one-year-old son. . He isn't even allowed to see the child because of problems with the mother. When asked about his credit score, he responds that he doesn't know what is his. Thank you, NEXTTTTTTTTTTTTTTTTTTTTTTTT! What kind of man doesn't know his credit score?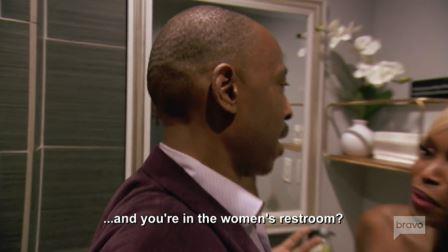 When the second guy joins the table, Quad is overwhelmed and excuses herself to the bathroom. Minutes later, Henry follows and her into the bathroom and kicks all the other women out. A shocked Quad talks to him a few minutes before Heavenly saves her.  I don't know why a man would think following a woman into the bathroom wouldn't be seen as aggressive and weird. Heavenly and Quad return to the table to speak with her second date. Dr. Wakefield is divorced and has 2 kids. Heavenly clearly knows that Quad likes money because she announces he is a multimillionaire with good credit. Dr. Wakefield says his marriage didn't work because his ex-wife wasn't driven. After both men leave, Quad says she wouldn't date either man.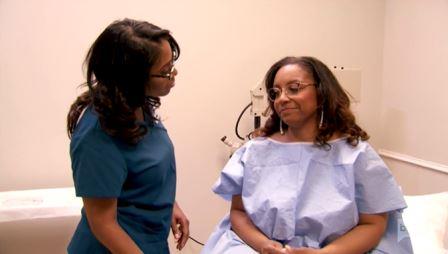 Buffie has a doctor's appointment with Simone. She found a lump under both arms that have gone unchecked for six months. Since she has a history of breast cancer in her family, she knows she needed to get checked out.  After the breast exam, Simone thinks it may be extreme mammary tissue, but Buffie will need mammogram to confirm.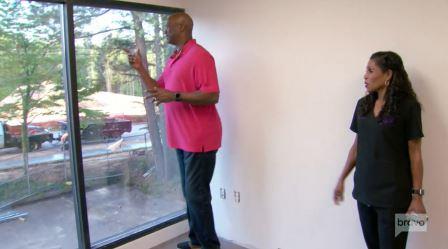 Jackie and Curtis Berry look at her new office. It isn't finished yet, but Curtis has been tasked as the project manager to oversee the construction. Now that Curtis has retired from coaching basketball, he has more time to help Jackie with her business. I just hope he doesn't become even more demanding about Jackie's time now that he has much more to spare. But for now, construction on a home and office should keep him busy.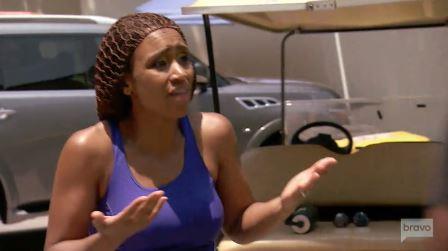 Contessa is stressed out and shouting orders to everyone including Scott. At this point, Scott is irritated and has to remind her that he doesn't work for her. All the women come to support Contessa by attending the party with the exception of Quad. While talking to Heavenly, Contessa shares that her and Scott are lacking intimacy. When Mariah Huq sees Toya Bush-Harris and her sons, the kids say the pool is dirty. Mariah says kids don't lie and thinks Contessa had a "pissy" pool.  Toya thinks there are too many kids in the pool and doesn't want her boys to get in. After the party, Scott and Contessa agree that they need to stop arguing with each other.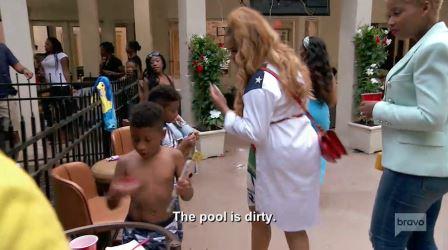 Simone goes with Buffie to get a mammogram. Buffie is nervous because she rarely gets good news when it comes to her health. She's struggled to become a mother but suffers from infertility. Buffie' luck changes when she finds out that she doesn't have cancer, but has to make some small diet changes.
TELL US – DO YOU THINK QUAD SHOULD HAVE GIVEN ONE OF HER BLIND DATES A CHANCE? DO YOU THINK CONTESSA AND SCOTT WILL RESOLVE THEIR MARITAL PROBLEMS? WHAT DID YOU THINK OF CONTESSA'S CARNIVAL THEMED PARTY? DID YOU THINK BUFFIE WOULD RECEIVE BAD NEWS?
 [Photo Credit: Bravo]