If you thought the previous episode of Married At First Sight  was filled with drama, things only get worse for some couples. Usually things don't really heat up until the couples move in together. Well this season, the fireworks definitely started early. Many of these participants are better than me. I would be looking for the nearest exit, if I experienced some of the things that happened on this episode.
Some of the newlyweds live out their fairy-tale love story in Panama, while other couples are off to a rocky start.  Tensions rise as three of the couples struggle to find common ground with their stranger spouses. Considering the bombshells that were dropped on the last episode, things can only get more interesting. Let's get straight to the recap!
Meka & Michael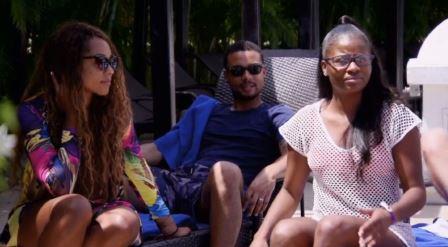 Meka Jones and Michael Watson  stayed in separate rooms after a huge blow up the first night of their honeymoon. Meka accused her husband of giving her an ultimatum of having sex before the end of the honeymoon. The next morning she is totally devastated and in disbelief that she is already in this place with the man, she just married. Michael feels like he isn't comfortable expressing himself, but hopes that their issues can be fixed. I have a feeling Meka isn't letting this go, anytime soon.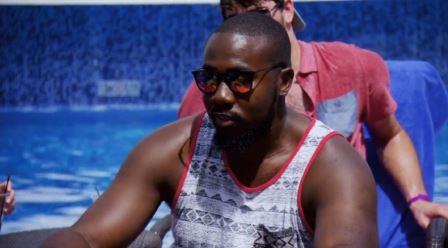 Things get even more awkward when Meka arrives at the pool to greet the other couples without her husband. When she is interrogated about Michael's whereabouts, she is forced to admit they slept in separate rooms. When the group discusses why they were matched, Meka can't help but to compare her marriage to everyone else. When Michael comes down to join the group, he and Meka don't even greet one another. It is glaringly obvious they have some serious issues.
Meka shares the disagreement she had with Michael with the other women. When Michael is asked by the men, he is very general and doesn't go to into depth. Meka, girl, if you hope to stay married you can't tell everyone all of your problems. She decides to call Pastor Calvin Roberson about the state of her marriage. Pastor Calvin encourages Meka to have a discussion with Michael and not let her disappointment allow her totally discount him.
Pastor Calvin calls Michael to hear his side of the story. Michael claims he only was only trying to understand her sexual expectations she misunderstood the conversation. After a few days apart, Michael and Meka finally meet to clear the air. She suggests they focus on just being friends and stop putting pressure on timelines. She also points out that Michael hasn't been wearing his ring. He claims he isn't wearing his ring because he feels like he is failing as a husband. He will resume wearing it again when they can get back to a better place. Meka accepts that explanation, but decides to take off her ring as well. She doesn't want to present herself as married if her husband isn't doing so. Sigh! This looks really bad. Only a day into your honeymoon and you are no longer speaking or wearing a ring. I guess it could only get worse, if they both decide to start dating other people.
Later that evening when the couples have dinner together, Meka vents her frustrations to the group. Michael is asked why he is no longer is wearing his ring. It's clear no one quite understands his reasoning for taking off his ring when he is still legally married. I recognize wanting to start fresh, but you can do that with your ring during the process. This is getting embarrassing! I am uncomfortable just watching Meka and Michael interact with the group, at this point.
Mindy & Zach

Mindy Shiben is still in shock that her husband told her the night before that he didn't feel a spark between them. The next morning Mindy tearfully shares her feelings while Zach Justice tries to explain what he meant by his words. According to him, he was trying to say he needs open and honest communication in order to grow into the relationship. Neither I nor Mindy know what the hell Zach is talking about. Nonetheless, the two decide to bury the hatchet and try to move forward.
Mindy pours her heart out to the other wives about Zach's comments about his attraction to her. She tells everyone he wasn't even concerned, if she was attracted to him. Chile, please! Mindy, you told that man how attracted you were to him all day, every day since you met him. Zach admits to the other men he felt nothing when they kissed.
Mindy attempts to get more clarity on Zach's feelings later that evening, on the beach. Zach says a lot, without saying anything. It seems like Mindy wants to have these serious conversations about their relationship and future that he isn't ready to have. Mindy, relax a little and stop giving your husband all the power. You both should be taking time to get to know one another and decide if you think it's a match, not just him.
Mindy and Zach enjoy each other's company while experiencing the local culture in Panama. It actually seems like Zach is trying with his wife. I am not fooled so easily, there is something less than genuine about him. I believe he meant exactly what he said when he told Mindy he wasn't attracted to her.
Derek & Katie

Katie Conrad and Derek Sherman are getting along really well. They already seem like they have known each other much longer than they have. There also seems to be chemistry for something much deeper. He even helped Katie take her insulin shot, which was very sweet.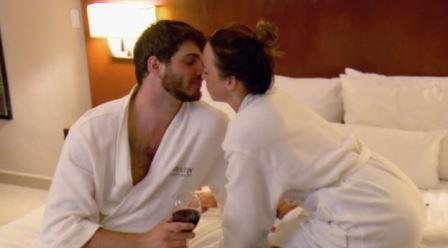 Although Katie really likes her husband, she admits to the other wives, she worries that he has never been in love. Derek surprises Katie with a very sweet gesture for her birthday. When they return to the room, it's littered with candles and rose petals. The two share desert and wine while opening up about their feelings for one another. Apparently, Katie opened more than a bottle of wine, because she admits they had sex. I initially thought these two were a long shot, but maybe Derek may just finally fall in love, for the first time.
Brandon & Taylor
Taylor Dunklin woke up in a playful mood and videoed her husband, Brandon Reid  lightly snoring before he awakened. Unbeknownst to her, this mistake would have dire consequences. Brandon obviously didn't appreciate the joke and proceeded to completely ignore Taylor like a sullen child. She tried multiple times to communicate with him and he didn't even look in her direction. Chile please, it would have been at this moment that I would have known this wasn't going to work. There is nothing worse than an immature, passive aggressive man.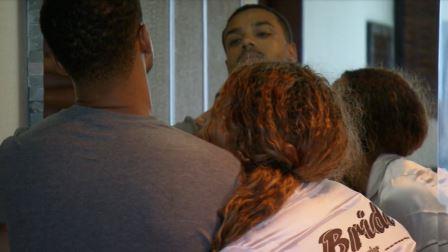 Things get even worse when they meet the other couples at the pool. It's obvious Brandon still has an attitude. When asked about why they think they were matched, Brandon sarcastically mentions "we are really big on respect. She stuck her camera in my face this morning." Wow, is it really that serious? Why Brandon couldn't be man enough to explain to his stranger wife, he felt like she invaded his privacy and trust, is beyond me. This guy is so immature it's ridiculous! Taylor is completely caught off guard, not realizing until that moment, why he was upset.
Later that day, Taylor attempted to make things better by trying to be extra nice to her husband. Brandon still wasn't done with his B*%@# fit and was not only rude, but disrespectful to Taylor. When she attempted to pick up his clothes for him, he told her not to touch any of his things. SMH.. Maybe Taylor needs to go share a room with Meka for the rest of this trip.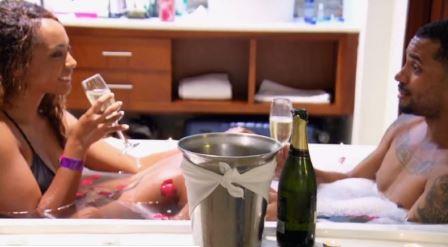 After being a jerk the entire day, Brandon finally tells Taylor why he was so upset. He attempts to blame his actions on a panic attack from being videoed unexpectedly. When Taylor doesn't immediately take his bullshit excuse as fact, he becomes defensive. He even tells her to "get over it" which infuriates Taylor. When she calls him out, he apologizes and finally takes accountability. Insert eye roll emoji. I probably would have been out all night with Meka after being treated like crap the entire day.Brandon attempts to make up for his bad behavior by surprising Taylor with a romantic candlelit bath. This dude is like Dr. Jekyll and Mr. Hyde. He can be very charming and then extremely rude, at any moment. I suspect that we haven't seen the last of his evil twin. Run Taylor, run!
Austin & Jessica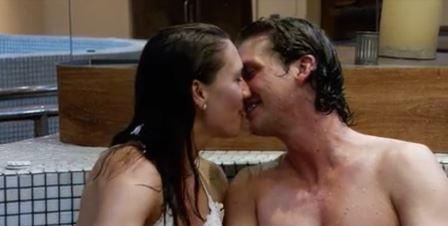 Austin Hurd  and Jessica Studer are seemingly happy with one another. They are both equally as boring, so I guess that makes sense. It's not that I need them to argue, but damn, do something interesting, please. The two share a romantic kiss after having a relaxing spa day. A spark definitely seems to be igniting between these two.
Honestly, I don't think there has been a couple on any season less interesting. The show could have easily left it at four couples again this year. But I am happy to see at least one couple on track to stay together.  Shockingly at dinner with the other couples, Jessica and Austin admit they had sex during the honeymoon. Maybe these two have a story line after all. I guess we will just have to wait and see what happens next.
TELL US – WHAT DO YOU THINK ABOUT THE WAY BRANDON REACTED TO TAYLOR VIDEOTAPING HIM? DO YOU THINK MICHAEL SHOULD BE GIVEN A SECOND CHANCE OR IS IT TOO LATE? IS ZACH TOYING WITH MINDY? WHO IS YOUR FAVORITE COUPLE SO FAR?
[Photo Credit: LIFETIME]