Finally! I've been waiting all season for something to finally happen on Below Deck. And we finally got an episode filled with drama, nearly from start to finish. We had upheaval in the crew. The coronavirus pandemic started creeping its way into the Caribbean. World War II-era warfare erupted thanks to toxic fumes! And a rogue preference sheet sent one crew member over the edge. Needless to say, it was a lot. And most of all it was great.
Last week's Below Deck ended on a cliffhanger with Shane Coopersmith getting called into a meeting with Captain Lee Rosbach and Eddie Lucas. And this week, the hapless deckhand lasts about five seconds into the episode. That's right; the sun has gone down on Sunshine. And strangely, Shane seems utterly blindsided by being fired. Like, he didn't see this coming at all, you guys. Which is bizarre, considering all the napping. And waking up late. And leaving the laz door open all night. And…et cetera, et cetera, et cetera. Shall I go on?
Shane's exit from the boat is quick and unceremonious. He gets nothing but a brusque handshake from Lee. Eddie escorts him down to their cabin and watches over his shoulder as he packs. Most of the crew give him a goodbye hug, but most aren't all that broken up to see the deckhand leave. Rachel Hargrove can't even be bothered to come up from the galley to say goodbye. (If there's one thing the chef isn't, it's fake. And she's not about to go through the small talk and well wishes of a fake goodbye to a deckhand she couldn't care less about.) And with that, Shane exits stage left.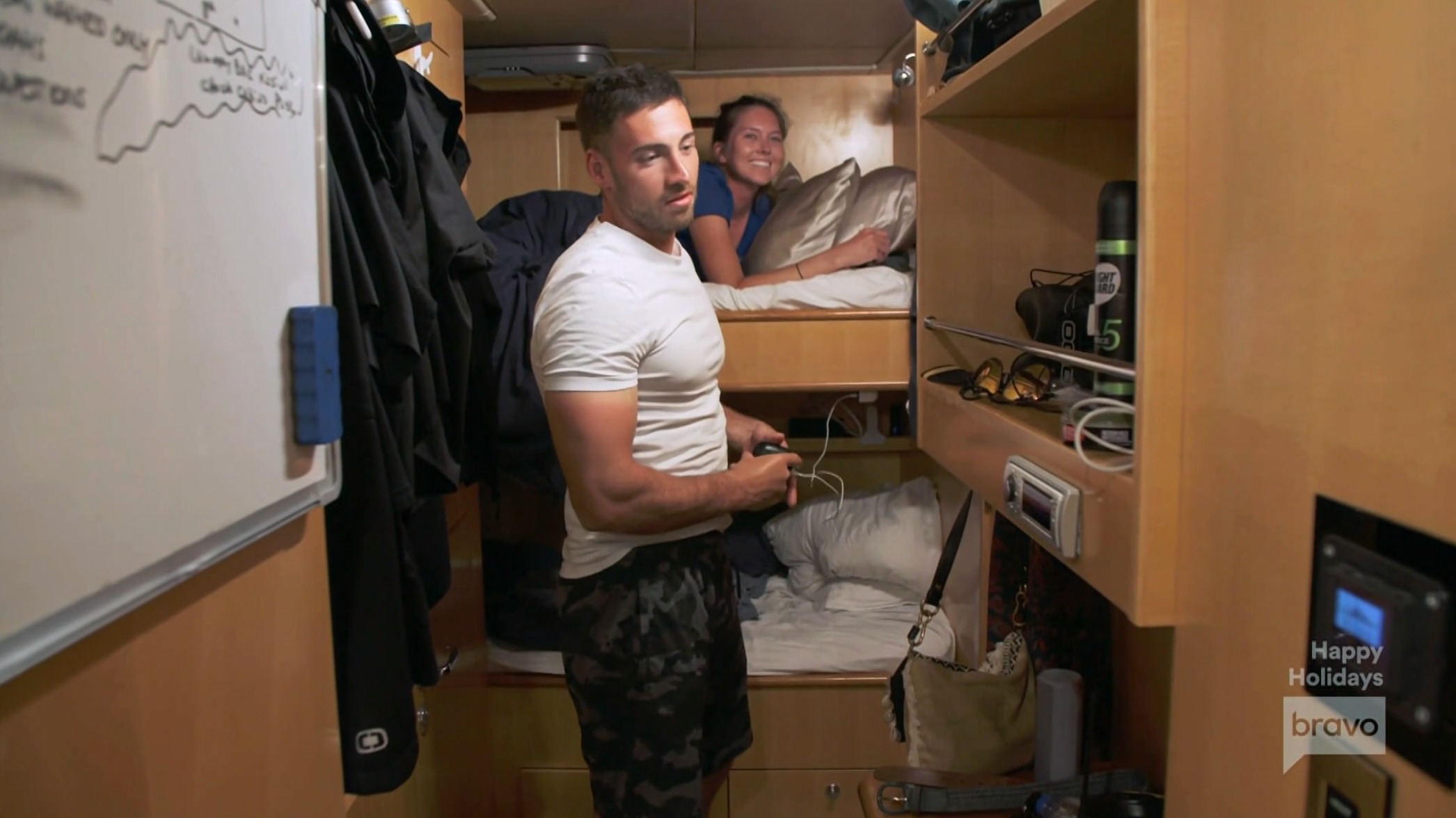 With Sunshine gone, the rest of the crew still has work to do to get the boat turned over. Though thankfully, they have an extra day before the next charter. And while the most glaring problem with the deck crew has been handled, there are still plenty of issues happening in the interior. Francesca Rubi calls a department meeting to debrief on the last charter. But really it's just an excuse to heap praise on Ashling Lorger and criticize Elizabeth Frankini. Meanwhile, Eddie's worried more changes could be on the horizon for the deck crew, which leads to poor Izzy Wouters crying in her cabin over the possibility of getting fired. (It won't happen Izzy! Everyone loves you!)
Later that night, the entire crew heads into Antigua for their night out on the town. And at first, it's one giant party. Everyone toasts to the memory of Shane, and laments how strange it will be to have his replacement join the yacht. Then the drinks start flowing. James Hough and Elizabeth inevitably start to get flirty. The second stew wants to "engage" the cheeky Brit over spirituality, and he's all for it as long as they can meld the spiritual with the physical. At the opposite end of the table, Rachel gets weepy about missing her Italian boyfriend. And then before you know it, a switch flips in the chef and she turns into a completely different person. She gets downright aggressive on the way back to the boat, telling Elizabeth to suck it up and deal with the drama with Francesca.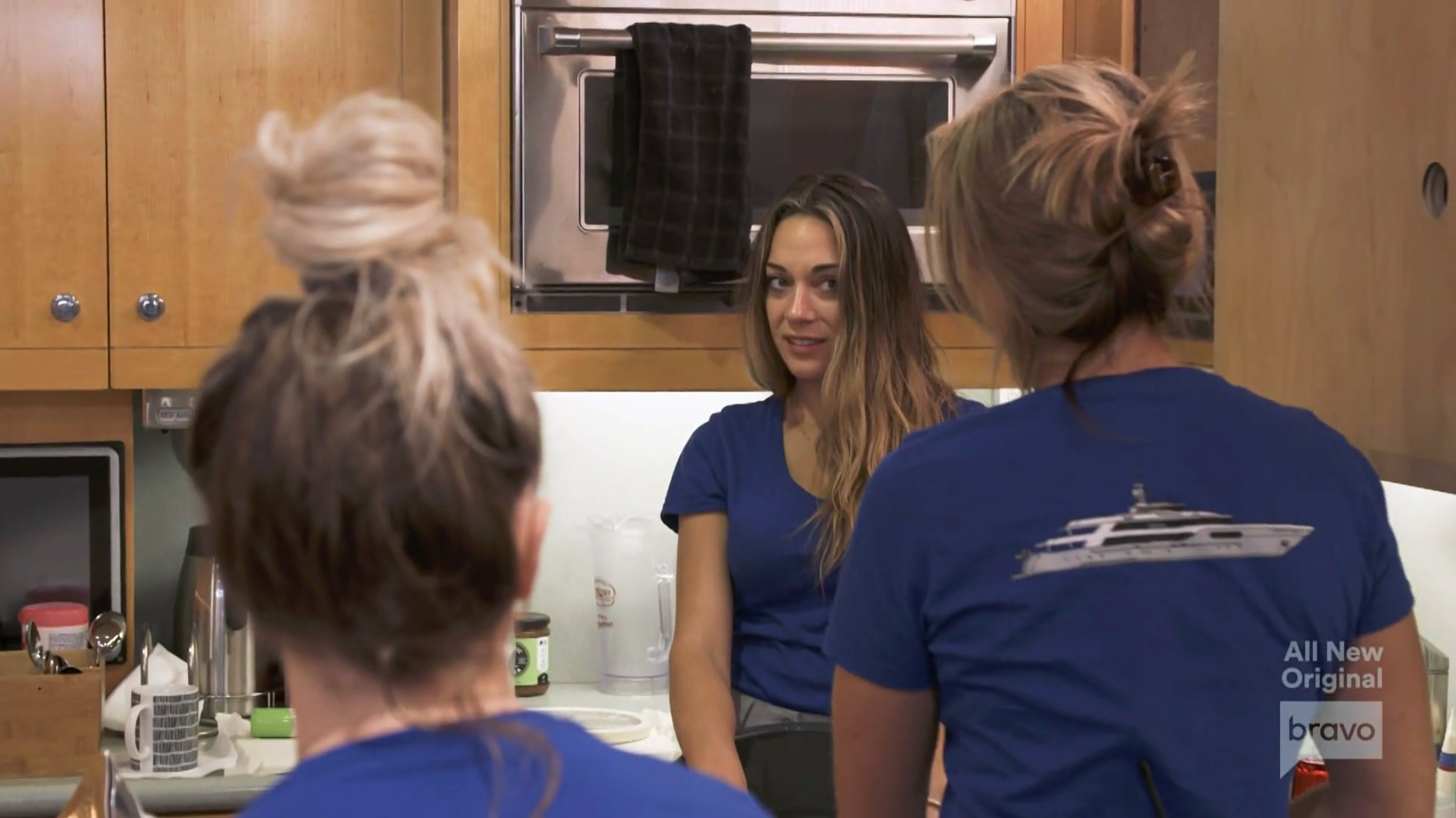 The next morning, there's still no charter, so it's a full work day. While Ashling irons, Elizabeth's in charge of laundry. To bleach a white shirt, she decides to mix bleach and soap together — something she's apparently done plenty of times on other boats. She leaves the concoction in the laundry room and within minutes, all three stews are feeling dizzy and lightheaded. At first they chalk it up to a hangover. But finally, Francesca calls the chief engineer down to investigate, who recognizes the toxic fumes, promptly clears the area and vents the boat. When he informs Francesca, she's furious that Elizabeth jeopardized the crew's safety and finally feels she has an excuse to fire her underling. To be fair, the combination Elizabeth concocted was used in WWII as mustard gas. Yikes!
First Francesca confronts Elizabeth, telling her she has t0 go to Captain Lee, and then goes to Rachel to complain. The chef claims she supports Elizabeth being fired if that's what Francesca thinks is best, so the chief stew goes straight to Captain Lee and lays out her case. However, with less than a day before the next charter, there's no time to find a replacement. So Elizabeth's not getting fired quite yet. Plus, they're already a man down and Lee isn't about to go into a charter with one less person on deck and in the interior. While this is happening, Elizabeth is venting to Rachel, who also tells her to go to Captain Lee to fight for her job. Naturally, Francesca walks in on this conversation and declares she can no longer trust either her second stew or the chef anymore. She's done.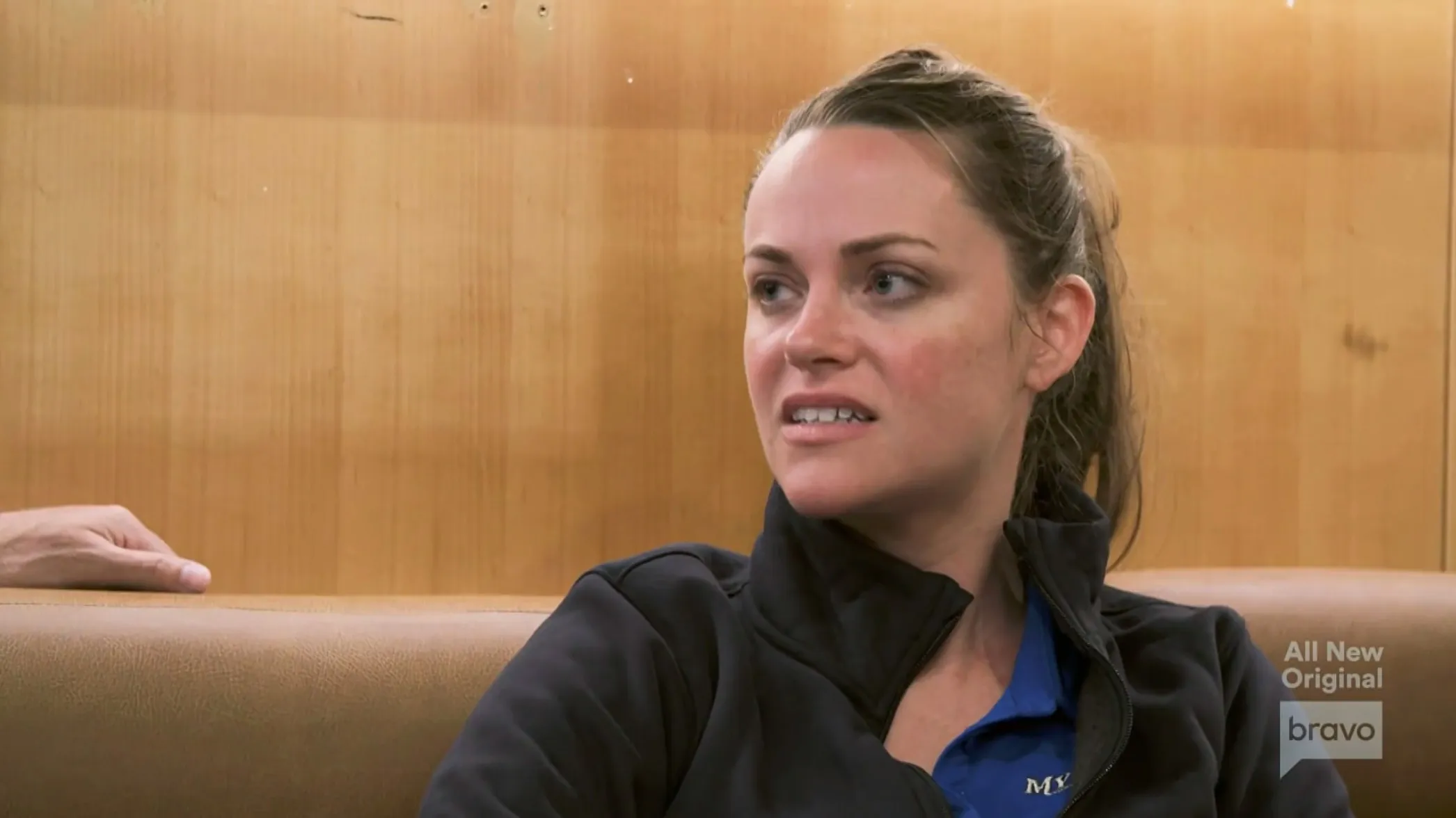 Time for the preference sheet meeting! Captain Lee gathers Eddie, Francesca and Rachel in the crew mess to go over the demands of the next batch of charter guests and they're…a lot. To say the very least. The primary is one of North Carolina's top real estate agents, who apparently thinks he moonlights as the king of England. The requests on the preference sheet are so over the top that it's actually hard to process all of them at once. Honestly, the things I catch include wild boar, American fine dining, Spanish — not Mexican — food, a 10-course dinner party and unicorn floaties.
Something about this preference sheet sets Rachel off. And before we know it, she's unleashed a tirade of curse words never heard in a preference sheet meeting. In front of Captain Lee, mind you. Like, literally, it starts with "eat my cooter" and ends with her telling the captain "go f–k yourself." (To be clear, this is directed at the guests, not Captain Lee specifically. But still. Can you imagine saying anything like that to the Stud of the Sea?) Remarkably, Lee takes Rachel's outburst in stride, but she's threatening to walk off the boat because of the guests' demands. And they don't even show up for another day!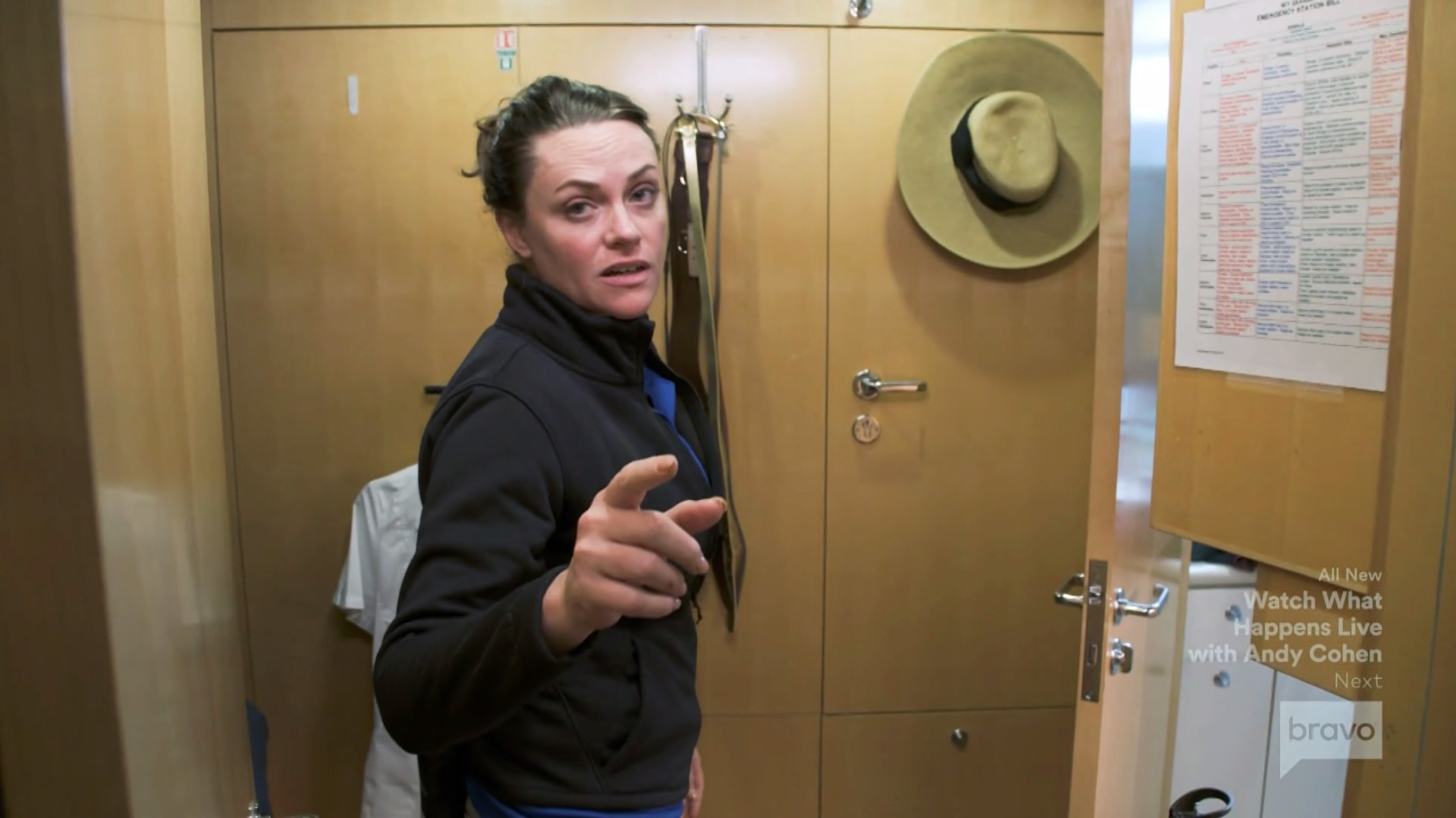 In an attempt to mediate the situation, Lee pulls Rachel into the bridge for a private meeting. He reminds her that they're in the Caribbean. Some things the guests are requesting simply aren't possible. (Though I can't confirm or deny if wild boar are running somewhere on the island of Antigua. He specifically says she doesn't have to deliver everything the guests are asking for. Can't she just do lunch and dinner on the first day while he finds another chef to take over? But Rachel is so worked up that she flat out refuses even this seemingly reasonable request from her boss. She's out.
And just like that, the chef marches downstairs and starts packing. On deck, Eddie agrees the provision list went "too far" but is this type of reaction really necessary? I mean, Rachel is down in her cabin telling a cameraman to "get his hounds" and flipping off the cameras. Like…what is happening here? Does she really just want to go be with her boyfriend? Is she having some sort of breakdown because coronavirus is shutting down her boyfriend's native Italy? All we know is that with 16 hours to go before the charter, Rachel is off the boat and the crew is without a chef…
TELL US – WILL YOU MISS SEEING SHANE ON BELOW DECK? WHO DO YOU WANT TO REPLACE HIM? DOES ELIZABETH DESERVE TO BE FIRED FROM BELOW DECK FOR THE BLEACH INCIDENT? WILL RACHEL COME BACK TO THE BOAT? 
[Photo Credit: Bravo]