All of a sudden, we have a much smaller crew on Below Deck Mediterranean. Sure, we're only two crew members down thanks to the exits of Lexi Wilson and Delaney Evans. But you feel it when suddenly there are only two people in the entire interior. Good thing there are only two charters left of the season, right? Even with a diminished number of helping hands, it should be a piece of cake, right? Right??
Here's my other thought about losing Lexi, in particular. Yes, she absolutely deserved to be fired. But what happens when you eliminate the common enemy? In any given group of people, especially on reality TV, there are basically only two options. One, they have to find something (or someone) else to talk about. Which inevitably leads to greater scrutiny from within the group. We've seen it happen time and time again. Or two, and this is even worse, the group starts to turn on each other. So let's see where Lexi-free waters take us, shall we?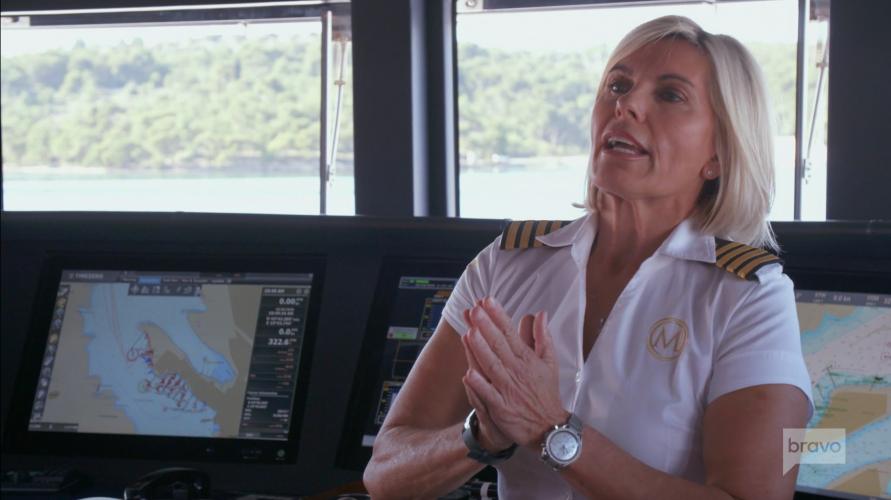 We left off last week with that whole "turning on each other" phenomenon in full swing, with Captain Sandy Yawn blowing up at Malia White. To be fair, the captain has a point. At the very start of the season she was explicitly clear: if there's an injury, she wants to know about it. David Pascoe is injured and she didn't find out for several days. However,  Malia is quick to defend herself by pointing out that the injury wasn't work-related and happened when David was off duty. But that's not good enough for Sandy, who screams that now she doesn't trust her star pupil.
Of course, this is all happening two hours before charter, so there are more than enough other things to worry about. Katie Flood and Courtney Veale are starting to feel the pressure of agreeing not to bring on a third stew. Chef Mathew Shea is feeling insecure about his food for seemingly no reason. And Lloyd Spencer is starting to worry about finding another yachting job after the season that's as supportive of a working environment as Lady Michelle has been.
An hour later, Sandy calls Malia back to the bridge to make up. She's still angry she didn't know David was hurt, but she can't risk alienating her beloved bosun after three seasons and counting of blatant favoritism, right? Malia agrees to file an incident report, even if David's injury is just a bad bruise. And both sides apologize to the other for their first-ever fight. Malia tells the captain it cut to the core to hear her say she didn't trust her. Which just goes to show just how much Sandy's validation means to her. I mean, from the green deckhand of Season 2 to the bosun (and Bravolebrity) she is today, Malia pretty much wouldn't have a career without Captain Sandy.
The guests make their way down the dock and it's time to start charter number 6! Except, oops… Three of the guests will be arriving late because they're waiting for their negative COVID test results. Immediately, it seems this group of guests — which includes a gospel singer and his godly gaggle of friends — won't be quite as high maintenance as the crew is used to. The primary's ordering Shirley Temples, for Pete's sake! This is all a good sign for the interior though, because they don't need any extra work if they can avoid it this trip. Tied to David's injury, the charter also gives the deck crew some room to grow, with Mzi Dempers manning the bow all by himself for the first time during departure. Our little deckie is growing up!
After anchoring in Borovnik, the rest of the guests arrive via water taxi. And since this will be a shorter charter, there's no room on the itinerary for downtime. The first thing the guests have requested is a beach picnic for lunch. Because of course they have. With David down for the count and no extra hands among the stews, it's up to Malia and Mzi to do the entire set-up themselves. And lucky them, the site of the excursion isn't really a beach at all. It's actually at the top of a giant hill among the ruins of an old Croatian movie set. Cool for the guests; not cool for the deckhands who have to make multiple trips up and down the mountain lugging chairs and tables. As Malia points out, this is where an extra set of hands — like Delaney's, for instance — would come in handy.
Once it's actually time for lunch, Katie and Lloyd are the ones responsible for handling service during the outing. Mat prepared build-you-own poke bowls, and the guests seem incredibly grateful. But all in all, nothing much happens, and before you know it we're back on the boat. Seriously, though, it took longer for Malia and Mzi to set up the picnic than it did for production to film the guests eating it. What a bust. This is why no one likes a beach picnic.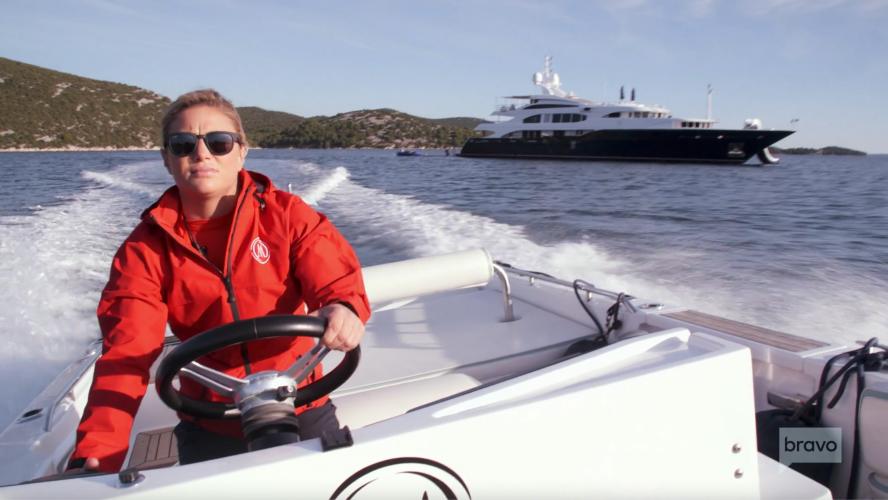 Next up is an afternoon of water sports. Before riding the jet skis, Malia lays out the rules. In Croatia, you apparently have to stay at least 300 meters away from any shoreline. So what do two of the guests do? Dart under a bridge and head right up the channel into town on the jet skis. Uh, you're definitely within 300 meters, guys. Were you not even listening? They take off so fast, that Malia actually has to get into the tender and chase them into town before the yacht gets ticketed by police.
Meanwhile, Mathew's started prepping for dinner, and apparently needs Katie's opinion on every little decision. He's making an Italian feast of sorts, and the need for constant validation is simply exhausting. But I guess it's not without good reason. Mat knows he's been given multiple chances this season, and now that Captain Sandy will be dining with the guests, the pressure is even higher to impress his boss. Strangely, it's the first time all season that a single group of charter guests has asked Sandy to dine with them. Which also makes it the first time she's trying Mathew's food outside of the crew lunches and dinners he just loves to make. (Yes, that was sarcasm.)
Everything looks delicious as the stews and Malia serve course after course of burrata salad, rigatoni bolognese, and a whole local roasted black sea bass. However, after the meal's over, Sandy actually has some critiques for Mathew's cooking. It turns out she had way too much dark meat on her fish, which should really never be served to a guest. It's the first even somewhat negative feedback the chef has gotten all season. And on top of that, it's coming from Sandy. So naturally it sends him spiraling…to the point that the rest of the crew has to tell him to stop fishing for validation. Side note: by the end of the night, Katie and Courtney have each worked 16 hours without a break. Do you think they're regretting their decision not to bring back Delaney yet?
The next morning is drop-off day. And it's also Mzi's first-ever morning shift, which sadly gets off to a bit of a rocky start. Despite Malia prepping him the night before, a few tasks slip Mzi's mind. So when a guest suddenly appears wanting to go for an early morning paddleboard, there are no paddle boards to be found. And worst of all, Captain Sandy catches the mistake. (Meanwhile, Chef Mathew's still spiraling over the fish from the night before, which only goes to annoy Katie even more…Remember what I said about greater scrutiny and all that?)
The deck crew's morning only goes from bad to worse as a hectic hauling of the anchor leads to Mzi and Lloyd making even more mistakes. First, Lloyd forgot to take the anchor ball down. (Don't ask me what an anchor ball does, I'm just a recapper…) Then, the fenders are in the wrong spot for docking. Once Malia catches David gabbing with Mathew in the galley instead of up on deck, she's ready to lose her patience. Finally, during docking, a frazzled Mzi messes up the heaving line. Where are all these rookie mess-ups coming from? Did Lexi curse the boat on her way out?
TELL US – DOES CAPTAIN SANDY HAVE GOOD REASON NOT TO TRUST MALIA? DO YOU THINK KATIE SHOULD'VE BROUGHT DELANEY BACK AS A THIRD STEW? IS MATHEW BEING OVERLY NEEDY OF VALIDATION? WHY IS THE DECK TEAM SUDDENLY STRUGGLING SO MUCH?
[Photo Credit: Bravo]