Never before in the history of Below Deck has a beach picnic set up taken so long. And it's all Captain Sean Meagher's doing. If you thought Captain Sandy Yawn was a micromanager on Below Deck Med, this guy takes it to a whole new level. I mean, he's literally off the boat doing the beach set-up with his own two hands. Speaking of, who's in charge of M/Y Seanna while he's busy arranging cushions? It certainly can't be Eddie Lucas, whom the Captain is running ragged as an errand boy. Is the stews? The chef? The off-camera chief officer whom we only see in the corner of the first crew meeting, probably.
Captain Sean sees this propensity to be "hands-on," as he calls it, as a positive thing. He brags via confessional that he's not above performing any job on the boat. Which is great and all, but dude. You're the captain. You need to be the captain. There are other people who can assemble tents for beach picnics. They're called the deck crew. And if you'd get out of the way and just let them do their jobs, the guests wouldn't have been forced to be delayed a full hour for their excursion. An hour! That's preposterous. For once I'm totally on the side of the guests. Though once they arrive, they seem pleased with the accommodations. So maybe the temporary captain is right and the way to pull off a successful beach picnic is handing out fake seashells from the Philippines…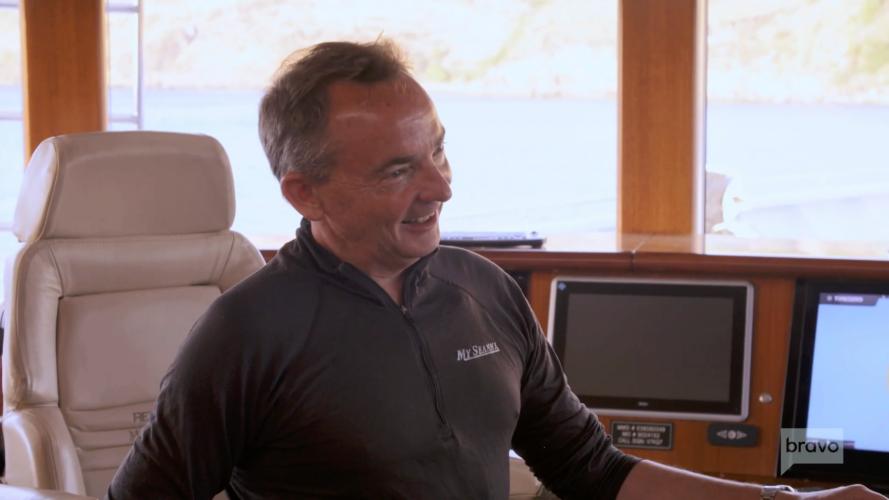 Back on board, there's already some resentment brewing between Rachel Hargrove and Eddie. The chef is still salty about Eddie's (completely valid) opinions of her behavior from last season. In particular, she seems most angry that Eddie ratted out her drunken, toxic escapades off charter to Captain Lee Rosbach. You'd think this bad blood would've been addressed at last season's reunion, but something tells me it'll boil over sooner or later. In better news, Captain Sean gets a call from our beloved Captain Lee letting him know that he's just hours away from boarding the boat. Hurray! Our fearless leader is returning. And as an added bonus, we've only had to put up with Captain Sean for an episode and a half!
Later that afternoon, Captain Lee makes his triumphant return to M/Y Seanna, just as the sun is setting over Whitehouse Bay. And Eddie has never been happier to see his mentor. After a brief report on the first two days, the Stud of the Sea sends Captain Sean off into the sunset with a handshake and a "Get off my boat." The transition is fairly seems and to be honest, no one seems all that sad to see him go. Not even the guests, who now get to dine with a real Bravolebrity for dinner.
For the meal, Rachel's whipped up a casual seven-course tasting menu inspired by Japanese street food. You know. As one does. She's als0 on her best behavior with Captain Lee, fully aware of how lucky she was to be asked back for a second season after some of her more, ahem, colorful behavior last year. However, Lee readily admits that Rachel's the best chef he's ever worked with — even if she did tell him to "go f–k [himself]" last year and walk off the boat.
Before dinner though, Captain Lee calls Eddie to the wheelhouse for a meeting. As the newly-designated first officer, Eddie has the responsibility to know why the captain was delayed. And here's what happened: he was in the hospital. It tuns out Lee has had AFib (a.k.a. atrial fibrillation) for quite a while now, and he underwent a procedure to burn off parts of his heart that were giving him trouble. All of this sounds terribly concerning, especially considering that Captain Lee started out last season in the hospital as well. Take care of yourself, Captain Lee! Below Deck needs you.
The next morning is departure day. And it starts with a housekeeping problem. Bright and early, the primary complains to Heather Chase that her cabin is out of towels. Never mind that Jessica Albert had noted just last night that these guests were going through towels like there was no tomorrow. The chief stew finds a way to blame Fraser Olender for dropping the ball, despite the fact that he had delivered towels the night before. The guests had just used them all. But Houston, we officially have a housekeeping problem. (We also have an organizational problem, considering that when Jake Foulger cuts himself on broken glass on deck, Heather can't even bother helping Rayna Lindsey find a dustpan, but OK…)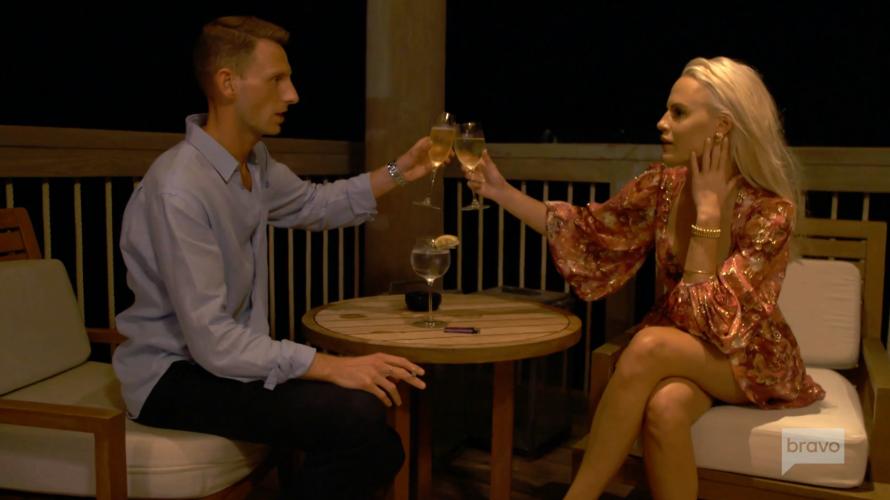 After a nerve-wracking docking with a new crew, the yacht makes it home to Christophe Harbour and the first charter is officially over. And now it's time for Captain Lee to hold the first tip meeting. Slash his first official meeting with his crew, considering he hasn't even properly been introduced to Fraser, Jessica, Rayna, Jake or Wes O'Dell yet. The first thing to address, though, is the primary's criticism over the interior's housekeeping fails on her way off the boat. Obviously, Captain Lee is blindsided by this, though the crew still earned a tip of $18,000. And after turning over the boat, it's time for the first crew night out.
The mood during dinner at Fisherman's Village at the Park Hyatt St. Kitts is light and friendly, with everyone still getting to know each other. That is, until Heather pulls Fraser aside for a little chat about the bad first impression the charter left on the interior. Though he's been fairly shady and critical of the chief stew in his confessionals, Fraser's much more self-deprecating during an in-person confrontation. He takes blame as resident head of housekeeping while still subtly pointing out that he felt constantly pulled away to service and mentioning Heather's lack of organization and effective delegating. They're both committed to improving, but something tells me this tension is only bound to grow as the season goes on.
And now for a different kind of tension entirely. All charter, Rayna and Jake have been flirting hardcore. To the point early in the episode that we learned the rakishly handsome deckhand is very much into pegging. (If you don't know what that is, look it up. Or watch that one episode of Broad City.) The vibes between the two continue over dinner, and by the time they get back to the boat, they're making out.  The pair eventually join Fraser for a dip in the hot tub — though only the boys are in their swimsuits.
When Rayna steps away to talk to her mom, Jake admits to Fraser that he thinks his fellow deckhand is the most attractive female on board. Could this be the beginning of the season's first boatmance? Oh wait. Hold the phone. Maybe not, because as soon as Rayna retreats to her cabin for the night, she's greeted by a text from someone named Issa. Who she happens to be romantically involved with in some way or another. Twist!
TELL US – ARE YOU GLAD CAPTAIN LEE IS BACK? WERE THE MISSING TOWELS THE FAULT OF THE INTERIOR OR THE GUESTS? DO YOU THINK HEATHER AND FRASER WILL CONTINUE TO CLASH? ARE YOU SHIPPING JAKE AND RAYNA?
[Photo Credit: Bravo]