The Real Housewives of Salt Lake City is back after a brief, post-Thanksgiving hiatus, and all I can say is thank god. But maybe not the one living inside Mary Cosby? The ladies are still on their cast trip to Vail this week, and Jen Shah is nowhere to be found. And I have to say, am I the only one who thinks the logistics of this cast trip seem a little…odd? I know the 'Wives were only in Colorado from a Tuesday to a Thursday, but it feels like we only really got one full day of vacation activities. But maybe that's what we get for there being so much drama happening on all hours of the trip.
The episode picks up in the wake of Lisa Barlow's revelation that Cameron Williams mortgaged his house to give Mary $300,000 back when he was part of her church. This is obviously a massive bombshell. But despite demanding her bestie give her a concrete example of Cameron's religious trauma, this somehow sets Meredith Marks off. And honestly, I found her whole reaction to be just absolutely bizarre. First, she claimed the concept of religious trauma is too vague and "abstract." (Which, for the record, it's not. Heather Gay has spent the entire season actively working through her own trauma after a lifetime spent within Mormonism.) And now she refuses to believe basically anything about Mary, even with a piece of evidence now on the table. Like Lisa says via confessional, it's not like Cameron is the first person to bring forward damning accusations about the Cosbys' church.
Meredith also has a, shall we say, intense fixation on comparing this information to her situation with Jen. She claims that no one believed everything she was saying about Jen so…now she won't believe what everyone else is saying about Mary? It's confusing logic. She also angrily argues that what Jen put her family through is somehow worse than Mary allegedly taking advantage of her parishioners and possibly running a cult. I'm sorry, but why does it have to be one or the other? Can't both be terrible things without a game of one-upsmanship? However, rather than argue, Lisa calls it a night and retreats to bed.
Except that she doesn't. Instead she makes a late night stop to Mary's room for a chat that's picked up via hot mic. Behind closed doors, she asks Mary point blank if her congregation worship her as God. Mary laughs the accusation off. She fires back that people are bound to make up lies and stories. And thinks Lisa and the other 'Wives should be proving their loyalty to her. Be more like Meredith, essentially. Lisa also reveals there was much more to her conversation with Jen at the Fresh Wolf photoshoot a few weeks back. In fact, it seems Jen was the first 'Wife to bring up the words "cult leader" on camera in regards to her frenemy. But the real problem is that the way Lisa presents the conversation from upstairs, leaving herself mostly out of it. (Although, she claimed on Twitter during the episode that she did, indeed, "mention it all" to Mary.)
The next morning it's the last day of the trip. And it seems even more drama went down in the night while cameras were down. While Mary gives Jennie Nguyen a piece offering in the form of Christian Louboutin shoes, Whitney Rose has a bone to pick with her cousin. Turns out, in the middle of the night, Whitney overheard Mary, Lisa and Heather laughing in the latter's room, with Mary presenting Heather with a very expensive gift of some sort. Just hours after everyone had concluded that Mary could be as much of an (alleged) fraudster as their co-star back in Utah under indictment. But as Heather explains, Lisa and Mary burst into her room, unannounced and giddy. And Mary was handing out gifts to everyone…except Whitney. Is she buying the other 'Wives off now?
While Heather and her cold-shoulder top leave to reconnect with her ex-Mormon sister over lunch, Lisa tries to smooth things over with Meredith. She informs her BFF of her conversation with Mary from the night before. Lisa ostensibly feels better after hearing Mary's explanations and answers to her questions. But Meredith's wracked with guilt over telling Whitney about Cameron's warning at the Fresh Wolf event. All the gossip and telephone triggers what she went through last season when everyone but Lisa was speculating about her marriage. So I guess that helps explain why she's having such intense reactions. And now she wants to confess everything to Mary.
Once Heather returns, Meredith calls an all 'Wives meeting to hash things out once and for all. She publicly apologizes to Mary for ever engaging in conversation about her church with anyone but her. And also to Whitney for dragging her into the Cameron gossip. But Whitney's quick to point the finger back at Lisa, accusing her of orchestrating all the drama from the very beginning. Naturally, this sets Lisa off and the two get back on the hamster wheel of their never-ending feud. But Meredith blessedly cuts the argument off and turns the conversation back to Mary. Is there anything she wants to say to the group as a whole?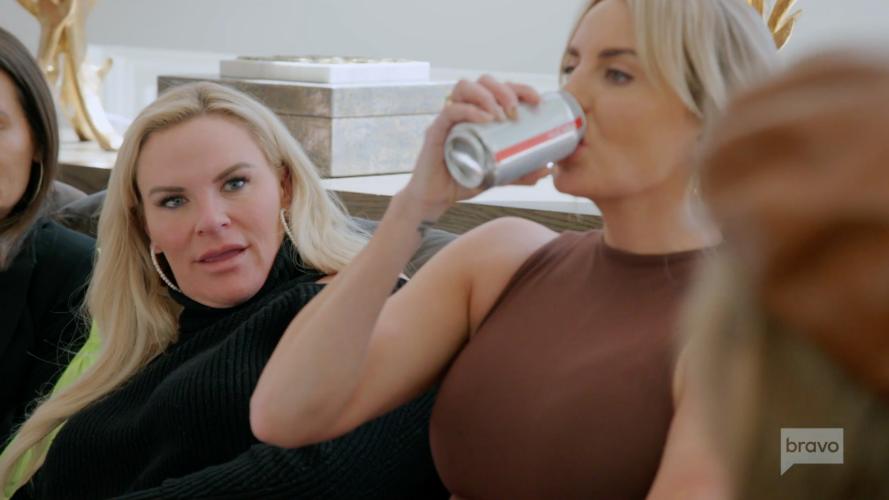 Yes, in fact, Mary has a lot to say. First, she takes aim at Whitney, calling her a "nobody." And when Heather tries to defend her cousin, she steps right into Mary's line of fire. Heather brings up the late night gifting, and it turns out Mary has lavished the other 'Wives with even more expensive bribes, err, gifts than Whitney originally thought. Heather got a $5,750 Louis Vuitton handbag. (Her first "real' bag, according to Mary.) Lisa, a Chanel clutch with a $2,050 price tag. Meredith received a Louis Vuitton hat worth $1,210. And Jennie's Louboutins from that morning were another $1,300. If my calculator's math is correct, that's a grand total of $10,310. Where did that money come from? The tithes of Mary's congregation?
Despite not getting a gift, Whitney refuses to take the fall for being the only one who speculated about Mary. And Mary doesn't appreciate being compared to Jen. It's all quickly spiraling into chaos and the jabs, accusations and allegations are flying so fast and loose that it's like trying to keep track of a narrative in the middle of a war zone. Heather is done having blind allegiance to her friends. Mary throws Heather's drinking in her face, much to the delight of Lisa. And since these women are from Utah, it's all happening over copious amounts of Diet Coke.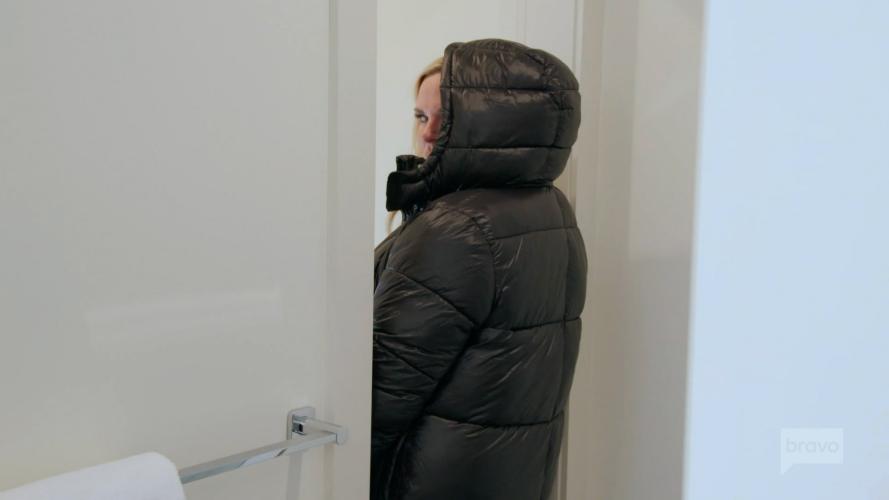 Upset, Heather storms away from the conversation, calling all of her cast mates crazy and accusing them of being too scared of Mary to speak their truth. Lisa wants Mary to explain the understanding they apparently reached the night before, but Heather doesn't want to hear any of it. She's done. Fight or flight kicks in and she wants to leave. She and Whitney announce they'd rather get their own flight back to Utah than fly on the private jet Meredith's chartered for the rest of the 'Wives.
However, Mary's feelings are still hurt. And she promptly bursts into tears defending her faith and lifestyle. (While also managing to throw in a body-shaming dig at Heather by calling her "chubby." And referring to Jen as a "thug…like those Mexican people that make all those drugs." Yikes.) Meanwhile, Meredith's crying to Jennie upstairs about Mary's faith being attacked. And Heather's still crying as she hides from Mary in the bathroom. It's a lot of tears from all corners. Emotions are high as the episode ends with Mary and the other 'Wives leaving Whitney and Heather behind in Vail, the group possibly fractured beyond repair.
TELL US – WHAT DID YOU THINK OF MEREDITH'S REACTION TO THE ALLEGATIONS AGAINST MARY? WAS MARY TRYING TO BRIBE THE OTHER WOMEN WITH HER GIFTS? DID LISA ORCHESTRATE ALL THIS DRAMA? WHOSE SIDE ARE YOU ON: MARY'S OR WHITNEY AND HEATHER'S?
[Photo Credit: Bravo]