The Bachelor and Bachelorette have produced dozens of couples. Several of them got engaged at the end of their respective season. However, when it comes to Bachelor Nation, fans know that many relationships from the show do not end up working out long term. Sadly, there have been many tragic Bachelor Nation breakups.
Recently, Bachelor Nation has seen more breakups than ever, with many occurring shortly after their season airs. While viewers are never happy to learn about a Bachelor Nation breakup, some have been more difficult for fans to process than others.
Brandon & Serene
Fans fell in love with Brandon Jones and Serene Russell's relationship on Bachelor In Paradise. Understandably, many were devastated when the pair split. Brandon and Serene were the "it couple" of Bachelor In Paradise Season 8, and their chemistry inspired other couples on the beach. It was clear from the first day in Mexico that Brandon and Serene were going to be together. So, it was no shock when they got engaged during the finale.
Brandon and Serene announced their breakup on social media in May 2023, six months after their engagement aired on national television. The former couple did not cite a specific reason for the split. However, their post indicated that it was too difficult to maintain a healthy relationship in the public eye.
Michelle & Nayte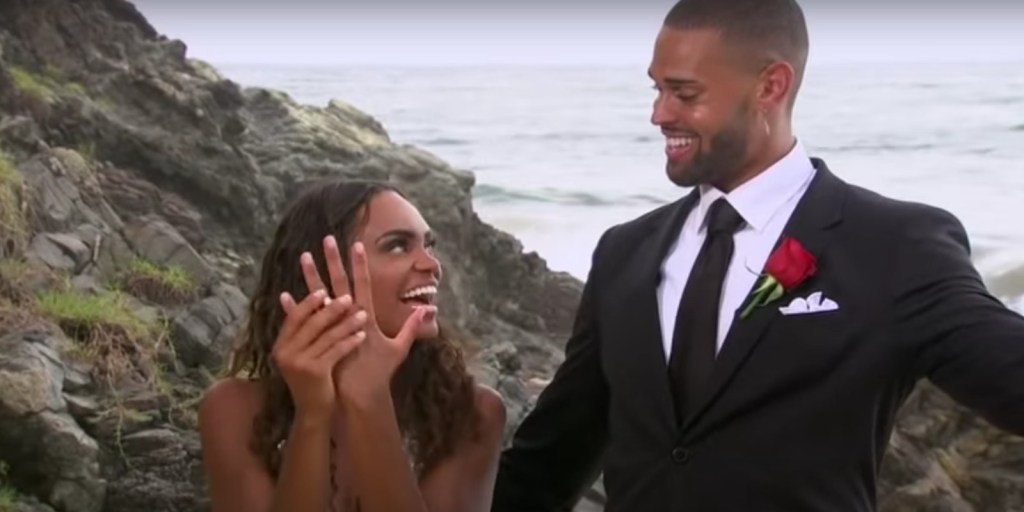 Michelle Young and Nayte Olukoya are another Bachelor Nation couple that fans were hurt to see go their separate ways. Many were really rooting for them to work out. Michelle and Nayte fell for one another on The Bachelorette Season 18. Nayte caught Michelle's eye on night one and landed the first impression rose. The pair's spark only continued to grow, and the two became engaged during the finale. The two even received a down payment from ABC for a future house.
Less than six months after viewers saw Michelle and Nayte's engagement, the couple announced they had decided to end it. It was later revealed that Nayte had been the one to break up with Michelle, and had even done so over the phone. Michelle and Nayte do not seem to be on the best of terms, which makes viewers wonder what went down between the two.
Susie & Clayton
While the relationship between Clayton Echard and Susie Evans began in an unconventional way, it was still sad to hear when the couple decided to split. Susie received Clayton's first one-on-one date on The Bachelor Season 26, and held his attention throughout the season. Ultimately, Susie broke up with Clayton during the actual show. However, they announced at After The Final Rose that they had since rekindled.
In September 2022, after about six months of dating in the public eye, Susie and Clayton announced their breakup on Instagram. The ex-couple explained that while they appeared happy, their relationship had also brought a lot of pain and negativity. Even though fans were initially critical of Clayton and Susie's relationship, they were nonetheless sad to see it end.
Katie & Blake
Katie Thurston and Blake Moynes were a pair that viewers really wanted to work, but ultimately they weren't able to. Blake met Katie on The Bachelorette Season 17, after he had previously been a contestant on Season 16. Blake insisted that something about Katie just felt right, and to the surprise of many fans, they ended up having an instant connection. At the end of the season, Katie and Blake got engaged during a joyful moment.
Barely a month after their engagement aired, Blake announced that he and Katie had decided mutually to go their separate ways. He explained that while the two cared for one another, they were ultimately not a compatible match. Katie and Blake were a fun and humorous couple, so it was sad to see them break up so soon.
Rachel & Tino
Rachel Recchia really wanted to find love on The Bachelorette Season 19, so it was heartbreaking to watch Tino Franco rip her heart in two. Tino was a frontrunner all season, so it was not much of a surprise when he and Rachel got engaged during the finale. However, their engagement was very short lived, and did not even survive until After The Final Rose.
Before the season finished airing, Tino cheated on Rachel and kissed another woman. Rachel was furious when she found out, and ended up calling things off with Tino after the two had a heated argument. Rachel had just come off a fresh heartbreak after her breakup with Clayton, so it was difficult to see her get hurt again so soon.
TELL US – WHICH TRAGIC BACHELOR NATION BREAKUP HURT YOU THE WORST?