Former 90 Day Fiancé stars Jibri and Miona Bell have been acting suspiciously, and there's more and more evidence suggesting they've called it quits. The couple were featured on 90 Day Fiancé Season 9, and they weren't exactly fan favorites. Jibri and Miona were heavily criticized and were one of the least-liked couples in the whole cast.
One of the many things that fans couldn't stand about Jibri and Miona is how disingenuous they often seemed. From minute one, there were rumors that the couple had already gotten married before Season 9 was even filmed. Many felt that their alleged prior marriage made their segments a waste of time. 
Jibri and Miona were also quickly labeled clout chasers by viewers who didn't find their constant self promotion charming. After appearing in the franchise, the couple have been working on building their social media presence. On the show Jibri tried to draw attention to his band, but on social media he's mostly pushing self-help rhetoric. Miona, on the other hand, has done a better job monetizing her brief reality TV fame. She claims to have made a killing selling clip-on hair extensions, but how valid those claims are is anyone's guess.
Despite their criticism, Jibri and Miona actually seemed pretty compatible, given that they equally craved notoriety. But lately, the couple appear to be having problems. There are several indications that Jibri and Miona broke up.
Jibri and Miona Purged Their Instagram Accounts
Since their 90 Day Fiancé debut, Jibri and Miona have been plastered all over each others' Instagram accounts. They constantly posted cozy photos and videos together, often shared tributes to the other on their own accounts, and regularly liked each others' posts.
But a peek at their Instagram accounts today tells a much different story. Jibri and Miona have deleted every post featuring the other. Looking at their grid, you'd never know that either of them is married, which is a major departure from their previous Instagram activity,
Miona and Jibri Aren't Wearing Their Wedding Rings
A closer look at Jibri and Miona's recent posts reveals even more evidence that the couple has broken up. Neither of them appear to be wearing their wedding rings in the latest videos they've shared.
In this recent video that Miona posted, she very obviously doesn't have a ring on any of her fingers. Jibri has also shared videos lately with no ring in sight. If just one of them were missing their wedding ring, it could perhaps be played off like it got lost or is being cleaned. However, both of them taking off their rings is pretty suspicious behavior for a married couple.
They're In Different Locations
Another big breakup clue is that Jibri and Miona are currently thousands of miles apart, and have been for some time. On the show, the couple temporarily lived with Jibri's parents in South Dakota. After they got married, Miona and Jibri relocated to Palm Springs, California.
However, while Miona is still in Palm Springs, Jibri has been traveling solo through Southeast Asia for weeks. An extended trip like that without your spouse doesn't seem to be a sign that all is well in the relationship. 
There's a Chance Jibri and Miona Are Faking It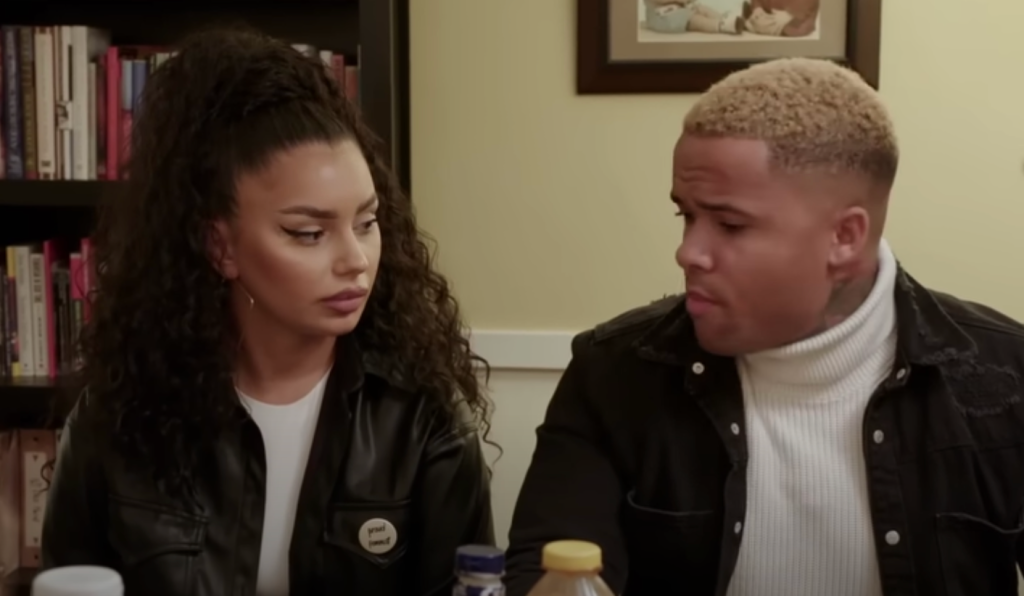 The evidence is pretty damning and signs definitely point to a breakup, However, Jibri and Miona are no ordinary 90 Day Fiancé couple. The pair have developed a reputation for seeking attention in any way possible. Though it's a long shot, it's possible that Jibri and Miona decided to fake a break up to get people talking about them again.
After Season 9, there were rumors that Jibri and Miona were salty that TLC didn't sign them on to return for Happily Ever After?, as some of their Season 9 castmates were. It's possible that Jibri and Miona are faking their marital strife as a last-ditch effort to return to the franchise. The couple may have set their sights on the latest spin-off, 90 Day: The Last Resort, and are angling to get cast on Season 2.
After not being on TV for a while, interest in Jibri and Miona overall was waning. Maybe Miona's hair clip-ons sales were dropping, or Jibri wasn't getting as much attention as he wanted. It would be easy enough to fake a breakup. Removing their wedding rings and purging their Instagram accounts is clearly enough to get fans talking. It should be noted that Jibri and Miona are both still following each other on Instagram, so they haven't cut ties entirely.
However, Jibri and Miona have still been apart for a while, which, with the other evidence, isn't a good sign for their relationship. Occam's razor suggests that the simplest answer is often the right one, so it's most likely that Jibri and Miona's marriage will soon end in divorce. Signs point to a breakup, and that's probably what happened.
TELL US – DO YOU THINK JIBRI AND MIONA BROKE UP? OR IS IT ALL A SCAM?