Welcome back for week 8 of Dancing with the Stars! This week, the dancers will celebrate the musical legacy of the legend Whitney Houston. All the dances were choreographed to Whitney's songs. And Billy Porter, who loves Whitney, is the guest judge. It is about time that Whitney had her theme night!
Last week, social media star Lele Pons and her partner Brandon Armstrong were eliminated. They were in third place on the leaderboard. And in my humble opinion, shouldn't have been sent home yet!
Remember, your vote counts. During the live East Coast broadcast, fans can vote at ABC.com and also vote via text. As always, votes will be combined with the judges' scores to determine who is eliminated.
Let's get into the recap!
The group dance was set to How Will I Know, performed by Billy Porter. The routine was choreographed by the amazing Ray Leeper. The track kept cutting out, which was a shame. Hosts Alfonso Ribeiro and Julianne Hough danced in the opening routine.
Harry Jowsey and Rylee Arnold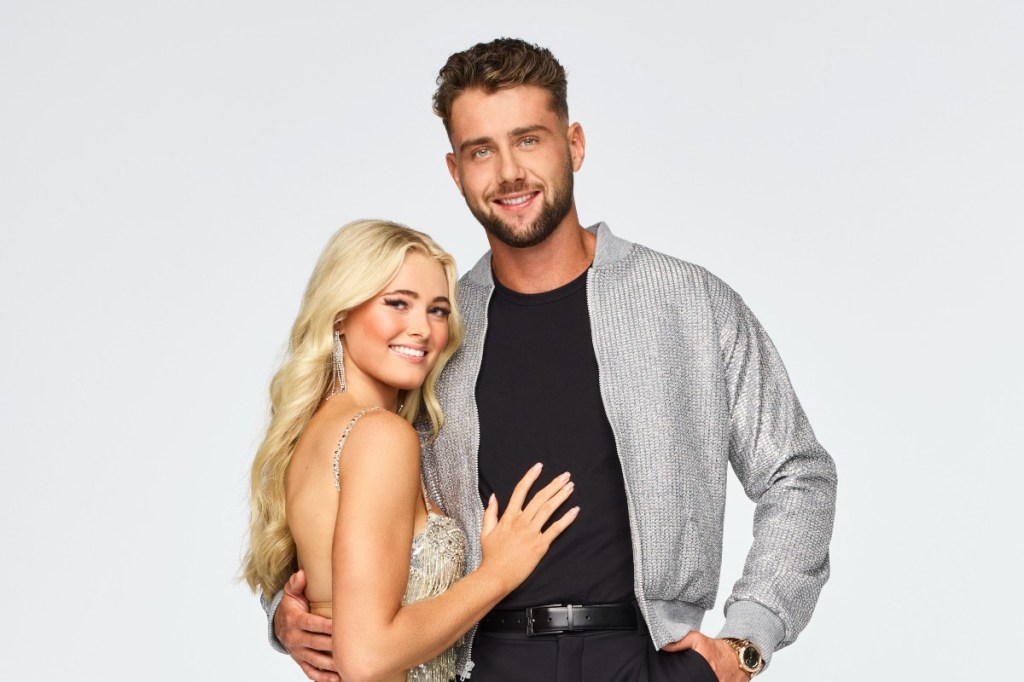 Viennese Waltz to I Have Nothing.
Too Hot to Handle star Harry Jowsey and Rylee Arnold danced a Viennese Waltz. But first, Rylee took Harry to ballet class. Judge Derek Hough noted that there were improvements, but that Harry danced small. Carrie Ann Inaba said that she saw "grace" in his movements.
Harry received 28 out of 40 points.
Jason Mraz and Daniella Karagach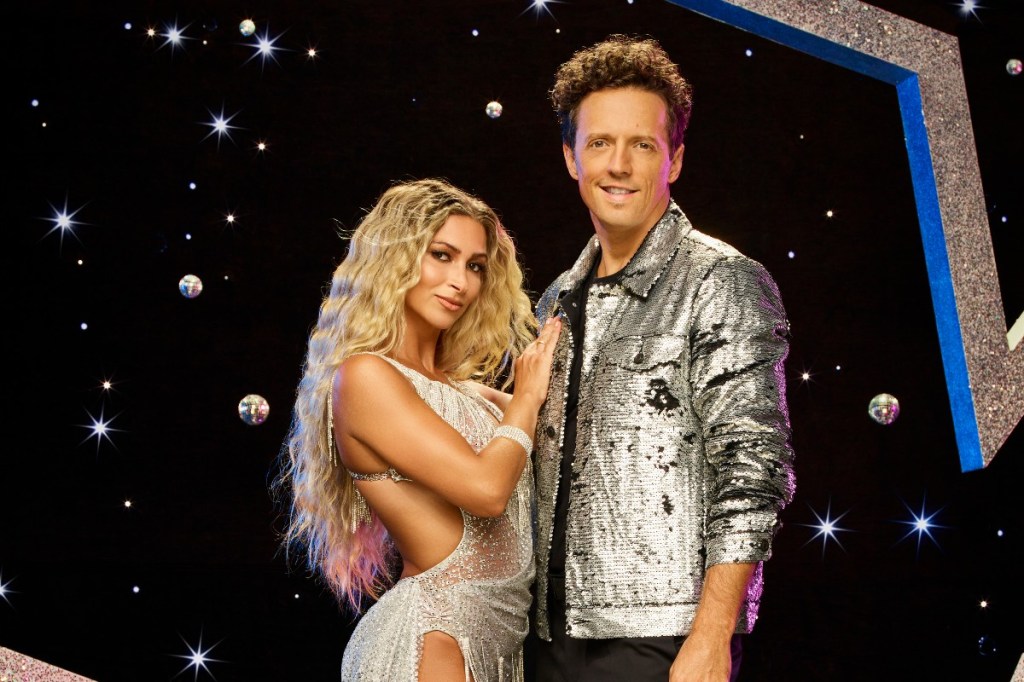 Samba to Higher Love by Kygo and Whitney Houston.
Singer Jason Mraz and his partner, Daniella Karagach, trained for a samba. Their performance was fun and sexy. Billy "loved it," but told Jason not to mouth the words because it was distracting. Judge Bruno Tonioli said the samba had a lot of content, but Jason went wrong four times. Derek praised the routine and said that he didn't see any mistakes.
Jason scored 33 out of 40 points.
Alyson Hannigan and Sasha Farber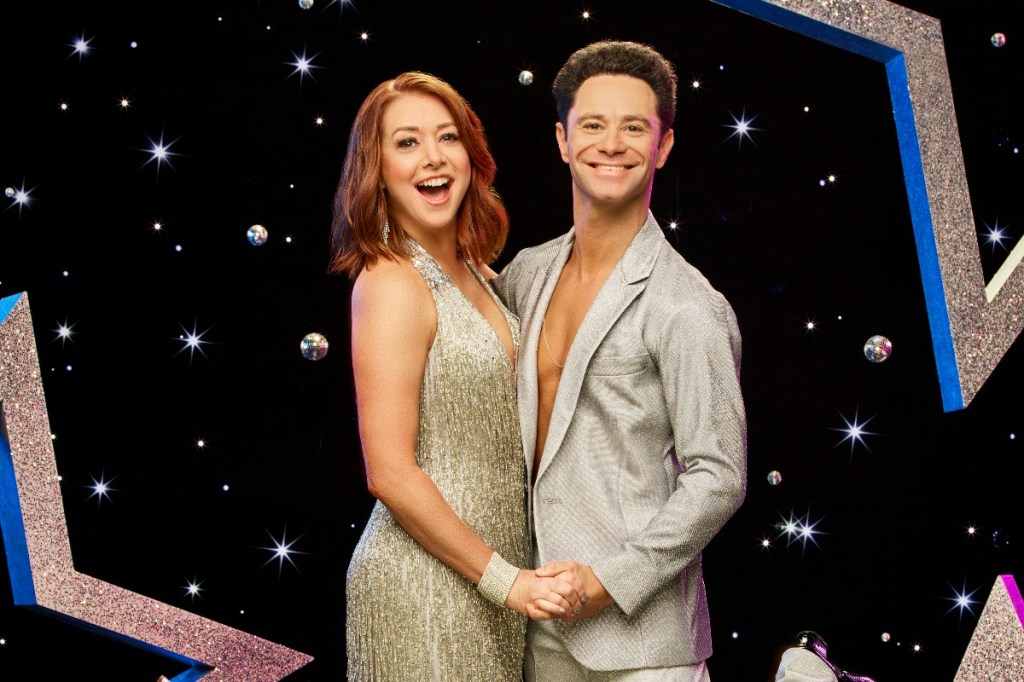 Contemporary to Greatest Love of All.
Actress Alyson Hannigan and Sasha Farber performed a contemporary routine. Alyson selected this song because it helped her during her difficult childhood.
The performance was great. Bruno called it "simple, effective, deeply felt, and true." Carrie Ann started to cry because she loved the storytelling. Billy called it "fabulous."
Alyson earned 33 out of 40 points.
Xochitl Gomez and Val Chmerkovskiy 
Tango to I Wanna Dance with Somebody (Who Loves Me).
Actress Xochitl Gomez and her partner Val Chmerkovskiy danced a tango. Xochitl was still recuperating from last week's ankle injury.
Carrie Ann called the performance "flawless." Derek was thrilled with the tango, calling it "fantastic."  Billy called it "magical," and Bruno called it "dancing at its best."
Xochitl received 40 out of 40 points. The first individual perfect score of the season!
Barry Williams and Peta Murgatroyd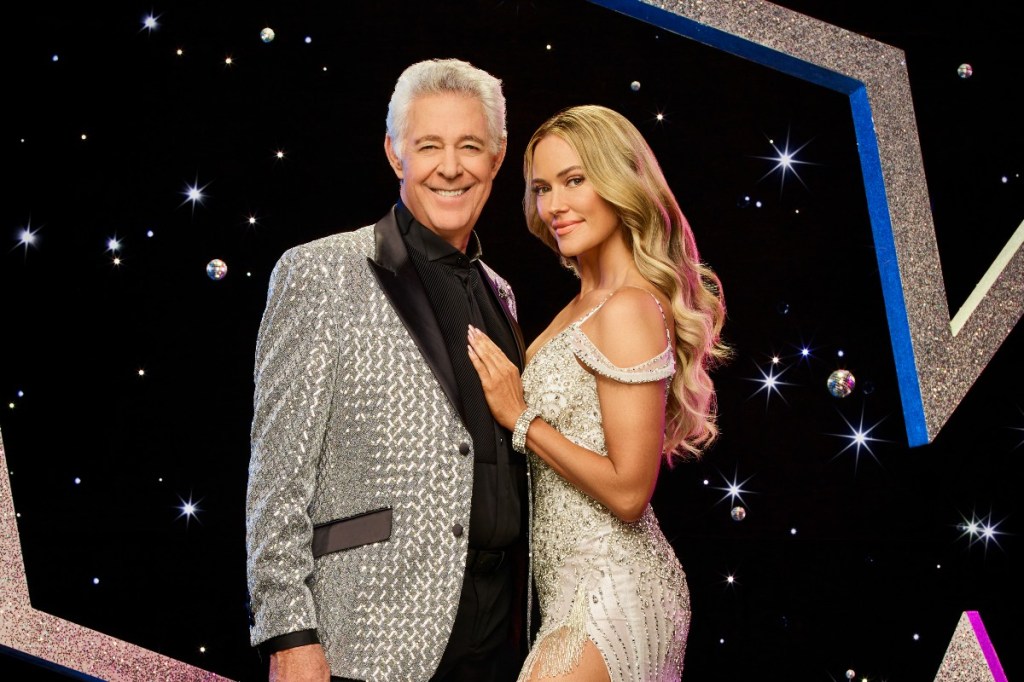 Rumba to Didn't We Almost Have It All.
Actor Barry Williams and Peta Murgatroyd danced a rumba. Barry's wife is a hula dancer and gave tips to help with his hip action. Derek told Barry it "was a great rumba." Billy felt that the choreography was too easy. Bruno said there were "no mistakes." Carrie Ann said it was one of Barry's "better dances."
Barry earned 32 out of 40 points.
Charity Lawson and Artem Chigvintsev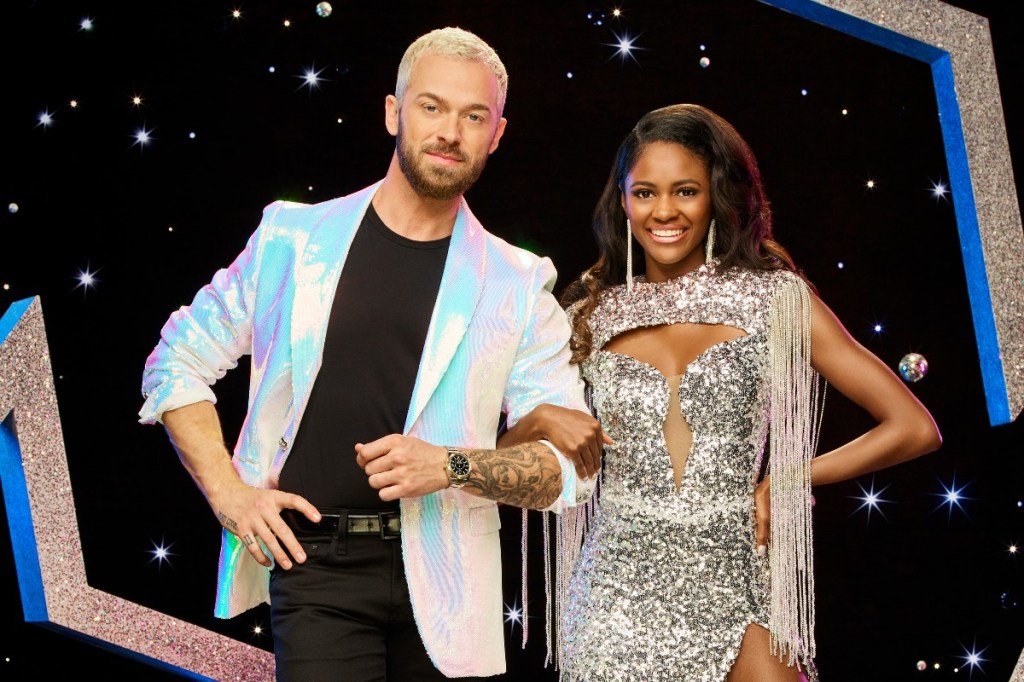 Viennese Waltz to I Will Always Love You.
The Bachelorette star Charity Lawson and her partner Artem Chigvintsev trained for a Viennese Waltz. Charity was unhappy about receiving eights last week, likening them to a six at this stage of the competition. She was also frustrated by getting the same critique from the judges about having more energy.
Billy complimented the dance but said that she needs to have firmer arms and work on her spotting. Bruno called it "sophisticated." Carrie Ann explained that the judges were looking for Charity's connection to the movements. Derek said that Charity needs to show energy in the ballroom dances.
Charity received 36 out of 40 points.
Ariana Madix and Pasha Pashkov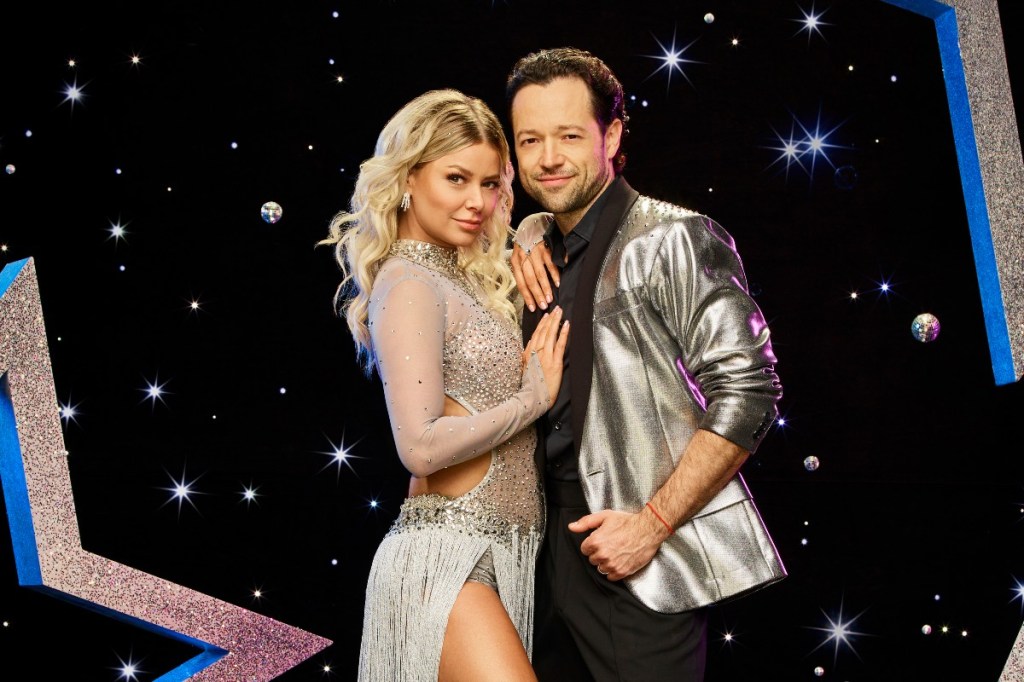 Paso Doble to Queen of the Night.
Vanderpump Rules star Ariana Madix and Pasha Pashkov danced a stunning Paso Doble. Bruno told Ariana that he wanted to be her bodyguard. Carrie Ann called out some "awkward" moments. Derek complimented her arms and her attention to detail. Billy gave a standing ovation.
Ariana scored 39 out of 40 points.
The return of the dreaded Dance-Offs
Two couples at a time will face off in the same dance style. The judges will choose the winner of each of the three Dance-Offs. The winning couple from each round will gain three bonus points.
Last week, Ariana and Pasha topped the leaderboard at the end of the first round of competition. So, they don't have to participate and will receive three bonus points.
Whitney Houston's sister-in-law, and President and CEO of her estate Pat Houston, said that Whitney "would be elated that you are honoring her tonight."
Harry and Rylee vs. Alyson and Sasha
Rumba to One Moment In Time.
Both Harry and Alyson were team captains last week for the team dance. Harry was a bit cocky about winning, and Alyson was out for "revenge."
Winner: Alyson and Sasha.
Jason and Daniella vs. Barry and Peta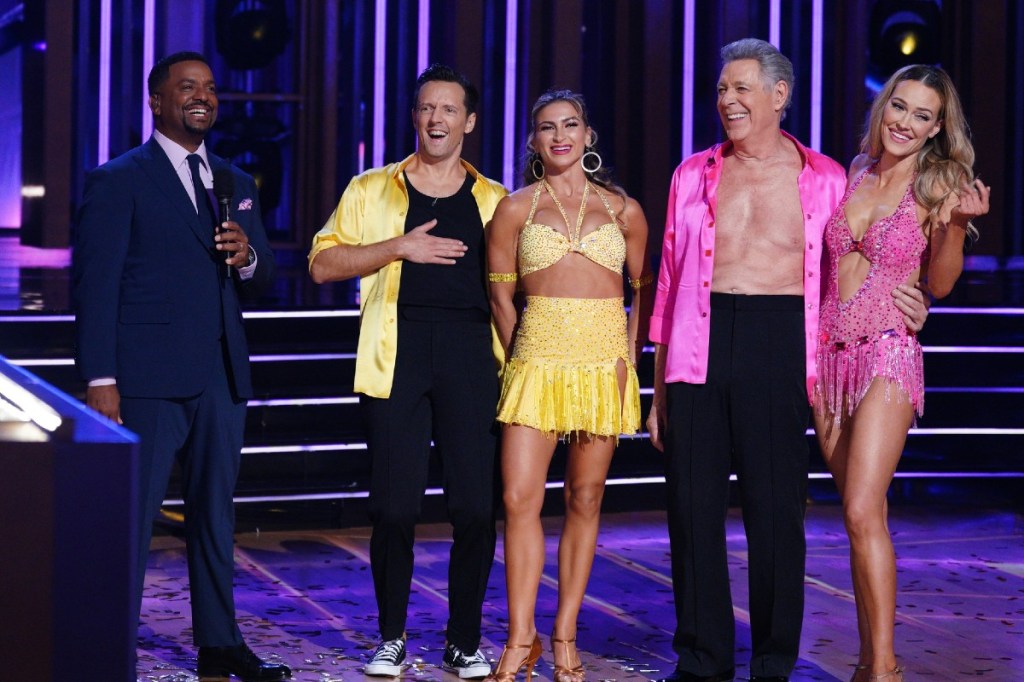 Salsa to It's Not Right But It's Okay.
I'm living for Barry ripping his shirt open, and the ballroom agreed.
Winner: Barry and Peta. And Barry ripped open his shirt again in the skybox.
Xochitl and Val vs. Charity and Artem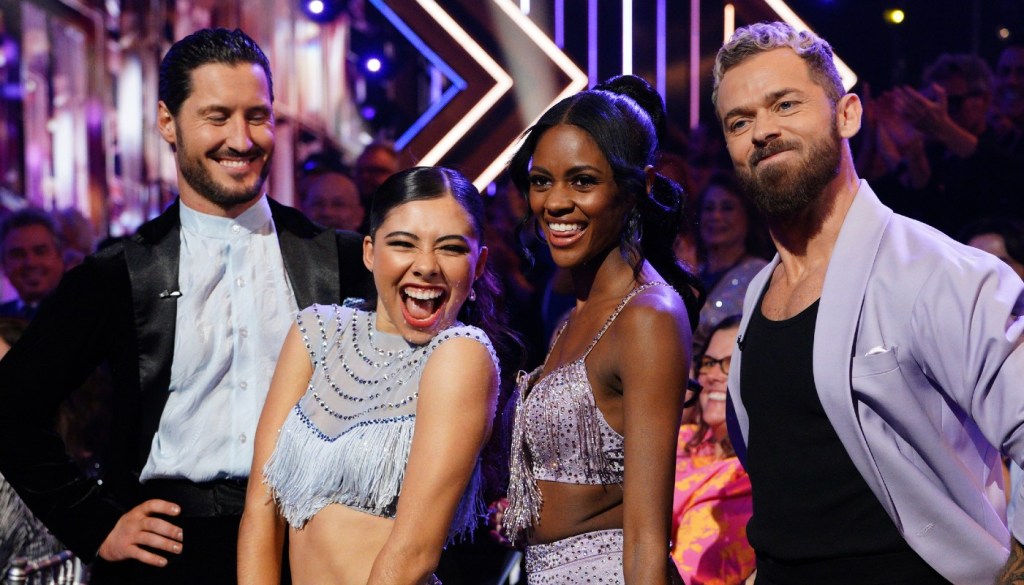 Cha-Cha to So Emotional.
Both ladies have done the cha-cha before.
Winner: Charity and Artem.
The leaderboard
After the bonus points were added, Ariana and Pasha were at the top of the leaderboard with 42 points, followed by Xochitl and Val with 40 points. At the bottom were Harry and Rylee with 28 points.
The bottom three
While not necessarily the bottom three, two of these couples are safe:
Jason and Daniella
Charity and Artem
Barry and Peta
Going home tonight
Barry and Peta are going home. The ballroom erupted with fans chanting his name.
Next week, Taylor Swift takes over the ballroom! Choreographer Mandy Moore joins in the fun as a guest judge.
Dancing with the Stars continues on Tuesdays on ABC and Disney+.
TELL US – WHO HAD THE BEST PERFORMANCE? DID THE RIGHT COUPLE GO HOME? WHICH DANCE-OFF WAS YOUR FAVORITE?