Well, well… true love in famewhore paradise! In what is truly and insanely a bizarre love story the elusive Rob Kardashian is now engaged to Blac Chyna, the former bestie of Kim Kardashian (the sister Rob despises) and former fiancè (and baby mama) of Kylie Jenner's boyfriend Tyga! 
After distancing himself from his family and Keeping Up With The Kardashians while battling weight issues and depression, Rob started dating Blac Chyna two months ago. Blac, a former Kardashian family friend, thanks to her affiliation to Tyga, quickly turned pariah over her arguments with Kylie. Yet she managed to snag Rob's affections while Kris Jenner's back was turned. Love is a battlefield, I suppose!
CLICK THE CONTINUE READING BUTTON FOR MORE! 
Rob and Chyna's relationship immediately got serious. Despite the family's unhappiness Rob never bothered to hide his love. Now TMZ reports that Rob has popped the question and Chyna said Yes! 
Last night Rob and Chyna were at a restaurant where Chyna was seen rocking an enormous diamond ring. Sources reveal that Rob proposed that night and the couple is ecstatic. 
Chyna's mom was also in town for the engagement, so after Rob proposed, the bizarre family rituals of this relationship continued when Blac, Rob, and Chyna's mom visited the Ace of Diamonds strip club to celebrate the engagement. YUCK and holy awkward!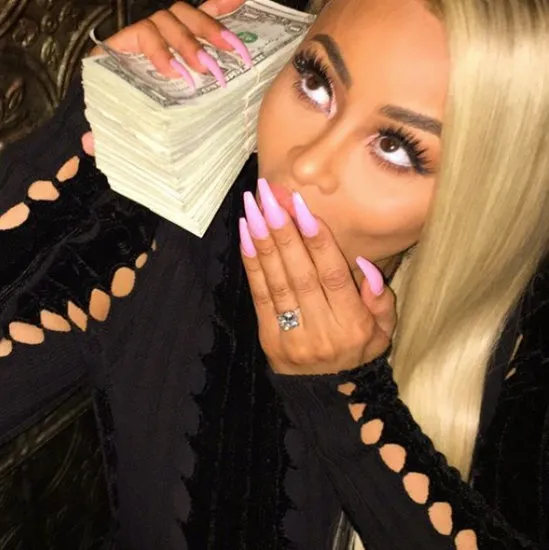 Afterwards Chyna confirmed the news on Instagram. "YES !…!…!," she wrote flashing a photo of the gigantic sparkler! Rob shared a photo of the strip club fun. [Credit: Instagram]
As for the Kardashians – they were nowhere to be seen on Rob's momentous day! The entire family boarded a plane and left for a [filmed] family vacation. I assume Rob is not attending?
I do wonder if the wedding, or Rob and Blac's love story, will mark Rob's return to Keeping Up With The Kardashians? 
TELL US – ARE YOU SURPRISED ROB PROPOSED? WILL HE AND CHYNA GET MARRIED?
[Photo Credit: Instagram]