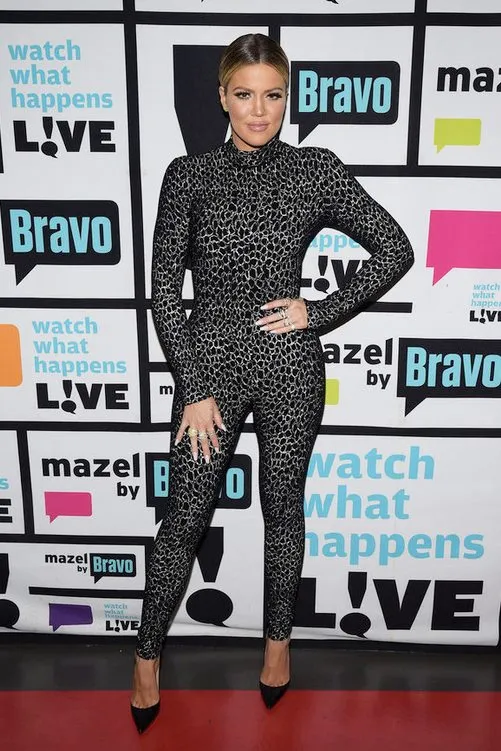 Khloe Kardashian was Andy Cohen's guest on Watch What Happens Live last night. Andy gushed over how Khloe is his favorite Kardashian (which I equate to picking your favorite torture technique) and how Khloe is a pleasure to interview because she's open, honest, and sharp.
Andy asks Khloe if she was angry with Lamar Odom for overdosing on drugs in a brothel. "I did not know that particular situation was going to happen, but I always feared that the end result was going to happen. That was obviously a reason why I left the marriage," she says. "I never imagine that it would be at a brothel and that whole dramatic situation, but I just knew I had to get to his side. I was like, he can't be there by himself, alone. He's a great person. His demons are overshadowing what a great heart he has. His soul is still great and he's a beautiful person. He could not be there alone. I felt like I had to be that person."
CLICK CONTINUE READING FOR MORE!
Khloe offers an update on Lamar's condition, "He's actually doing really well. He's out of the hospital. He's walking and talking. It's literally a miracle – this person was in a coma and I was told he had four hours to live. He could not speak or talk up until three weeks ago. Doctors are astonished by how quickly he's advancing. It's because of his athleticism. He's been a basketball player his whole life, I'm thinking that has a major thing to do with it. He's fighting for his life, and I really pray that this is a wake-up call for him, he changes his life, and wants to do better. Everybody loves a good comeback story."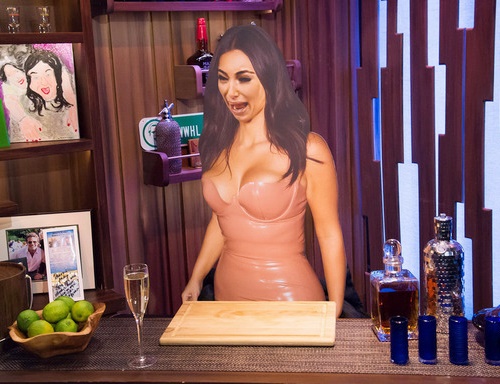 A caller asks Khloe how Kim Kardashian plans to explain her sex tape to her kids. "Good question, but I don't know. That's just what moms and dads do."
Khloe's Opinions on Real Housewives of Atlanta –
Who's to blame for Porsha Williams and Cynthia Bailey's fight? "Cynthia."
Peter Thomas touching another woman: cheating? "Yes. I find it, ugh, it was bad."
Thoughts on Porsha lashing out at her sister? "It's tough, because it's her sister. I get both sides – her sister's working for her, she's her assistant. I talk to my mom so bitchy. I do, trust me, I want to slap myself when I see it. I get both sides."
The money Phaedra Parks owes Todd Tucker? "Just pay him and let's be done."
Thoughts on Kenya Moore knocking on her mother's door? "It's sad. She keeps hurting herself over and over again."
Andy asks Khloe if Kocktails with Khloe was inspired by WWHL. "It was," she claims. "One of the best times I've ever had doing a talk show is here. Not that I'm an alcoholic, but it makes it… well, it made me nervous the first time to do your show because you are drinking and you don't know how that plays into effect when doing an interview… but it's so much more fun. I have so much fun with you, so I definitely was inspired by you."
Plead the Fifth –
Marry, Shag, Kill with Scott, Kanye, and Tyga – "Marry Kanye, shag Scott, kill Tyga. There's no reason why."
Which of her sisters has been with Justin Bieber? – "None."
Of all the people who talk trash about the family, name one person that is currently on the Kardashian/Jenner black list – "We hear shit all the time about us, that it is kind of like water off a duck's back. We don't really pay attention, so I don't know if there is someone."
For someone who isn't paying attention, Khloe sure does lash out at people on Twitter a lot.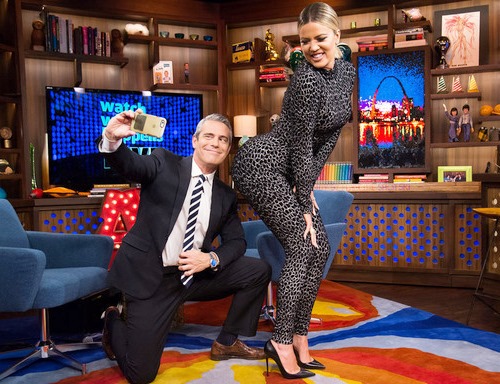 Andy asks Khloe if she is upset with Rebel Wilson, who said the Kardashians are famous because of Kim's sex tape, not talent, and everything they stand for is against what she stands for, "No. But she did send my sisters flowers. She said it about my younger sisters. I don't know why she even said that."
Khloe adds, "I also think people say things also to get in the press. The Amy Schumer thing bothered me a little more because it was a personal statement towards me."
What do Mason, Penelope, and North call Caitlyn? "Caitlyn… but Mason knows and will sometimes call her Grandpa Bruce. He's the oldest so he knows. We keep trying to teach him just out of respect. He'll say, 'No, that is Grandpa.' We're like, 'Oh, how do we do this?!' In time, he'll learn."
A caller asks, "Do you think Blob, err, Rob blames you and your sisters for his health problems? He doesn't seem to like the limelight, but he doesn't seem to have much of a choice." (yes, she calls him Blob)
Khloe does not believe Rob blames them for his issues. "I think Rob hit a dark place more so dealing with my dad's death that just happened later in life," she adds. "My dad's wish was always for Rob to go to college. Then when my brother finished, he was like, 'OK, what do I do next?' He had no direction. I feel like he felt lost there and I think that's when he started dealing with my father's passing. Then breakups and all this stuff happened which I think added to other things in his life. It's issues that he had to deal with from the start that he just did not."
"People need to take accountability for their own problems," concludes Khloe. "He was very happy doing the show for many years and he still says he misses doing the show."
TELL US – DO YOU HAVE A FAVORITE KARDASHIAN? DO YOU THINK ROB RESENTS HIS MOM AND/OR HIS SISTERS?

Photo Credit: Charles Sykes/Bravo