It seems like there is a new Kardashian family photo scandal every day. I didn't think that we would be including the Disick children in this at this point in time since they are so young…but grandma Kris Jenner incited some controversy with a new random photo of Kourtney Kardashian and Scott Disick's oldest son Mason Disick. 
Kris innocently put up a photo of her grandson doing art and her followers on Instagram and Twitter went absolutely crazy in the comment section. Why? The boy's hair is significantly darker than what we are used to seeing. This has social media users wondering if his parents dyed his hair or even if Kris posted a photo of someone else by accident. Either way, these Keeping Up With the Kardashians fans are taking this very seriously and are pretty offended by the perceived difference in hair color.
CLICK CONTINUE READING FOR MORE!

I want to preface this by saying that it is totally normal for people's hair color to change all the time, especially for young children. Nevertheless, Mason is a child who has grown up in front of the cameras, and aside from that, his family posts photos of him on social media pretty regularly. So the loyal KUWTK fans are pretty taken aback by the apparent contrast in hues.
Let's check out the evidence:
This is the photo in question. Mason's face is not pictured, which explains why some of the people who commented asked if that was even him in the photo.
Mason two weeks ago:
Mason's hair color at Easter: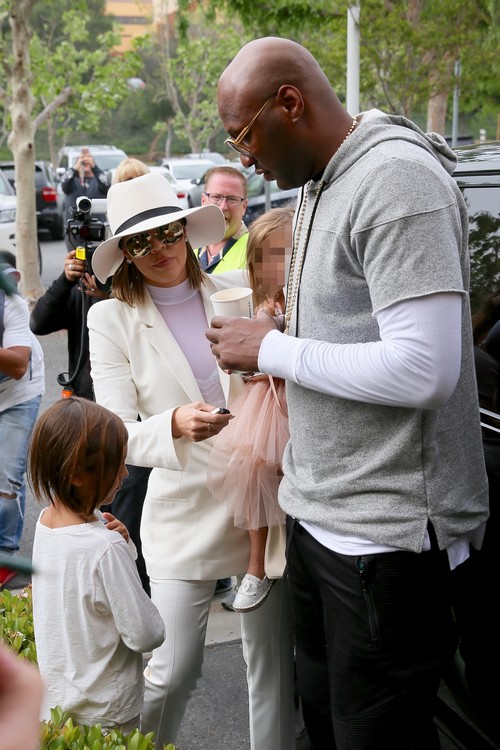 TELL US – DO YOU THINK KOURTNEY DYED MASON'S HAIR?
Main Photo Credit: WENN.com
Bottom Photo Credit: Michael Wright/WENN.com