Dancing with the Stars is not a dating show, but it might as well be since so many of the stars end up getting together. Not only are Peta Murgatroyd and Maksim Chmerkovsky engaged, but they are also expecting their first baby.
And they are not the only reality TV couple with a baby on the way.  Everyone loves to hate on Bachelor and Bachelorette for producing and hyping up couples that do not last forever. Yes, the success rate for the franchise is less than stellar, but there are some exceptions. Case in point, Ashley Hebert fell in love with J.P. Rosenbaum during her season. They got married and had an adorable son named Ford together. And they just announced that their family is about to get even cuter.
CLICK "CONTINUE READING" FOR MORE!
It can be a little sad when fans grow to love a reality show and their show stops airing or the cast changes from one season to the next. Thankfully, we live in this social media era, which means that we get to keep up with our favorite reality stars even if they are no long on TV anymore. Aside from inundating us with ads for teeth whitening products and detox teas, Instagram is a nice way to keep up with their lives.
In true reality star fashion, Ashley and JP announced that they have another baby on the way via Instagram! And this time they are having a baby girl! How perfect, one of each! I thought that the announcement was super cute, but I thought that it was a little weird that they both hash tagged "ClearbluePartners" in their posts. So I'm just hoping that the pregnancy announcement was not a sponsored add or something. But then again, I am just hating because I post on Instagram for zero dollars and all of the pity likes.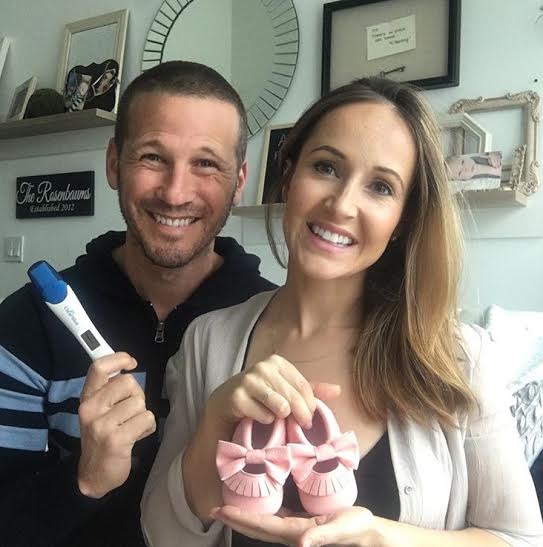 J.P. shared this pic, adding, "I'm 100% excited that we're #ClearblueConfirmed with baby #2!!! Forgive me if my face says I'm 78% nervous because #ItsAGirl. #NoBoyfriendZone #BacheloretteSeason47 #YeahRight #ClearbluePartner"
Ashley wrote on her Instagram post, "I can't hold it in any longer… My heart is bursting with love now that we're #ClearblueConfirmed! These booties are just the start, can't wait to stock up on cute tutus and sparkles for my baby girl!"
Maks and Peta went the more traditional route with their announcement when they reached out to Us Weekly with the big news. But apparently, it slipped out a little bit before that when DWTS host Erin Andrews congratulated them on the set while she didn't realize she had her microphone on still. But whatever, all's well that ends well?
It seems like both of these reality show couples are pumped to welcome new babies in their lives, no matter how the pregnancy news broke. And I feel like ABC is owed some props for setting up these two successful couples.
TELL US – WHICH PREGNANCY ANNOUNCEMENT ARE YOU MOST EXCITED FOR?
[Photo Credits: Sergi Alexander/Getty Images and Instagram]