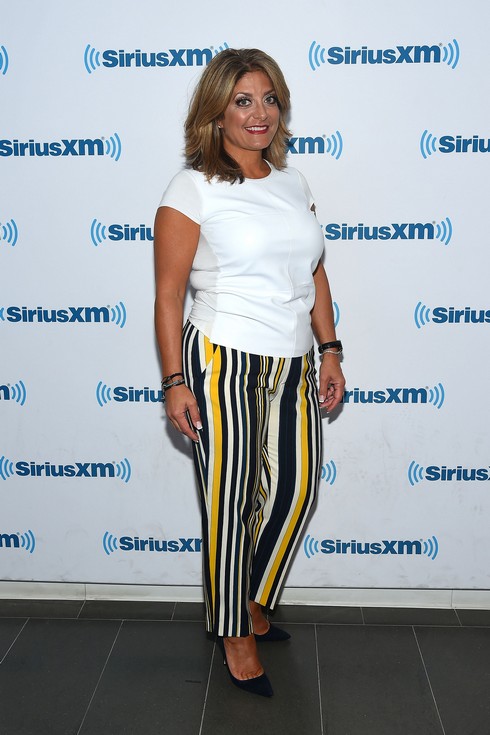 Kathy Wakile and husband Rich were in the SiriusXM building this week after doing another interview and Bethenny Frankel invited them in for a segment on her show, B Real With Bethenny. They dished on the bad blood with Teresa Giudice, shared why they choose to stay on Real Housewives of New Jersey and what they think about the realness of Teresa and Melissa Gorga's sudden bonding.
Bethenny asks if Kathy and Rich continue to do the show for the money or for their business.  "It's a little bit of both," Kathy says. "A lot of times when we film with our family, our immediate family, it's fun. It's being you, there's no tension." She continues, "It is a good platform, I'm not going lie. And the money's not bad either."
Does filming create tension in their marriage or for their kids? "Oh please, I'm used to him. He's just a nut all the time and he says whatever. Sometimes it's like 'dude, chill, you don't have to say EVERYTHING that's on your mind. He doesn't have a filter and he doesn't have any restraint."
Bethenny notes that Rich looks like he lost a lot of weight. Rich says Kathy is keeping him "active" in their new huge bedroom.  The talk spirals into Rich and Kathy's sex life and its frequency. I'll spare you the details and quotes, but it's 5 times a week, just FYI.
Kathy says the show doesn't put any strain on the marriage because they had a solid foundation beforehand. Rich says he talked to people (like his accountant) beforehand to make sure he didn't have any skeletons that were going to tumble out of any closets if they did the show.
Where does the tension lie between Kathy and cousin Teresa Giudice? "It all stems from the very beginning when I came on the show and it was a big miscommunication of my being asked to come on the show. It was just a thought, nothing definite, but she ended up finding out before I had a chance to talk to her about it. It looked like I was doing something behind her back which wasn't the case. I didn't even have anything solid."
Why has Teresa forgiven Melissa for coming on the show and not Kathy? "The jury's still out on that one."
How are the kids doing with Joe Giudice gone to prison now? "I think the kids are solid. Joe stepped up when she was gone and now she's doing what she has to do. They're really strong as far as that goes. We're made of tough shit in Jersey. We stay, we work it out. We may be ripping each other's hair out, but we stay."
Does Kathy think Tre and Joe have a strong marriage? "I think when he comes home they'll stick it out, I do."
Will Kathy and Teresa work it out? "I'm hoping, I'm trying. I love her, she's my cousin."
Rich shares that he's known Teresa since they were young kids and feels like she's a sister to him. "So, if I'm busting your chops, it's not because there are cameras there, it's because I've been busting your chops since I met you. I didn't change for the camera, it's been like this since day 1. " When asked if blood is thicker than water, Rich says "I don't know, these days it's crazy. The Italians say that but do they live it?"
Kathy says she's an optimist and tries to hope for the best in this situation.
Bethenny feels that this new BFF crap with Melissa and Teresa is total bull. Kathy says "I think maybe deep down they would like it to be, but there are these little things that still irk each other." Rich thinks that if they finally got together and realized that it's great TV for them to be friendly and it makes them more Benjamins, why the hell not?
TELL US – DO YOU THINK TERESA WILL EVER GET OVER HER ANIMOSITY TOWARD KATHY?
Photo Credit: Ben Gabbe/Getty Images
Save
Save
Save
Save
Save
Save
Save