We are only on episode two of this season's Little Women: Atlanta but the drama is already on level ten. Last season's story line was whether or not Minnie Ross was in a relationship with unknown rapper, Pastor Troy, which she finally admitted to lying about by the end of the season. This season looks pretty similar, but the lie in question is if Minnie was ever actually pregnant with his baby.
Picking right back up at the Baby Shower of Shade, with Minnie stumbling her way through some pretty weak explanations about how she had a miscarriage, this all feels like really familiar territory for the women. When the questions get too tough, Minnie gets mad and storms out in a huff, dumping a plate of cookies on her way out. Amanda Salinas is the only one who runs out after Minnie and tries to comfort her while she cries outside. The other women clean up inside, grumbling the whole way.
CLICK CONTINUE READING FOR MORE!
Emily Fernandez is still in Texas with boyfriend/baby daddy, Lontel, recovering from her C-section. Emily is pleased to report that she and Lontel may have had their issues, but since their son has been born (a whole 24 hours ago), Lontel has matured a lot and things have been great! Baby JJ is still in the NICU and has a breathing tube and poor Emily can't even hold him. She also has to rely on video chat to see him. Unfortunately, the doctor is there when she starts to video chat again and informs Emily that baby JJ has been having what they think are seizures. Emily is understandably distraught and emotional.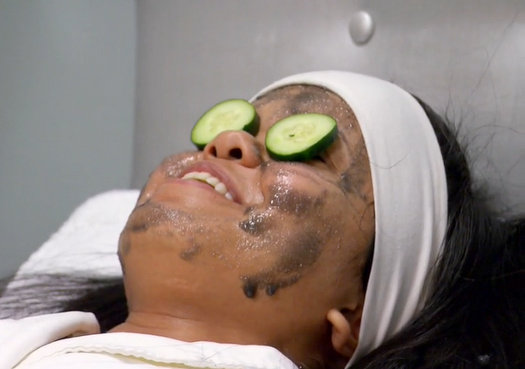 Back in Atlanta, the Tiny Twins decide to meet Minnie and her mom, Tammie, at the spa for some R&R. I seriously want to be a cast member on one of these shows for the free spa days alone. One of the twins clarifies that they have never been to a spa before because in Texas, cucumbers are for eating, not for eye treatments.
Once they are all feeling relax and rested, it's time to ruin it by talking about the baby shower. Minnie hasn't told her mom about it and Tammie is madder than a cockatoo without a tree (sorry, that hair though) to find out that Ms. Juicy not only threw her a surprise baby shower but then had the nerve to question Minnie on the details of her miscarriage. Because Minnie has been through a miscarriage before, she talks about how emotionally painful it is and how it feels to be questioned about it. Tammie goes into full mama bear mode and is going to put a stop to Ms. Juicy bullying her child.
I completely understand Tammie being defensive of Minnie, but Tammie does need to take a step back and let her ADULT daughter handle her own business, especially since Minnie helped create this mess with all her lies last season.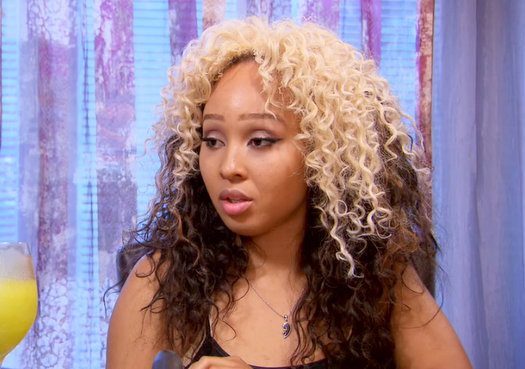 Ms. Juicy is busy telling her own side of the story when her friend, Dominique, comes over for dinner. Ms. Juicy is excited to tell her bestie about her sex life and we find out that Ms. Juicy, the Queen of Atlanta herself, once had a King; she was married for 15 years to an average sized man. I really didn't see Ms. Juicy married but she has the cheesy couples photos framed around her apartment to prove it.
Talk turns to the drama with Minnie and as Ms. Juicy explains what happens, Dominque tries to reserve her reaction until the end. Ms. Juicy says that after all that arguing, Minnie called her up to get together and talk but she can't imagine why. It's a trap, Ms. Juicy! The bigger question I need answered is why Ms. Juicy and Dominique are sucking back mimosas when they are eating a pasta dinner with salad?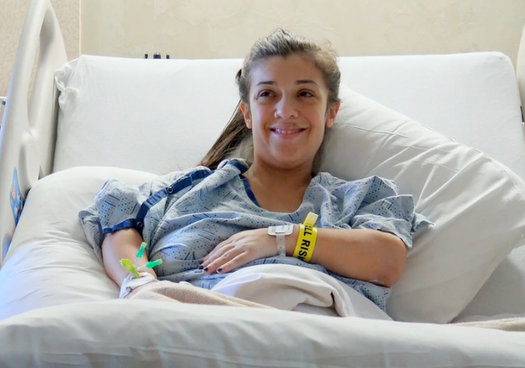 Bri Barlup heads over to the hospital to visit Emily and lend some support. Bri had complications with her own son so she can understand. Right now, Emily is waiting on results from JJ's brain scan and is extremely scared. Lontel's family comes to visit and bring Emily's adorable daughter with them to cheer her up.
Minnie goes over to one-time bestie Monie Cashette's house to talk and Minnie says she felt like the baby shower was more of an interrogation. Minnie says they are supposed to be best friends but Monie admits she isn't in that place anymore. Monie is having a hard time believing Minnie about her miscarriage because of the lack of details she has been providing everyone so she bluntly asks how far along Minnie was. Minnie gives an unconvincing answer of "like three months" and says she didn't stay in the hospital, she just "talked to someone and went home." OK, then. Turns out, Monie had a miscarriage too, so this is why she is suspicious of Minnie's story and says as much. Instead of providing better detail to clear things up, Minnie just fixates on the fact that people don't believe her and leaves without resolving anything.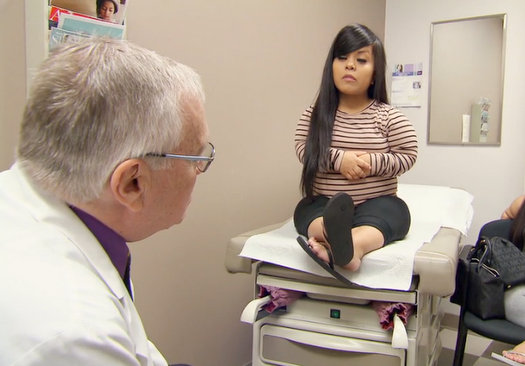 Andrea Salinas brings her sister to her OBGYN appointment to get checked out. She is having issues breathing and the doctor wants her to see an internist to make sure all is okay. Amanda has a few questions for the doctor too and they get to hear the baby's heartbeat before leaving.
Back in Dallas, Bri is taking Emily out to lunch now that she is discharged from the hospital. JJ is staying behind in the NICU, which is hard on Emily but she is relieved to be free of eating hospital food. It might be another four weeks before JJ comes home but the good news is that his seizures are likely not something that will continue. Bri gets really emotional talking about what's happening and really steps up to support Emily through all this. You can tell she doesn't want to leave her in Texas but it's time to head home.
Once she does make it back to Atlanta, Bri meets up with Monie for ice cream and to catch up on everything. Monie explains what happened with the Baby Shower of Shade and Minnie's miscarriage. Bri wants to give Minnie the benefit of the doubt, but the past lies about Pastor Troy cast a major shadow on her ability to believe anything.
Ms. Juicy shows up for the meeting Minnie requested and orders a big plate of chicken wings to hold her over while she waits. She's obviously surprised to see Minnie arrive with her mom, who is sucking her teeth the whole way up to the table. All of sudden, Minnie has balls that clank and feels like she can tell Ms. Juicy exactly what she thinks of her. I guess it's much easier to do with your mama holding your hand!
Ms. Juicy tries to explain that she threw the baby shower to make amends and Tammie is already guffawing. Minnie says she didn't like how she was questioned about her miscarriage and Ms. Juicy says everyone was concerned. Tammie can't take it anymore and jumps in to start yelling at Ms. Juicy about how she's the devil and looks like Raggedy Ann. Also, she is from Chatanooga and therefore, will whoop your azz.
Then Tammie goes HAM and throws a whole plate of chicken wings on Ms. Juicy, then stomps off. Ummm wasn't Tammie chastising Minnie for stooping down to a sorry level last season? Once outside, Minnie and her mom are cackling and I am not impressed. Regardless of Ms. Juicy's shadiness, I would expect way more maturity and dignity from someone's mother.
TELL US – WHOSE SIDE ARE YOU ON – MINNIE OR MS. JUICY?
Photo Credit: Lifetime
Author: Karen