Well, it wouldn't be Real Housewives without a shady finance situation! Dorit Kemsley hasn't even gotten her official Real Housewives Of Beverly Hills tagline yet, but she's already a perfect fit considering her businessman husband Paul Kemsley filed for bankruptcy a few years ago!
In 2012, Paul claimed to be $10 to $50 million dollars in debt, with numerous creditors in the US and abroad suing him for repayment.
CLICK THE CONTINUE READING BUTTON FOR MORE!
At the time Paul was living in Fl, but is a British citizen. He listed his expenses as totaling $34,000 per month, but claimed to have only $104 in his bank account. "My estranged wife currently pays for all this as I have no income," his filing decreed. "I have existed largely by borrowing from friends and family." Well, well – isn't that cushy!
Paul blamed his financial problems on the 2008 economic collapse, which caused his property development business "Rock" to crumble. At the time Paul was also Vice President of Planet Hollywood, earning about $7,800 per month.
Paul and Dorit weren't married at the time, and his divorce wasn't finalized. He did admit to having a NYC-based girlfriend in his bankruptcy case. Which may have been Dorit, a fashion designer. Paul also included in his financial obligations support for his three minor children from his previous marriage. Paul has since married Dorit, and they now have two sons together.
RELATED – Eden Sassoon Joins RHOBH & Causes Problems?!
Here's where it gets confusing. Paul first filed bankruptcy in the UK, where the majority of his holdings were. I barely understand the particulars of US financial law, and I certainly don't understand the treacly international ones, so I won't even try to delve into the details here, but the court documents are available at Radar Online if you want to investigate yourself.
But the gist seems to be that Paul secured a bankruptcy in the UK to expunge his debts there. Then he moved to the US to start over. But, getting wind that he was plenty flush stateside, one of Paul's British creditors sought legal action against him here. Per Wikipedia, Paul tried to protect his US assets by evoking his UK bankruptcy, which was rejected by the US court with the presiding judge dubbing him "a bankrupt who doesn't live like one." Nevertheless the US court also dismissed the British creditor's suit against him.
Paul's rep acknowledges his past financial disasters, but praises the way he's recovered from the setback. "Kemsley has found new love with his wife Dorit, a reignited passion for business and he's reestablished himself. He hopes that people will take inspiration from his journey, after all it's not about how you got knocked down it's about how quickly you got back up."
Well, this is interesting… I cannot wait to see how it shakes out on RHOBH!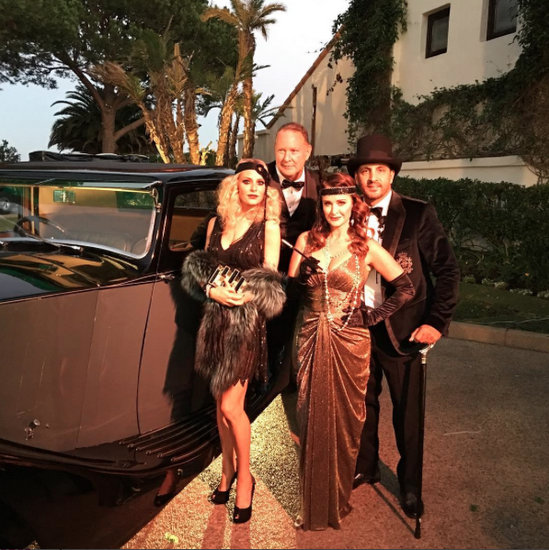 Above, Dorit and Paul with Kyle and Mauricio filming for RHOBH. Lisa Vanderpump confirmed her as a new Housewife. [Credit]
TELL US – DO YOU THINK DORIT AND PAUL WILL BE INTERESTING ADDITIONS TO RHOBH? 
[Photo Credit: Instagram]
Save