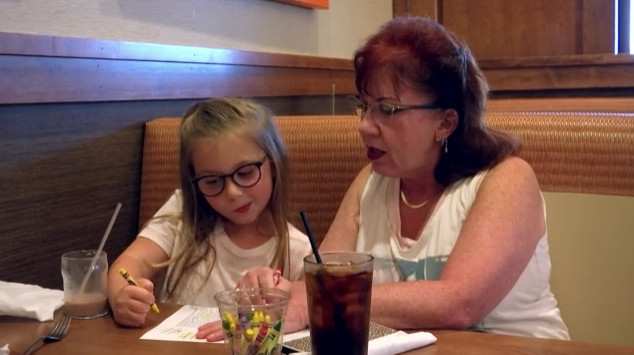 Tonight's episode of Teen Mom 2 is setting us up nicely for the season finale next week. Chelsea Houska and Cole DeBoer are getting hitched, Leah Messer is going back to school, Jenelle Evans is still battling mom Barb in court for custody of Jace and Kailyn Lowry and Javi Marroquin are still in the miserable stage of getting divorced, with no end in sight. So let's get this recap on the road!
Chelsea is going to get her marriage license in Nebraska and is pretty excited to be a wife. As she shares that with her mom and Aubree over lunch, her mom ruins it by telling Aubree that Cole will officially be her dad now. A confused Aubree asks how he can be her dad when she already has a deadbeat one (OK I added the deadbeat part) and Chelsea insists her mother stop. Instead, her mom takes it up a notch and asks Aubree if she calls Cole dad. Aubree gets annoyed and who could blame her. These are questions she should be handling on her own and it's not up to anyone else to pressure Aubree into defining her relationships with the adults in her life.
Chelsea and Cole head to Nebraska to get the marriage license and we find out they won't be filming for two weeks so they can enjoy their brand new married life, which I think is super sweet. Chelsea worries the courthouse will think they are only getting married because she's pregnant but they walk out, license in hand and looking thrilled.
Finally, Chelsea and Cole get married in a small and rustic ceremony, which they share some pictures of so we aren't totally left out. They look perfect and blissfully happy. Congrats to the happy couple!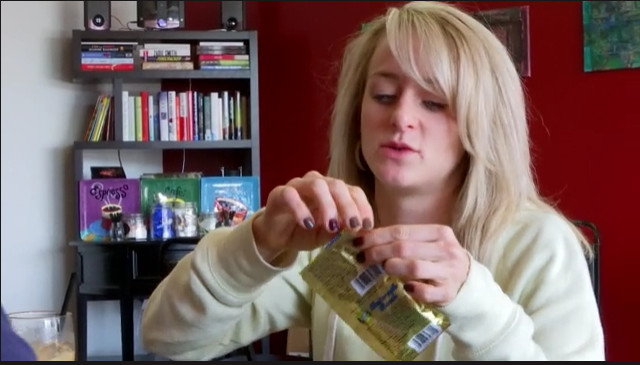 Leah is on her quest to get her life together in the form of an education and meets with her cousin at a café to tell her about her experience with beauty school enrollment. It looks like she's opening her own home-brought packet of tuna-on-the-go as she goes into why she doesn't want it to take away from any time with the girls so it isn't something she can get excited about. Leah admits if she would have known this would happen, she wouldn't have had kids as a teenager (said every teen mom EVER).
But Leah won't be deterred and calls a local university to tell them her life story before finding out what she needs to do to enroll. She jots down notes and feels like something is "right" about this. A few days later, she goes meet with a student guide that gives her a tour of the campus and has apparently never seen Teen Mom since she asks if Leah is going to live on campus. She then meets with the Head of Admissions and an Enrollment Counselor and tells them again why she is looking to go back to school and leaves actually looking excited. A few days later, Leah gets the call and she was accepted! That's right, folks, Leah is headed back to school!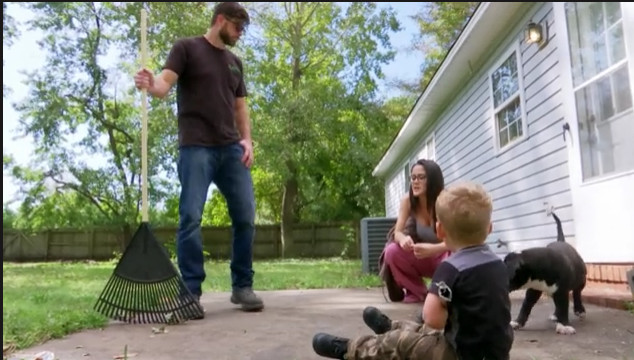 Jenelle and boyfriend David Eason are recovering from a hurricane, which messed up her court date with Barb over custody of Jace. Jenelle is pissed that she is at the bottom of the court's priority list, especially when she should definitely be VIP status at that courthouse by now – that place raised her. But on to more exciting matters, Kaiser is going to toddler preschool. Ex Nathan Griffith doesn't think he needs school this young, which isn't surprising because Nathan is a giant meathead.
At Kaiser's first day of preschool, Jenelle gives him some words of wisdom: don't hit anyone. Kaiser fits right in and immediately joins his new classmates to learn.
While it was a successful day of preschool, things couldn't stay normal for long and we find out Nathan was supposed to take Kaiser for the weekend, but instead texts David at the last minute, undoubtedly in a roid rage, saying he can't take him. Taking it a step further, he says he will sign over his parental right to the She Devil (that would be Jenelle). Jenelle knows that the reunion is coming up so she thinks that's why he's depressed and then asks David if he would want to adopt Kaiser. Easy peasy!
Jenelle calls her lawyer on speed dial and conveys how Nathan said he's trying to move to England and wants to give up his rights to Kaiser. The lawyer thinks he is mentally unstable and wants to get the details ASAP. Jenelle is quick to point out that David is willing to adopt Kaiser and her attorney lets her know it's going to take a little more than just David saying he wants to. As her lawyer goes over everything that needs to be done for Nathan to terminate his rights, Jenelle's eyes glaze over.
Later, Jenelle has to see Barb after their big blow out last week. Barb laughs about it but Jenelle isn't ready to put it past them and sits in grumpy silence while playing on her phone, oblivious to the boys destroying the place. Barb asks what she will do if she doesn't win in court and Jenelle refuses to go there. This can't end well and by next week's previews, I think I'm right.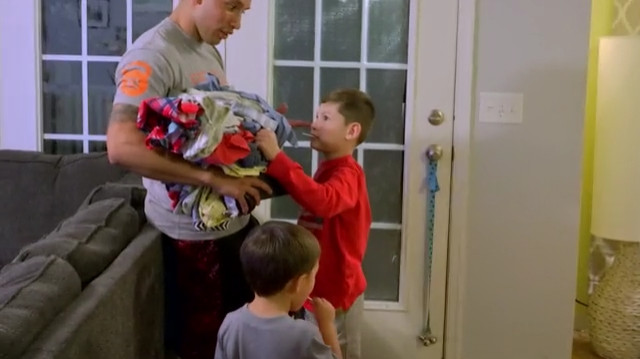 Over in Kailyn's world, Javi stops by to get Lincoln and some clothes that Kail refuses to even put in a bag for him. She practically pushes Javi out the door as Isaac cries and says he doesn't want them to leave. An unsympathetic Kail keeps it moving.
When she drops Isaac off at Jo and Vee's house, she wants to know what they should do about Javi. Jo is uncomfortable about the fact that Javi can just walk into (his own) house whenever he wants and feels like there is something they should be able to do about that. This is all affecting Isaac and and Kail plays the victim by saying she has no control over anything. Jo feeds into this and no one really holds her accountable, even when she briefly mentions she questions some of her past actions that led up to this.
Later, Javi calls Kail to talk and she immediately snaps at him not to be nice for the cameras and tells him what a psycho he's being. She agrees that he can come over to discuss everything and when he does, she immediately refuses a hug and denies him the drink he asks for.
Javi starts by saying he wants to close the chapter but she stops him to demand an apology. He says he wants to but negates it completely by blaming Kail for making him crazy. I think it's pretty obvious I'm no fan of Kail and her behavior but I take issue with this. Javi played a willing role in this and he can't blame Kail for all of his bad behavior, no matter how terrible she is.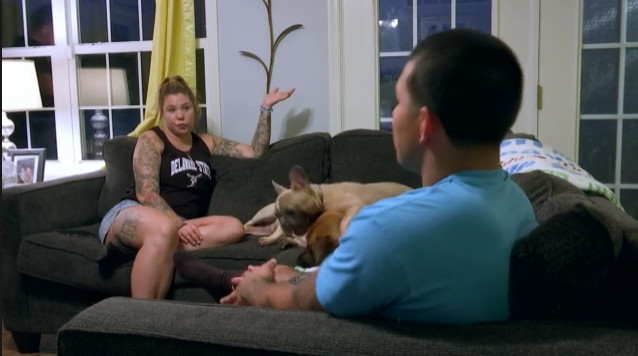 While the dogs hump on the couch next to them, she reads him the riot act and Javi continues to bring up her infidelity while he was deployed. It is pretty clear that Javi came looking for closure on the emotional issues between them but Kail stonewalls him and makes her point clear – she won't give him what he's looking for. As harsh as she sounds, she does have a point that the emotional side of things is what he needs to work out on his own and all they need to work out at this point is co-parenting (there's that word again) Lincoln. Javi leaves angry and threatening, which is not a good look. I get it, he's emotional and going through a divorce, saying a lot of things he probably (hopefully) doesn't mean, but he has to get it together and be the bigger person right now.
Before he leaves, JC the Producer talks to Kail about how she thinks it went and she dismisses Javi as crazy. She says sometimes you have to hurt people to make yourself happy and she's sorry but not sorry. Ahh, such tidbits of knowledge from a woman with so many failed relationships. But before Javi takes off, he decides he wants to be civil and apparently, his way of doing that is to barge back into the house without knocking. To be continued……
TELL US – IS KAILYN BEING UNNECESSARILY MEAN? WILL JENELLE WIN CUSTODY OF JACE? 
Photo Credit: MTV