On last night's episode of Teen Mom 2, we saw the true definition of passive aggressive with several of the cast. I think Chelsea Houska and Leah Messer are the only people who don't hate anyone on set. I guess MTV said if we can't get the group on stage together, we will outsource others for them to fight. The second installment of the reunion is all over the place. There may not be much meat and potatoes to it, but there is definitely BEEF.
We ended Part 1 of the reunion with Jenelle Evans running off the stage playing victim. Chile, please… Jenelleand her problematic husband, David Eason have made numerous comments on social media that have been a part of her storyline on the show. Therefore,   I see nothing wrong with Nessa Diab. confronting her on the show. I can see straight through the tears. It's funny how someone who has attacked several people is now crying when asked about her comments. If you can't take the heat, keep your mouth shut!
Dr. Drew Pinsky manages to coddle Jenelle back onstage with her mother, Barbara Evans. Nessa explains why she felt the need to question Jenelle and lets it go.
Let's be real, MTV sanctioned this conversation, if they didn't it wouldn't have been aired. I have no sympathy for Jenelle. Karma always comes when you least expect it. Nessa asking about tweets should be the least of Jenelle's worries. Girl…. You have bigger fish to fry, like getting your kids back!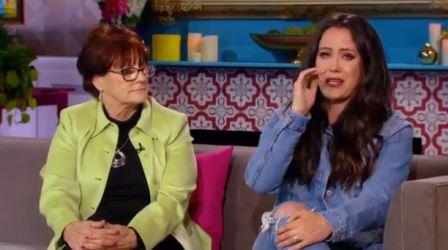 The conversation shifts to Jenelle's feud with Amber Portwood. At this point, everything she says sounds like a contradiction. This is a lesson for entitled people. Don't play Billy Bad-Ass, if you aren't ready for the clap back. I would have had more respect for her if she just admitted that is how she felt and stood her ground. But weaponizing tears…. I can't.
Jenelle blamed her actions on everyone, but herself. She mentioned medical issues, David, and mysterious people who write her social media posts. Chile, please. Barbara claims that Jenelle has been alienated by the other cast members. Ummm… I think your daughter and her actions may have played a major part in that.
Once again, Jenelle cries about people talking about her crazy husband. Dr. Drew finally holds her accountable by asking why she is more upset with others than she is with her own husband. It doesn't matter if he apologizes if he keeps repeating the same behavior. That is public relations 101.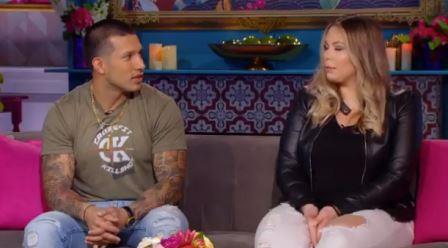 Javi Marroquin and  Kailyn Lowry join Dr. Drew and Nessa on the couch. Ugh…. I still don't understand why Javi is still on the show. Kailyn is still as bitter as ever, and it shows. She thinks Javi had a baby with Lauren Comeau to save their relationship. She also claims that he doesn't respect her when Lauren is around.
Apparently, there was some overlap with his relationship with Kailyn and Lauren.  Lauren clearly doesn't completely trust Javi because of it. Kailyn snaps at Dr. Drew when he refers to her children as "half-siblings." He seems confused about why she is denying the obvious. Her kids all have different fathers. Whew, the delusion is real.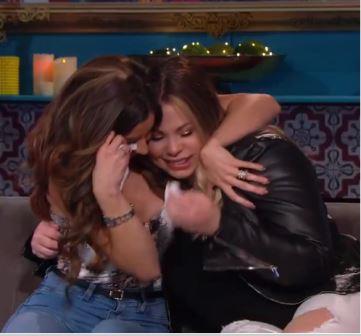 For some reason, Jo Rivera's wife, Vee Rivera joins Kailyn on the stage. I have no problem with Vee, but MTV is clearly grasping for straws. They both have come a LONG way since they first met.
Kailyn gets emotional talking about how great of a stepmother Vee is to her son, Isaac. Jo didn't attend the reunion but sent his wife instead.  It was nice to see a softer side of Kailyn for once. She seems to adore Vee and their relationship.
Devoin Austin and Briana DeJesus are next to face the music. Dr. Drew wonders if he has an issue with alcohol abuse. Briana is still very upset that she endangered their daughter, Nova and her friends, while in his care.
Devoin got drunk while watching the kids at the pool. Briana is rightfully upset and doesn't feel that he is doing enough as a father. Devoin becomes extremely frustrated because he hasn't been able to see his daughter since the incident.
For some reason, Dr. Drew asks if he wants to meet Briana's boyfriend, John Rodriguez. This doesn't go over well because Devoin wants to see his DAUGHTER, not Briana's boo. Hopefully, they find a way to work things out. I would hate for both of Briana's daughters not to have their father present in their lives.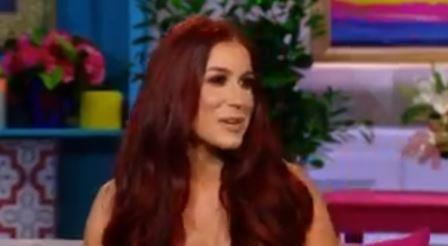 Chelsea joins the stage and discusses wanting more kids. Umm… hopefully, she waits until she has a better grasp on her anxiety. She details her issues with Aubree's father, Adam Lind. He has been coming to see Aubree during her lunch at school, but he is inconsistent.
Dr. Drew recommends that Chelsea talks to Aubree and encourages her to reveal when her father's behavior is too much for her.
Chelsea's dad, Randy, comes out to support his daughter. OMG… there should have only been one part to this reunion. They are dragging this out with a crew of extras. Don't get me wrong, I think Randy is great, but he is unnecessary. Neither of them is saying anything we didn't already hear this season.
TELL US-WILL YOU MISS JENELLE ON TEEN MOM 2? DO YOU THINK BRIANA SHOULD ALLOW DEVOIN TO SEE NOVA AGAIN? DO YOU BELIEVE KAILYN AND LAUREN WILL EVENTUALLY GET ALONG?
[Photo Credit: MTV]