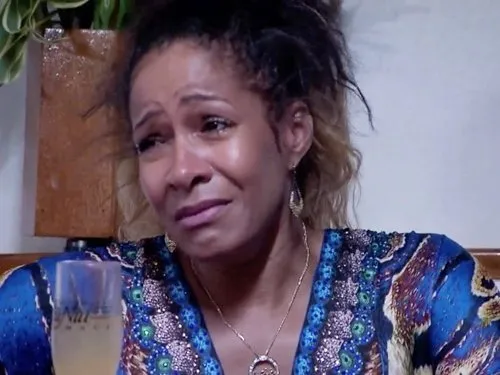 It looks like Kenya Moore is going to have the last laugh in this situation. No matter how much Sheree Whitfield fronts about the baseboards in Chateau Sheree, no decorative feature is going to cover up the fact that there are well-documented financial issues surrounding the house.
Even though she (somehow) gets away with never addressing her financial situation on the show, Sheree is in (even more) trouble these days when it comes to financing her home – that she may or may not actually live in. She is "reportedly" facing $350,000 in tax liens.
CLICK "CONTINUE READING" FOR MORE!
According to an article from Starcasm, Sheree owes money to NUMEROUS CONTRACTORS in addition to federal tax liens. An attorney for one of the contractors did an interview with the AJC's Randy Ho last week and said that they're considering joining forces to come after Sheree as a "united front."
After many attempts to get Sheree to pay the amounts that she has agreed to, it seems like the contractors have no choice.
RELATED: Sheree Whitfield Sued By A Chateau Sheree Contractor
Apparently Kenya's claims about Sheree's mother being the actual owner of the house have some merit since one of the attorneys said it is tough to get the wages paid "since the home is not under her name." Can we please start calling it Chateau Thelma? I'll never not laugh at that nickname Kenya came up with, especially since it seems to be true.
This is just such a mess at this point. Why does Sheree need this mansion? It's not like she has young kids or grand kids running around the house. She needs to cut her losses, sell the property, pay off her contractors, move into a condo, and start up drama between the other cast members to distract viewers.
TELL US – DO YOU THINK SHEREE LIVES IN CHATEAU SHEREE? ARE YOU SURPRISED SHE OWES SO MUCH MONEY IN RELATION TO THIS HOUSE?
[Photo Credit: Bravo]