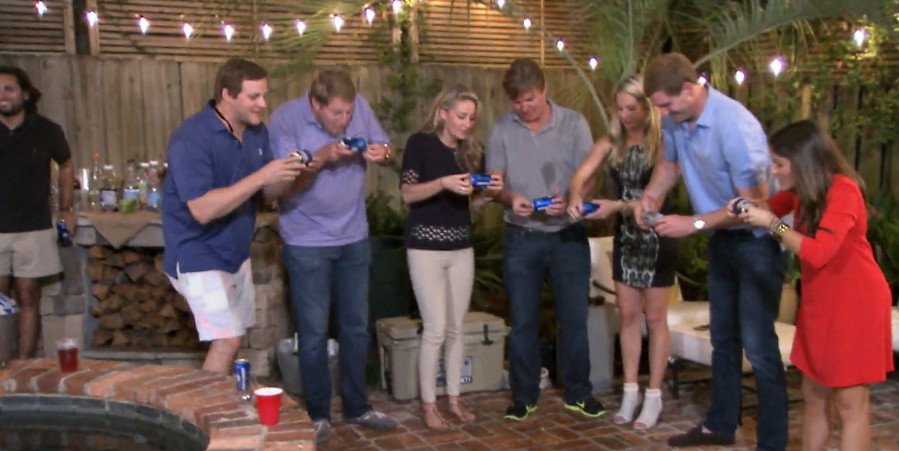 Southern Charm Savannah, oh how you've tried. We've almost wrapped the first season with this spin-off, and it wasn't as well received as I would have anticipated. Don't get me wrong, I like the crew as a whole, but there's just not that much to watch. If Ashley Borders wasn't creating stories in her head, playing the victim, and managing to strip at any given time, we'd just be watching a group of wealthy thirty-somethings with a penchant for partying. Been there, seen that.
Last night's episode begins with a trip to St. Simons Island. Jealous! Much to Hannah Pearson's dismay, Louis Oswald is planning the ultimate tailgate at Hannah's father's house in St. Simons for the Florida/Georgia game. Being the most clueless boyfriend on the planet, he's included Ashley on the guest list. Ashley is driving Nelson to the South's biggest cocktail party while complaining that Hannah has a dress company and didn't think to consult her about it. The nerve! Hannah feels awkward arriving at her family's beach house. Since her dad married a woman close to her age, it doesn't have the same memories as it does now. However, Louis has promised to be the host with the most alongside his potential future father-in-law. So he forgot the oysters–big deal. Louis wonders why this party has to be some reception-grade event on Hannah's radar. What's wrong with Natty Lite and some Fritos? When game time rolls around, there are still streamers to be hung and tables to be assembled. Both tasks fall on Hannah and her dad. As Hannah nags Louis about his duties, he is confused as to what is wrong. Napkins taken out of plastic wrap? He's got it. Ice in coolers? Check. What's so hard? As Hannah micro-manages Louis, her step-sister-mother and father joke about his demise.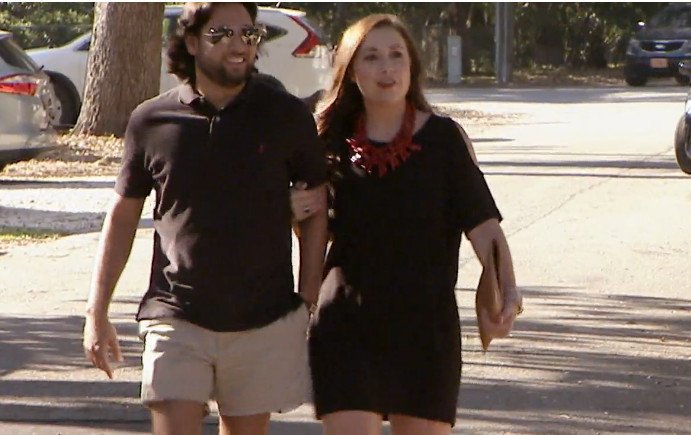 Happy McCullough and fiance Azam arrive first, followed by Catherine Cooper and Lyle McKenzie. The group takes a slew of Fireball shots before Happy pulls Hannah and Catherine aside to find out whether Ashley will be in attendance. Catherine reveals that on the way to St. Simons, her car saw a social media post where Ashley broke a neighbor's window with her forceful knocking after she assumed said neighbor was talking smack about her. Happy wants to confront Ashley about her recent antics which she believes are bordering on psychotic. Catherine feels bad to be talking shiz given the girls' fair weather truce, but the drama needs to end!
Ashley and an awkward Nelson Lewis get to the house, and he gives Daniel Eichholz an equally awkward hug. Know your audience, Nelson…and their boundaries. Catherine approaches Ashley to inquire about the bandages on her hands, but Ashley brushes off the question. Isn't about time for everyone to get naked? Before the stripping can commence, Happy pulls Ashley aside to discuss all the drama surrounding her friend. What's this she's heard about Ashley punching out someone's window?
Once again, Ashley is on the defensive. She feels attacked and bullied. When Happy brings up Ashley's treatment of Hannah, Ashley counters that Hannah has bullied her, and it hurts her to know that Hannah has an ally in Happy while she has no one. Delusional, party of one! Happy has Azam, Catherine has Lyle. Ashley has no one. Dennis is nice and all, but he doesn't have her back like her friends' beaus. Happy isn't keen on this train of self-pity. Ashley chose to marry Dennis, and she can choose to get out of her current situation. Turning on the waterworks, Ashley's talking head spouts off all her struggles and excuses, and Catherine moves next to Ashley to comfort her. Happy concedes that she can feel for Ashley's situation, and the trio hugs it out…Ashley is happy to hug the girls, but she snarks (in her talking head) that she knows better than to piss off these girls by hugging their men. And there it is.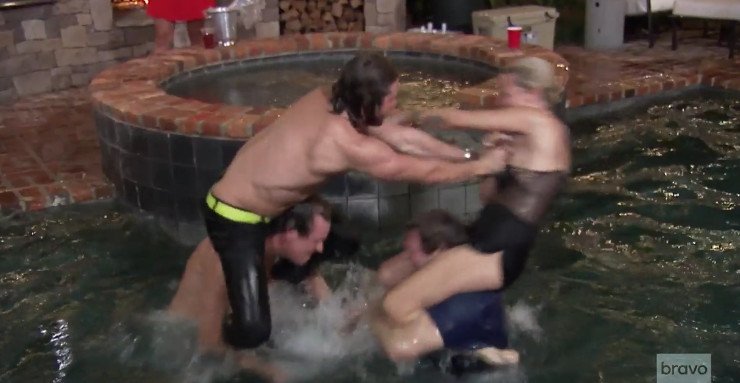 Everyone decides to take a dip in their clothes…well, except for Ashley. She's taking a dip in her golfing lingerie. The male part of the party dries off and heads to a local bar with Hannah's father leading the way. A high school wasted Ashley can barely form two words while Catherine feeds her Tostitos like a mama bird. Hannah tries to impart the importance of opening up to one another and being supportive as Ashley's eyes glaze over as she tries to form girl power syllables. Her vomit speaks for itself, but Hannah and Catherine take it in stride, cleaning her up and brushing her hair. That's what good friends do.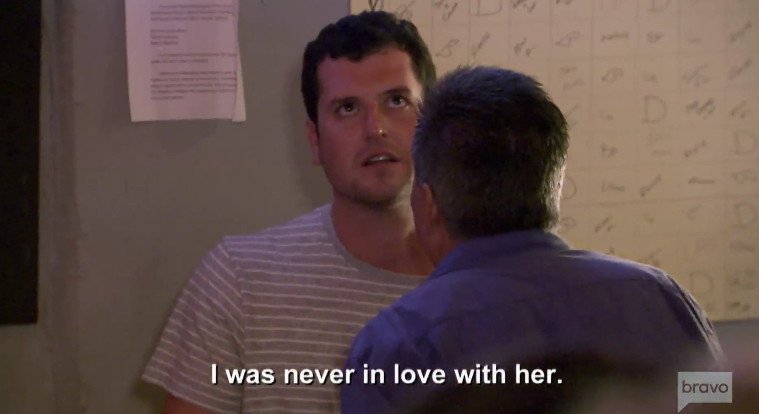 At the bar, poor Louis is cornered by Hannah's drunk dad who explains that he never loved Hannah's mother. It is incredibly cringe-worthy, and Louis has no clue what he's supposed to do with this information. To make matters worse, Hannah's dad keeps repeating it over and over (and over) to really drive home the point. Did he mention he never loved Hannah's mom? His intent is simple…f Louis has any doubts like Hannah's dad did when it came to picking a spouse, her dad will respect Louis infinitely more if he doesn't lead on Hannah (like he apparently did to her mom!).
The next morning, Catherine is in a Hannah/Louis sandwich in bed as Lyle sprawls in the guest room. Daniel climbs into the coziness after leaving the puke couch he shared with Ashley. Ashley hightailed it out of the beach house before sunrise, and she's grappling with her vulnerability on the ride home with Nelson. She screens Hannah's courtesy call making sure she's okay while regaling the importance of girl code. She is definitely a piece of work!
Hannah wants to know what Louis and her dad talked about — Louis is uncomfortable. Louis recognizes Hannah is trying to rebuild her relationship with her father. He's going to keep her father's secrets to himself and wait to hash out this messiness at the reunion…if this crew gets one, that is!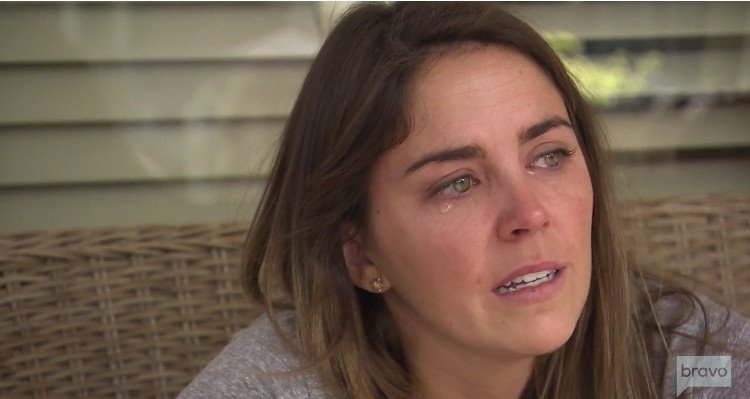 A tearful Hannah questions her dad about his conversation with Louis. He sidesteps her inquiry, simply stating that he hopes Louis is on his way to being the guy she needs him to be.  Hannah opens up about how her parents' divorce has affected her in ways she didn't even realize. She strives for perfection when she should be looking for partnership. She tells her father that she wants the sense of teamwork he had with her mother. No, no you don't, Hannah. She also recognizes that her parents' divorce forced her to be able to take care of herself, which she realizes lets Louis off the hook in that department. Her dad believes she'll make the right decision if she follows her heart. He knows Louis is a stand-up guy, and Louis will prove it even more if he never shares the details of their inebriated conversation. Clearly, Hannah's father doesn't know how reality television works.
The following day, Daniel and his brother are hanging out with their father. Daniel believes that his father's former prison time has made them closer. While Daniel has struggled in finding a serious relationship, he has taken a lot of pride in taking over his father's law firm in his absence. However, now that his father is back and the firm is a success, Daniel may be ready for a change. How would his life be different if he hadn't put everything on hold to come back to Savannah?
Ashley goes to visit her brother's wife to get a much longed for praying mantis tattoo. Her sister-in-law is the yin to her brother's yang. Why oh why can't Ashley have that with Dennis? Doesn't she deserve a lasting love story? Said sister-in-law/tattoo artist tries to build up Dennis, but Ashley stops her. Sure, Dennis is a good person, but are they a good couple?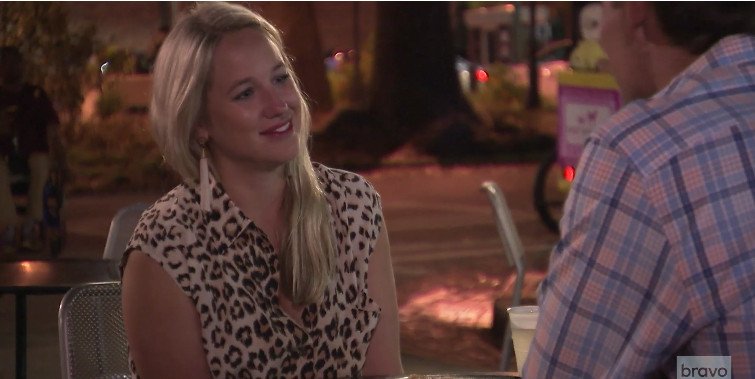 Catherine and Lyle are enjoying a weeknight date, and Catherine admits that she's finally getting into the groove of having Lyle living back in Savannah. Admittedly she doesn't do well with adaptation. Blame it on her seasonal affective disorder (and fear of commitment). Lyle takes this tidbit of complacency and runs with it. If Catherine is excited to have him back in Savannah, she's clearly ready to be his wife, right?
TELL US – WHAT DID YOU THINK OF LAST NIGHT'S EPISODE? WHAT WAS YOUR FAVORITE ASHLEY MOMENT?
Photo Credit: Bravo TV