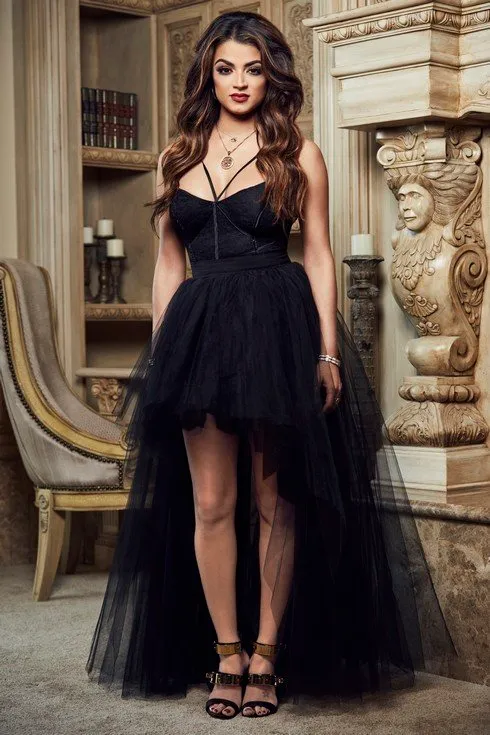 The last Shahs of Sunset season was a rough one for Golnesa "GG" Gharachedaghi and based on the trailer for Season 6 she is in for quite the ride again.
GG dished on the upcoming season in an exclusive interview with Reality Tea. GG Gharachedaghi addressed the lingering tension with Reza Farahan from last season, her short-lived marriage, friendships within the cast, her battle with Rheumatoid Arthritis, and her upcoming projects.
GG discussed her growth this season. She revealed, "For me personally it was a huge difference because up until just this season I've been a very, very angry and aggressive person. I've never learned how to deal with emotions other than by some sort of physical attack. I've learned my lessons. Definitely having the opportunity to watch myself back on TV I realize how ridiculous I look. I've made a lot of changes and this season for me was just all about being happy and finding my friendships again."
Of course, everyone is wondering if her romantic relationship will be her main story line this season. GG clarified, "No. I think it's part of my story line. I would say my story line is basically this new person I am because it's just so different that it's kind of hard to not capture it by filming me. I'm finding new ways to approach life and friendships so this relationship is kind of a part of that." She summed it up by saying, "I'm just kind of transitioning. That's my story line for Season 6."
RELATED: Shahs Of Sunset Season 6 Photos And Trailer
She later admitted, "I had a really hard time with the guy that I was seeing. He's not necessarily a cast member. As far as the cast goes, Reza and I really had a lot of issues leading up to the filming of this season. It was just really intense. It got worse after we cut Season 5. It really escalated so when we started Season 6 it was just hot as hell. Everyone will see how that plays out. When it comes to everyone else, relatively we all just get along. The friendships are real."
Speaking of the friendships on this show, one has remained pretty consistent: GG's bond with Shervin Roohparvar. GG confirmed, "Shervin and I are the closest. There's definitely no question there. The bond that he and I have is just unspeakable. We've really grown to be very close. We love each other." She added, "Other than that, I would say MJ [Javid]. Shervin and I talk every day. MJ and I see each other once a week and talk every few days."
One person that the fans shouldn't expect to see hanging with GG this season is her sister Leila Gharache. When asked if we should expect to see her sister on the upcoming season, GG admitted, "You know what, I have no idea. I definitely don't care. Let me know if you know she's going to be on, so I can fast forward through that scene." So it's safe to assume that they're not on the best terms these days.
Speaking of finished relationships, Mike Shouhed and Jessica Parido seem to actually be done. Finally. GG explained, "I think that the love is lost. Whether they can find it again and reestablish something, I don't know. I think it's hard for people to forget about hurt- like pretending that it didn't exist, but it does. So I really don't know. I just feel like they've both moved on very much."
What does she mean by that? Well, GG shared an interesting tidbit: "I believe I just met his new girlfriend, or new flavor. I don't know. I mean he brought her to Shervin's brother's wedding, so I was assuming [the relationship is significant]. Plus she was wearing his initials on her necklace. So to me that was more than just that 2AM booty call. I don't know. That's something you would have to do an interview with Mike about not me." That does sound pretty legit to me. Mike, if you're reading this, hit me up to clarify.
RELATED: GG Gharachedaghi Files For Divorce After 2 Months
Overall, GG emphasized, "This season is going to be very personal for all of us with all of the political stuff that was going on when we were filming. It's not about our problems." This trickles into the cast trip to Israel, which GG describes as "very, very, very intense." Then again, most Bravo trips are.
GG added, "Even leading up to the Israel trip, it was really intense. A lot of us have different points of view for political and religious reasons. It's very, very personal for a lot of us and in Israel, you can see in the trailer we are detained. Throughout the trip, certain things happened and a lot of problems between us." That should make for some interesting TV.
GG explained that she is on a reality TV to provide more than just entertainment to her fans. She said, "The whole point of being on TV is to be able to reach out to people and help them." She shared, "I am working on a project right now which is something that is going to be directed toward helping people with certain issues in life as far as autoimmune diseases like I have. It is a product that is going to be helping people. That's as much as I can say."
She actually did end up saying more though. She admitted, "My arthritis is not getting better. It was declining, but now it's just kind of steady. Right now we're just running a bunch of other tests on my liver to see if there's an issue with my liver that is not allowing this medicine to do anything." She added, "This product has really been helping me in so many ways so I just want to put it together and give it to the world because it's really amazing."
TELL US – WHAT ARE YOU LOOKING FORWARD TO THE MOST ABOUT THE UPCOMING SHAHS OF SUNSET SEASON?
[Photo Credit: Tommy Garcia/Bravo]