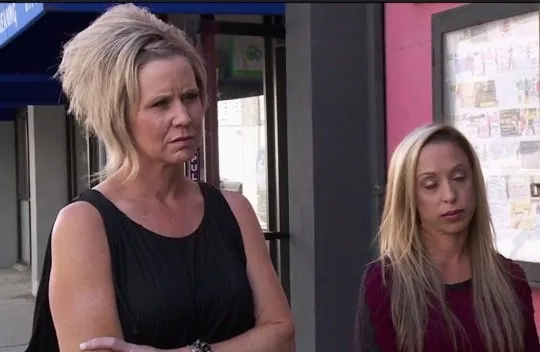 After last night's Dance Moms, I wonder if Ashlee is second guessing her decision to stick with Abby Lee Miller. As she convenes with the crazy mini moms, they realize that Abby is nowhere to be found. As the mothers traipse into her office, she starts shrieking that she is braless and they are bombarding her bedroom. She starts grabbing at the cameras and boom mic, and a poor production guy narrowly escapes. Ashlee is indignant. She didn't sign up for this. Um, yeah you did.
Across town, the elite team the Dream Team the Irreplaceables are rehearsing with their new choreographer. The elite team is growing up, so they are doing a burlesque number. Jill recognizes the girls need to sass (sex?) it up with a dance unlike the minis lyrical pieces. Kendall and Kalani will be doing solos.
Abby finally makes her appearance, sans shoes, and she is a bitter mess. She poured her heart and soul into the elite team and they crapped all over her. It's all good though as the minis have way more talent and she'll create much bigger stars out of them. Also, this new, forlorn Abby has done away with the pyramid, so she's certainly growing on me. The Ianas and Brynn will be dancing solos, but Abby is keeping the group routine under wraps for the moment.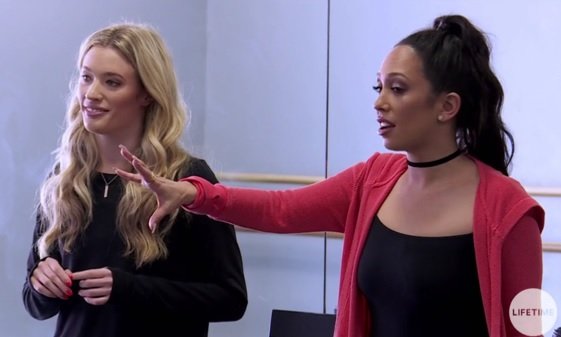 Chloe is struggling with this more mature dance style—the heels, the chair…it isn't at all what she envisioned when returning to dance with her friends. Christi, forever the mean girl, has her focus on Camille. Why is she here? Who is she? Camille tries to stay in her lane, keeping quiet and praising the moms for accepting her. Jill interrupts. Not so fast! She haughtily reminds Camille that she and Kira recall a time when Camille wasn't so anti-Abby and pro-Dance Moms. Um, I think we can all recall a time when we could say the same for Jill and Kira. These ladies are insufferable. Back at the ALDC, a crazy-eyed gaggle of mean girls dish on a text message in which Jill and company plot Camille and Camryn's quick exit from the team. Ashlee decides Camille has a right to know her daughter is on the chopping block with this crew, and Yoyo is more than happy to call her with the news. When Camille sees who is calling, she proves her loyalty to the OG moms by sending Yoyo straight to voicemail.
Brynn thinks her former teammates have taken Abby for granted. Her solo is about how much Abby has taught her about dance and loyalty rewarded. She's doing a bit better than the elites. The girls are nervous that their burlesque number may have tongues wagging, and it shows in their faces. Kalani feels a lot of pressure going up against the ALDC. Speaking of the ALDC, Yoyo is thrilled that Eliana finally has a lyrical piece. It's always "Lili, Lili, Lili!" and she's ready for her Iana to shine. Because there isn't already enough conflict, Ashlee and the other Iana mom start pushing Yoyo's buttons about how great Eliana's music always is. Yoyo pushes back, but thankfully everyone keeps their hands to themselves.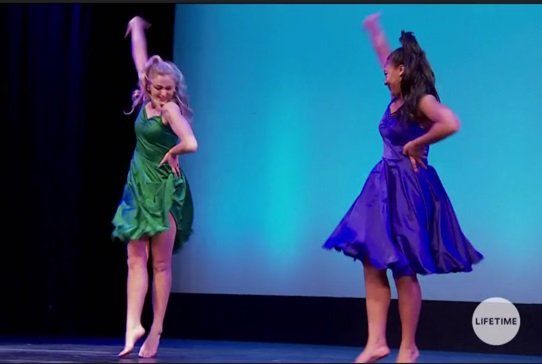 Abby leaves rehearsal early to go procure an additional dancer for the group number. The loyal ALDC moms are appalled. It's a slap in the face that Abby thinks they need an additional dancer. The following day, a boy dancer arrives with his mother who Abby wisely shields from the other ladies. Yoyo and Ashlee cackle at his mother's age. This isn't Dance Grandmothers. These women are horrific. Abby is recreating the amazing Where Have All the Children Gone with a male perspective. Ashlee didn't return to the ALDC for Brynn to dance behind some boy. When she voices her concern to Abby she gets served with classic Abby vitriol.
Camille calls Ashlee to question Yoyo's voicemail, and Ashlee coldly tells her Jill and the other ladies are plotting against her. When Holly chimes in the background, Ashlee curtly agrees to meet Camille for drinks to discuss the situation. The mini moms agree to have Ashlee's back. In light of the struggling burlesque number, Kendall and Kalani have decided to forego their solos in order to focus on the group routine. The girls are stressing out and breaking down while the mothers question Camille's loyalty. Kira reveals that Ashlee claims Camille had been returning to the ALDC to meet with Abby. Camille seems genuinely shocked, and Jill and Holly remind Kira what an instigator Ashlee is. They all agree to attend the happy hour to support Camille.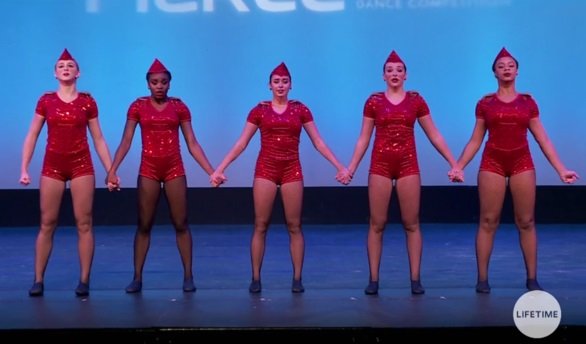 As the ladies whoop it up at a local gay bar, the mini moms (minus Ashlee) arrive. The OG moms aren't surprised that Ashlee is too chicken to confront Camille after lying about her, and Yoyo takes the opportunity to bash on Chloe. Christi isn't one to shy away from boorish behavior, so she challenges Yoyo, calling her choker and reminding her that her daughter won a Kid's Choice Award. What has her Iana done lately? The ladies then mock Yoyo's choking tactics, and a drunk Yoyo gets in a drunk Christi's face (or perhaps it was the other way around?). Either way, the women are screaming at each other about fan bases and talent, and I think they are actually talking about their own fan bases instead of their daughters' which is absolutely so sad. Christi pushes Yoyo who laughs like a maniac. Can someone call DSS on these insane ladies?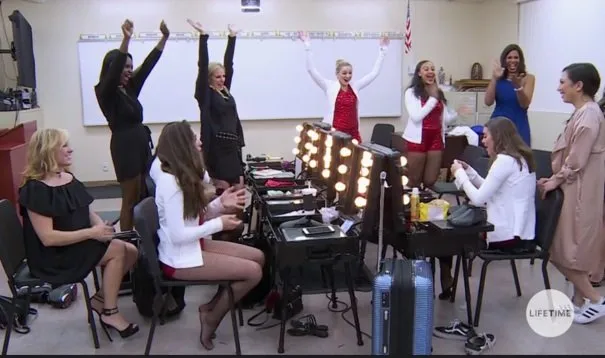 Once everyone has calmed down, the OG moms are worried the burlesque dance isn't going to beat Abby's team. The new choreographer is already getting a taste of the mothers' nastiness. She breaks down in a fit of tears and f-bombs over the level of disrespect the mothers are showing her before kicking them out of the studio. Yeah, I'd say this competition is going to go really well.
TELL US -WHAT DID YOU THINK OF LAST NIGHT'S EPISODE? WHICH SET OF MOMS IS MORE CRINGE-WORTHY?
[Photo Credit: Lifetime]