It's Jen Howell's world and we're all just sailing through it! Or at least that's what the worst stewardess in Below Deck history seems to believe!
Interactions between Jen and Kate Chastain are still strained after their 'whore – no you're the whore' argument from last week. Jen doesn't care though – she's gonna be the best stew she can be (which means the worst stew Kate has ever seen) and she has a new ally in Kyle Dixon. Or so she thinks.
Because Kate also has her claws in Kyle. Kyle, knowing Doritos are the way to Kate's gossipy insides, cozies up to her in her bunk to play Shag, Marry, Kill with Bruno Duarte, Matt Burns, and Nico Scholly. Everyone wants to kill Bruno – albeit for different reasons. Kyle because Bruno is better looking than him and therefore competition. For now he is also intrigued by the craziness that is Jen, and plots to take her out on a date, get her sloppy, and make some magic. Oh it'll get sloppy but not in a sexy kinda way!
Jen is equally intrigued by Kyle. He's got an accent! He's also an absentee parent! They have so much in common – even if Jen can't understand what he's saying half the time! Probably because for all his flaws Kyle is actually capable of using adult words and language. Like, right, you meanie guys!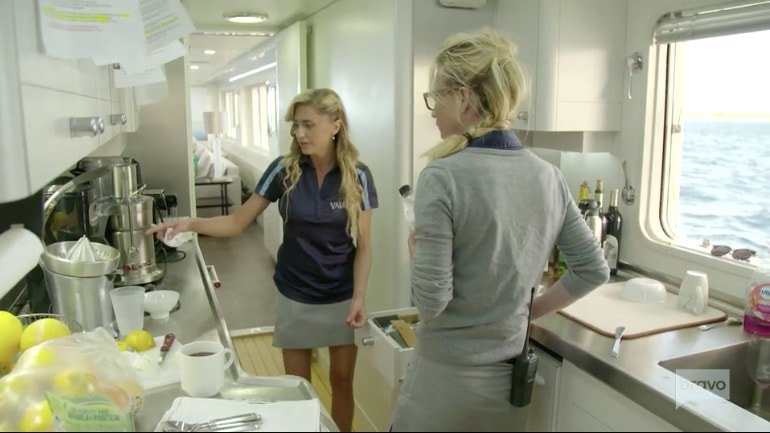 As for Kate she just dreams of a charter world without Jen. She would fire her but there's only 2 charters left, so instead she's counting down every day (with a drink). Given that Jen hasn't changed her hair since high school, Kate just doesn't think Jen is capable of changing, so she's giving up trying. "Changing" is a generous way of saying that Jen can't be bothered with those newfangled contraptions like eeee-lect-tricity. She didn't realize the ELECTRIC juicer is electric, and couldn't plug it in. Then she stiffs Kate to do the juicing while she "gets tea towels" and flirts with Kyle. Kate patiently reminds her that the CHARTER GUESTS come first.
At least the charter guests are amiable! They like Jesus. They like that Jesus has blessed them with luxury vacations, tons of wine, wealth, and most importantly: Captain Lee. They love them some Captain Lee – especially primary charter guest Shelley, who seems to think that Jesus wants her to have ALL the wine he can make, and that renting motor yacht valor means renting Lee's time. Ladies – this is not the brothel of the high seas for middle-aged women! Stick to water toys and whatever toys you brought in your luggage – Captain Lee is very spoken for by Mary Anne! Still he is nothing if not a surly accompaniment to a drunken white & neon dinner party, because it's 'part of his job' to be shamelessly flirted with by drunken ladies.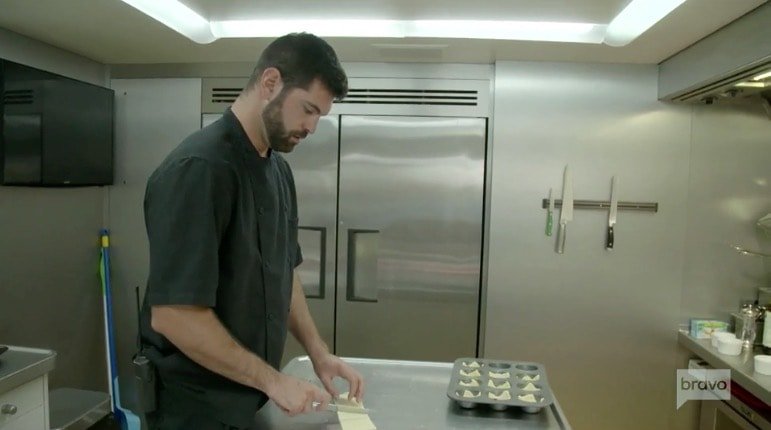 Even blinded by lust for Captain Lee, the guests were able to be critical of Matt's cooking. Despite a stern warning about the quality of his food, Matt still can't crank it up! He's served nonstop salads to these guests, and dinner is salad with scallops. Which no one likes cause they're "gummy" and then Mahi-Mahi. Which one guest complains is too fishy. Matt is forced to rush two orders of pasta. With canned sauce. Lee, who is at the table, barely touches his entree and is not impressed. At least the guest were too drunk to remember. For them it was all about the wine pairing – aka how the wine pairs with the mixed drinks and other wines.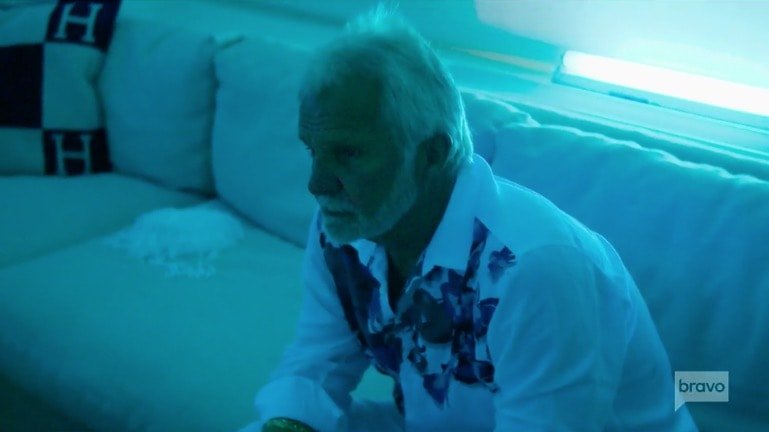 As Shelley, the primary charter guest, leers all over Lee, her friends delicately suggest that she's way too wasted and acting a fool. In her drunken insanity, she decides they're terrible friends. She is the primary, so she can do whatever she wants – including Lee! Shelley actually wants to make her so-called friends walk the plank for daring to stop her as she was singing karaoke to herself without music or a mic. The next morning, tensions are far from cooled. First of all, JEN oversleeps and a guest is wandering about looking for coffee, which Kyle is forced to make while Jen scrambles to get ready. Despite mimosas and bloody marys, the primary still hasn't forgiven her friends from thwarting her chance with Lee. Yep, it's all their fault.
Tensions aren't much better among the staff. After yet another lackluster tip, Lee decides the crew needs to talk about among themselves about what could be improved. Nico admits (privately) that he's learned a lot from EJ Jansen and the deck crew is certainly running smoothly. The problem, decides Kate, is Matt. He's just not wowing the guests. Matt is used to working on long charters where people want more normal meals, but on motor yachts they want every meal to be a showstopper. It just doesn't seem like Matt is capable of creativity in the kitchen (BRING BACK BEN!).
Imagine Kate's surprise to hear from Kyle that the interior wasn't running as smoothly as she'd thought. For instance, someone on earlies failed to be up in time to have coffee ready for the guests, but their hair did look styled. Kate knows Kyle is referring to Jen, but when she confronts Jen, she pretends to have no idea what Kate is talking about.
Jen has priorities, y'all – she's ready to party! Previously, she thought there was a hope of getting some Kyle in her pants, but after he tattled on her to Kate, Jen realizes he isn't trustworthy either. Why does no one like Jen? She has such great hair, you guys – they're probably just jealous!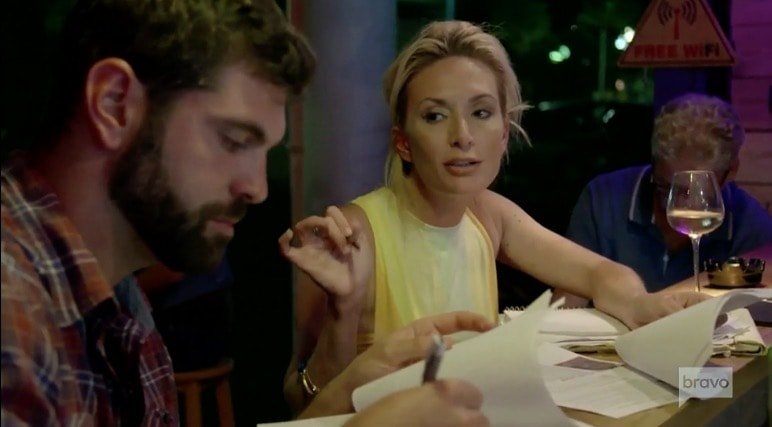 Kate decides to use her free time to strategize with Matt about the upcoming charter. A guest she knows from previous charters who is a demanding foodie with an ego. "I think he grew up watching Lifestyles Of The Rich & Famous, and he wants champagne wishes and caviar dreams," explains Kate. She knows that if she doesn't coach Matt, it'll be tuna salad nightmares!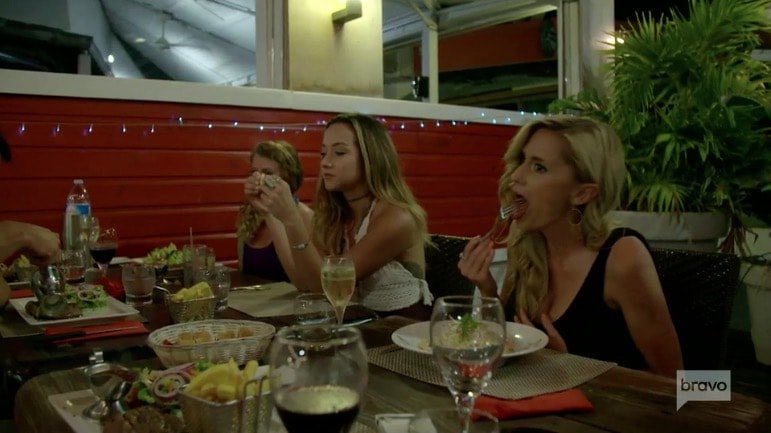 The rest of the group goes for dinner and drinks when Jen makes the GHASTLY mistake of helping herself to a taste of Kyle's gravy. Kyle is particular about his food and table manners. Not any other sanitary parts, nor any other etiquette, but do not touch the man's gravy! Especially if you have a bad manicure. Kyle is so bereft he leaves his plate untouched to chain smoke away his disgust. Jen has no idea what she did wrong. She thought she was being flirty, but a man's sauce is a sacred thing! Not to be taken lightly or given away freely. Can you blame a girl for wanting a taste?!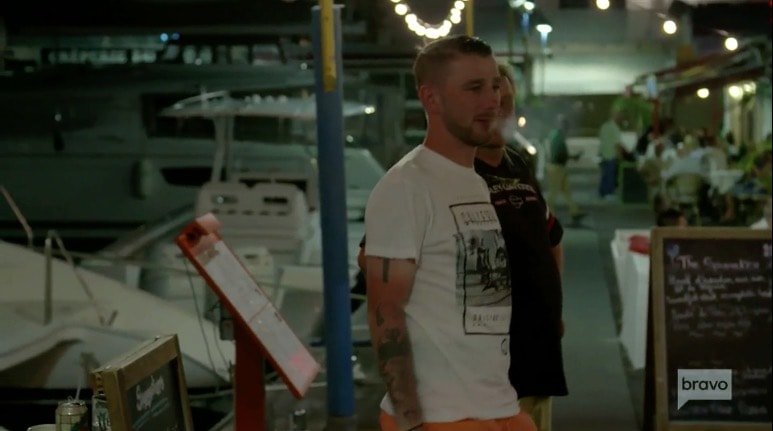 Later at the bar, Jen has ten too many tequilas and finds herself in a drunken rage because Baker Manning won't let her pee on the dock before the boat taxi arrives. Jen then wants to go back to the restaurant to pee, but Baker encourages her to just wait until they get to Valor. This is unacceptable. Jen rages and tantrums and calls Baker a "whore" – her favorite insult!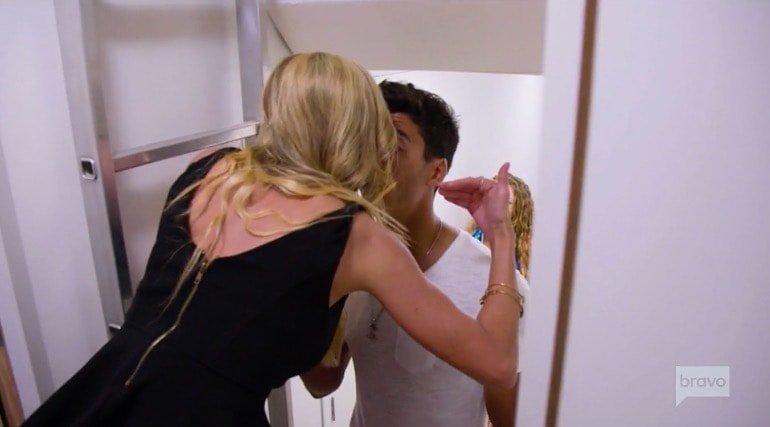 With all the drama brewing, Nico and Brianna Adekeye decided to head back to Valor early to get in a little nookie. They are awaken with Jennasaurus Rex threatening to rip the whorish heads off anyone who dare stand in her way of gravy! Or bathrooms! No one is sure what language the monster speaks, but it ain't English! Ah, romance aboard Valor! Jen rants on and on about how Baker wouldn't let her use the bathroom. She is so out of control Bruno tries to stuff her in the bathroom to shut her up, but she continues raging right past him. JEN DOES NOT NEED THIS SHIT! (according to her).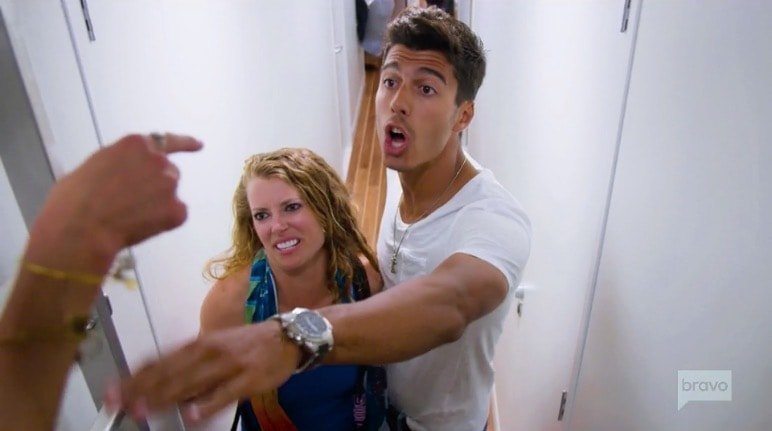 Well Kyle's crush is broken. He is a supporter of free love! How dare Jen label anyone a whore!
The whole time Jen is screaming and carrying on about how she's mad at Baker, and this is between she and Baker, Baker basically tried to calm her down. This girl is far too sane, lovely, and normal for reality TV. Glad you're getting out alive girl and Bruno and Kyle won't let you be destroyed and eaten by the Jennenstein Monster!
TELL US – DID KYLE OVERREACT TO JEN TASTING HIS GRAVY?! SHOULD JEN BE FIRED?
[Photo Credits: Bravo]