Woohoo and welcome back my Survivor people!
Indulge me for a minute as I take a trip down Survivor Memory Lane (my own personal "Rites of Passage" ceremony, if you will). Remember back when Season 30 seemed like such a huge benchmark for the show? We are now about to begin Season 36 of Survivor and rabid online fans are already looking forward to Season 40…a milestone that suddenly doesn't seem to be that far out of reach. Did anyone ever imagine that back in the Summer of 2000 when Sue Hawk was giving her "rat and the snake" speech at Tribal Council or when Rudy Boesch was describing that he liked Richard Hatch ("but not in a homosexual way") that we would still be talking about the cultural phenomenon that is Survivor as we entered 2018?
Here are some stats for you that will blow your mind (credit given here): Did you know that entering into Season 36 – called "Survivor: Ghost Island" – that there have now been 526 (268 men, 268 women) who have played Survivor, with only 34 winners? That there have been over 1400 days of survival on the show, which means over 3 full years have been spent in-game? That there is a contestant this season (Michael Yerger) that was just 1 year-old when Season One debuted in May of 2000?
It's only fitting that we take a moment to reflect back on what has come before, because on this season of Survivor, the past plays a huge part in things to come. Let's get you set and ready for the two-hour Premiere of Survivor: Ghost Island, airing at 8pm (EST) on CBS beginning Wednesday, Feb 28!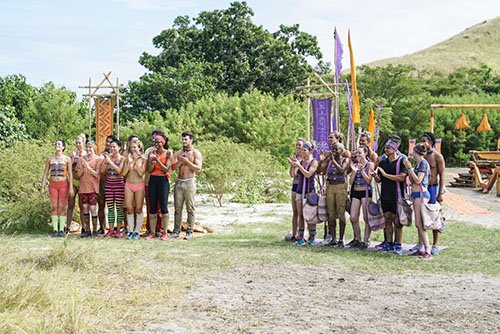 First off, it's great to back covering the show that I love here on Reality Tea. A fan of the show since Day One, Episode One of Season One, I've been living the dream of being able to cover this show professionally since Season 20 ("Heroes vs. Villains"). I love the energy and the excitement of the fans on this site and I look forward to another great season (hopefully, right?). Let's make this a fun and interactive place to land each week, and feel free to leave your questions and comments on the articles as I read them all and usually will respond as well!
It is not a typo: This is Season 36 (!!!) of Survivor, the longest-running (and best) Reality TV Competition Show of them all, or as Jeff Probst calls it, "One of the greatest social experiments ever created." As we get ready for the new season to begin, I wanted to equip all of my readers and followers with what we know thus far about Survivor: Ghost Island, and what you can expect from the show and from this column during the season.
To start, here's a ground-breaking news flash: Jeff Probst thinks we're all going to love this season! This of course has become a running joke in the Survivor fandom, because Probst is always shilling his product to us, whether or not the product is any good. And while I'll be the first to admit that not all Survivor seasons are created the same, let us all keep in mind that even at its worst (I'm talking to you, Survivor: Fiji), Survivor is still one of the best shows on all of TV (in my humble opinion anyways). But will this season be remembered fondly or will it be haunted by ghosts of Survivor past? Or both?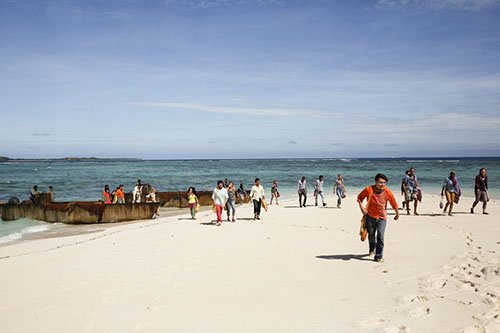 Here's what we know: Survivor: Ghost Island was filmed in Fiji last Summer and features 20 all-new contestants. It's a very young cast, with an age range from 18 (Michael Yerger) to only 42 (Angela Perkins). The tribes will be split initially into two tribes of ten, the "Malolo" tribe and the "Naviti" tribe, most likely to be referred on these pages henceforth as the "Orange" and "Purple" tribes (does anyone pay attention to these tribe names, like, ever?). They will not be marooned or shipwrecked to begin the season, unlike the last few previous seasons. Instead, they will simply walk up the beach and meet Jeff Probst, before being given the game's first (of many) twists. How do I know this? Because CBS has released the first four-minutes of the Premiere Episode, which you can feel free to watch here.
The premise of this season has me feeling mixed emotions. Surely, the name "Ghost Island" sounds bad-ass, but it strikes me that this season's theme was given a cool name first, before it was given a cool concept. And what is the theme, exactly? In my opinion, it shouldn't take several paragraphs to have to explain to somebody the theme of your season. "Heroes vs. Villains," "Game Changers," or "Millennials vs. Gen-X" for example, are pretty clear-cut and straight-forward and easy to understand. Not so much with this season. So this "Ghost Island" then, it's something to do with old artifacts and stuff from past seasons of Survivor, right? Here is how Probst sums it up: "You will have the chance to reverse the curse of some of the worst decisions in Survivor history."
In a sense, the idea of "Ghost Island" isn't completely new to the game. It's more of a spin on the "Exile Island" concept that we've seen many times before on the show. When people are sent to "Ghost Island" however, they will be "haunted" by several artifacts that have represented past failures in the game. Think of things like Erik Reichenbach's Immunity Necklace (which he famously gave up and then was promptly voted out) or James Clement's two unused Immunity Idols that were in his pocket when he was sent home. Somehow, these items will work there way into the current season as, I'm assuming, playable items. We'll have to see how exactly these fit in, and just how exactly the players will be able to acquire these items, but if you were clamoring for less Idols and fewer twists, well, Ghost Island may not be for you (although give it a chance regardless!).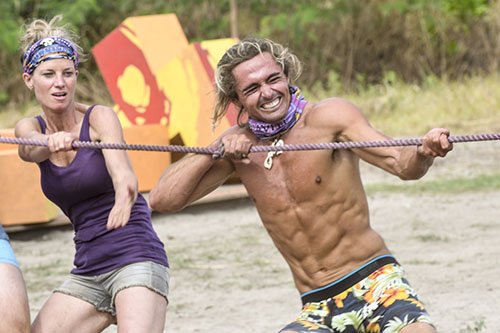 As it usually does, Survivor is honing in initially on the idea of the "split-decision" and the idea that the game involves so many quick decisions that need to be made in order to excel. These artifacts represent bad game-play and/or decision-making, and it will be interesting to see how this affects the new cast and if it will make them even more tentative than they may already be. Nobody wants to be the next Erik Reichenbach. And even so, the groups will be forced to make some quick decisions right out of the gate, when Probst will ask each tribe to assign a leader, who then has to pick a physical person and a strategic person to compete on behalf of their tribe. Get pegged as a "leader" during the first few minutes of the game? Ouch. Or pointed out as a physical or mental threat? Yikes. Or how about losing a challenge or looking stupid in front of everybody, before they barely get a chance to know your name? For sure, this opening twist is set to create some drama that the show hopes can sustain and build throughout the course of the season.
It will also be interesting to see how this season plays with old fans and new fans alike, some of whom may remember the cursed items but will be forced to sit through countless flashbacks as the show tries getting us up to speed, and some who may not care about any of this since they are new to the show, thus missing out on any of the added context and history of a particular artifact.
So just who are these 20 contestants that will be competing for the million dollar prize and title of Sole Survivor? Let's get to know them a little better, shall we?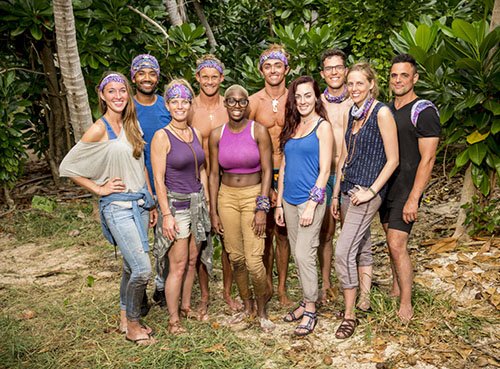 "NAVITI" TRIBE (Purple, from left to right)
Morgan Ricke, 29
Hometown: New Albany, Ind.
Marine animal trainer
Wendell Holland, 33
Hometown: Philadelphia, Pa.
Furniture designer
Angela Perkins, 42
Hometown: Cincinnati, Ohio
Army veteran
Chris Noble, 27
Hometown: Florida Keys, Fla.
Male model
Desiree Afuye, 21
Hometown: Newark, N.J.
Student
Sebastian Noel, 22
Hometown: Melbourne, Fla.
Fishing guide
Chelsea Townsend, 24
Hometown: Salt Lake City, Utah
EMT
Bradley Kleihege, 26
Hometown: Haslett, Mich.
Law student
Kellyn Bechtold, 31
Hometown: North Manchester, Ind.
Career vounselor
Domenick Abbate, 38
Hometown: Nesconset, N.Y.
Construction supervisor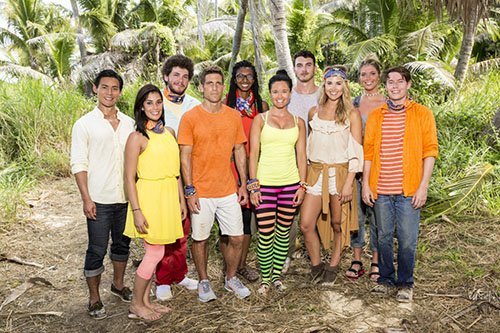 "MALOLO" TRIBE (Orange, from left to right)
James Lim, 24
Hometown: Los Angeles
Business analyst
Stephanie Gonzalez, 26
Hometown: Ocala, Fla. via Puerto Rico
Graphic sales
Jacob Derwin, 22
Hometown: Merrick, N.Y.
Music teacher
Brendan Shapiro, 41
Hometown: Herndon, Va.
Physical education teacher
Laurel Johnson, 29
Hometown: Philadelphia, Pa.
Financial consultant
Stephanie Johnson, 34
Hometown: Boise, Idaho
Yoga instructor
Michael Yerger, 18
Hometown: Knoxville, Tenn.
Real estate agent
Libby Vincek, 24
Hometown: Houston, Texas
Social media strategist
Jenna Bowman, 23
Hometown: Detroit, Mich.
Account executive
Donathan Hurley, 26
Hometown: Phelps, Ky.
Caretaker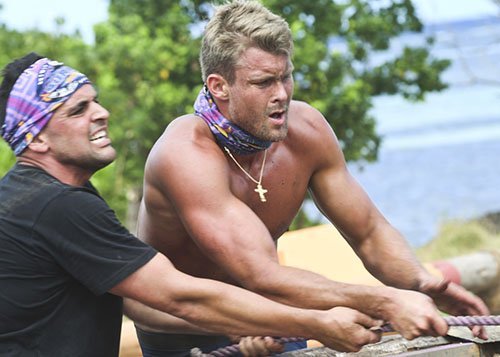 It all happens on Wednesday, February 28th, with a two-hour Premiere, beginning at 8pm on CBS!
What You Can Expect This Season: Each week, look for my Recap right here on Reality Tea, following each episode (up usually late Wednesday night or by Thursday morning). Then every Thursday, you can get more of my thoughts as well as listen to my exclusive exit interview with the voted-out contestant on my FilmSurvivor Podcast…the link and excerpts of which will be available right here on this site as well. You can also check out my movie reviews and coverage (in addition to Survivor, I'm also a film critic and appear on a TV show called "Critic LEE Speaking") on my website TomSantilli.com, and by following me on Twitter (@tomsantilli).
So look for my Recap following Wednesday's Premiere and then my Podcast with Exit Interview up on Thursday! Next week we will have a BONUS Podcast (meaning TWO Podcasts next week), where I will interview US Weekly's Mara Reinstein, as we'll recap the Oscars and also talk about Survivor: Ghost Island (Mara was actually out there this season for the first few days and has lots of scoop for us!). Look for the Mara Podcast to drop on Tuesday, followed by the normally scheduled exit interview Podcast on Thursday.
TELL US – ARE YOU EXCITED ABOUT THIS SEASON? WHO AMONG THE CAST STANDS OUT TO YOU AS A FAVORITE/LEAST FAVORITE? AND WHO DO YOU PREDICT WILL BE THE FIRST PERSON VOTED-OUT?
Photo Credit: CBS/Monty Brinton/Robert Voets/Timothy Kuratek/Jeffrey Neira/Michele Crowe