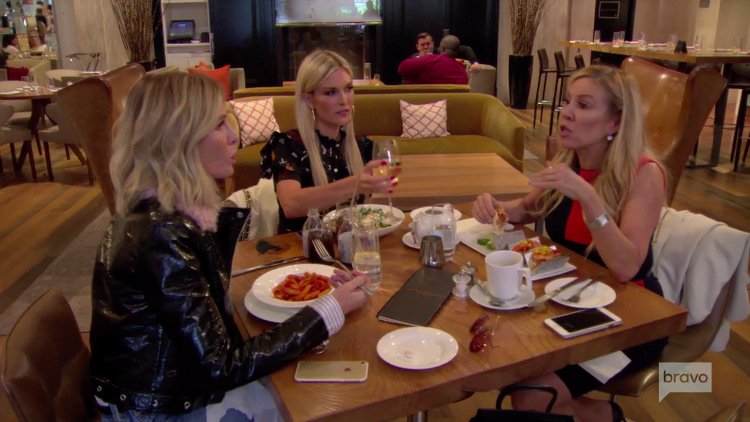 The Real Housewives of New York is back, and all is right in my reality TV world again. Ahh, the sweet sounds of Dorinda Medley speaking in tongues after tossing back one too many. Ramona Singer using plastic microphones to emphasize her incomprehensible points. Luann de Lesseps pounding her chest and proclaiming, "I have suffered!" in her most insufferable delusion. And Carole Radziwill learning to exercise. Well, okay – it's not all riveting. But after a few franchise duds this year, I'll take it! Although I wasn't here for the premiere, I'm back in now with two feet firmly planted in the delicious mess of this particular group of women.
This week, we find out who's working on running (Carole) and who's just running her mouth (Sonja Morgan). After opening credits, we see Tinsley Mortimer, Ramona, and Carole meeting for lunch. Why? So Carole can tell them that Luann is culturally insensitive and that she's nervous she is to run the NY marathon. Ramona says she's planned a super-secret party for Carole to celebrate her accomplishments. Except maybe she hasn't planned it until this very moment? Clearly, Ramona has had a bright idea, and she is fully committed to seeing it through. She can only manage one thought in her head at a time, after all.
To assure Carole of her super thoughtful party-throwing intentions, Ramona picks up the phone from her restaurant-owner friend, Kirk, and quickly "reminds" him that they're hosting a party for Carole that Saturday. Kirk plays ball, but isn't so sure WTF to do when Ramona starts talking about him as he remains on the line. "I'm still here," he says as Ramona begins to launch into a story (presumably) about why Kirk is still single. She stutters, freaks out, then plays coy by telling him she loves him and blowing kisses through the phone. Oh, Ramona. Please continue to stay off your meds. It's my favorite.
Over at Bethenny Frankel's apartment, Dorinda stops by to offer her condolences about Cookie's passing, and to dish about her Halloween party the night before. Apparently, Luann and Bethenny hung out until the wee hours of the night eating street meat and scaring passersby with tragic bronzing choices. Bethenny is still raw about Ramona questioning her Hamptons real estate taste (even though Ramona is across town defending herself as merely a "debater"). Basically, these women are two sides of the same coin. One side just has a less than basic grasp of the English language.
Later on, Dorinda and Sonja take a walk through the city as Sonja explains her soul's journey: From anti-depressants to croissants to Costa Rica juice cleanses! Nowhere in there does she mention the work that she obviously had done to her face (right?!), but Dorinda doesn't go there. She does bristle when Sonja starts ragging on Tinsley as if it's season 9 all over again. "She didn't spend ONE CENT while she was at my house!" rails Sonja, shocked that Tins would leave "a beautiful townhouse" for a 5-star hotel suite with room service and round the clock maids. Hmm.
When Sonja accuses Tinsley of basically being Scott's "kept woman," Dorinda tries to give her some grandmotherly advice to STFU. But Sonja will not be silenced! She just knows Scott is still paying Tinsley's bills. Sonja even claims that he footed the bill for the $5k gift card Tinsley gave her last year at her party. Ooh, girrrrrrrl. That juice cleanse gave you diarrhea of the damn mouth.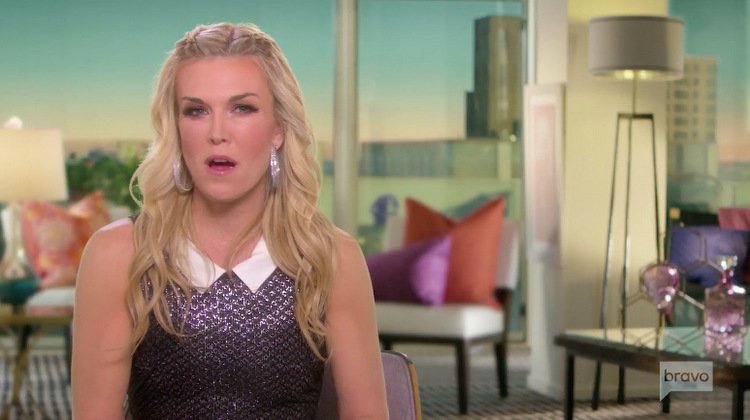 At lunch, Tinsley complains to Luann about her breakup. Then we see an exercise in the recently-divorced-leading-the-recently-dumped. Luann has excellent relationship advice, people! "The element of surprise is a beautiful thing," she coos, regaling Tinsley with a story of surprising her ex-husband in full Moroccan princess garb on one of his business trips. In some circles, this would be called international stalking. But Luann just hilariously quips, "he never got over it!" As Tinsley side eyes Lu's attempt at disastrous relationship advice, she kindly tells her thanks but no thanks Mrs. Ex-D'Agostino. But before Tins can question Luann about her tragic 7-month marriage, Lu cuts her off. She's sick of talking about Tom! Well, that makes 1.2 million of us, lady.
Then Luann goes into full Countess mode, telling Tinsley that – much like a queen – she'll always hold her title. Also, she thinks Carole is delusional to compare her breakup with Adam to her own amazingly deep commitment in holy matrimony to a douchewaffle. But when she reminds Tinsley that Adam and Carole only dated for three years, Tinsley expertly snarks, "Well, that's longer than your marriage." HA! Okay, Tinsley for the win.
Out on a walk, Carole tells Dorinda about her marathon nerves and how much support Adam has shown her. Dorinda thinks Carole can always go back to him if she wants to, but Carole doesn't think so. Carole does think this is a good time to tell Dorinda what Sonja said about her at the Halloween party: "She called you fat." Um, scuuuuuze me? Dorinda can't believe things have dropped to this level. Why is Sonja acting like such a Heather lately? Well, probably because Sonja has a nasty habit – and I don't mean sucking on brown ice and stockpiling 300 bottles of rancid Wesson Oil in her basement. No, her habit is a more disastrous one: Talking about everyone behind their backs (and to the press) when the cameras aren't even rolling. I mean, what's the point? Dorinda, now back from her trip to naked-wasted land, is not having it.
Back at her townhouse, Sonja is in her own world of crumbling drywall and half-burnt candles. Much like the gothic figure she is, she's putting the final touches on her weekly Wednesday "gay party." Yes, that is the title. And yes, Sonja says this without a trace of irony or regret. In her bedazzled dress, Sonja later tries to complain to all of her "gays" (again…OMG, why?!?) about her evil girlfriends and her growing midsection. But they're more likely interested in surreptitiously turning their phones on "record" while Lady Morgan screams "I'll get my strap-on!" and dry humps a lamp. Oh. My. God. I have seen Tinsley's nearly-missed future, and it is disturbing.
Meanwhile, Bethenny is checking out her new apartment in Soho, which is under construction and will probably be moved in-and-out of before the very gray paint is dry. Bethenny owns six properties, and is running four renovations. So, she's all set? No! Her business is moving right next door to her new place, which will be the new Skinnygirl headquarters. But it won't be Bethenny checking all of the boxes anymore because – ya'll! – she hired a president. And it's NOT her! Now, she has big plans of being rich, tan, sexy, and well rested. Maybe not all at once.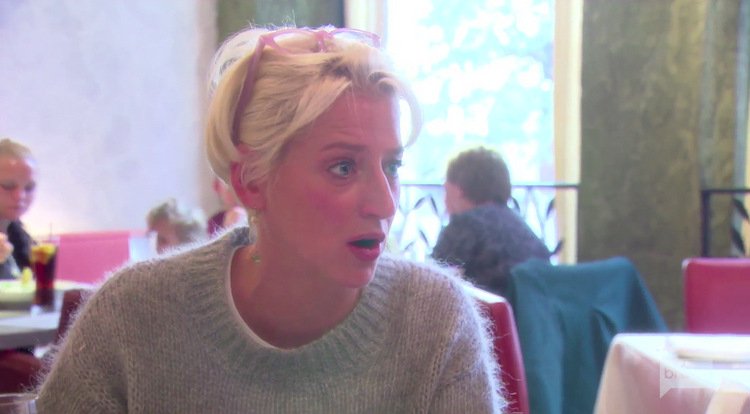 At lunch, Dorinda and Tinsley meet up to talk about what an insufferable gossip Sonja has become. She's calling Tinsley a gold digger! She's calling Dorinda fat! She's in for an epic Slurinda beatdown, yo! It's gonna be Get an easy pass on that vagina! and CLIIIIIIIIIP! all over again if Lady Morgan does not get her shit together. And frankly, here's hoping she does not. Because I am here all day and ALL night for another epic Dorinda/Sonja moment. It's in these moments that we are really living our best Housewives lives, are we not?
Tinsley is like, "What is wrong with her?" But if Dorinda – or anyone – had the answer for that, there'd be no more money to be made at Costa Rican "juice cleansing" establishments or unlicensed psychiatrist's offices. Dorinda plans on confronting Sonja about her bad behavior. And her speech includes peppermint bridges and cream-sickles or some sh*t. So, yeah. Strap in!
OH MY GOD ANOTHER BRUNCH?! Okay, now it's Luann and Sonja, both looking very Scoobie-Doo in their disguises/ensembles. Luann doesn't care if Sonja is a nut – she's her nut! Plus, Luann is in a full tilt nutjob mode herself as she talks about her "many hits" on iTunes, and her lifelong status as royalty. Sigh. Can we just fast forward straight through Luann's impending meltdown, right past her Palm Beach freak out, and just land right on the other side of this nervous breakdown? No, we cannot. Thus, we listen to Luann's complaints that Tinsley thinks she's acting fake (which she is) and not letting down her guard (which she isn't). Sonja is, of course, crazy enough to agree with Luann's lamentations. And Luann is delusional enough to believe Sonja when she claims she wanted only happiness for Tom and her. Bah!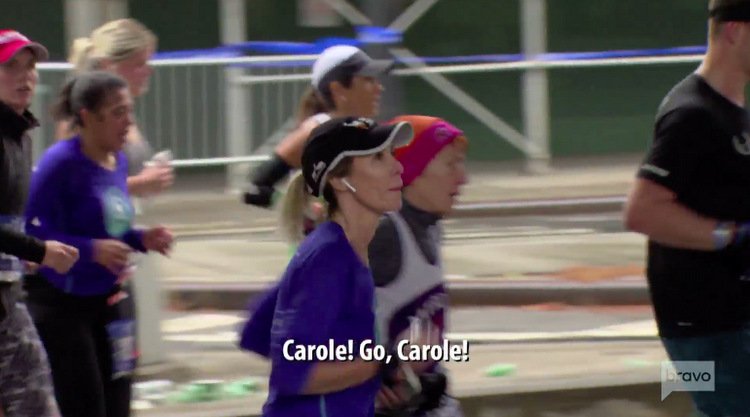 Okay, time to watch marathons. We can do this, friends. Carole's late husband Anthony had run the marathon before they met, so she's doing this in part as a tribute to him. Even though Adam has been downgraded to coffee fetcher/bootycall, he's supportive of Carole's quest. Oh snap – HOLLA! Heather Thomson also makes an appearance to cheer on her friend. She and her husband are running the marathon too.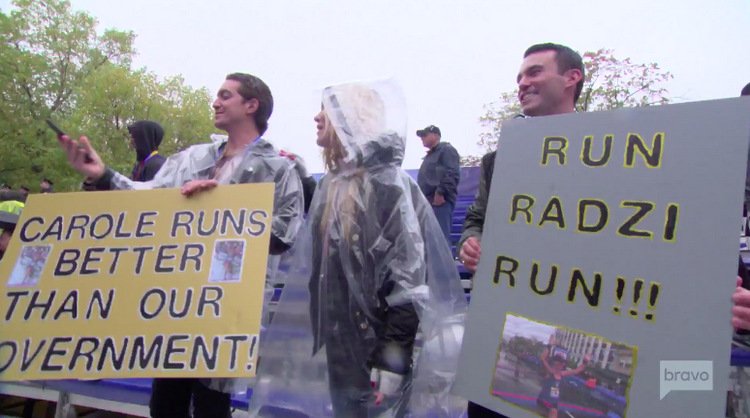 Although Carole bought 20 tickets for friends to come see her, Tinsley is the only RHONY cast mate to show up. Oh – and Luann wasn't invited. A few more friends and family do assemble to stand in the rain and encourage Carole on her way. And finally, she makes it! Woohoo!!! Despite feeling like her body is shutting down, Carole crosses the finish line in the end. And hey, all props to anyone who can run, walk, or crawl 26 miles – period. Also, props to our homegirl Tinsley for throwing on a poncho in the name of friendship. #Commitment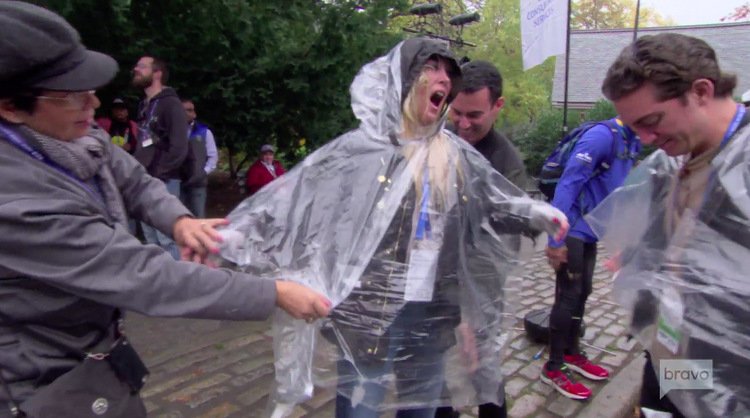 Noticeably absent from Carole's one and only storyline event is former bestie, Bethenny. Next week, we'll start to get a peek behind the curtains of what's going on in their relationship. And Dorinda finally has her moment with Sonja in the Hamptons. Oh baby, it's on.
Writer's Note: Check out my podcast Pink Shade With Erin Martin for more Reality TV talk (Housewives, Jersey Shore & more!) – plus a dash of cults. Available on Acast, Stitcher, and iTunes! Visit pinkshadewitherinmartin.com for all links.
TELL US: WHAT DID YOU THINK OF CAROLE'S BIG MOMENT? WHY IS SONJA ACTING SO MESSY? IS TINSLEY A KEPT WOMAN? WILL DORINDA LEAVE ANYONE ALIVE IN THE HAMPTONS NEXT WEEK? 
Photo Credit: Bravo