All the chickens come home to roost this week on The Real Housewives Of New York. Well, maybe not all the chickens. Just Scott and Missy, actually. But the random exes of yesteryear still manage to cause a kerfuffle – especially Missy, who may or may not have been the last straw for Luann de Lesseps, who despite appearances, is likely hanging on by a very thin thread. Lest we forget, we are heading straight into Palm Beach territory very soon. So Missy's appearance at Ramona Singer's shopping party looms ominous.
Since Dorinda Medley's beatdown of Sonja Morgan in the Hamptons, Sonja has turned on Ramona Singer – P.O.S., esq. – for not adequately defending her honor. Sonja wants to make it known that she never cheated on her ex-husband in the South of France or anywhere else for that matter! Hmmph. Ramona seems to know better, but can't handle one more trillionth trip down dementia lane, so she just screams in Sonja's face instead. Does it work? Not really. But is it the makings of a new fantastic GIF? Absolutely. These to nutcases are made for moments like this.
Ramona shops for a cappuccino machine for Avery, who's working in finance and living back in the city. Ramona thinks Avery is a chip off the ole' block, but with eyes that blink. Since Ramona is not only an official P.O.S., but also a certified MAVEN, she's throwing a shopping party Henri Bendel for all of the girls. Even Sonja.
Bethenny Frankel is at her new apartment looking through blueprints when Sonja pops in for a tour. In an unlikely turn of events, Bethenny – who formerly shouted "SHUT THE F**K UP!!!" in Sonja's face and berated her for starting a cheater brand – is now Sonja's sole ally. Sonja can't believe that Ramona didn't have her back in the Dorinda fight. "Even prison bitches have each other's backs!" cries Sonja. Since Bethenny can't stand Ramona, she gets it. She also thinks Sonja' self esteem is in the gutter (yup) and Ramona doesn't want to associate herself with the cast "losers" (double yup).
Sonja also expresses hurt over the fact that Tinsley Mortimer donated $10k to Bethenny's charity, but acted like she was a struggling wayward socialite when staying at Morgan Manor. The facts are this: Tinsley stayed with Sonja because it was a good storyline. Period. But Sonja came out looking like a shrew at the end of the whole nightmare. Now Sonja wants retribution. I get it, you get it, Bethenny gets it. But no one understands Sonja's issue because they can't break the fourth wall and because well, Sonja is batsh*t. Bethenny's advice that Sonja try to make her points in 140 characters or less in the future is perfect. Because Sonja explaining anything eventually makes most people pukey and disoriented.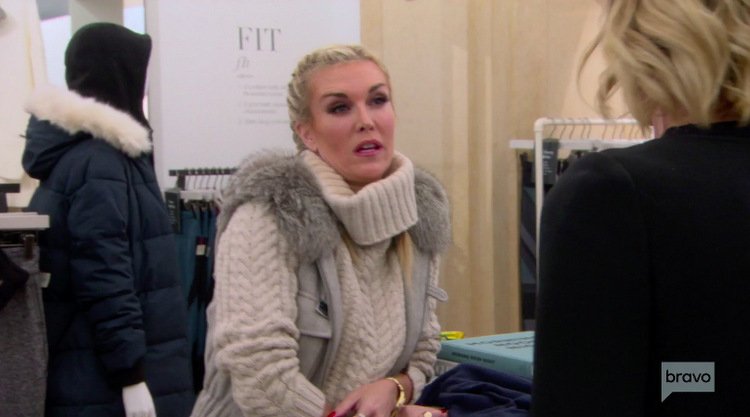 Carole Radziwill is out shopping at Sweaty Betty with Tinsley, who wants to know what's going on with Adam. She saw Carole and Adam together at the marathon, and it didn't look like a "just friends" situation. Carole swears that they're not back together. But, ahem, they do get together. Occasionally. Carole doesn't want Adam seeing anyone else though, which will present major complications down the road…as we've seen in the previews. Meanwhile, Tinsley plans to visit her ex-boyfriend, Scott, in Chicago to win him back for good.
While Bethenny is getting outfitted in her new Skinnygirl jeans for a photoshoot, Luann and Dorinda are apartment hunting. Luann needs a turn-key place that only requires her to bring herself, a few trash bags of clothes, and a lamp. Or you know – whatever a Countess brings. The first apartment they check out is super cute, but Lu needs her outdoor space, dammit! She's lost a penthouse, but not her dignity! She also needs to cleanse her Hamptons home of the Dorinda-splosion that occurred in her pristine white dining area. Dorinda still isn't over it. She can't handle Sonja's delusion, but she's open to mending fences…someday. "She's a rattlesnake," says Dorinda. "Hold her up by the tail and shake. Once bitten, twice shy honey!" Thus, Dorinda serves up '80s rock anthem goodness and shades Sonja in one fell swoop. #Legendary
Over at Tinsley's hotel/home/staging area, she's getting dolled up by PRIV (who else?!) before heading to Ramona's Henri Bendel party. She's leaving for Chicago the next day, therefore she obviously needs someone to rub lotion on her hands and curl her hair before boarding a plane. It rubs the lotion on the hands and curls the hair or it gets the Peter Pan collar again!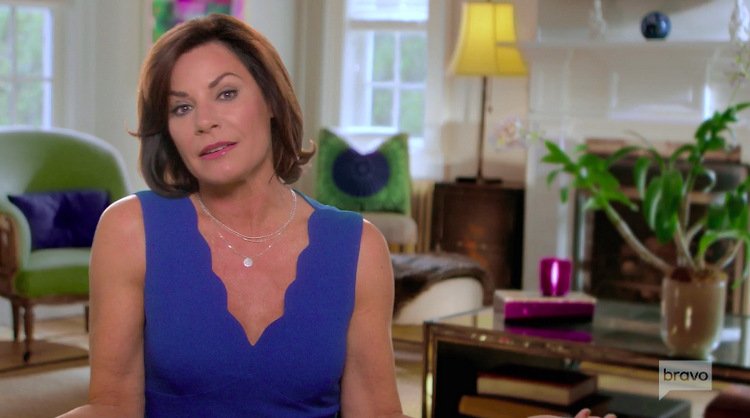 Meanwhile, Carole and Luann are meeting for tea sandwiches and an attempt at a truce. Their friendship fractured when Adam came into the picture and it will never be the same. Even though Luann says all is forgiven, Carole doesn't believe it. Truthfully, it doesn't seem like Lu give two sh*ts about Adam anymore. But she does care about HER MARRIAGE, which Carole never acknowledged breaking up. Um. Who actually cares? No one. Luann is done with the tit-for-tat pettiness. She's got a cabaret show to prepare for! Right after she loses her mind on some cops down south, that is…
Back at Tinsley's, she's donning her best Shirley Temple red dress and saying farewell to the hotel staff. (Her only human interaction most days, I assume.) But wait – who should knock at the door? It's Scott! With flowers! He's come back to whisk his princess off to Chicago and away from this lonely life locked in a tower of luxury! Please enjoy the photo montage below, which outlines the three states of Tinsley's response to Scott's romantic gesture.
1. Horror movie / murder scream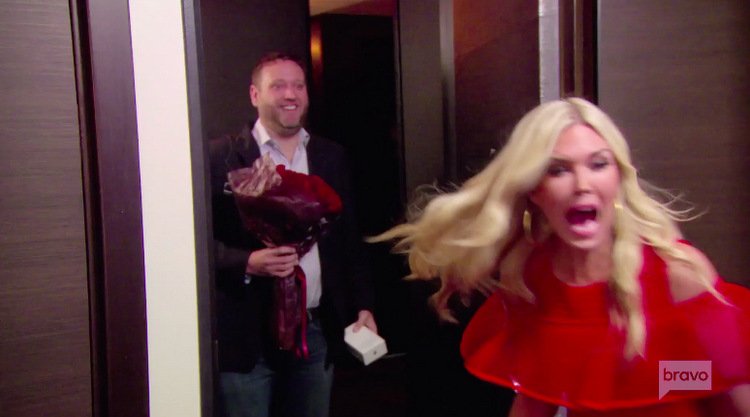 2. Death pose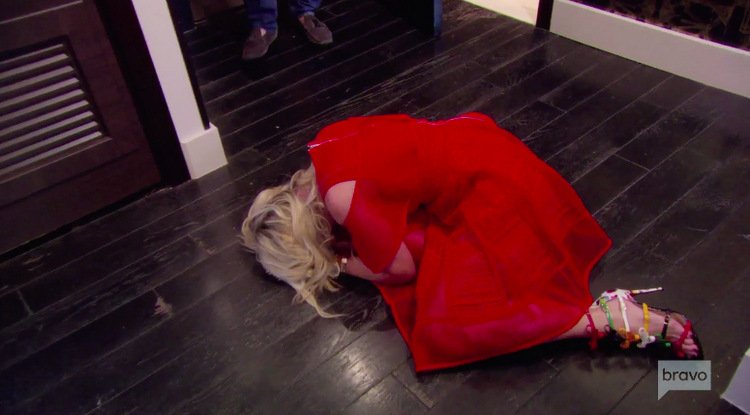 3. Tearful hug with traumatized man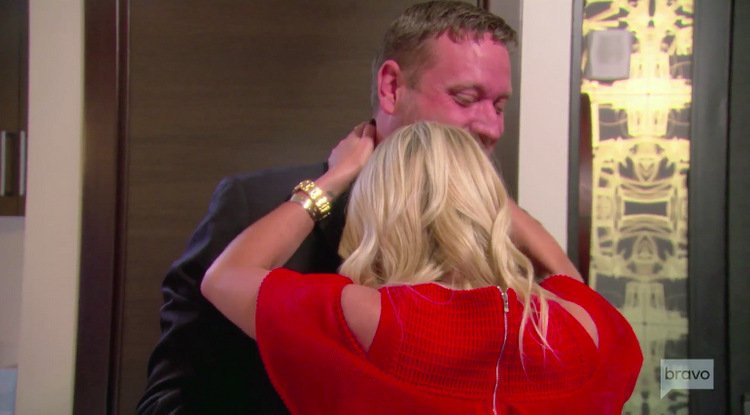 Annnnnnnd scene. Well – not quite! After Tinsley gathers her one remaining wit, she calls Carole to tell her the good news, but Carole already knows. She coached Scott along, actually. She also offers to tell Ramona that Tins won't be at her party that night, as she's off to Chicago with her man. Who probably needs a quick change of drawers after the scare he just had.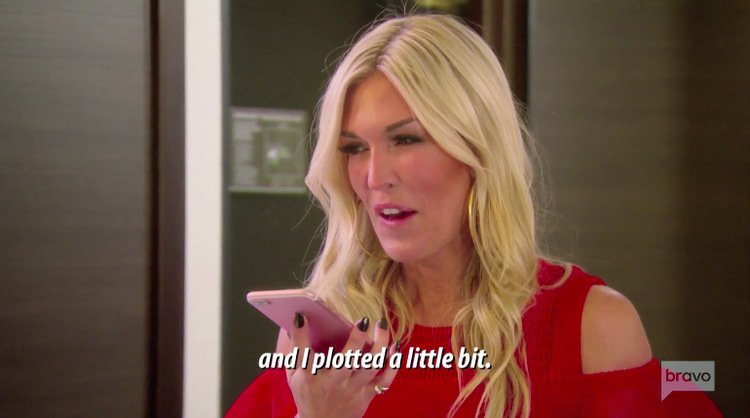 While Tinsley is whisked away from her life, Bethenny is at home discussing how B-Strong can continue helping Puerto Rico. She's planning a trip there soon and wants to bring Dorinda, perhaps the only person in their gang of high maintenance women who can handle doing real work.
Ramona's party is coming together at Henri Bendel, mostly because she's forcing the staff to carry trees and fake presents to all corners of the room in service of her "vision." Question: How do I get my dog to obey me as readily as most humans obey Ramona? Seriously. Carole arrives first in what Ramona calls a robe because…um, it's a robe. Right?! But it's the next guest who will make the most impact on this lil' soiree. Missy – Tom D'Agostino's ex girlfriend who he continued to flirt with while married to Luann – has entered the building. Because OF COURSE, Ramona invited her. Wow.
Luann sees Missy across the room, then manages a pinched smile and a few pleasantries when Missy says hello to her. She also manages not to throat-punch Ramona for inviting her. They've got other things to discuss anyway – namely, Sonja. Speaking of the devil/angel/very confused madame, Sonja shows up at that very moment to wander through the room looking for someone to acknowledge her presence. Luann feels sorry for Sonja, but she's got Tom's ex-chick in here to avoid, so she's busy. Carole takes off. And Dorinda is all about drinking wine and taking selfies in front of toy soldiers. So, Ramona and Sonja are forced to circle each other in silence until they finally face off.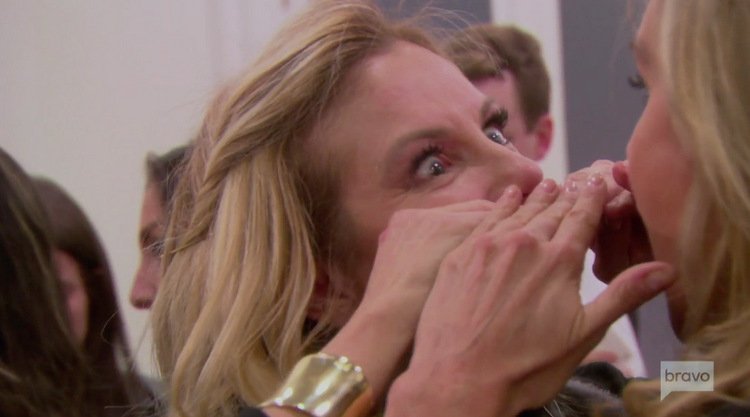 Long argument short: Sonja swears she never cheated, but Ramona doesn't know WTF happened because they weren't even friends back then. She also knows better than to go head to head with a heated Dorinda, so what does Sonja expect of her? Lastly, Ramona's got some DIRT on Sonja that she's not divulging right now. So she thinks Sonja should just STFU, apologize, and keep it moving. In order to make her point clear, Ramona cups her hands into a makeshift megaphone to shout it in Sonja's face. Guys – it's almost on the level of "Calm down! Take a XANAX!!" Which is, for me, epic.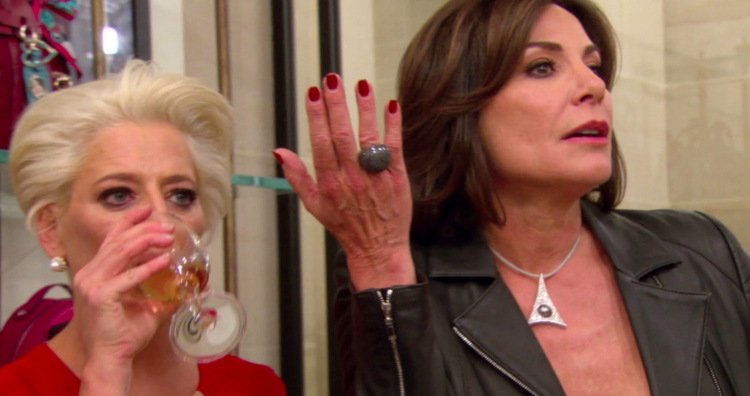 But because Sonja and Ramona are twin-lunatics, Sonja just megaphones her right back. Then Ramona wants to slap a band-aid apology on the situation, which Sonja thinks is insane. But she's an actual insane person this season, so who the f**k knows what will happen next? One thing happening right now is some serious flirting! Yes, Luann has found a man at Ramona's party and she plans to move in on that sh*t –  if only to show Missy who's boss. Because – guess what? – the dude she's set her sights on is literally Missy's Plus One! Ooooh, girl. Dorinda is all, "Go for it, Countess!" as the two of them swill drinks.
Finally, Ramona gets fed up with Sonja and comes over to infiltrate Do and Lu's chill vibe. No one knows what to do with a problem like Sonja Tremont Morgan. Meat cleanse? Electroshock therapy? Exorcism? Maybe Luann can fix her? (Nope. She's going to be busy fixing herself all too soon.) In any case, it's a lost cause tonight so they just give up.
See? You can decorate a beautiful store with holiday finery, but you can't expect the RHONY ladies to class up the joint. And this is why they have my heart, now and forever.
Next week, Carole gets wind of Adam dating someone else, Luann talks about her divorce with her daughter, and Bethenny rethinks bringing Dorinda to Puerto Rico after Do gets messy-drunk at dinner. Uh oh.
Writer's Note: Check out my podcast Pink Shade With Erin Martin for more Reality TV talk (Housewives, Jersey Shore, 90 Day Fiance & more!) – plus a dash of cults. Available on Acast, Stitcher, and iTunes! Visit pinkshadewitherinmartin.com for all links.
TELL US: WILL SONJA BE ON THE OUTS ALL SEASON? SHOULD RAMONA HAVE SONJA'S BACK? IS CAROLE MORE IN LOVE WITH ADAM THAN SHE ADMITS? 
Photo Credit: Bravo